Prologue
And so I screamed at the chef, "Oh YEAH?  Well you can SUCK IT".  And then we stormed out of there tooting and drooling all the way.
Chapter 1
(3 weeks  ago)
My sister and I went to a Country Club for lunch with our mother and a couple of friends.  Our friends happen to be 90 and 98 years old.  They're the smartest people I know.  They wear scads of jewellery, nicer clothes than I do, go to way more parties and always have lipstick on.  We go for this lunch once a year during Christmas.  Always the four of us, always at the Country Club.  The only thing that made this year different was that the 90 year old got a hearing aid so we didn't have as much yelling.
As a starter I ordered the Carrot Ginger Soup and my sister ordered the "Golf and Country Club Salad".   I slurped my soup down in a jiffy, wondering the whole time if it was homemade or from some kind of soup powder.  I'd know soon enough.  My sister took one bite of her salad and started twitching.  Within seconds of tasting it she declared it the best thing she'd ever eaten.  And it didn't stop with the first bite.  She talked throughout the entire salad.  About the salad.  To the salad.  She had a 5 minute affair with a salad and said things to it I know for a fact she hasn't said to her husband in years.
Now that she'd tasted the salad she knew she wanted to serve it at her Christmas party the coming weekend.  So ... being the confident show off that I am, I said "I'll get the recipe for the dressing from the chef".  So when our waitress came around again I asked her if she could possibly ask the chef for the ingredients in the dressing.  I didn't need measurements, just the ingredients. She seemed doubtful, but agreed.
10 minutes later she was back with our main courses.  Not a word about the dressing.  So I brought it up again.  Hey.  How 'bout that dressing recipe?  Is that coming with the coffee?  Please?  Pretty please with a rather large tip on top?  Turns out this particular chef doesn't like to share recipes.  By this time a rumbling had started in my stomach.  The kind of rumbling that can only be described as inner toots.  I was tooting on the inside.  My suspicions that the soup was from a mix had been confirmed.  I had the soup toots.  I get those from soups that aren't homemade.
So I thanked the waitress for trying and resigned myself to the fact that the dressing was probably storebought and came in a vat, and that's why the chef didn't want to share her secret recipe.  As a chef it's hard to admit your secret recipe begins with "Take a left at the canned goods aisle".
My inside toots were threatening to become outside toots at this point so I had to really concentrate on not letting that happen.
By now my sister was drooling.  It was the thought of the salad.  She was like Pavlov's dog.  At any mention or thought of the salad she started dripping spit.  She was very disappointed that she wasn't going to be able to make this salad for the party, so being the confident show off that I am I said, "Don't worry.  I'll figure out the dressing".  Although I had no idea how.
Well, as luck would have it,  ... turns out our waitress was a bit of a talker.  With each trip back to the table she'd mention an ingredient.  Sure, she'd claim she wasn't sure but she thought such and such might go in it.  And she was almost certain she'd seen them mix in some of that.  By the time we'd left I'd got Maple Syrup and some kind of fruit juice out of her.
By the end of the lunch I'd gathered up quite a bit of fondness for our waitress and a great deal of contempt for the chef.  As we got up to leave I glared at the kitchen and in my head screamed at the chef, "Oh YEAH?  Well you can SUCK IT".  And then we stormed out of there tooting and drooling all the way.
This salad has been stolen.  It's a stolen salad.   If you choose to make this salad you will be aiding and abetting a criminal.  Do so at your own risk and volition.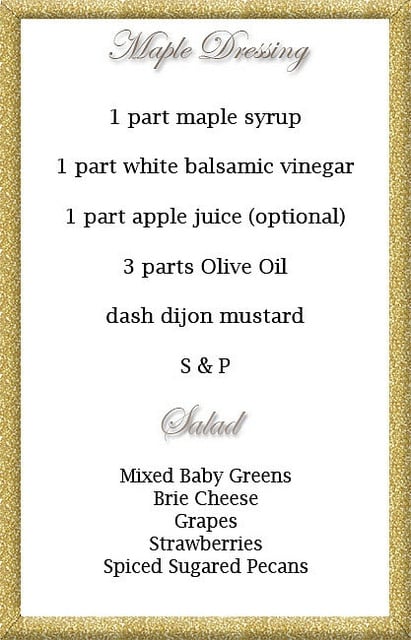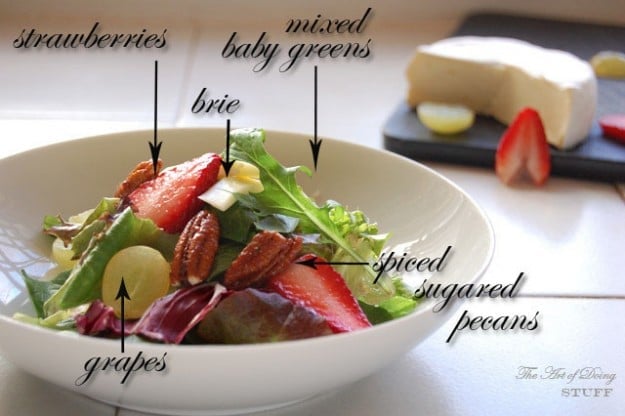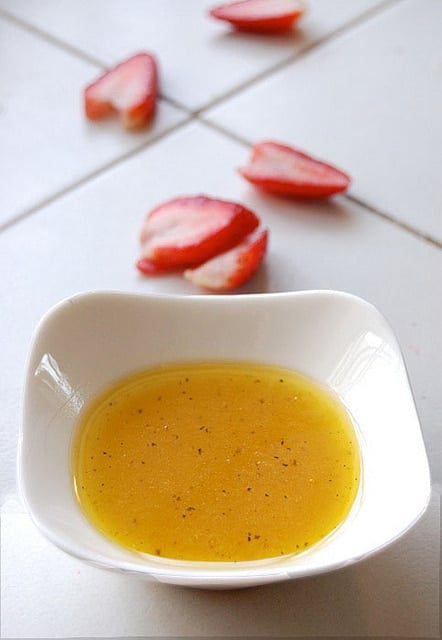 This dressing is a mixture of sweet from the maple syrup and tang from the vinegar.  If you're not in love with vinegar in your salad dressings, then use a half part of the vinegar.  That's how I did it for my sister because she likes her dressing really sweet.  She also still likes fish sticks.
You can buy Sugared Spiced Pecans from The Bulk Barn.  They're just sugared pecans with a touch of cayenne pepper, so you can also make them yourself really easily.
And yes.   I did get the recipe figured out in time for my sister's party. It was the hit of the party.  People ooed and ahhhed over it.  People lined up to get a glimpse of me ... the salad maker.  They begged me for the recipe.  I told them to turn left at the canned goods.
And then I gave every single one of them, even the ones  who didn't ask for it, the recipe.