I have one of those ideas in my head that I should ignore. But I don't think I'm going to. Uh oh. Here we go again.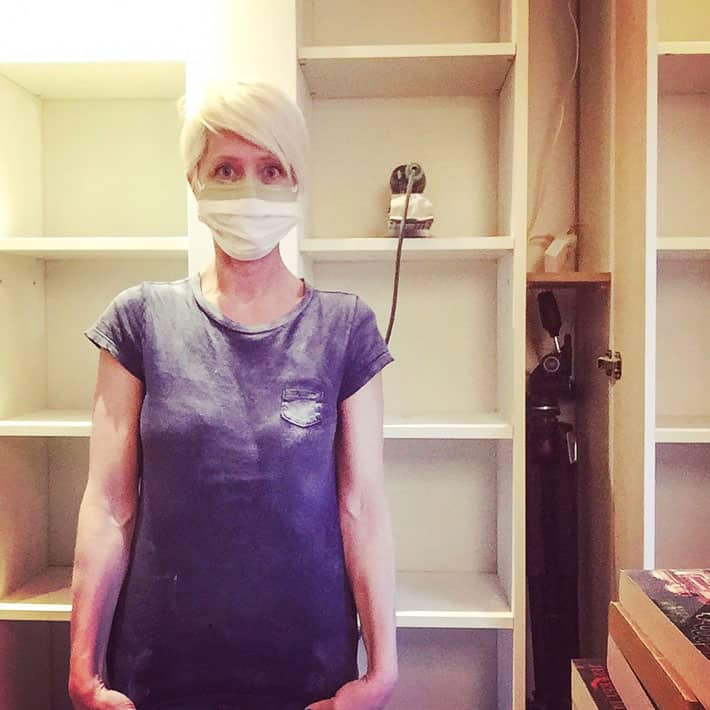 me, two years ago just before Christmas when I decided to build bookcases in my dining room.
It has been exactly 2 weeks since my house has looked like the bottom of a dumpster. I've been out of a major mess, (after finishing my new, old dining room floors) for exactly 14 days. That mess involved floor sanding, floor finishes, paint trays, paint brushes, stained clothing and plastic hanging in my doorways to contain the sawdust blizzard to one room.
I am always in a mess. Not sometimes, not usually, – always. Mainly always anyway. I'm definitely in a mess more often than I'm not in a mess, as anyone who has ever come into my house on any day other than the day a magazine is shooting here will tell you.
And actually even then it's a mess, but it's not my mess, it's the photographer's mess.
Let's review just a few of the messes I've gotten myself into over the past couple of years shall we?
A Look Back at Some of My Extraordinary Messes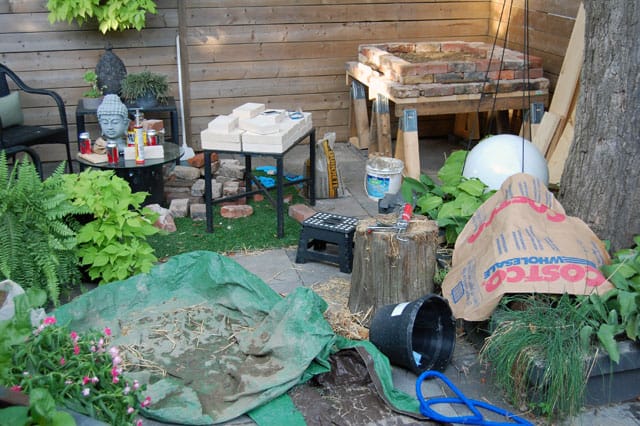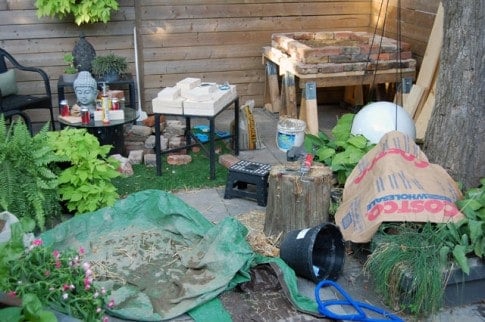 This is my backyard mess from building my pizza oven.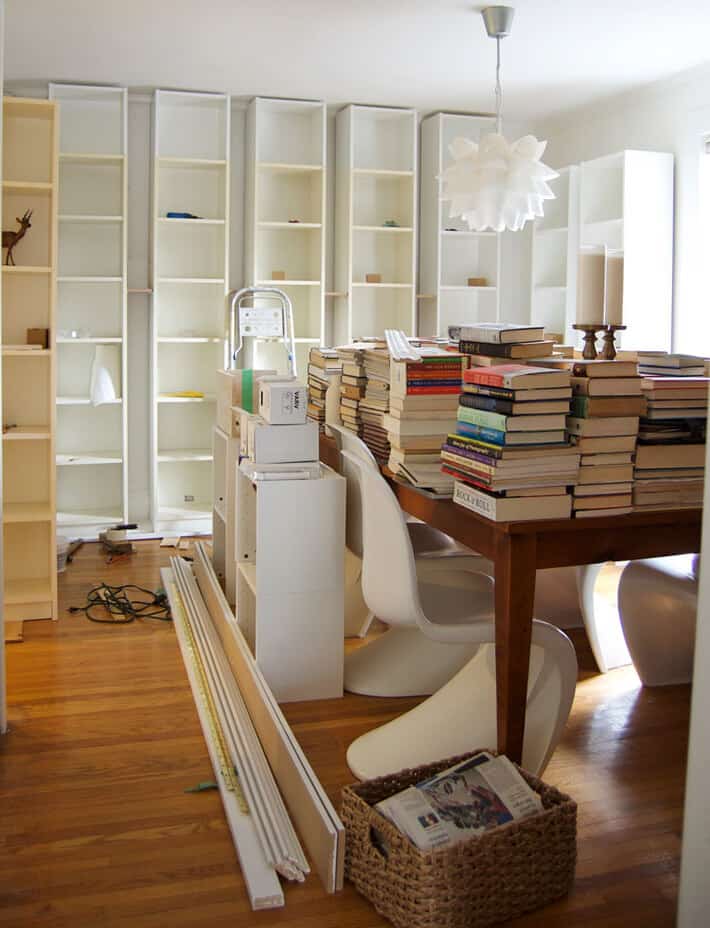 This is the mess from building my library/dining room bookcases 2 Christmases ago. It's actually the clean up of the first mess (putting in the bookcases), before the starting of the second mess (cutting and installing the trim and crown mouldings).
The redoing my kitchen mess. I remember it fondly.
The more recent "I'm just going to pull up one floor board to see what's under here mess."
The "I really like what's under those floorboards, I'm gonna rip up ALL THE FLOORS IN MY HOUSE!!!", mess.
---
This is just a small sampling you understand and doesn't include less significant messes like tearing out walls.
Now, with Christmas just moments away I'm considering getting into another mess. It's my dining room table. I love my dining room table. I had it custom made from antique barnboard. The entire tabletop is only 2 boards. One of those boards is 27″ wide!
My dining room table at Christmas a few years ago. The photo is desaturated a little bit, so the table is actually more orange in real life.
But when I had the table made I thought the man making it would leave the original patina. I mean, that's why you buy 150 year old pieces of wood, right? But he didn't. He sanded that wood down to a glossy new finish and I've been disappointed with it ever since. He did a beautiful job finishing it and building it. It's a masterpiece. It just isn't exactly what I wanted. I wanted a table made of old wood that looked old. But I didn't convey that well enough. Also. It's orange. That's the thing about pine. Finish it in any way other than a water based finish and your lovely pale pine goes orange.
From the day it landed in my house I've said I was going to refinish the table eventually. And now I don't think I can stop myself from doing it. I want to strip off the finish and stain and bring it back to a natural wood. Right now. Moments before Christmas. I blame it on my new/old dining room floor. I love the floor so much and it's the look I've always wanted for my dining room table.
I just don't want the mess.
Have a good weekend!