You have popcorn and it won't pop. Your life is RUINED. At least the duration of your life during movie night is. Today, how to test and fix popcorn that won't pop.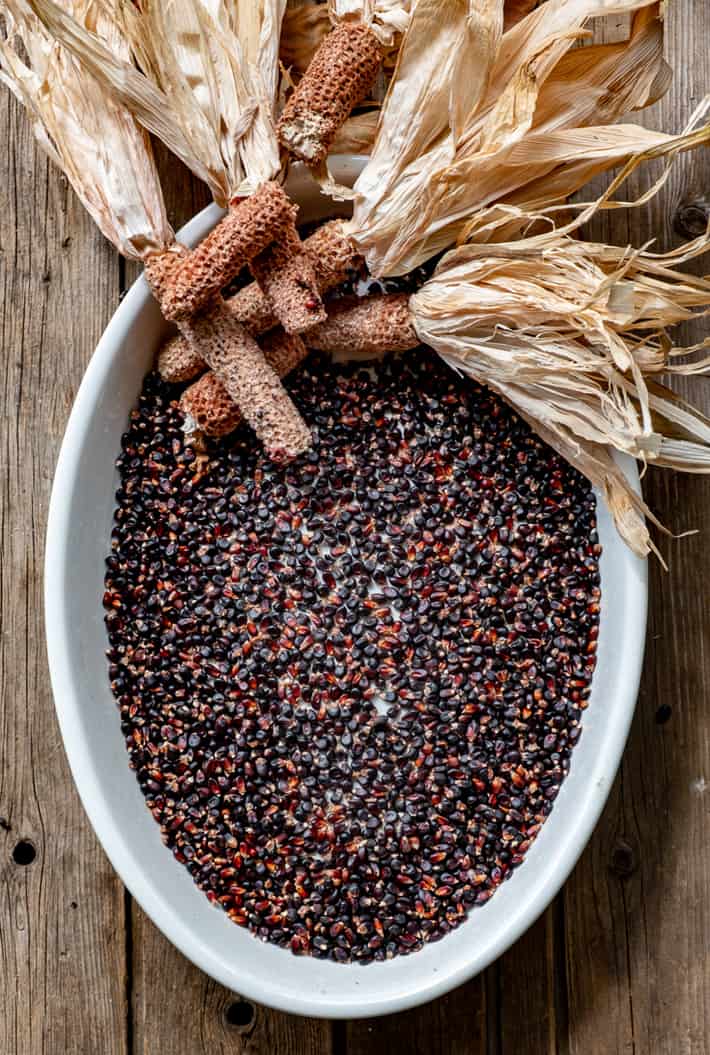 First of all, I realize there are all of 14 people in the world that grow their own popcorn. Me, Orville Redenbacher and all of his descendants.
However, this doesn't just apply to popcorn you've grown, it also applies to old popcorn you've found in your cupboard that's being particularly stubborn about exploding into something edible.
So let's talk about that.
The 2 reasons your popcorn won't pop.
If you can dent the kernel with your nail it's still way too wet to pop.
If the kernel is very hard and can't be dented but doesn't pop, it probably needs moisture added into it.
You need to either dry it out more or put it in a jar and add a bit of water. It's really as basic as that.
WHY exactly does popcorn pop?
What makes popcorn pop is having a specific amount of moisture inside it. Popcorn might seem like it's completely dry but the kernel holds a tiny bit of water inside the dry starchy outer layer. For a kernel to properly pop it needs to be at 14% moisture. When the small amount of moisture in the centre of the kernel heats up, it expands and creates pressure on the starchy dry shell.
Eventually the shell says I CAN'T TAKE THIS ANYMORE and it bursts. The starch inside flies out with an explosion and the whole kernel turns inside out. And then you have popcorn.
---
If the kernels are either above 14% moisture or below it won't pop properly.
You can see examples of different moisture levels below. They were each popped in hot oil in a cast iron pan on the stove.
You can also use this microwave method I outline here to make popcorn.
From left to right:
Newly opened jar of Orville Redenbacher popcorn kernels. Perfect moisture content of 14%. Big, fluffy. 100% popped.
2 year old jar of Orville Redenbacher popcorn kernels. Low moisture content of 10%. Smaller, more dense. 100% popped.
Homegrown popcorn. Low moisture content of 10%. Small, dense kernels. 78% popped.
Homegrown popcorn. High moisture content of 20%. No truly popped kernels.
That's all fine and dandy but how do you know what moisture content your popcorn is??
3 ways to test the moisture in popcorn
The first time I grew popcorn I didn't know ANY of this. I took a cob that I'd let dry for approximately a hundred million years and the kernels didn't pop. They just burned and looked like little blackened molars that had been shaken out of the head of a meth addict. Why didn't it pop? Because it had almost no moisture in it.
1. Grinding and weighing.
The most detailed, scientific, mathematic article about making popping corn ever written, courtesy of Mother Earth News is where I started. The article gives detailed instructions on how to figure out the moisture content corn by grinding it up, weighing it and then baking it in the oven for a couple of hours to bake out any moisture in it. Then of course, you weigh it again and the difference between the pre-baked corn and the post-baked corn will tell you how much moisture you lost (and therefore how much moisture was in the corn to begin with).
This test revealed that my corn (in this case it was Glass Gem Corn) was about 4% moisture. Way too low. To remedy this, the article includes a handy math equation that lets you know how much to add to bring your corn up to the recommended 14%.
So I added the amount of water I needed to my popcorn and waited a day for it to absorb.
Then I tried popping it again and 2 kernels popped! So basically a total success if you're only planning on popping corn for 14 Ladybugs and an imaginary rabbit.
You can continue on these lines of adding a tiny bit of water until your popcorn pops.
2. Moisture Meter
A moisture meter is a common tool you can get at your local hardware store for about $80. The cheapest versions I've found have been on Amazon for $40 Canadian and it's where I got mine. The meter is meant for measuring the moisture content of wood and drywall. But I found out it works on popcorn too.
The meter has two very sharp pins on it. These pins are stuck into the material you are measuring the moisture of.
I figured it it worked for wood it would work for popcorn and it did but it doesn't give a completely accurate reading.
BUT THAT'S O.K.! You don't need a 100% accurate reading, you just need the tool so you can get a baseline reading.
Stick each prong onto a kernel of corn. Then place your finger across both of them and push down slightly. This will get you a relatively accurate reading.
The brand new, perfect Orville Redenbacher gave me a reading of 11.2% moisture. Even though it isn't giving a reading of 14%, I KNOW that the folks at Redenbacher have it right so all I want to use this number as my baseline number.
I want MY kernels of popcorn to measure the same: 11.2%.
They do not, lol.
I had some cobs that weren't dry enough yet and some that were over dried. The wet ones got dried some more and the dry ones were rehydrated with that adding water trick. More on that after method 3.
3. Hygrometers
A hygrometer is a little disk that tells you what the humidity is. They're small enough that you can drop them in a mason jar.
They're $15 for 4 in the US or $20 for 4 in Canada.
If you do any kind of vegetable curing or storage you need these.
To use a hygrometer for testing the moisture level of popcorn, drop one in a jar filled with popcorn. Like with the moisture meter, you need a baseline so drop one in a jar with popcorn you know pops well as well.
The hygrometers confirm that my homegrown Dakota Black popcorn is way drier than the Orville Redenbacher popcorn.
How do you fix popcorn that won't pop?
You soak it in water.
Whether it's popcorn you bought ages ago at the store or popcorn you've grown yourself, chances are it's too dry and doesn't have the moisture it needs to riotously explode.
Add a teaspoon of water to a mason jar filled with popcorn and shake it so the water is evenly dispersed among the kernels and leave it for a day with a lid on it.
Test the popcorn.
To test the popcorn use the moisture meter or the hygrometer. If after a day the popcorn is still too dry, add another teaspoon of water and let it sit for another day. If the kernels are now too WET, just pour out the kernels onto a plate for a couple of hours to dry out a bit.
When you think the kernels are about right - take 5 or so of them and try to pop them.
---
By the way, if you're adding water to a jar to bring your popcorn up to moisture just add a little at a time. Not too much. And don't maybe forget about it in the cupboard.
Upon seeing these my immediate thought was, soooooo ... if I don't digest a hunk of popcorn and it sits in my watery stomach for a few days will it root, embed itself into my nutrient rich belly lining and grow a stalk of corn which will eventually shoot out of my mouth as I sleep one night?
Or no? Will that maybe not happen.
Probably no. But just to be safe, I should probably redirect my attention to growing potato chips.
→Follow me on Instagram where I often make a fool of myself←