I just want to warn you before you scroll or click any further that no matter how delicious this looks, don't lick it. Which is a pretty good rule to live by in general.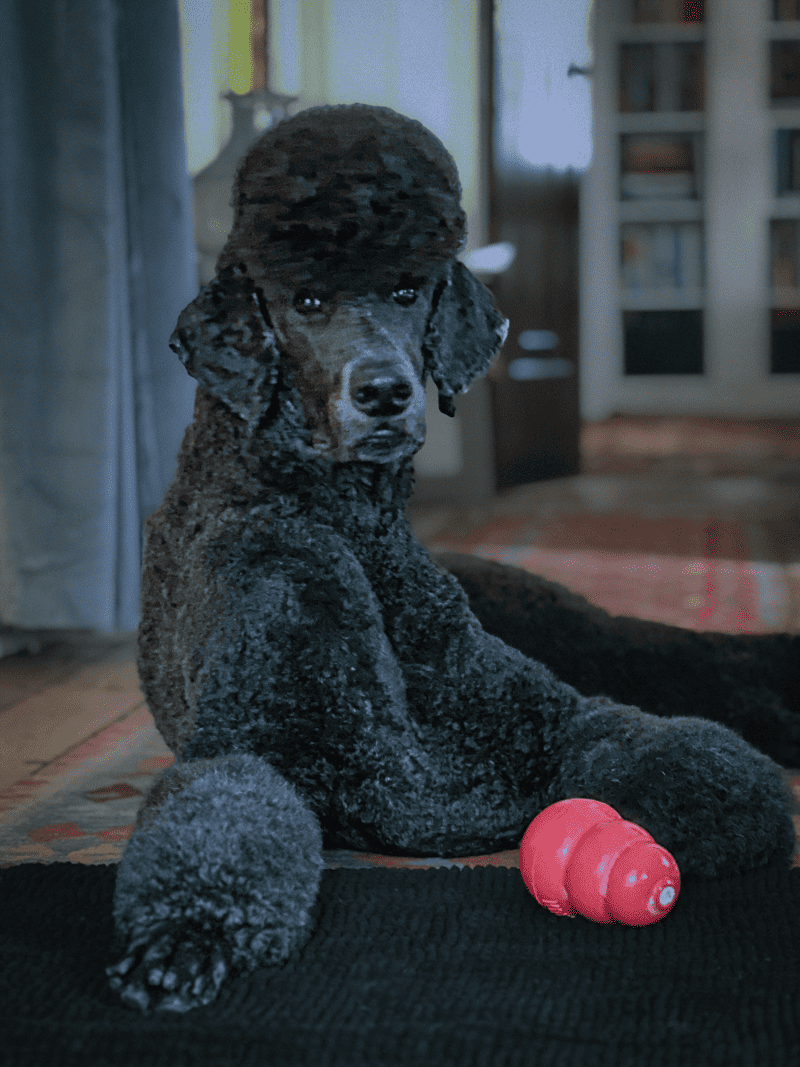 I got a dog, I got a Kong, I stared dumbfounded at them both. I had no idea what to do with either of them. But especially the Kong. People in the dog world are hysterical for Kongs.
They talk about Kongs the way Keto people talk about cauliflower.
And they are good for boredom. Really good. But there are a few tricks to using Kongs that I had no idea about. Which is not surprising since I knew almost nothing about raising a dog other than what I gleaned from the requisite 14 million articles and studies I read about it.
Which helped my skills as a dog owner about 1%. Much like gardening, you just don't know ANYTHING no matter how much you've read about it, until you do it yourself.
In the case of gardening it took about 10 years before I really felt like I knew what I was doing. I expect it will be the same with a dog.
But with a couple of years under my collar I have a few things to share about Kongs.
Kongs, by the way, are indestructible rubber balls that can be filled with food.
Kong Tips 101
Dogs remove the stuff inside by dropping it, licking it and chewing it.
Kongs take practice. Start filling it with easy things that just roll right out of it like treats and cheese until the dog understands it's full of EXCELLENT exciting things - food.
Move to things that make the dog lick the treats out, like kibble that's been mixed with a small amount of peanut butter.
Don't fill a kong with peanut butter! You can swipe the interior of it with a bit of peanut butter, but not the whole thing. That's way too many calories for your dog and might make them sick.
FREEZE IT. If you want a Kong to last, fill it with something that will freeze. It'll last much longer than an unfrozen Kong for your dog.
So how do you fill it with something that will freeze? The ultimate, epitome of Kongness: kibble, healthy ingredients and some showstoppers.
Healthy Kong Recipe
Ingredients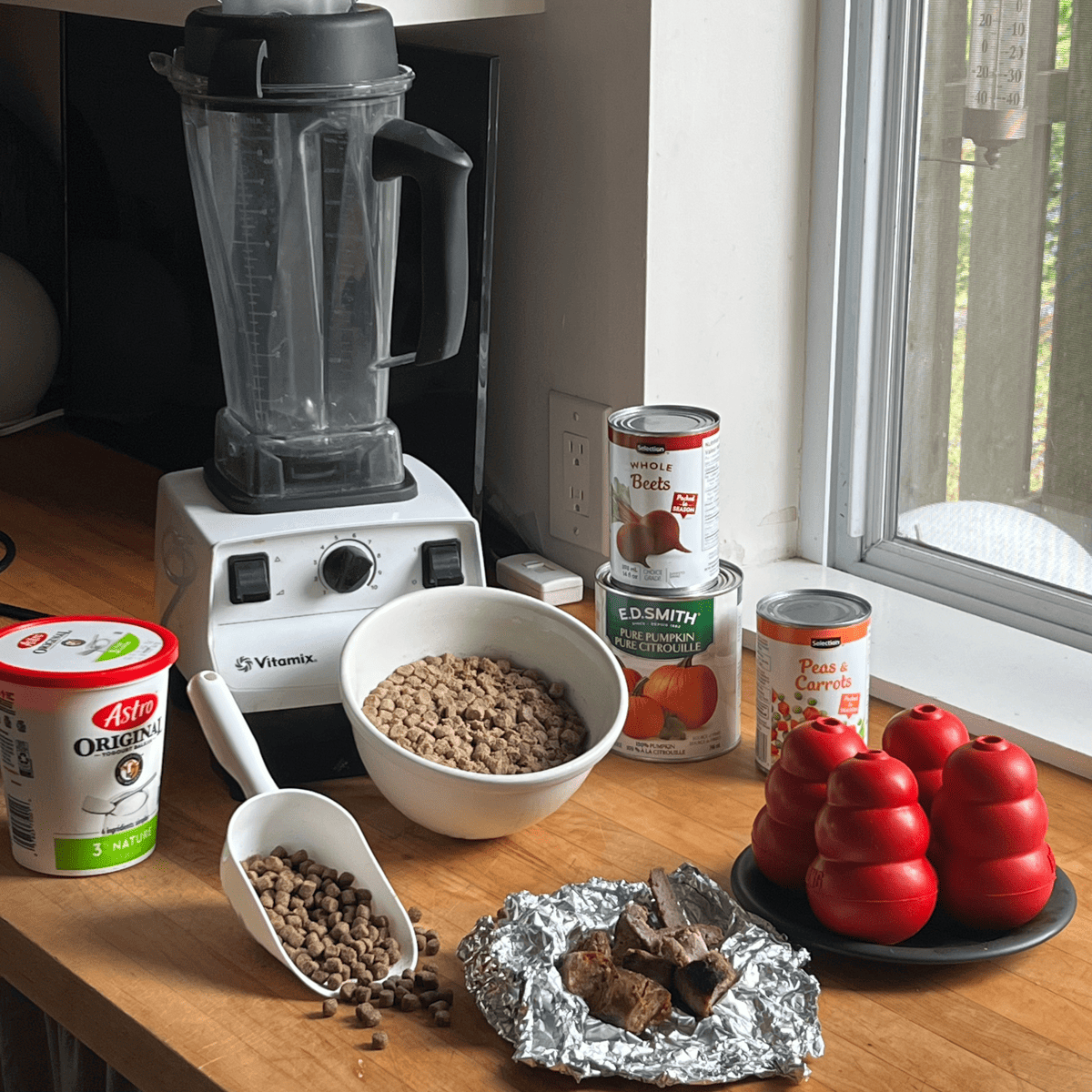 You can mix and match and fill the Kong with almost any healthy canned vegetable (low or no salt preferred), their kibble soaked in water and treats.
In order of volume:
kibble soaked in water or broth until it's fully saturated
canned vegetables (beets, carrots, peas, pumpkin)
Showstoppers they LOVE (peanut butter, hot dogs, bacon, ...)
Liquid to thin (water, broth, runny yogurt, kefir)
HINT: You don't need to worry too much about amounts. I use about 2 cups of saturated kibble and 2 cups total of everything else. Give or take a lot. Then just add as much liquid as you need.
Equipment
Blender or food processor
Several Kongs (that are the right size for your dog)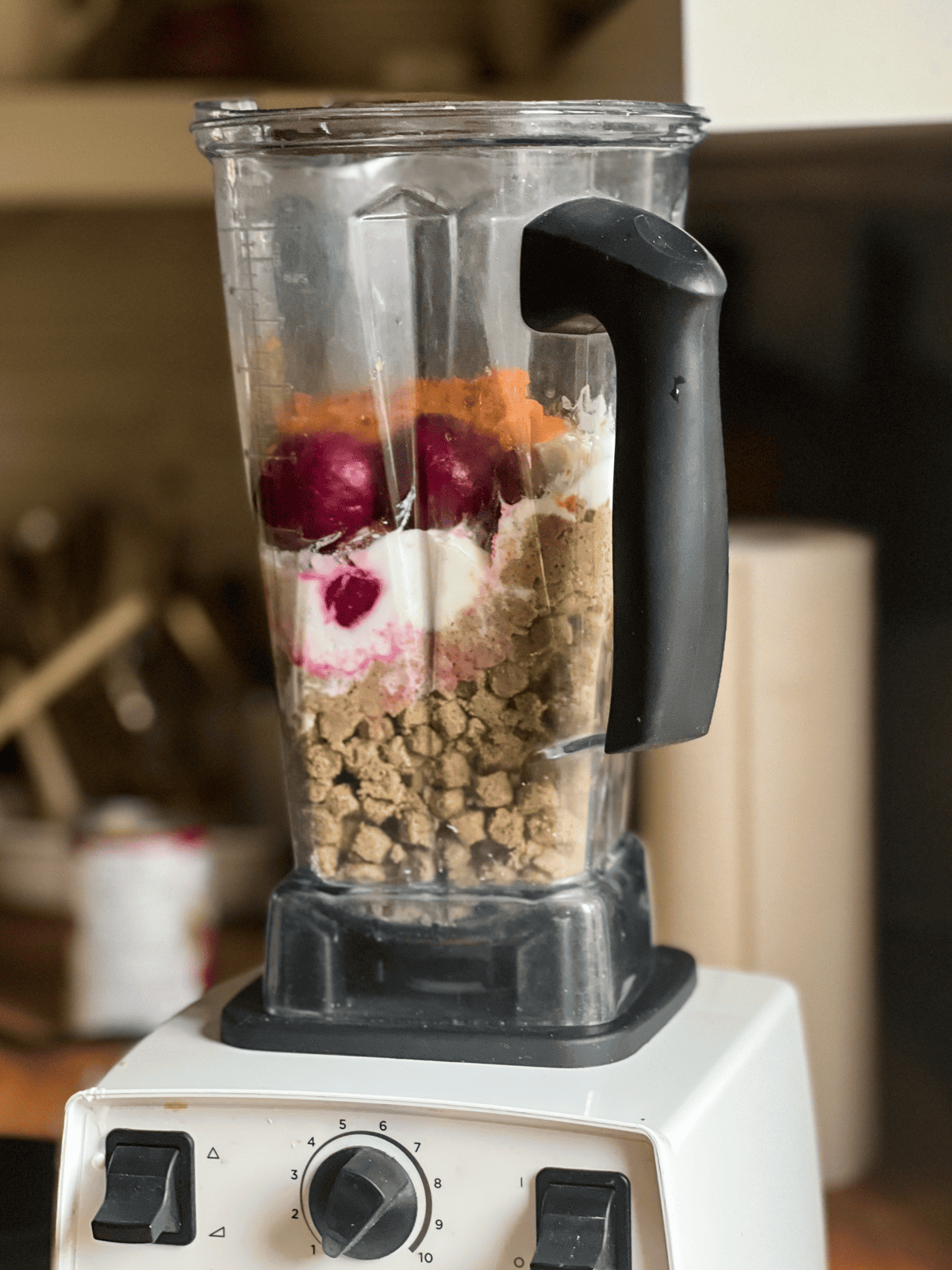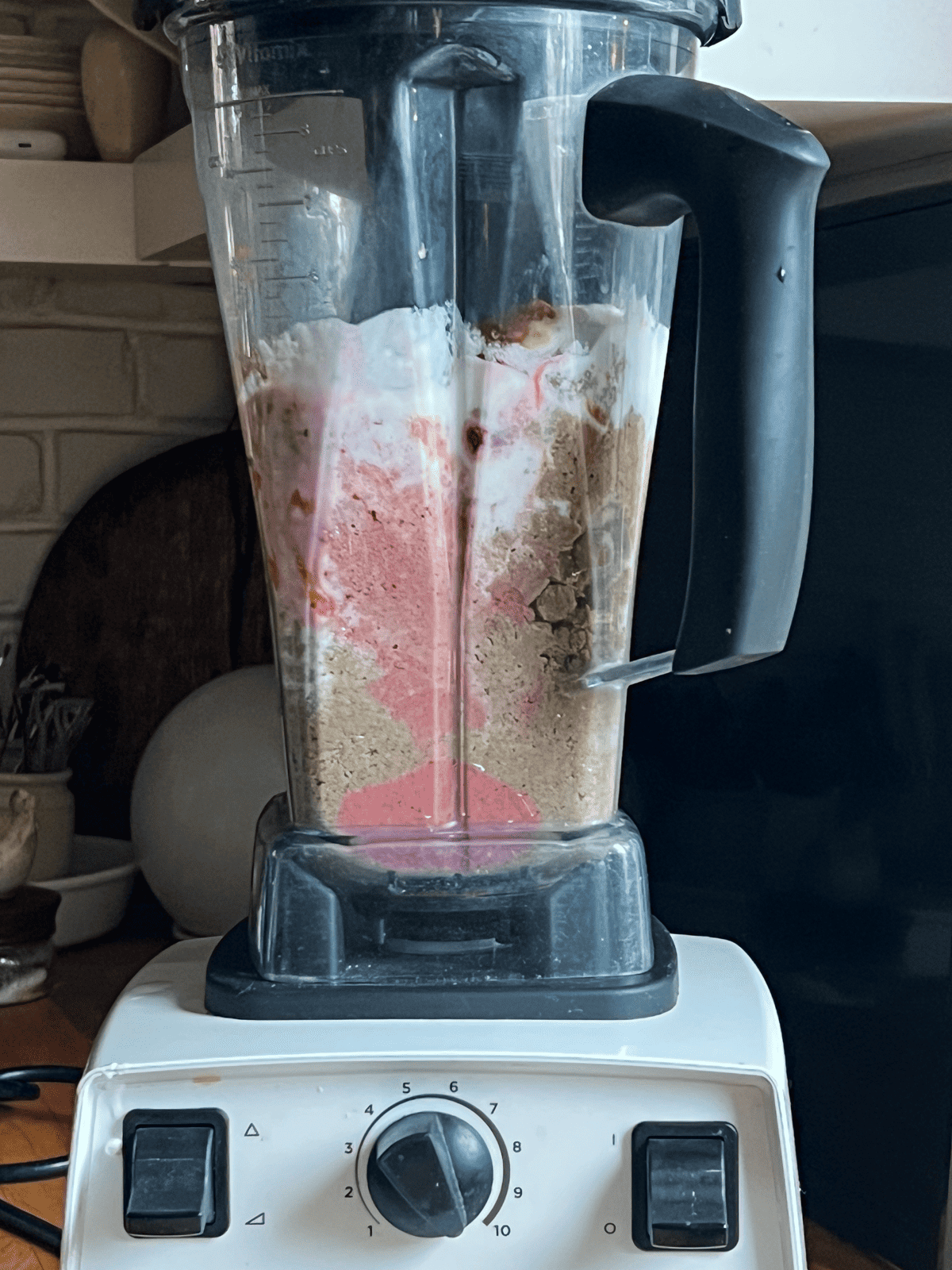 Add soaked kibble, drained vegetables (you can reserve and use the liquid to water the mixture down later if it's no salt) and treats to the blender.
Blend, tamping everything down if you have to. Add enough liquid to make the mixture a consistency similar to a very thick milkshake.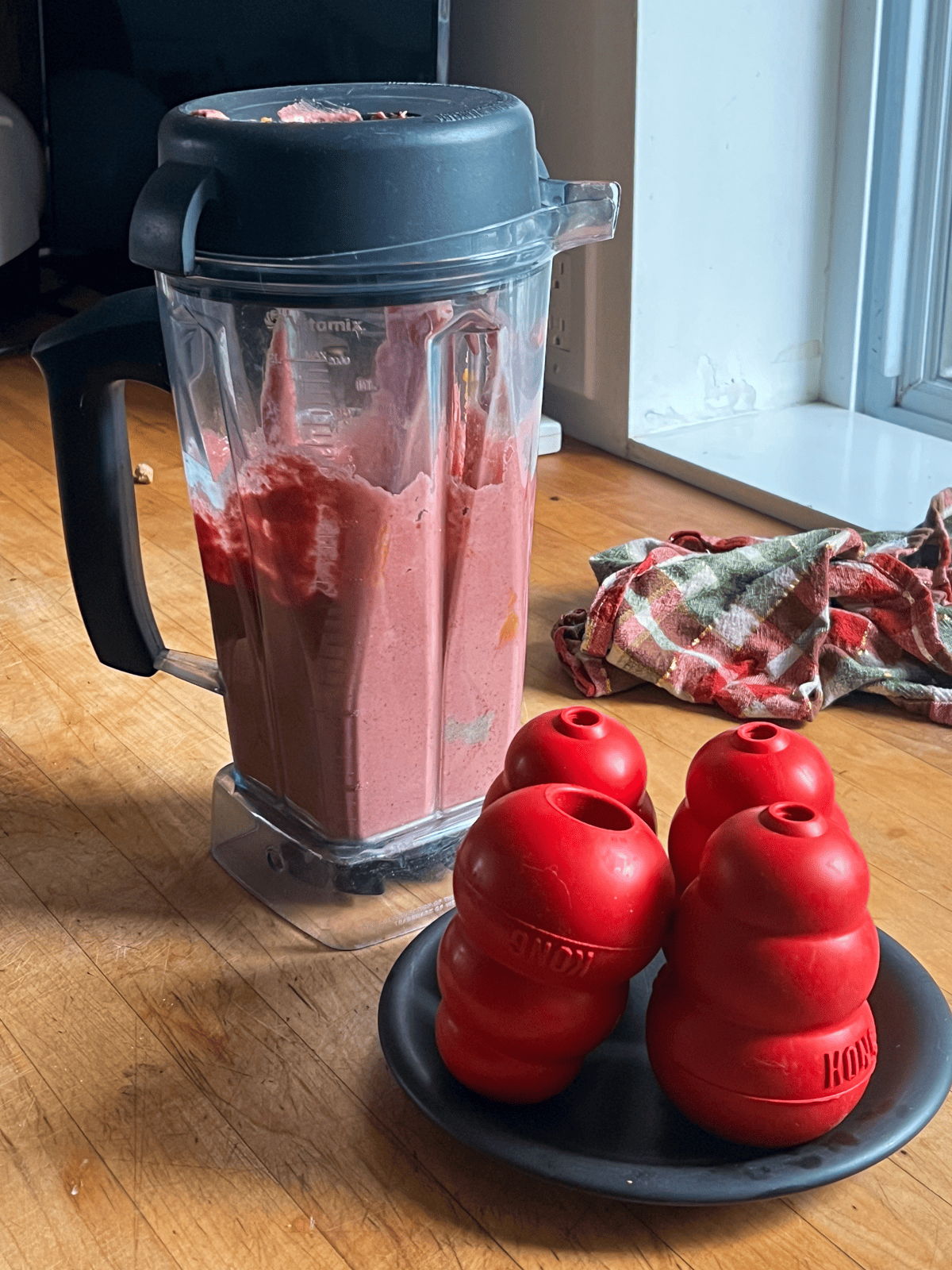 Arrange your Kongs on a plate or in an egg carton to hold them up.
Stuff a piece of kibble into the bottom of the Kong so it doesn't leak then fill.
I'd like to remind you not to lick it even though it looks like a delicious strawberry milkshake.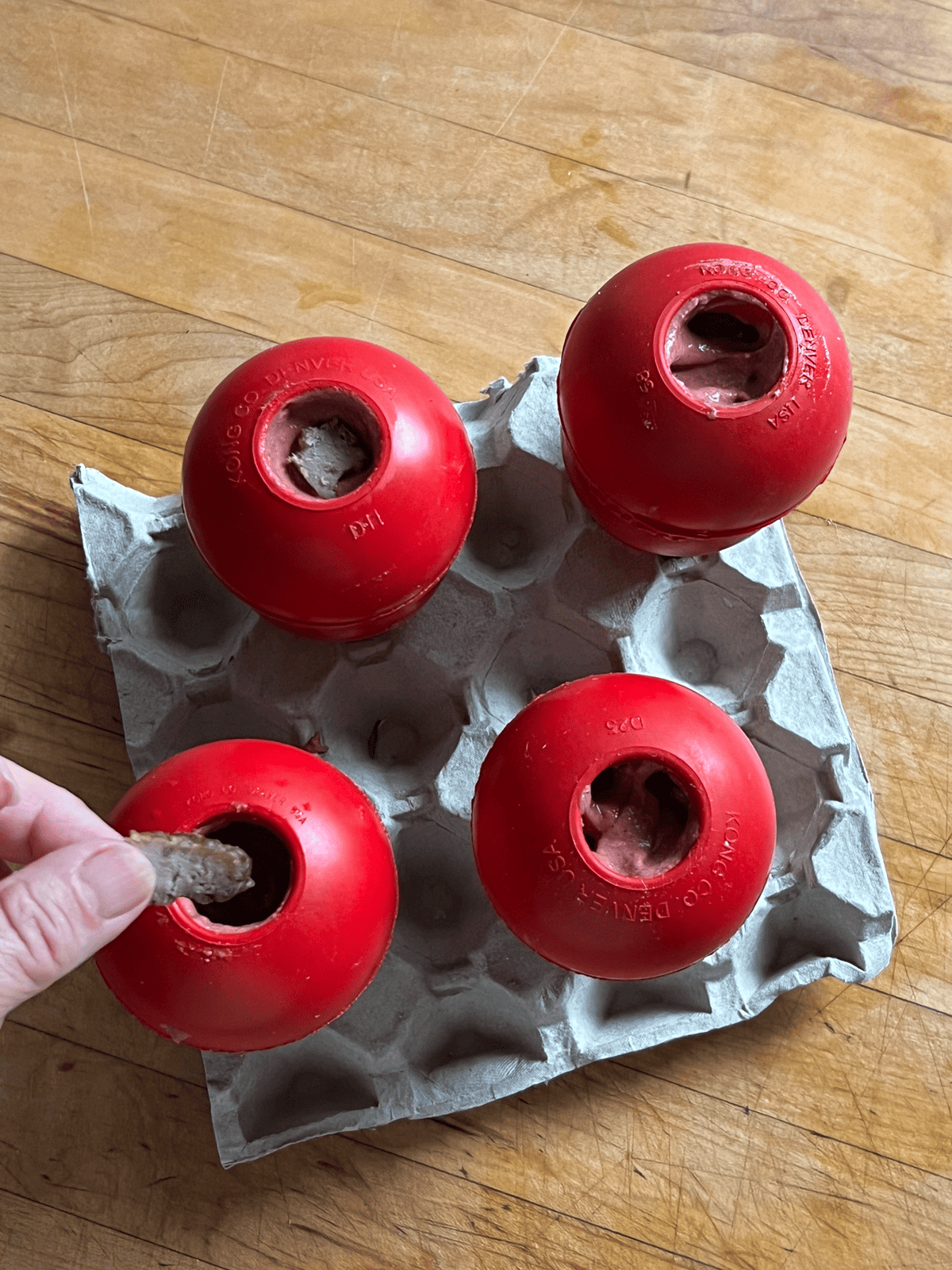 Add an irresistible SHOWSTOPPER of a treat to the top. In this case it's little pieces of leftover hamburgers.
Showstopper Treat Ideas
(Philip's favourites, but your dog might be different - you know your dog and the things they bounce off the walls for)
Cut up hamburger
Sausage pieces
Bacon
Cube of cheese
Liver bite
Hot dog pieces
Chicken
How Long Does It Last?
These Kongs last Philip well over 2 hours. I generally take them away from him after half an hour so he doesn't a) get bored with them or b) get over stimulated by it. Yep.
Now that you know how to do this you can mix and match and create any recipe you want using saturated kibble as your base.