For years I wasn't a huge fan of eating broccoli in the same way I wasn't a huge fan of walking everywhere backwards while naked. I could do it, but there was nothing fun about it for me or anyone unfortunate enough to witness the torture. Now I like broccoli! My tastebuds didn't change; my recipes did. I learned how to make broccoli taste good.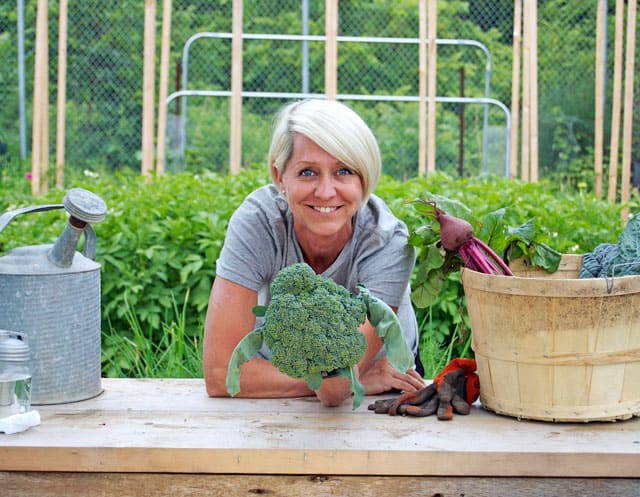 I come from a long line of canned food eaters. Canned peas, canned corn, canned green beans, even canned asparagus which has the consistency of baby food after it's been digested, expelled and sat upon for a day or two.
When I first moved into my house at the age of 28, I loaded up my cupboards with canned peas, canned corn and canned green beans. Because that's how my mother did it, that's how her mother did it, and that's how everyone who was raised on white bread and cellophane wrapped cheese slices did it.
Over the years I started to draw the line on canned goods and bought less and less canned stuff and more and more fresh.
Of course, now I've gone and hopped right over the canned vegetable line, landing smack dab in the middle of a 1600 square foot garden. I don't just eat fresh vegetables, I now grow almost all of them that I eat for the entire year. Like a hippie.
It's only a matter of time before I throw out my blush in favour of painting flowers on my face.
Even with all the vegetable growing I do, the one thing I didn't grow for years is broccoli. Unless you spray it and cloak it and babysit it, broccoli tends to get cabbage worms, a caterpillar-like thing. Often they're large enough to wear hats, but because they're the same colour as broccoli they're impossible to spot. Unless they're wearing their hats of course, which they rarely do.
Since I built and started using my hinged hoop houses, I've been growing broccoli successfully for years and because I grow it, I'm more likely to try to find ways to eat it that don't cause me emotional distress.
Why not just do away with eating broccoli?
---
The benefits of eating broccoli.
Broccoli is low in calories but relatively high in fibre. Meaning, you'll feel full quicker and longer for just 33 calories per cup.
It's full of a variety of antioxidants and vitamins and minerals (C, K1, B9, potassium, manganese, iron.)
It's available *in good condition* year round in the grocery store.
You can eat it raw or cooked and you can eat the entire thing from the florets to the stems.


---
So if you're stuck in a broccoli rut or the thought of it makes you gag, read on because there's more to cooking broccoli than over boiling it (I also come from a long line of over boilers) and dumping it on the plate with salt and butter.
I know boiling broccoli into oblivion is an easy way to prepare it but guess what? So are these ...
---
Roasted Broccoli with Parmesan
Toss your broccoli florets in olive oil, season with salt and pepper, then roast at 400 F until tender crisp and slightly caramelized. Drizzle with olive oil and immediately throw a handful of shaved parmesan cheese on top. (I shave mine with a potato peeler) Done!
If you like an actual recipe, Ina Garten has a really good Roasted broccoli with parmesan recipe.
Roasted Broccoli with Lemon
Roasted broccoli all on its own is delicious, and tastes completely different than steamed or boiled broccoli. But if you want to make it even better just add a squeeze of lemon over it all at the end. It's an easy way to brighten up the roasted flavours.
Toss broccoli florets in olive oil, season with salt and pepper, roast on baking sheet in 400F oven until tender crisp and caramelized. Remove from oven, drizzle with olive oil and finish was a squeeze of fresh lemon juice.
Broccoli Salad
This is the dish that started me on the path to enjoying broccoli. I figured if the disgusting combination of adding brown sugar, lemon juice and mayo could improve broccoli - just about anything could.
There is ZERO reason this classic broccoli salad recipe should be delicious but it is.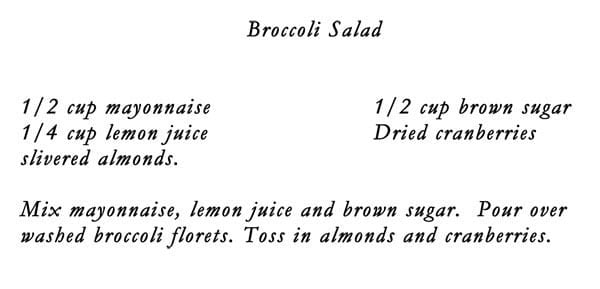 You can also add a handful of crumbled, crispy bacon
---
.For a less sweet, more savoury Broccoli salad this one will be your preferred choice.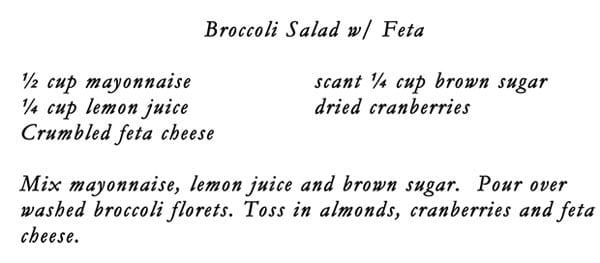 for added interest throw in a handful of slivered almonds.
Broccoli Soup
Broccoli soup is my go-to quick meal. Just add a grilled cheese sandwich and watch their faces light up.
Cut a head of broccoli into equal sized pieces (so they cook at the same speed) and throw it into a pot. I cut the stems up and everything - just peel the stems and chop away. Add enough broth (vegetable or chicken) to completely cover the broccoli and simmer until tender. Pulverize with a blender or stick wand, add salt and pepper to taste then add some cream or milk until the soup is the thickness you like. Top with croutons and shredded cheddar cheese.
Broccoli Fritters
I've had these on my "to make" list for about a 5 years but when given the choice I'll always go for a potato pancake over a broccoli fritter. Fingers crossed this is the year I actually try Smitten Kitchen's broccoli fritters.
This looks like an ideal way to use up leftover cooked broccoli to me. Mix up cooked broccoli with a bit of a batter and pan fry them. Feel free to try the recipe which you can see here and let me know how it is!
See? Broccoli has proven to me that it is possible to like new things and do new things. You just have to keep marching forward. If you're constantly walking backwards you can't see what new things are ahead of you, you can only see where you've already been.
Wow. Deep. So deep for a broccoli post. You're welcome, feel free to print that little gem upon a tee shirt.