If you're very quiet about it, and nice and calm, the next time you come across an Ostrich, reach your hand up inside their bum. Grab the first thing you feel and pull it out. Hopefully it'll be an egg. Once you've got hold of it, take a good look at it. Actually, first apply some gauze and bandages, because the Ostrich will have attacked you by then. THEN take a good look at the egg. It will look very similar to the one you see above.
Remember that? That's the mammoth egg my limping hen Josephine laid. Just after that she went off laying. No wonder. At close to 100 grams that particular egg was almost twice as big as a standard large egg.
Josephine's broody now, just sitting around and not laying, probably angry at her body for betraying her in such a shocking way.
I thought today I'd give you a little bit of a lesson in eggs that'll help you whether you get your eggs from a store, a local farmer or your own chickens.
You've probably noticed that most recipes call for 1 large egg. Or 2 or 3 or 5 large eggs. Always large. That's the standard form of measurement for eggs in recipes, but most people have no idea what a large egg actually is other than bigger than quail's egg and smaller than a duck's egg. It's a chicken sized egg.
Beyond that, we don't know much. Egg sizes are actually classified from pee wee to Jumbo with each category getting an acceptable size range. Eggs are measured by weight to make things more accurate, so if you buy a carton of large eggs at the grocery store, yes they are large but they aren't measured by size, they're measured by weight.
Like that egg holder? You can learn how to make it here.
Pee Wee - 41 grams or less
Small - 42 - 49 grams
Medium - 49 - 56 grams
Large - 56 - 63
X-Large - 63-70
Jumbo - 70 grams - what the CLUCK!
WHAT IF I'M COOKING AND I DON'T HAVE A LARGE EGG?
If a recipe calls for one large egg, like my chicken burger recipe, but you only have X-large eggs because your husband went shopping instead of you and he always thinks bigger is better, don't fret. You can just substitute 1 X-large egg for 1 large egg.
What you CAN'T do is substitute 5 X-large eggs for 5 large eggs. The little bit of difference in size doesn't matter much when you're only talking about 1 egg, but once you get up into multiples that difference in size adds up.
Here's a handy conversion chart from the Incredible Egg website.
| | | | | |
| --- | --- | --- | --- | --- |
| Large | Jumbo | X-Large | Medium | Small |
| 1 | 1 | 1 | 1 | 1 |
| 2 | 2 | 2 | 2 | 3 |
| 3 | 2 | 3 | 3 | 4 |
| 4 | 3 | 4 | 5 | 5 |
| 5 | 4 | 4 | 6 | 7 |
| 6 | 5 | 5 | 7 | 8 |
But what about refrigeration? Ohhhhh there's a great mystery behind who refrigerates their eggs and who doesn't. Basically it comes down to laws, as so many things do.
Laws are responsible for keeping order and maintaining a civil and democratic society. And an uncivil and undemocratic society even more.
Laws are what stop all of us from speeding and smoking pot and opening our spouse's mail. HAHAHAHAHAHA! Oh, God, I almost choked on that one.
But seriously. Laws are why some countries sell their eggs from refrigerators and others sell them from the shelves. In countries like The United States and Canada, the law requires that anyone selling eggs must wash them prior to selling them. This is to get any poop or bacteria that might be on the shells off of them so they don't make their way into the egg inside. The problem is, chickens lay eggs with something called a "bloom" on them. It's a tiny coating the chicken puts on the egg just prior to laying it.
The chicken puts the "bloom" on the egg as a way to protect the egg from, you guessed it, poop and bacteria. They do this to keep the eggs sterile and viable because in their mind their eggs are going to turn into little chickens and need to be protected. When a chicken lays an egg and then sits on it for 18 days to hatch it, that hen has to make sure the egg doesn't go bad. Hence the bloom. When she sits on her eggs for weeks on end, they don't stink and go rotten and become bacteria filled (usually). That's because of the bloom protecting it.
Once the egg is washed, that bloom is washed off as well.
So North American food laws have egg sellers wash off the egg's natural protection against bacteria in order to protect us from bacteria. Yeah. Most studies have proven that the bloom is a more effective way to protect an egg interior from salmonella etc., than washing them is. But the law's the law.
In other countries, mainly in Europe, eggs are not legally required to be washed so they have their bloom in tact. That means they don't need to be refrigerated and can be sold on the regular store shelves.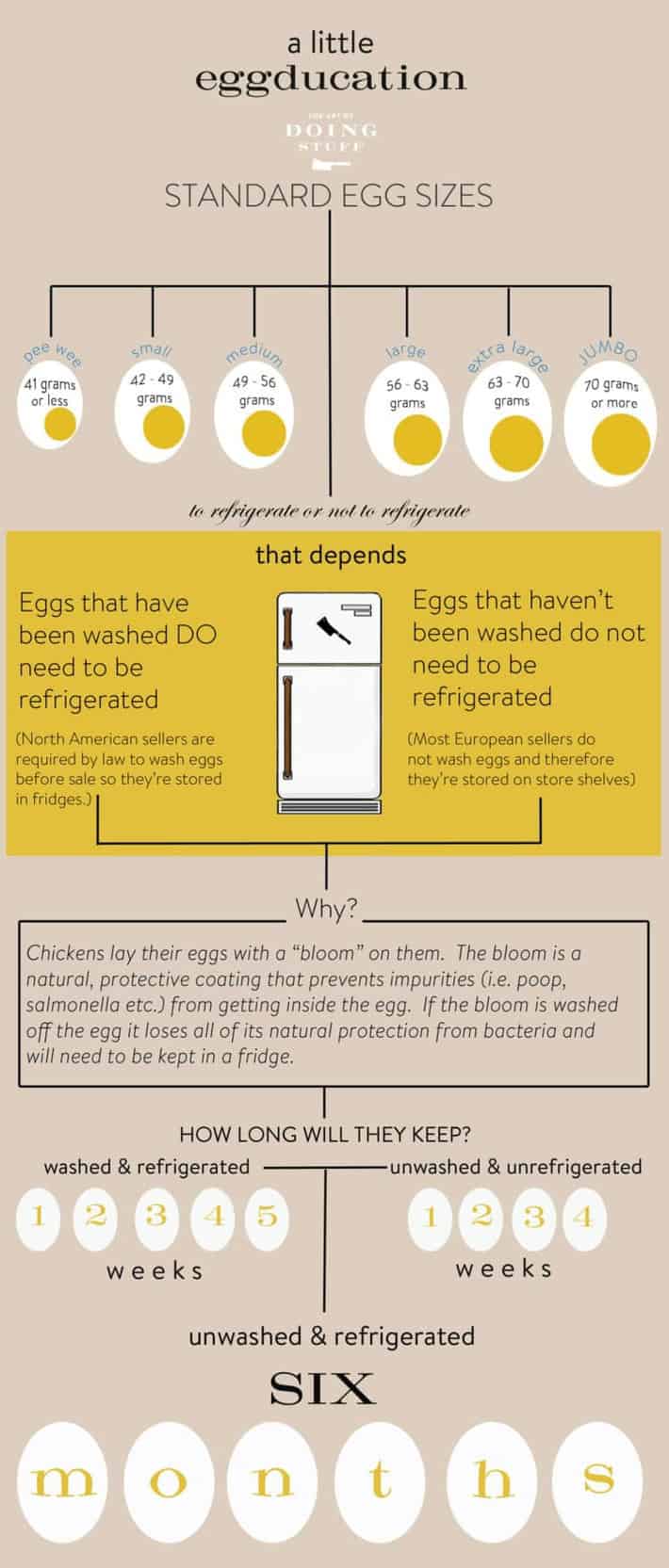 Yes. You can keep fresh, unwashed eggs in the refrigerator for 6 months and they'll still be good. In fact. One month ago I put some eggs in the fridge. In 5 months, on April 10th, 2017 we'll meet back here to see if they're still good.
Provided I haven't been killed by an Ostrich in that time or incarcerated due to inappropriate behaviour at my local zoo.