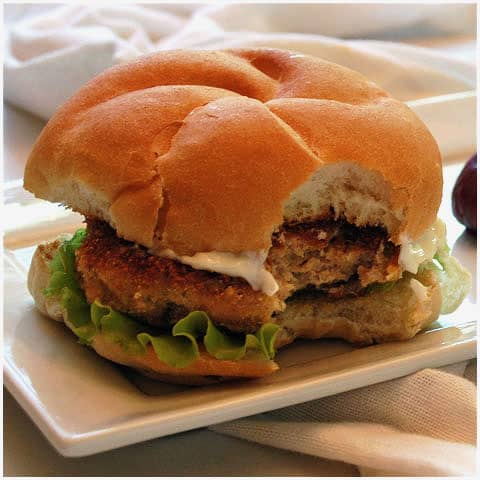 I'm not sure where my obsession with copying recipes you can find in any local dive came from.  But it's true.  My life is and always has been ruled by copying good, bad food.
Things like french fries, pizza and hamburgers.  I'm still on a quest for the perfect good, bad onion rings.  I've mastered how to make them like a high end restaurant, but I want to be able to make them the way a greasy spoon does.  You know.  Like frozen onion rings.
Say what you want about crappy food, but the truth is, if it didn't taste good it wouldn't be so popular.  The problem with crappy food is … it's crappy.  And usually frozen.  And filled with ingredients like Xantham  Gum.   Sadly, I'm pretty sure it's those weird ingredients that are key to successfully copying many diner foods.
However, lack of Xantham gum has never stopped me from successfully figuring out a lot of fast food recipes.
Years ago I used to buy "Jane's Pub Style Chicken Burgers".  They're your basic chicken burger.  The kind you'd get if you went one of the  grimier establishments in town.  The sort of establishment that you have to ask for a key to the washroom.
I haven't bought them in years, but I think of them fondly, those pub style, breaded chicken burgers.  So the other day I thought, I'm just going to make them myself.  It'll probably take a few tries, but I'm bound to come close.
It took one try.
I hit it dead on.
The actual Jane's chicken burgers include ingredients one would normally never think to put in a chicken burger.  Like whey protein powder.  So I avoided the weirder ingredients and went with my gut.  And yes.  Before you go into some kind of protein powder fit, I know it's good for you.  But it's also a weird ingredient to put in a chicken burger.
The result was a perfect, breaded chicken burger made from scratch that tastes like it's from a diner.  How good is this chicken burger?  At the end of the meal you're gonna start looking over your shoulder to get a refill on your fountain pop.
Gather your ingredients.
Oh.  You want specifics.  O.K.  Gather *these* ingredients …

Mix everything up by hand.  It will be a great big ball of wet mush when you're done.  It will be gross.
Add 1/2 cup of seasoned breadcrumbs. You need at least this much to make the meat workable.  The breadcrumbs will help bind the meat, give it less of a mushy texture and absorb the wetness.
Don't they sound delicious already?
Mix the bread crumbs into the meat and form into patties.  I almost always make my burgers too big, so I use a 1/3rd cup to measure out the meat.  It also helps to start to get it formed into a patty.  Shove it in the measuring cup then plop it out into your hand.
This recipe will make 6 chicken burgers.
Set the burgers in the fridge to firm up if you need to before breading them.
Next, get your breading ingredients out.
Some flour, 1 egg and seasoned breadcrumbs.  In that order.

Dip your chicken burger into the flour …
… then into the egg …

… then the breadcrumbs …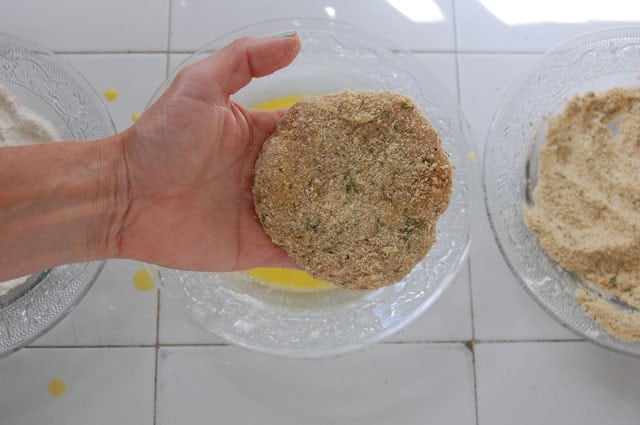 Heat up some cooking oil in a pan.  I used Sunflower Oil.  I can't say how much you'll need because it depends on the size of your pan.  Around 3-4 Tablespoons.  You need enough to create a layer on the whole bottom of the pan.  You're pan frying, so don't be skimpy.  Skimpy is for bathing suits.
Cook the chicken burgers on medium heat for around 4 minutes on each side.  Check to make sure they aren't burning.
I always use a meat thermometer to check the temperature.  I had a close call a little while ago with cooking chicken.  I came very close to not overcooking it.  Almost unheard of for me to not overcook chicken.
Ground chicken must be cooked to 165°F.
Now eat it.
The chicken burgers freeze great.  I cook them, then put them in the freezer.  When you want to eat them just thaw them out and flash heat them in the oven at 450°F for 2 minutes on each side.
[print_this]
Homemade Chicken Burgers
Ingredients
1 lb ground chicken
1 egg
1/2 cup seasoned breadcrumbs
1/2 tsp salt
1/2 tsp pepper
1/4 tsp onion powder
1/4 tsp garlic powder
Breading Ingredients
1/2 cup flour
1 beaten egg (just add a little water or milk if you think 1 egg doesn't look like it's going to be enough)
1/2 cup seasoned breadcrumbs
Method
1.  Mix chicken, egg, salt, pepper, onion powder, garlic powder together.
2.  Mix in bread crumbs.
3.  Form into patties using 1/3rd cup as measuring tool.
4.  Coat with flour, egg then breadcrumbs.
5.  Panfry in 4 Tablespoons of cooking oil for 4 minutes on each side.
[/print_this]
Now.  Who  needs a key to the bathroom?
→Follow me on Instagram where I often make a fool of myself←