Unveiling the 4-Day odyssey that is the grooming of Philip the Poodle. It's like trimming a topiary that moves and toots while you're nose to nose with his puff machine.
This is an abridged version of what I do every 6 weeks to my almost 2 year old blue standard poodle Philip, also known as Lip. I'm an awful, amateurish groomer with no technical skills at all.
Please enjoy.
Day 1
Shaving his face, feet & trimming his nails.
Poodle hair grows everywhere and it grows constantly. Even though a typical poodle cut involves a shaved face, you don't have to do that.
Classic poodle haircuts and poodles in general elicit a visceral reaction from people. There are a lot of ACKS and BLECHS that come out of otherwise polite mouths.
A lot of poodle owners now let the face hair on their dogs grow out so they look like Teddy Bears.
It is called, appropriately enough, the dinosaur trim. Just kidding. It's the Teddy Bear Clip. The face isn't shaved, but it is trimmed to be round.
Like Lip's friend Sterling who looks like somebody pulled him off the shelf of a Steiff store.
In fact, there are a billion different combinations of heads and ears you can do on poodles.
Above, Sterling has a blended, round head & Philip has a defined topknot and ears. A year ago I had to watch all the YouTube videos on how to trim dog nails. Now I'm an encyclopoodlia.
For Philip I like a shaved face and feet so Day 1 of grooming is shaving his face, feet and trimming his nails.
Face and feet day takes about an hour.
Day 2
Line Brushing.
Poodle coats are wooly like sheep, very curly, and prone to matting especially anywhere there is rubbing or moving like under the arms and around the neck if they wear a collar all the time.
Line Brushing - Line brushing is a grooming technique where you take very small sections of the coat and brush it out completely using a fine wire brush and then a comb.
Every single knot or tangle has to be removed right down to the skin so a comb can glide through it.
The full fluff is way too hot for the summer.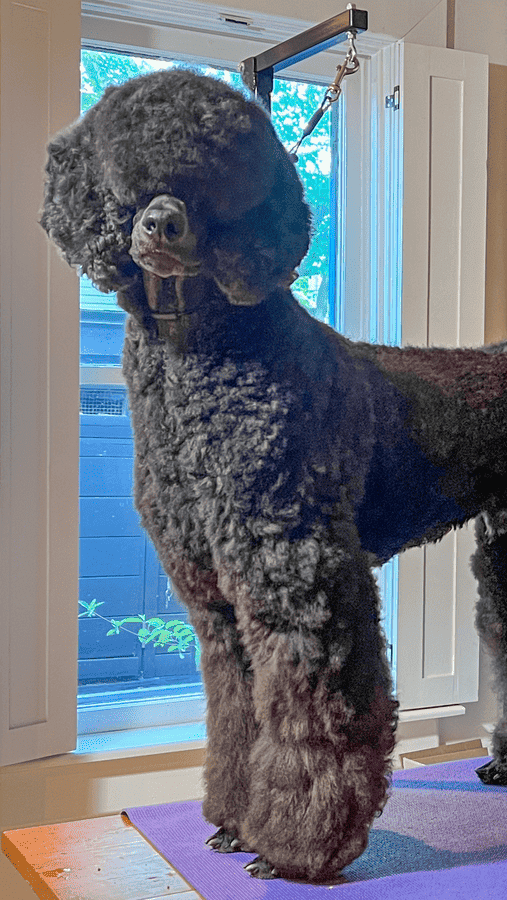 Once he's fully brushed (this can take anywhere from 15 minutes to 2 hours depending on the length and filth of his coat) he can get an initial quick trim.
This is a rough trim to take off excess hair. This is only done if you plan on taking the dog quite a bit shorter for their haircut. It shortens your bathing and blow drying time.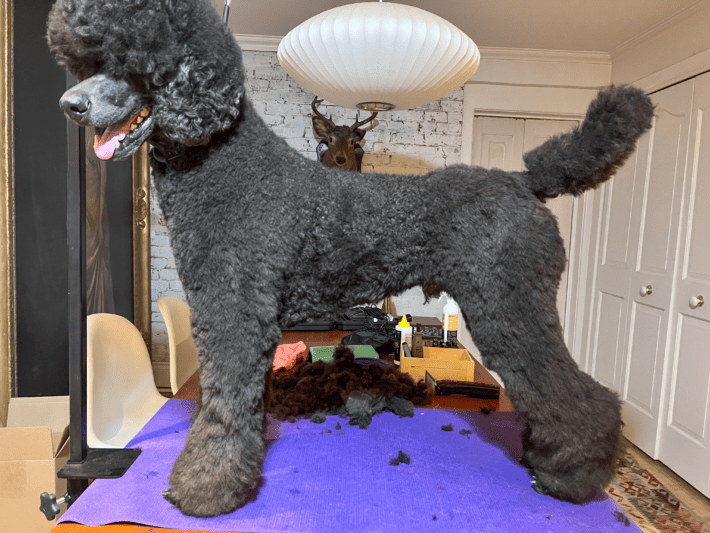 This is post initial quick trim. Notice the small mound of hair on the table. That will look comically small soon.
Day 3
Bath and blow dry day.
I heave all 65 pounds of poodle into the bath.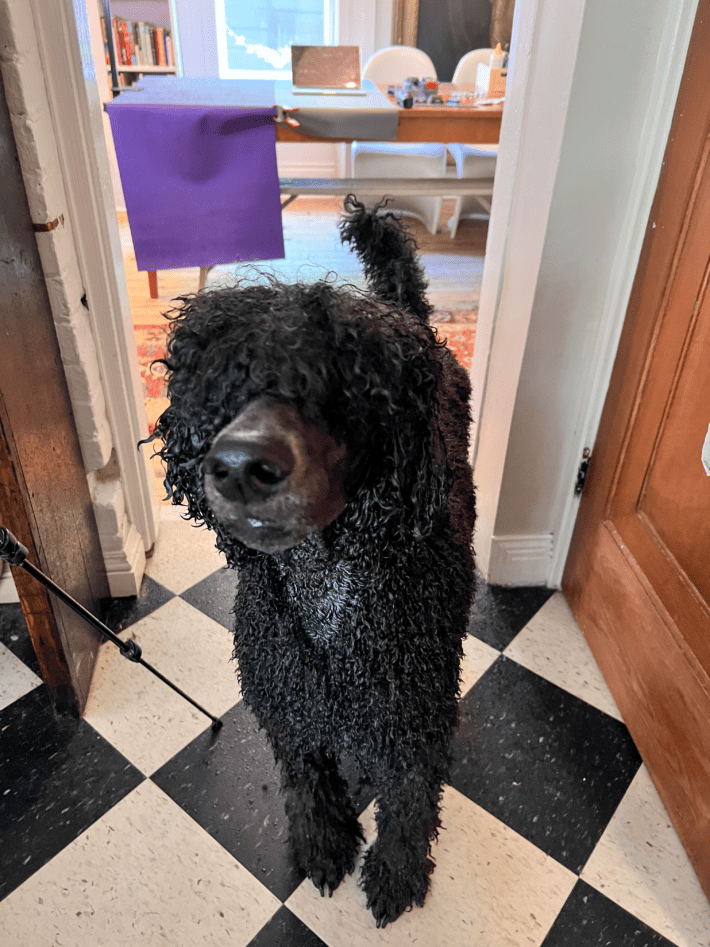 Nobody likes bath and blow dry day. The bath is done in my cast iron tub using a hand shower. Bathing takes a minimum of 30 minutes.
After bathing there's a little ripping around time.
And then it's time for blow drying.
This is just the blow dry of his head.
Why do you have to blow dry? Why not let him just dry naturally?
Poodle coats naturally cord.
So if you don't dry the dog you run the risk of them becoming a single, large, obedient dreadlock.
So blow drying it is.
To blow out a standard poodle you need a high velocity dryer and a handful of pills that end in pam. Diazepam (Valium), lorazepam (Ativan) ... any of the pams will do.
After the blow dry we relax and repeat our mantra "Never again, groomers are worth every penny". Then we pass out.
Day 4
The cut.
The cut requires a pillowcase sized bag of treats, clippers, clipper combs and a variety of shears - some curved, straight and blenders.
It was during the clip when I had his back leg hoisted over my shoulder so I could trim his sanitary area and bum that he tooted in my face.
Specifically right in my nose. I could feel the puff of air.
The cut takes me at least a couple of hours. It involves contortion work on both our parts.
The Miami
I've trimmed Philip into The Miami clip. It's a poodle cut that has the entire body cut to one length, with poofs on the bottom of his legs.
Poodle people know those poofs as "bracelets", everyone else calls them pom poms. You shape a poodle's coat exactly the same way you would a boxwood topiary.
For this particular cut, I've left a neck on him which just means I've left the hair on his neck a bit longer and blended it into his short coat around his withers.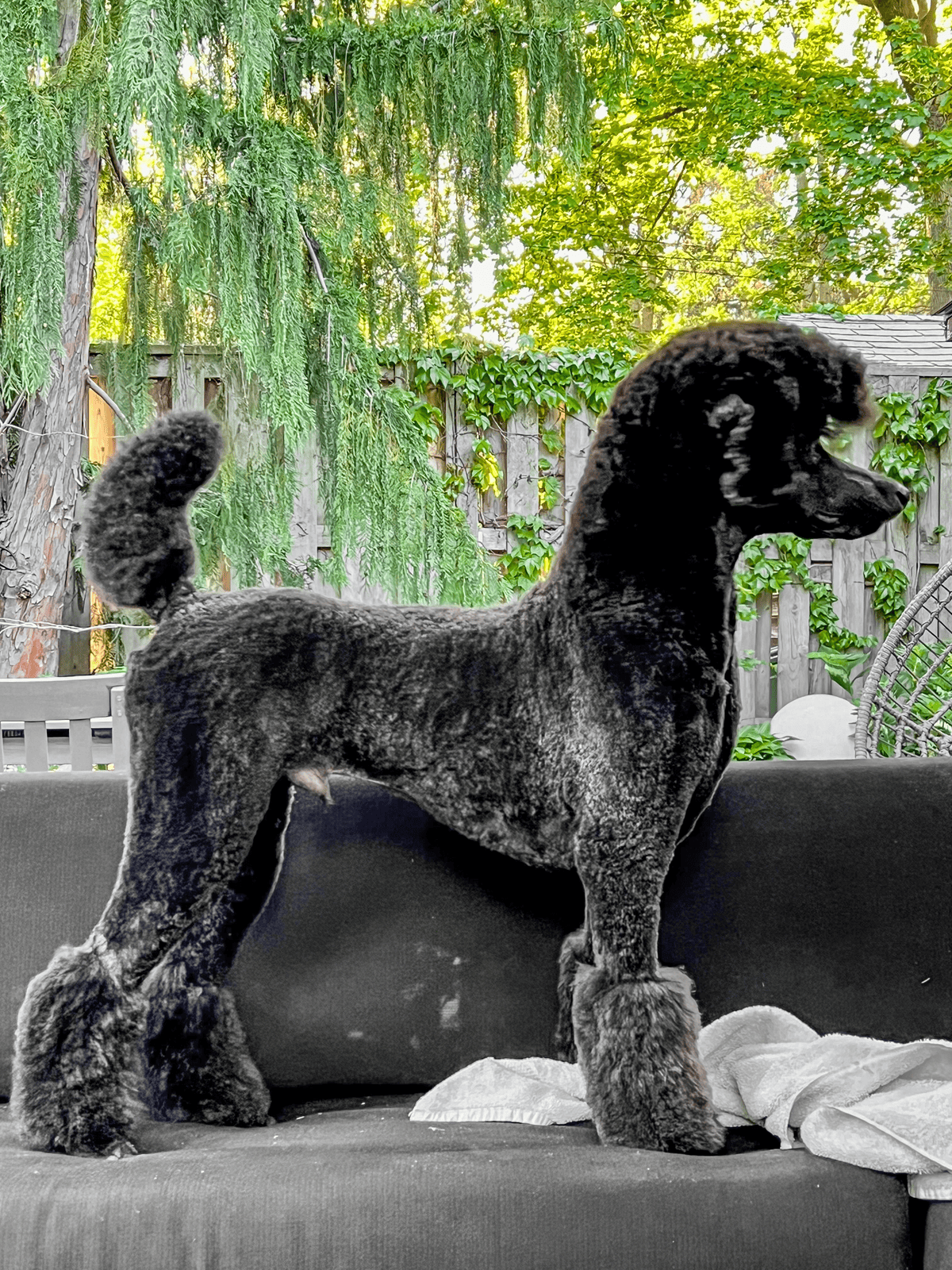 He looks pretty good, doesn't he?! He doesn't. He looks awful by show grooming standards. But the only reason for that is because I'm an awful groomer.
Every 3 or 4 months I take Philip to get a professional grooming job and then the grooms in between I use to practice.
Our next professional grooming job will be for Philip's August 2nd birthday when he'll turn 2 years old.
He'll get a big boy haircut with less floof and shaved ears so he will appear very manly and dignified. I'm imagining a Burt Reynolds vibe with more attention to the sanitary area.
Why 4 days?
Because as I mentioned - I'm an awful groomer and he'd be on the table getting groomed for morning until night otherwise.
That's too long for him and that's too long for me. By the end of the day we'd hate each other and wouldn't talk for days.
Granted, he's already not talking to me because of this ...