You're gonna bake bread. Old fashioned, full of gluten, honest to goodness WHITE bread. You rebel.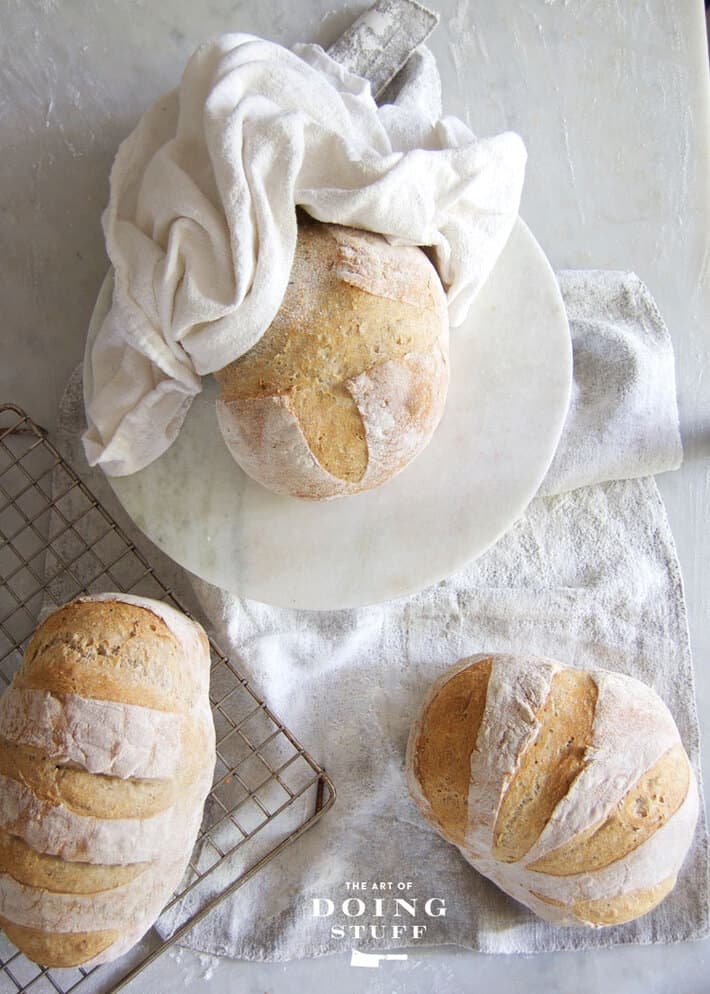 And in fact today I'm going to make more bread in it. Partly because the bread is really good and partly because it's just fun. Also I'm out of bread, and like any good mini-Martha instead of going to the store to buy bread, well of course I'm going to bake some myself in the cob oven I built.
I'm not sure when this happened to me but I have a hunch it's only going to get worse, culminating with me growing my own heart valve when I'm 80.
Baking Bread in a Cob oven
Baking bread in a cob oven is FUN.
This was just a basic, white bread recipe that you can use in any oven, not just a cob oven.
It's originally from the book Artisan Bread in Five Minutes a Day: The Discovery That Revolutionizes Home Baking.
I don't own the book yet but it's only a matter of time because if this recipe is a representation of how good this book is ... I need it. Actually ... hold on a second while I go order it.
I'm back. Book has been ordered.
update: I've since ordered the book and use it every week. Always. I am never not making bread.
It's a no knead bread, but not the kind that's been making the rounds on the Internet over the past few years. That no knead bread is a very, very wet dough that has to be baked in some sort of pot or crock. I love that bread by the way and make a lot of it ... this just isn't that sort of no knead recipe. It's a wet dough, but manageable unlike the other no knead recipes.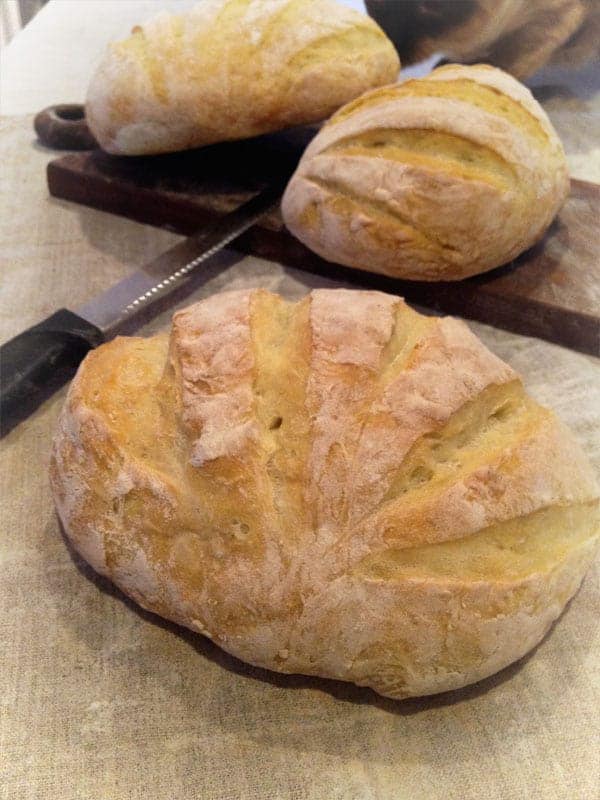 No Knead White Bread
Ingredients
3

cups

water

luke warm

1

tablespoon

yeast

1 packet

1.5

tablespoon

coarse kosher salt

6.5

cups

white flour

unbleached, all-purpose white flour

Cornmeal

for pizza peel
Instructions
Add 1 Tbsp. yeast to bowl along with 1-2 Tbsps kosher salt.. Add 3 cups warm water. Stir.

Gradually add 6 1⁄2 cups flour.

Stir the mixture until it's thickened and well combined. I use this

Danish Whisk

which is GREAT. Cover bowl with tea towel. Allow to rise for 2 hours.

Once the dough has risen divide it into 3. Form each section into a ball and pull the 4 sides of the dough to the underneath. This is stretching out the gluten and aligning it. It gives you a nice tight top to the bread.

Preheat oven to 450 f. You want it to heat for an hour prior to baking your bread.

Leave the dough for its final proof on a very well floured proofing cloth (the floured, linen mat you see in my video) or tea towel for 45 minutes.

After it's proofed, gently transfer to your peel or baking tray/stone. Cut several slashes across the top. This allows the bread to move upwards as opposed to sideways when it bakes.

Bake until the interior temperature of the bread is 210 f. (around 25 minutes).
Notes
*  if you want a crispier crust, when you're heating your oven add a deep pan.  Right after you put your bread in the oven, throw a cup of water into the empty hot pan.  This will create steam which is GREAT for baking bread.
*You can also just use ⅓rd of the dough, and put the remaining dough in the fridge for up to 2 weeks.
*For an extra nice crust, bake the bread in a preheated dutch oven. Leave the lid on for the first 15 minutes of the bake and then remove it.
*Try removing 1 cup of the white flour and replacing it with Red Fife, Rye or another flour for a different flavour.
Nutrition
Serving:
1
loaf
|
Calories:
998
kcal
|
Carbohydrates:
208
g
|
Protein:
29
g
|
Fat:
2
g
|
Sodium:
3508
mg
|
Potassium:
327
mg
|
Fiber:
8
g
|
Calcium:
48
mg
|
Iron:
12.7
mg
Consider this next fact a warning. If you make 3 loaves of bread, you will eat 3 loaves of bread. I did. No joke. I ate 3 loaves of bread in 3 days. By myself. I now have back fat. This is a serious warning and not even a joke. YOU WILL GET FAT if you make homemade bread. There's no way around it.
If you can deal with that, then bake away. If you can't you'd best stick to other baking. Like baked broccoli. Which taste especially good with a nice cheese sauce and a big ... slice ... of bread.
→Hey there! GET MY POSTS emailed to you 3 times a week←