Learn how to DIY a fly trap that actually works using a mason jar (a soda bottle works too) and bait. These results are 100% real from my own backyard using household items and a stinky bait.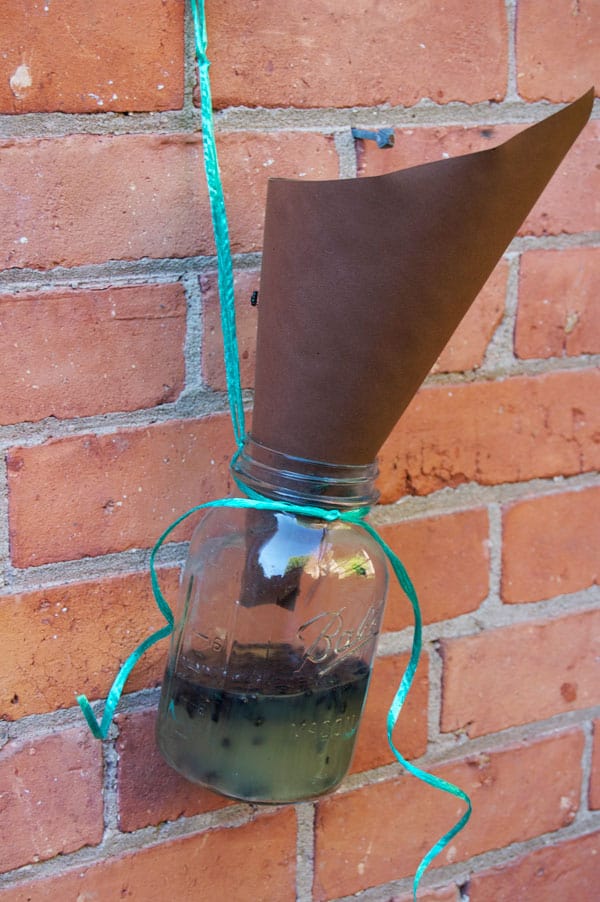 This fly trap DIY works so well outside for green bottle flies, aka blowflies, that it'll turn your stomach. How's that for an endorsement? But more than the trap, the most important thing about this DIY - is the fly trap bait.
Living in an almost 200 year old house with backyard chickens means I've learned how to control a lot of pests.
The best time to control pests is BEFORE you see pests. And I know my flies. I dried and counted hundreds of fruit flies while coming up with the best possible fruit fly traps.
Catching flies is a whole lot easier if you start baiting before they start mating.
Get your fly trap made and placed outside a couple of days before warm weather arrives to keep the population under control from day 1.
---
As with most pest solutions, double whammying is the best way to go. Don't use just one method. Use several. For instance, pair these fly traps with controlling flies with natural predators like parasitic wasps.
---
When one of my chickens became sick with flystrike, a deadly affliction caused by bottle flies, I knew I had to head into battle against them.
I made and compared a few homemade fly traps including:
a mason jar with paper cone
a soda bottle with the top cut off and inverted
good old fashioned fly strips (not DIY but I had to test them out!)
The results showed the trap wasn't so much the determining factor in how well a homemade trap worked - it was the bait.
Mason Jar & Paper Cone Trap
Baited with raw shrimp.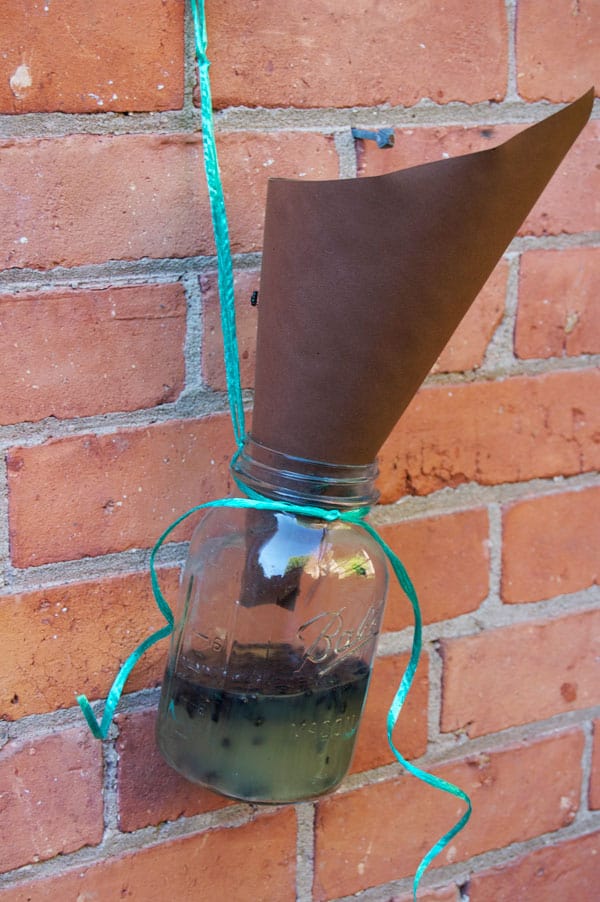 SUPPLIES
Mason jar
1 raw shrimp
water
INSTRUCTIONS
Roll a piece of paper or cardstock into a cone and tape it together.
Put the cone into a mason jar of any size, making sure there's room at the bottom of the jar for at least 2" of water. You may need to adjust the shape of your cone.
Add water and a single raw shrimp to the jar.
Wait. Within a couple of days your jar will be FULL of flies.
Yep. A raw shrimp allowed to rot in the sun for days until it has the putrid smell of liquid internal organs. That was the key to a successful fly trap.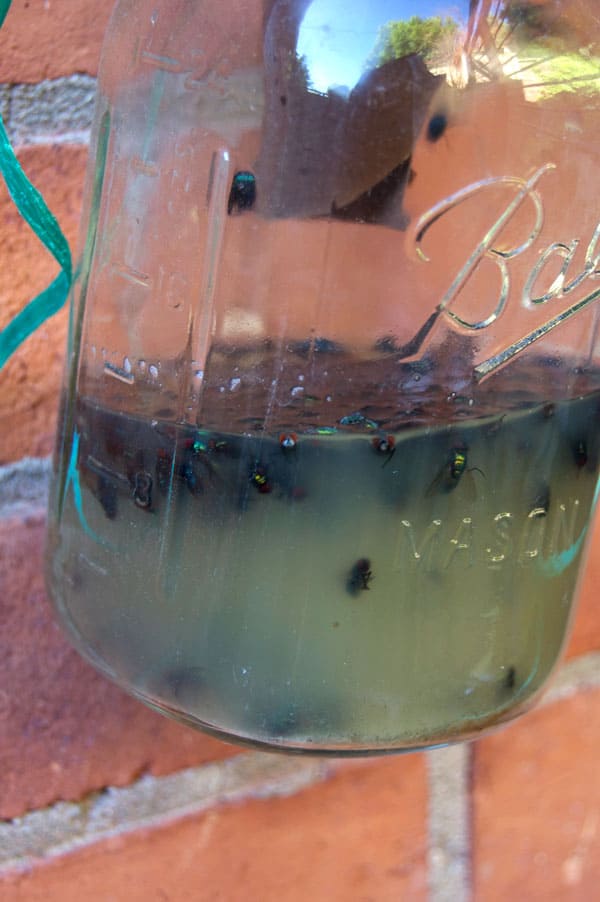 Soda Pop Bottle Fly Trap
Baited with commercial, store bought fly bait (although not THIS fly bait which actually looks kind of great. I just ordered some.)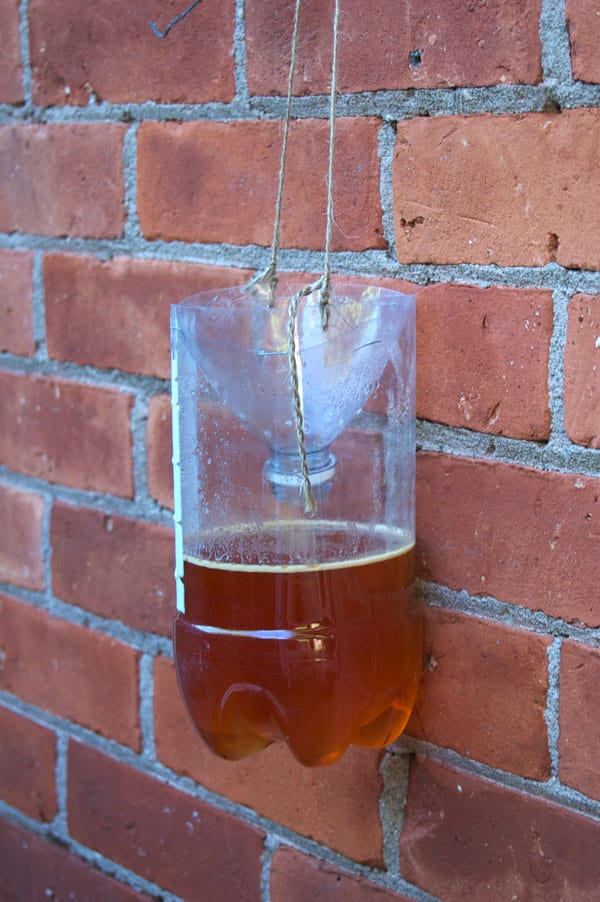 This is the basic DIY fly catcher you see all over Pinterest.
SUPPLIES
Plastic soda bottle
Scissors
Commercial fly bait
INSTRUCTIONS
Cut the top off of the plastic pop or water bottle.
Flip the top upside down (it'll look like a funnel) and stick it back into the bottle.
Pour a couple of inches of water into the bottom of the trap and then bait it.
In this experiment I used I used store bought fly bait. The container is a 2 litre pop bottle. The flies can get into the bottle, but can't figure out how to get out. Then they drown.
This trap caught NO flies. Not a single one.
But it isn't the design of the trap that was flawed, it was the bait. Store bought fly bait attracted no flies at all.
Fly bait is the most important part of your fly traps.
---
Fly Strips
The fly strip cost a couple of dollars and dangled sadly from my window frame enticing no flies at all, just hanging there like a limp tongue.
I wanted to make sure I gave all the fly traps a good shot so I kept them all out for a week. This is how things had progressed after 4 days.
---
Fly Trap Results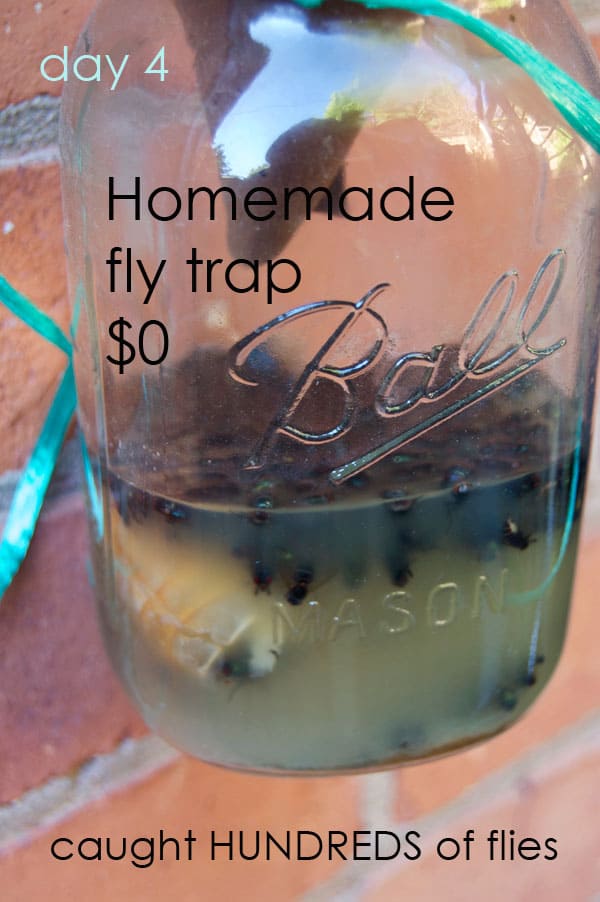 Mason Jar with natural fly bait (shrimp) - Caught HUNDREDS of flies in 4 days
Soda bottle with commercial fly bait - Caught ZERO flies in 4 days
Fly strip - Caught 7 flies in 4 days
After 4 days it was pretty clear that the rotting shrimp was the only way to go in terms of bait.
My homemade fly trap recommendations
The trap
Either the mason jar or soda bottle method will work very well to catch flies outdoors.
The bait
Raw shrimp is your BEST choice for fly trap bait.
---
For this experiment I only baited the soda bottle with commercial bait (which caught nothing) but since then I've tried it successfully with shrimp as a bait. It works just as well as the mason jar with paper cone.
Testing Different Baits
I experimented with different baits including:
Fermented chicken feed
Raw sweet corn
Fresh chicken poop*
Raw shrimp*
* If you use meat, seafood or poop understand that this gives the flies a place to lay their eggs. That means if you use any of these things that after several days you will ALSO have maggots appear in your fly trap. Consider this when choosing your bait.
The rotting shrimp was the winner by a shrimpboat load.
The only issue with the enticing smell of rotting shrimp was the vile smell of rotting shrimp. If you place your container up high enough (above nose level) you miss most of the stench but given any kind of downward breeze you suddenly feel like you're walking through a rotting whale carcass.
By day 7 I was pretty sure I would have to try something else because I couldn't stand the stench of the shrimp no matter how well it worked. Then a funny thing happened. By days 8 and 9 the trap was so filled with flies they actually suffocated the smell of the shrimp. Yet somehow the stink was enough to continue to attract the flies.
By day 14 the mason jar trap was almost completely FULL of flies.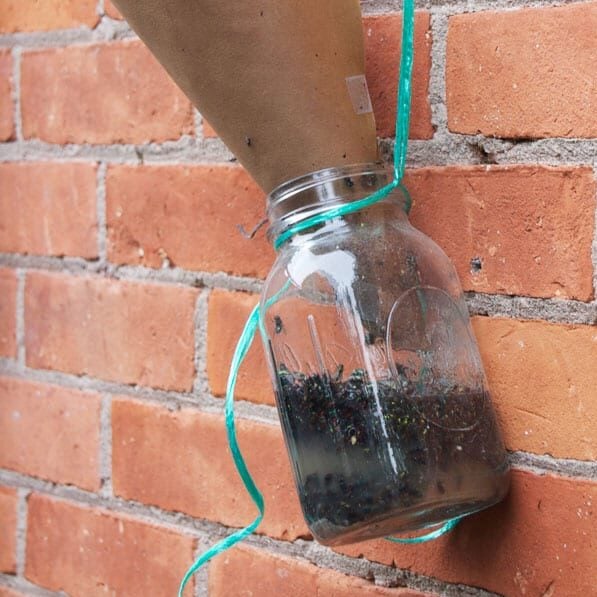 Home Fly Trap on Day 14
Because there were so many flies I couldn't smell the shrimp at all and the jar was almost full.
After 20 days it stunk again. Stunk like the guts of a hot monkey. But the stink could have been the mass grave of flies as well.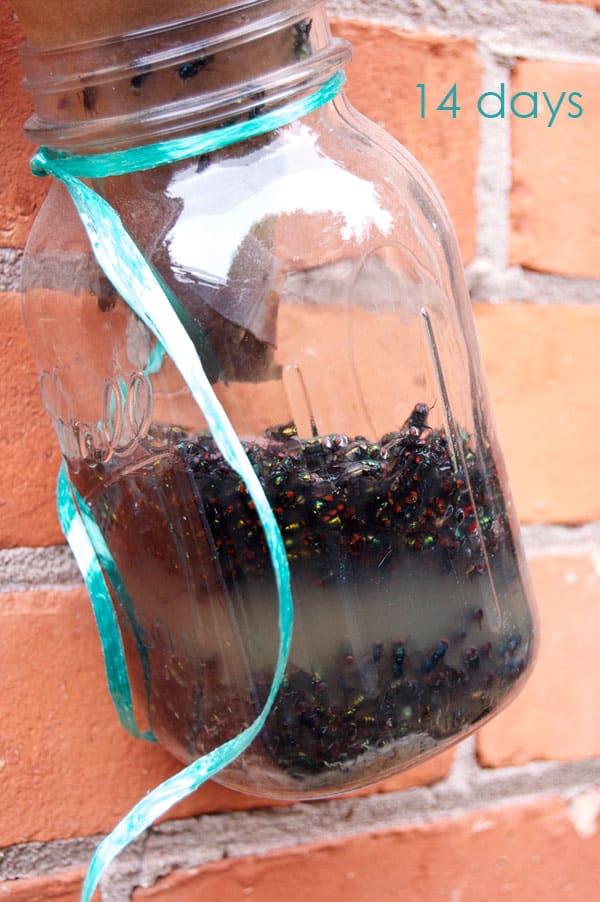 To save myself some grief and whatever happens to be in my stomach, when it comes time to remove the jar I just tie a plastic bag around my head, put a lid on the jar and throw the whole thing in the garbage.
Just kidding. I don't tie a bag on my head. I'm an excellent breath holder on account of my cat's horrific gut issues when she - coincidentally - eats seafood.
Fly trap placement
The best place to put fly traps is actually AWAY from where your fly problem is. (The dog run/chicken coop/picnic area.) The point is to draw the flies way from wherever it is they're fond of.
Top Tip
To repeat ... the best way to get rid of flies around your house is to use TWO methods.
Parasitic wasps (really just tiny little flying things that are in no way as menacing as their name alludes to) will kill most flies before they even become flies. The wasps kill them in the larvae stage.
AND
What about indoor flies?
Honestly, I just horsetail them with a kitchen towel.
But you can try this indoor fly bait recipe if you want.
Fly Bait Recipe
½ cup water
½ cup vinegar
2 Tbsps sugar
1 tablespoon dish soap (the dish soap breaks the surface tension of the water and vinegar, making the flies unable to use it as a launching pad when they fall in it)
Use either the mason jar or plastic bottle method. You can use a small water bottle instead of a large soda bottle.
Now that you've mostly eliminated one insect from your yard (totally understandable, flies are sex crazed monsters that feed on crap and then land on your corn on the cob), you might want to help out another.
Learn how to raise monarch butterflies on you property, something I've been doing for over a decade.
If you have a great fly bait recipe, leave it in the comments below. If you have a great maggot story maybe just keep that to yourself. Just kidding. Obviously, I'd love to hear the maggot stories.
→Follow me on Instagram where I often make a fool of myself←