You're having grilled cheese for dinner tonight.  An ooey, gooey grilled cheese made on a chewy sourdough bread grilled to crunchy perfection, layered with melty sharp cheddar, salty crisp bacon, crisp green apple and a drizzle of sweet maple syrup.
See?  I told you. You're having grilled cheese for dinner tonight.
At this point I think it's very, very important that I let you know I am 100% behind the original Wonderbread, plastic cheese, grilled cheese sandwich.  It's a classic.  I'm all for it.
But .... I'm a grown up now, so I also eat fancy grilled cheeses.  Churched up, elegant mutations of the childhood classic that are better suited to my more refined adult palate.  When it isn't busy with Sour Patch Kids.
To make the perfect grown up grilled cheese you just need a few tips on technique and ingredients.
THE 3 ESSENTIAL INGREDIENTS FOR A GRILLED CHEESE
1. A grown up grilled cheese begins with the right bread.  SOURDOUGH BREAD.
~ Sourdough bread is THE best bread for getting crispy on the outside while maintaining a perfect chewiness on the inside, PLUS it has flavour.
---
2.  A grown up grilled cheese also needs the right cheese.  SHARP CHEDDAR CHEESE.
~ Sharp Cheddar Cheese has good flavour but more importantly it's melty!  It's melty!
---
3.  A grown up grilled cheese also needs a frying fat.  MAYONNAISE.
~  Mayonnaise is the grown up alternative to butter when making a grilled cheese but I'm going to tell you a secret.  I prefer butter.  Mayo spreads easier and really does help the bread get good and crispy but ... I prefer butter.  Better flavour.
---
If you want to make your grilled cheese out of just those 3 ingredients; sourdough, cheddar & mayo/butter  I'm O.K. with that.  It's delicious.  But if you want to make a truly grown up grilled cheese; the kind of grilled cheese that you could serve at your wedding to a member of the royal family then THIS is the way to go.
This is the recipe for Hamilton's famous Lumberjack grilled cheese invented by Gorilla Cheese.


THE BEST GRILLED CHEESE YOU'LL EVER EAT.
The Ultimate Grilled Cheese for a grown up. Salty, gooey, crunchy and buttery.
Print
Pin
Rate
Ingredients
Sourdough bread

Sharp Cheddar Cheese

shredded not sliced

Mayo or butter

½

Granny Smith Apple

sliced thin

Bacon

cooked crisp
Instructions
Butter (or mayo) both sides of all of your bread.

Lightly fry one side of each slice of bread in butter over medium/low heat then remove from pan.

Place a large handful of shredded cheese, slices of apple to cover the cheese, 2 strips of bacon and a big drizzle of maple syrup on the toasted side of a piece of bread. You want the ingredients to be sitting on the toasted side!

Top with another slice of bread, toasted side down.

Return the assembled sandwich to the frying pan with at LEAST 2 large tablespoons of butter over medium/low heat. Fry each side until golden.
I want to make sure you noticed the tips in there so I'm going to list them for you because I am a conscientious blogger who wants to ensure you have a pleasant grilled cheese experience.  Plus I feel like my instructions are a bit muddled.
GRILLED CHEESE TIPS
Shred your cheese - don't slice it
Cook over medium/low heat.  Low and slow please to prevent burning.
Toast the *inside* of the bread as well as the outside.  Also a good trick for quesadillas btw.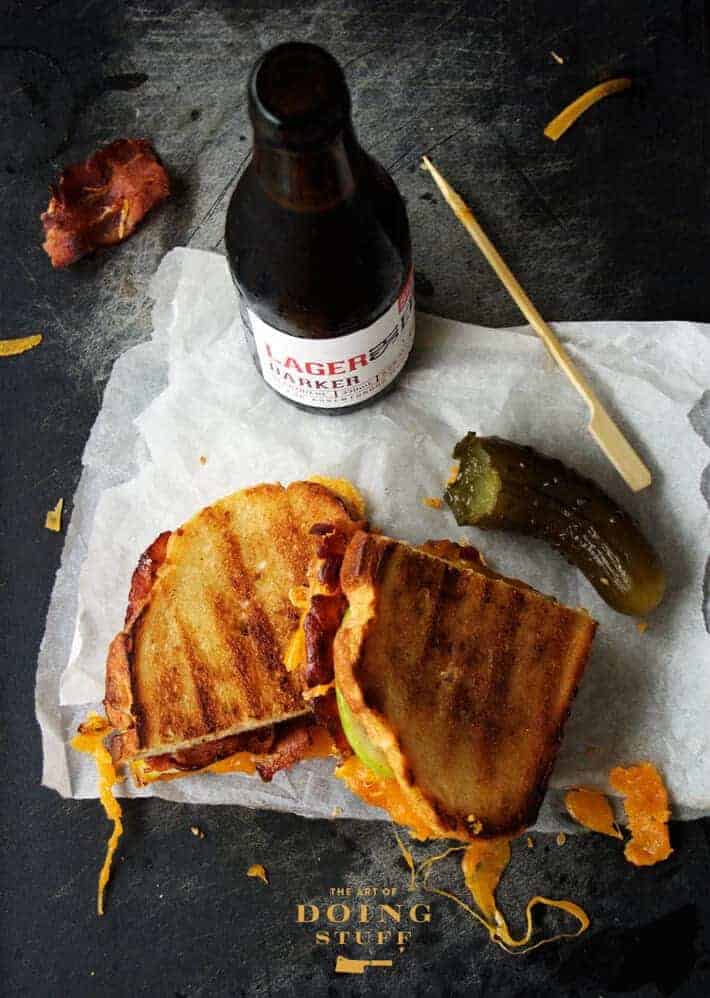 Serve with local craft beer and a kosher dill pickle.
Oh!  And if you want to do the whole pickle skewered to the top thing like I do, you can get the sandwich paddle picks here.  They're 6" so they're long enough to go right through the sandwich to keep it from toppling over.
You're an adult.  You deserve this kind of a grilled cheese.  The kind of grilled cheese that says, Hey!  I'm a grown up. I use a rinse agent in my dishwasher.  
You're going to say you like red onion on your grilled cheese. I know that.  This just isn't the grilled cheese to do that with, so please don't.  Red onion with mozzarella, fontina, a balsamic reduction and basil leaves?  Go for it.  Just don't add them to this particular Ultimate Grilled Cheese please.
Now.  Someone pass the ketchup.
So I can throw it out the window.