There are 3 ways to make the home you live in look derelict.  Broken windows, saggy gates and standing on your front lawn in a bathrobe throwing jelly beans at everyone walking past.  Extra derelict points if you're wearing banana peels as slippers.
I have no broken windows and gave up on throwing jelly beans at my neighbours years ago when I realized (judging by the fist shaking) not a single passerby seemed to like jelly beans.
I do however have a saggy gate.
I've been meaning to brace these gates since the day I built them.  But I've had other very important things to do that didn't involve bracing a gate.  Mainly this is because I had no idea how to brace a gate.  I had a general idea I guess, but it wasn't the sort of thing I knew exactly how to do or what to buy.  I'd go to the hardware store the odd time and kind of look at the wires and twisty things and know that these were indeed the sorts of things I'd probably need, but there were so many sizes and little parts involved that I inevitably turned on my heels, grabbed a bag of jelly beans and left the store.
The difference.  Left side after bracing.  Right side not braced.
Every few months or so my neighbour Grant would take a look in my backyard and say "So.  Haven't braced those gates yet, eh?".  I'd tell him, NO!  Which he couldn't hear on account of his ears being filled with jelly beans by the time I responded.
Finally, after a few years of being pelted with jelly beans, Grant offered to take me to the local hardware store to show me exactly what I needed to buy.
I agreed because Grant has a super-cool car.
If Grant drove a Corolla you'd be reading about how to make soup today.
How to Brace a GATE.
Materials (per gate)
(2 x )  4/16ths eye bolts
(4 x )    ⅛th" crimps (aluminum sleeves)
⅛th wire (length of the diagonal measurement of your gate plus a couple of feet)
(1 x)    6 ¾ x 9 ⅜ths eye
Tin Snips or cutters
Electrical tape
I was going to end the post there with that diagram I drew because I suddenly wanted to try to make biscuits.  But you people  have a tendency to be super-needy always asking for clarification and instructions and actual photos and such.  Since I find it very difficult to throw jelly beans through my computer I will comply.
The first thing you need to do is cut your length of wire in half.  You'll be using half on one side of your gate brace and half on the other.  If you measured correctly across the diagonal of your gate plus added another 2 feet you should have the right measurement for each side of your gate simply by cutting your length of wire in half.
This wire is insanely pointy and sharp once you cut it so to make things a tiny bit easier on yourself use a GOOD pair of tin snips or cutters.  You can also tape on either side of the wire that you want to cut with electrical tape.  This will keep the wire from unravelling (which seems to be when it's at its sharpest and angriest) after you cut it.  Just cut between the tape.
Maybe do so while sitting on the ground looking pensive and thoughtful.  With a blotch of black paint on your leg.
The other thing using the tape does is keeps the wire as tight as possible when you're cutting it. It has a tendancy to splay out when you cut it which makes it almost impossible to thread through your crimps.  Which are actually called aluminum sleeves.
Once your wire is cut in half, apply a sleeve to each end of the wire.
Run the wire through once, hang the eye bolt off of it, then continue the wire through the sleeve.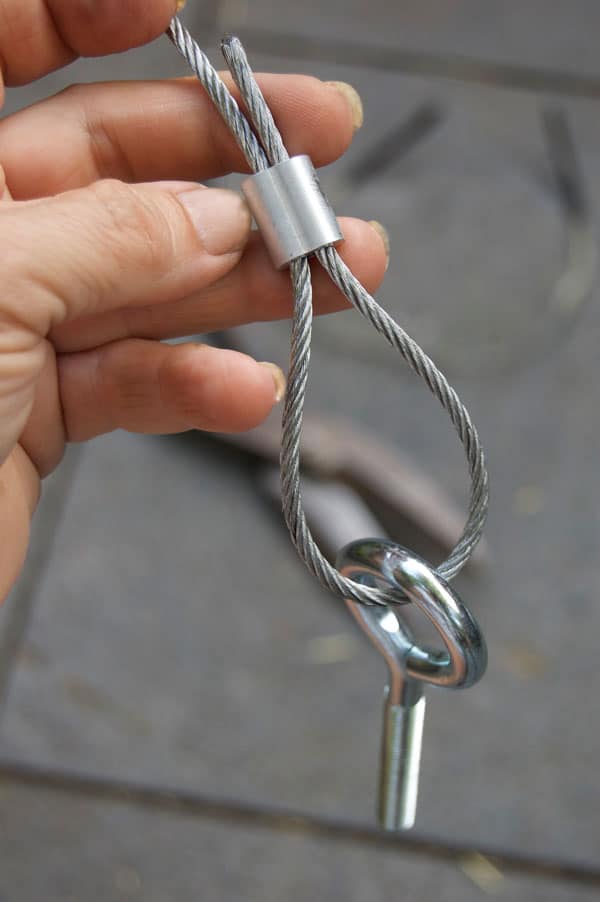 Keep your loop as small as possible.  This will allow you to have as long a wire as possible which will ensure your wire is long enough to run the full diameter of your gate.  Crimp the aluminum sleeves closed with either a crimping tool or a mallet.
Once you have eye bolts and sleeves on the ends of your two separate wires, you can then attach the sleeves and adjustable eye, making one continuous connection, like you can see in the photo below.  Crimp your sleeve the same way as before.
Lay the wire on the ground while you drill a hole on opposite corners of your gate.
You want a hole on the edge of the gate that's dipping (which will be at the bottom of the gate) and a hole on the gate diagonally across from that hole.  Just go look at the picture I drew and it'll all make sense.
Notice below how I don't have huge loops.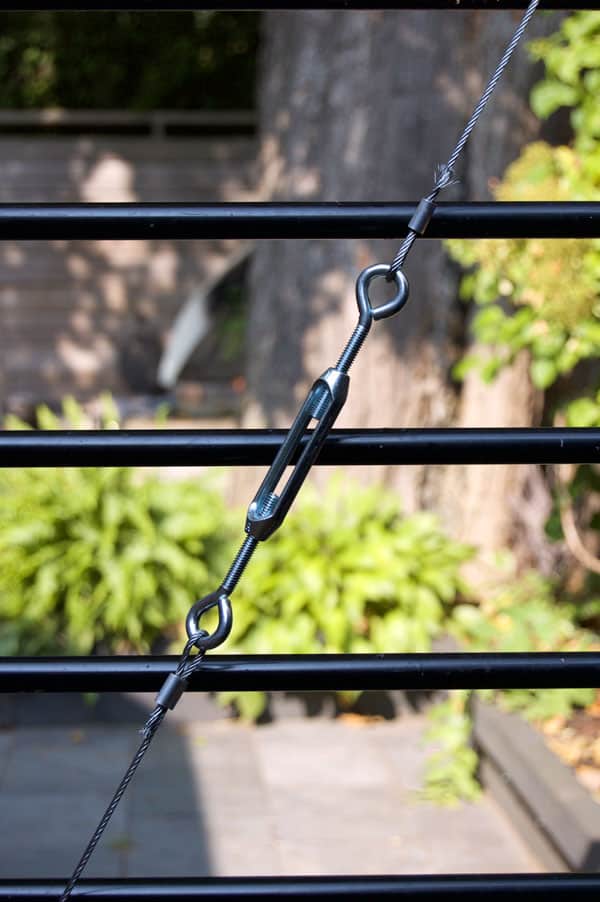 Once your holes are drilled all you need to do is push the eye bolts through the holes and secure with a nut (and washer if you're the type to do things right).  Tighten.
You can now "brace" your gate by tightening the adjustable eye in the middle by twisting it.  The more you twist it the tighter the wire will get, lifting the bottom of your gate up as it goes.
If you go back up to the top of the post and compare the sagging gate to the lifted one you'll see what a big difference it makes.
I'd have done this years ago if only someone had mentioned it to me.