If you're raising Monarch butterflies for a school, camp or just at home, THIS is the way to do it. For years I raised my Monarchs inside in a glass jar. Then I built this butterfly cupboard to hang on the side of my house and it's spectacular.
The thing about raising Monarch butterflies is they're very much a gateway bug. First you're raising Monarchs, then you get bees and before you know it you're deep into ant farms and worm composting. So be warned. If you start raising Monarchs, it isn't going to end there. Consider this fair warning.
Also of note; once you raise a Monarch butterfly there is a 100% chance that you'll force the experience on others (in what you think is an enthusiastic manner, but they see as maniacal).
If you don't know how to raise a Monarch or would love to know how to do it, it's pretty simple. I have an entire series of posts that walks you through how to do it and what each stage of the Monarch metamorphosis. Start here to learn all about how to raise a Monarch from egg to butterfly.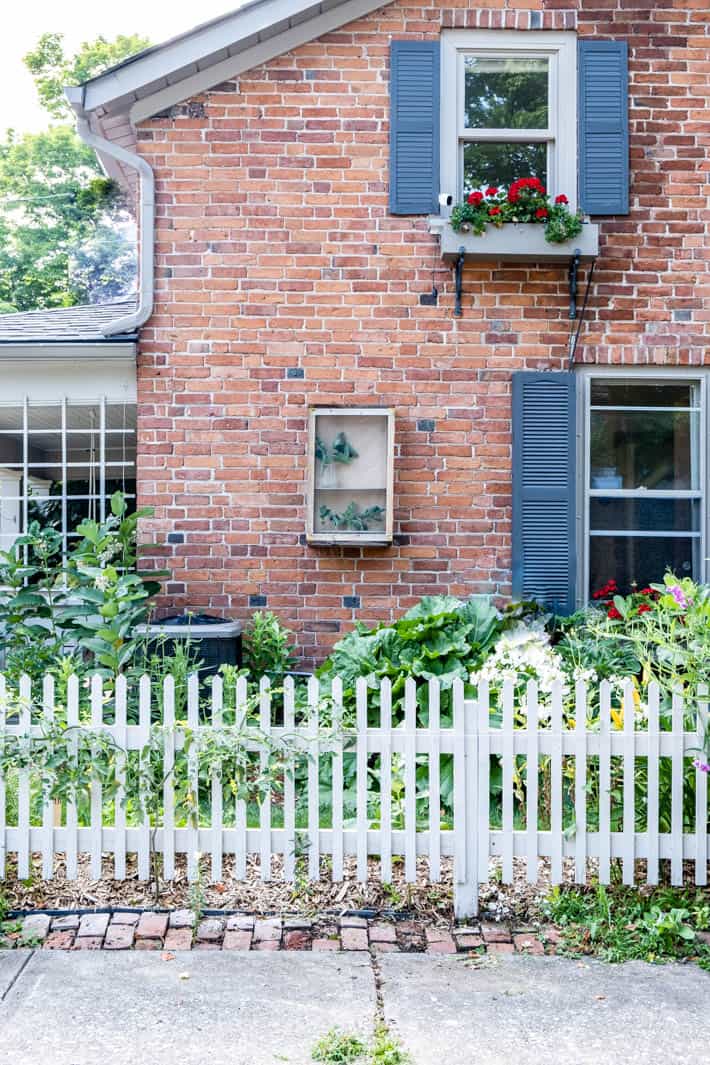 Last week I wrote a blog post explaining why I'm changing my Monarch raising practice a little bit. From here on in I'll be raising them entirely outdoors instead of indoors in a variety of glass vases scattered around my kitchen. To keep everyone in one place, I built a Monarch house to hang on the side of my house. Babies will go in the bottom of the enclosure and older, bigger caterpillars that are ready to chrysalis will go in the top.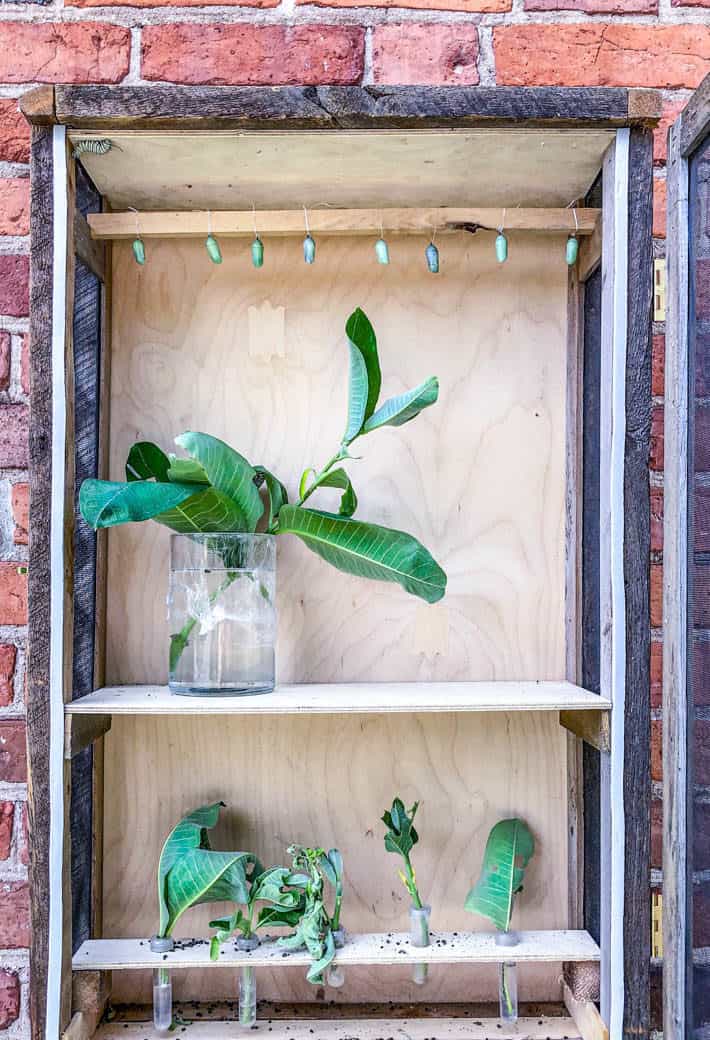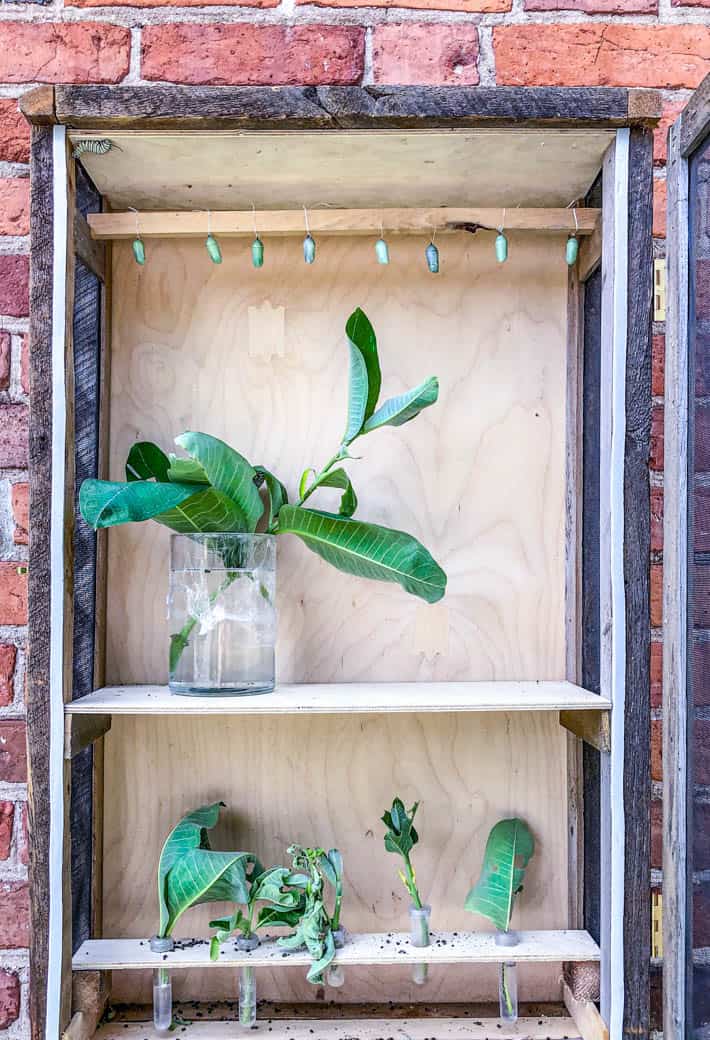 Here's how to build your very own butterfly conservatory.
Build a Butterfly Enclosure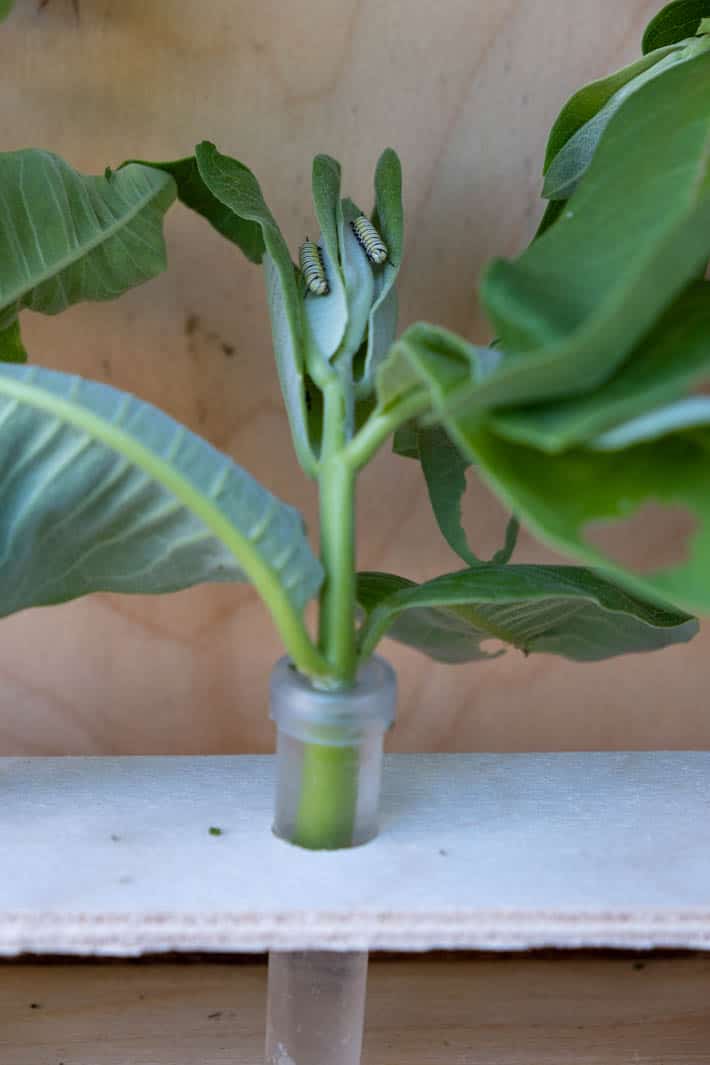 The caterpillars are housed on the East side of my house getting morning sun, but shielded from the hottest afternoon sun and weather.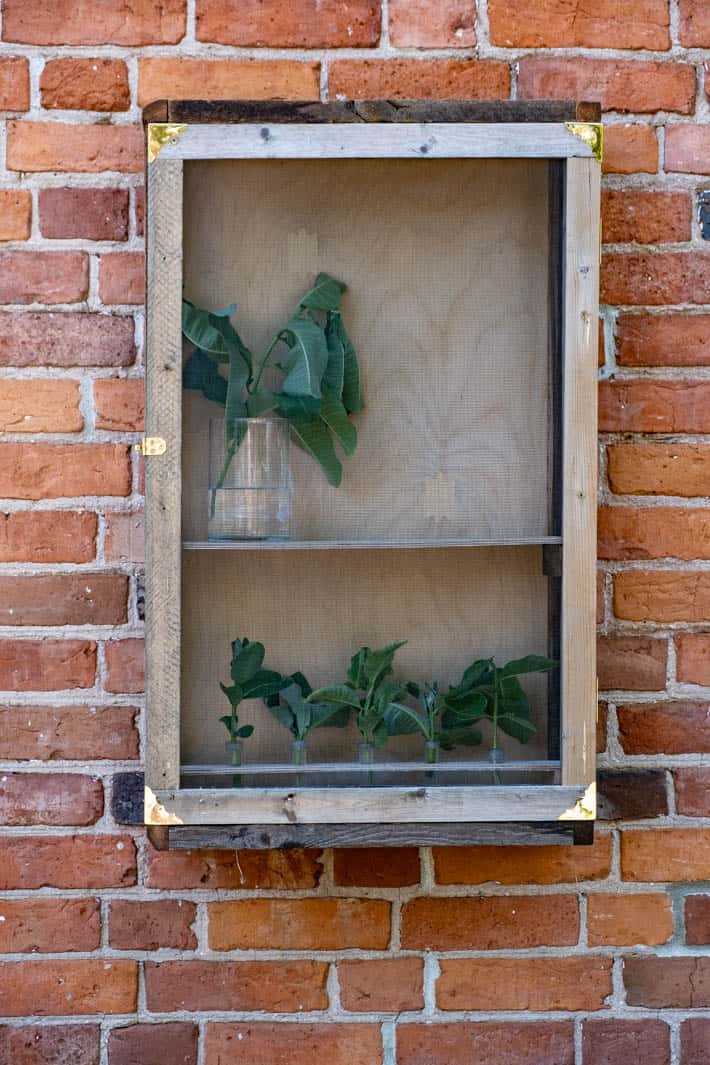 I took inspiration for my butterfly house from Monarch raiser and all-around doer of stuff, Deanna from Homestead & Chill. You can see her butterfly enclosure at the bottom of this post on her blog.
I made my butterfly house entirely out of scrap wood (leftover cuttings from when I repaired and refinished my antique pine floor) and you can too but keep in mind that using wonky wood can lead to a wonky butterfly abode that's much more difficult to get square.
Also, I've given directions for 1x2s in the plan, but you can use 2x2s as well. It'll just make your enclosure a bit heavier and bulkier. Don't forget to adjust the measurements if you decide to go with 2x2s.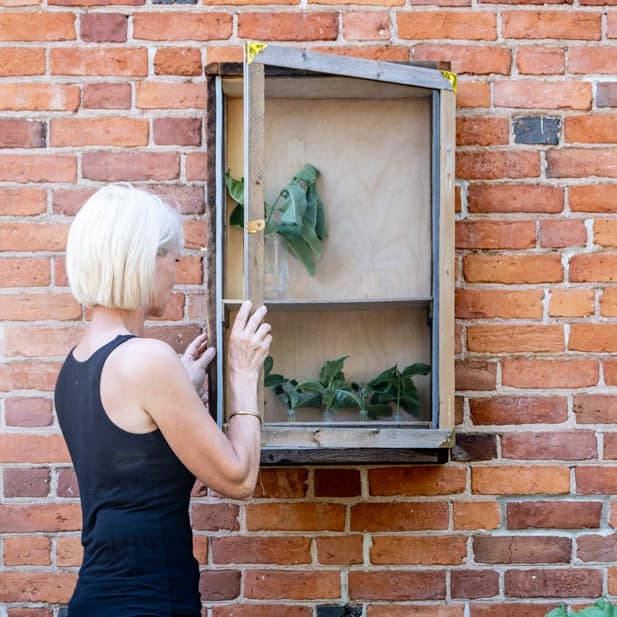 So far I've chosen to leave my shelves as raw wood whereas Deanna has covered hers with vinyl for easy cleanup. Monarchs poop a lot you see. Plus they're vulnerable to disease so you need to clean their enclosure. I'm counting on the natural antimicrobial properties of wood to do their thing. If I find cleanup too difficult or notice disease spreading I'll just stick on some vinyl floor tile or shelf liner.
---
Update: At the end of the season I found I was having problems with progressively worse cases of disease. It was either Black Death or OE which you can learn about here. Both are relatively common around here. So next year I'm going to add some laminate to this butterfly house and use bleach for cleaning it in between batches of butterflies.
---
To fancy the house up a bit I've added some solid brass corners to the door, used a brass latch and switched out the hinges you see in the photos for 2 larger, brass ones. (I was trying to use only things I already owned to make this but the 3 tiny hinges weren't doing their job well.)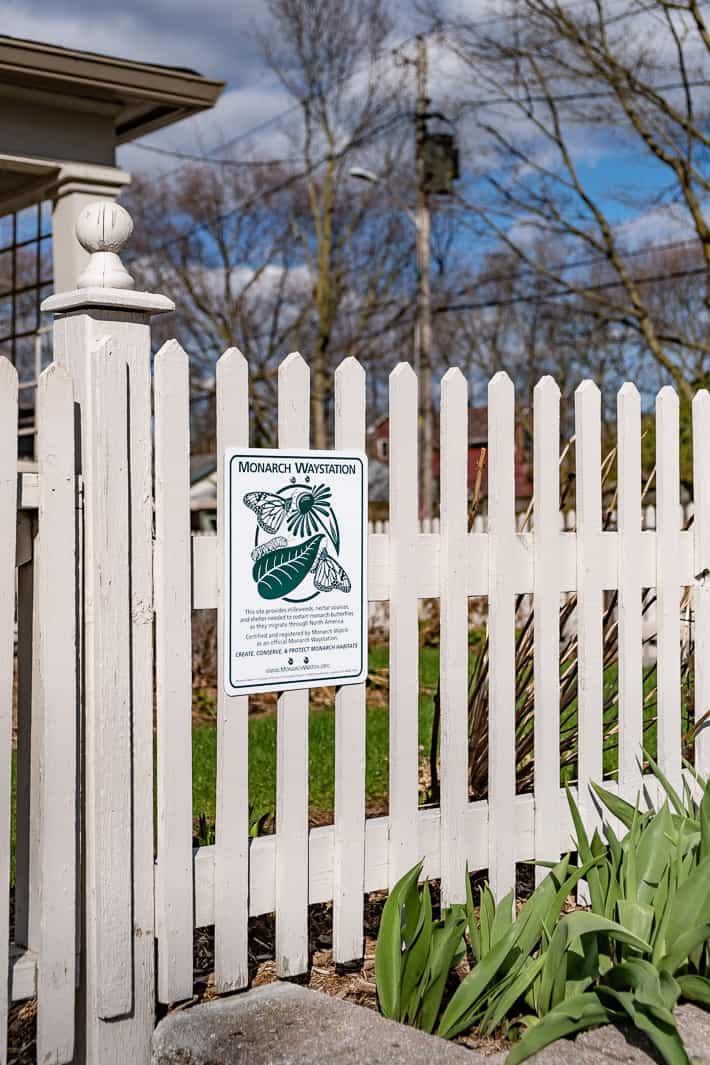 The best part about this is neighbours walking past can see the process as well. They'll see my sign, wonder about it then as they round the corner of my house, they can see me feeding the Monarchs, the chrysalises as they hang and the Monarchs as they emerge.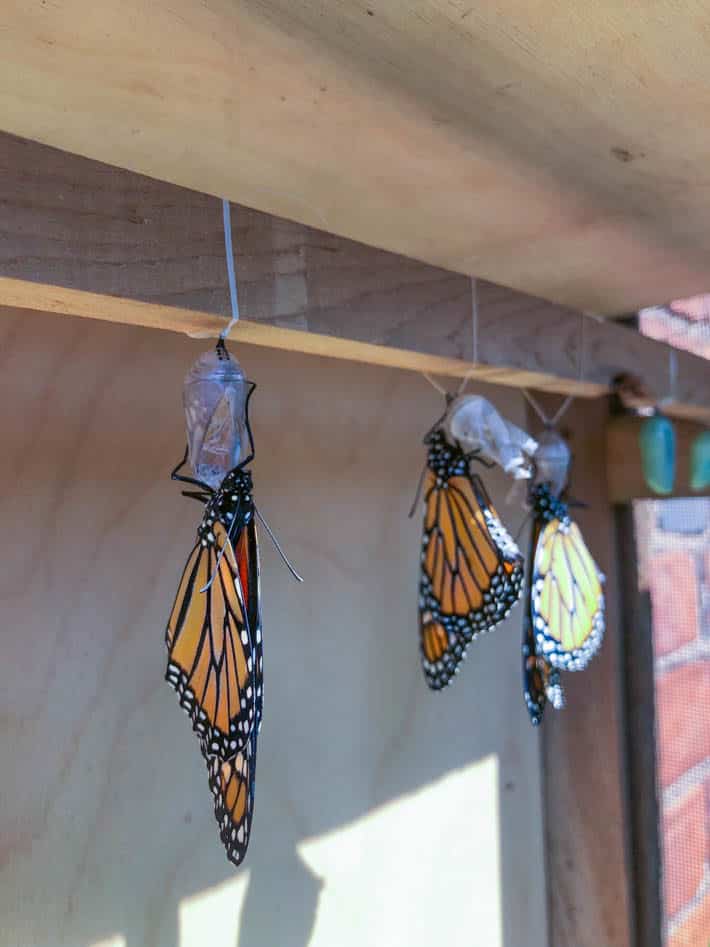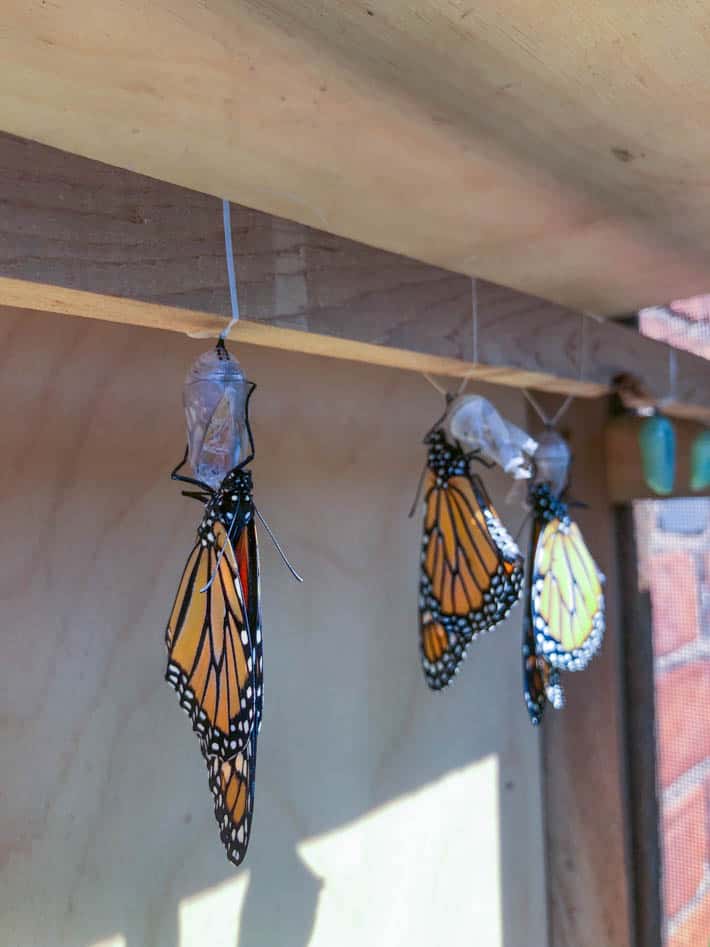 I no longer have to explain to everyone how magical raising Monarchs is. They'll be able to see it for themselves. And if they don't happen to see it I shall tackle them, sit on them, hog tie them and then point everything out to them.
Because I'm "enthusiastic".
→Follow me on Instagram where I often make a fool of myself←