Welcome to my final post of this year, The Christmas House Tour (2.0).
Here we go again. I have decorated my house for Christmas not once, but twice in the past two weeks. The funniest thing is ... this is nothing new.
I decorate my house for Christmas at LEAST twice a year. The first time is always for the photos for the blog. Then after a couple of days I get more critical and shift a few things. A week after that I usually move things around again trying to get them as right as possible for someone who has never had a "right" Christmas yet.
Until this year. THIS year Christmas is right. Christmas has been so right it's going to dictate the entire direction of how my house is decorated.
If you missed the first time I decorated my house for Christmas this year, you can see it here. It was a very long time (2 weeks) ago. It's beautiful I highly recommend you look at it.
So I thought ... why not show my phase two? Actually, I can tell you exactly why not - usually by the time I've finished the big overhaul of my decorations I'm too busy or too tired to photograph the house again.
The one thing I didn't have at home for this photoshoot (believe it or not) were fresh baked Christmas cookies. I ate all the ones I baked earlier this month and haven't taken the time to pull some dough out of the freezer to make more yet.
My neighbour brought me 6 of the most delicious homemade cookies I've ever eaten last night. I ate 5 of them in a row. Fast. I feel so ashamed.
Not because I ate 5 cookies, but because these are the kind of cookies you savour, not scarf. It was like chugging a $500 glass of wine.
But the best, the very best thing about her cookies is that her profession is cooking (making ice cream if we're being specific). She owns and runs a small batch ice cream company called Foundry Ice Cream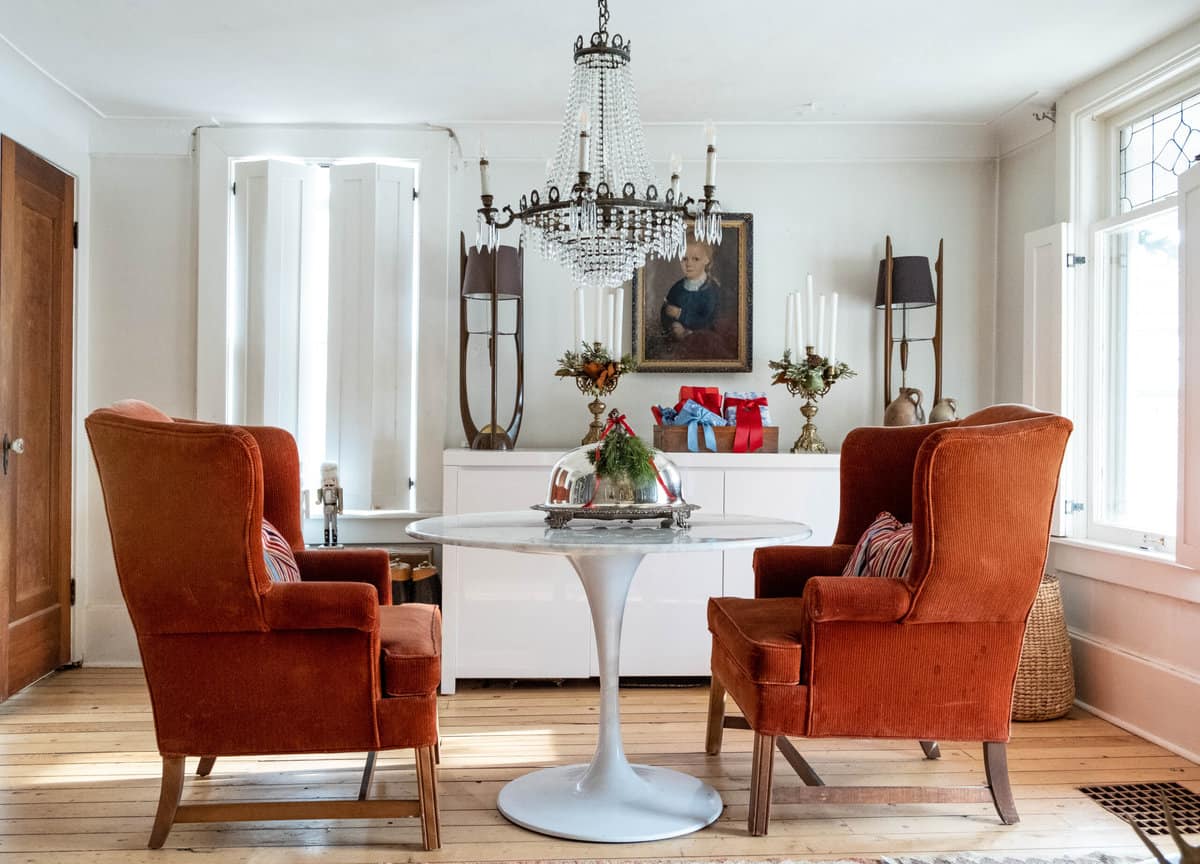 What that means is I automatically 100% trust her baking ... etiquette.
Yes you know exactly what I mean.
Everyone knows it's impossible to accept a gift of cookies without, just for a split second, wondering what the baker might have licked.
Not so when your baker is food safety certified.
This is my favourite view in my house. You probably know that since I often take photos in this general direction.
I took some presents out from under the tree and put them in a copper liner and added greenery and magnolia leaves to the candelabras.
Something weird happened with my camera in the living room so the quality of photos is poor.
(I use a Fuji T3 Mirrorless camera) it's normally a great camera. So ... just ignore the quality and graininess of these living room photos and focus on the content, lol.
This whole corner is different, with the oranges that were on the coffee table moving up behind the chair with a wire birdcage over them.
The other thing I changed was the coffee table display because something that I had out before but wasn't featured prominently enough was a big jar of marshmallows.
I have a working fireplace that is lit every single night. I used to keep a bag of marshmallows in the kitchen, when earlier this winter I thought that's stupid - I should keep them in the living room where their massive toaster oven is.
So Christmas Eve if someone wants something sweet ... BAM ... they can stab a marshmallow with one of those marshmallow spears and stick it in the fire.
I'll be keeping the marshmallows out all winter long.
And maybe the train.
This holiday season I'd like to leave you with the living room tree and one thought.
Merry Christmas, Happy Hanukkah, Winter Solstice, Kwanza and December.
See you in 2023.