I loved my Christmas decorating so much last year that I don't want to change anything this year. Which means I'm satisfied. Which is disconcerting.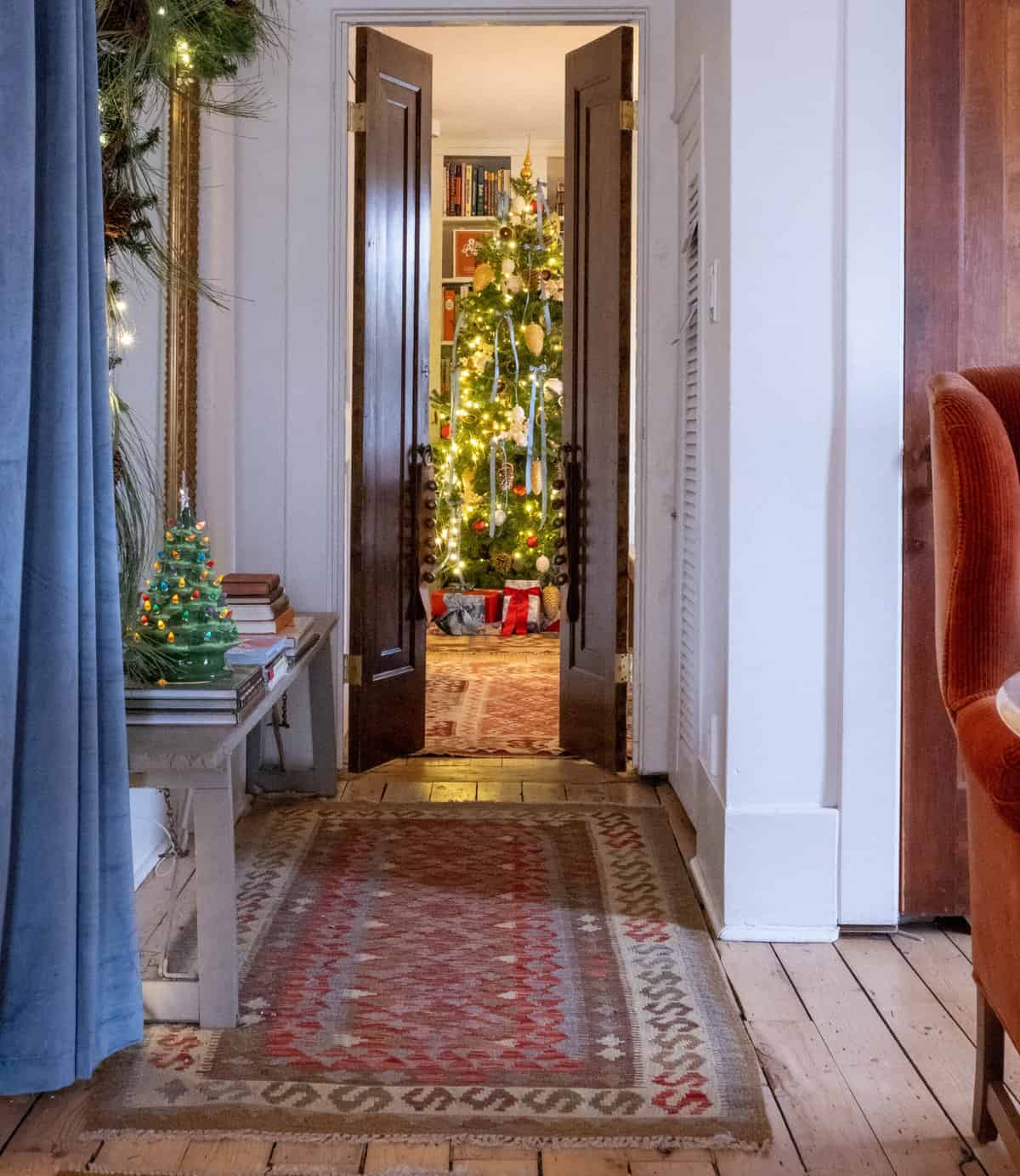 Last year's Christmas decorating looked like Downton Abbey's upstairs crashed into the downstairs. It was (for me anyway) a perfect mix of Lady Mary and Daisy.
Everything. I loved it all. I loved the pedestal of cedar and oranges in the living room. I loved the train on the dining room table. I LOVED the long tailed satin bows on the tree, pale blue and red. Everything.
Yet, I know myself and the thickness of my head. So I know I might change it up.
In which case, I figured I'd better show you last year's Christmas decorating right now because I really don't think I'm ever going to do better than this and there could be a few bits of inspiration in it for your own Christmas decorating this year.
And here it is, the Christmas House Tour of 2022.
---
Welcome to my annual Christmas House Tour. I've fallen deep into the wrinkles of Victorian gramma house vibes.
Typically my house tours don't have a ton of writing to them. It's mainly photos of the house at Christmas and not much needs to be said.
This year there are just a couple of new things but for some reason the house, the decorations, everything looks entirely different.
A big part of that is due to the fact that I've been able to move my tree from my foyer into my living room.
There's a case to be had for having the tree in the foyer - it's what I get to look at from my seat on the sofa every night.
The way the tree is now, in the living room, it's behind where my head is so I never really get to see it. That sentence will make more sense to you when you see the photo.
So let's go down the hall, and through the doors into the dining room, where my second tree is, shall we?
New this year: red balls and blue satin ribbon bows hanging off the tree to match the gifts underneath. Otherwise, the decorations on this tree are the same as they've been for the past decade.
Also new this year ... a train set. I'd prefer the look of an antique one buttttttt this one does something fun. Plus it uses a rechargeable battery.
It lights up and has train sounds. It has a red headlight and the cabin lights are warm white.
But that's not the best part. This is.
It has actual steam.
Thank you for joining me in the happiest moment of my life.
Buy the steam engine train on Amazon US.
Buy the steam engine train on Amazon Canada.
Also I decided that my beautiful wrapping needed some random gift wrap around them. It was too matchy matchy. Perfect is poison. So I wrapped a few in unexpected paper.
Let's do a U-turn and head back into the foyer.
Nothing here is new this year. Same old stuff arranged in a different way.
Except for the ceramic Christmas tree on the bench above. That's new. I had to. It's a classic.
Check out the velvet curtains on Amazon US.
Check out the velvet curtains on Amazon Canada.
Just a bunch of trees.
If you'd be so kind as to turn around and face the opposite direction, you will be ready to walk into the living room.
Welcome.
Ta DA. Tree in the living room. Any of the design hawk eyes among you probably noticed the random bright yellow present. Perfect is poison.
I just made that up so I'm going to use it a lot.
New this year are the blue velvet curtains and the red and blue silk ribbon bows on the tree. All the other decorations are the same. Antique glass ornaments, and dried orange slices. I also shoved a Santa sitting in chair decoration into the tree.
Yup. My whole life changed when I threw half of that sofa out.
Here's a funny end to the story. I took these photos yesterday - and I've already moved things around.
At the moment the train tracks on the dining room table are bigger and more rectangular. In the centre are all the trees from the marble foyer table. I've moved the ceramic tree into ...
You know what? If I haven't changed it back again in the next couple of days, I'll just take more photos and do another Christmas House Tour.
But I think I'm going to change it back so don't start looking forward to it or anything. In fact push that idea right out of your mind because at the rate I change things up I'd be doing a new Christmas House Tour post every day until January 3rd or 4th.
---