Raise your hand if you love bread & butter pickles!  These crispy, sweet and tart pickles are delicious right out of the jar or as a side to a sandwich.
Classic Bread & Butter Pickles
I've been eating bread and butter pickles for 2 weeks straight now.  I eat them faster than I can make them. In the middle of my face there is a puckery canker sore the size of a ping pong ball which kind of resembles a mouth.  And I don't care. They're that good.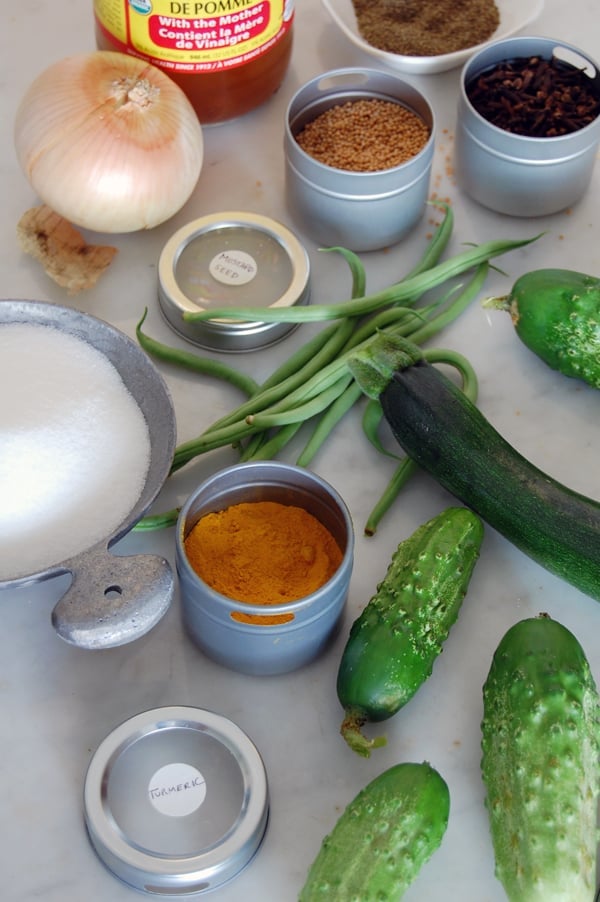 I've tried the churched up, fancified versions of bread and butter pickles, but always come back to the classics.
These are good old fashioned bread and butter pickles.  Except I ran out of pickling cucumbers so I also used zucchini and green beans.  Which is probably what they did in the olden days so it kind of is old fashioned.
I like to use my wavy knife for making these pickles.  On a whim I thought I'd check to see if you could buy it on Amazon and you can. They're $8 and you can buy it here.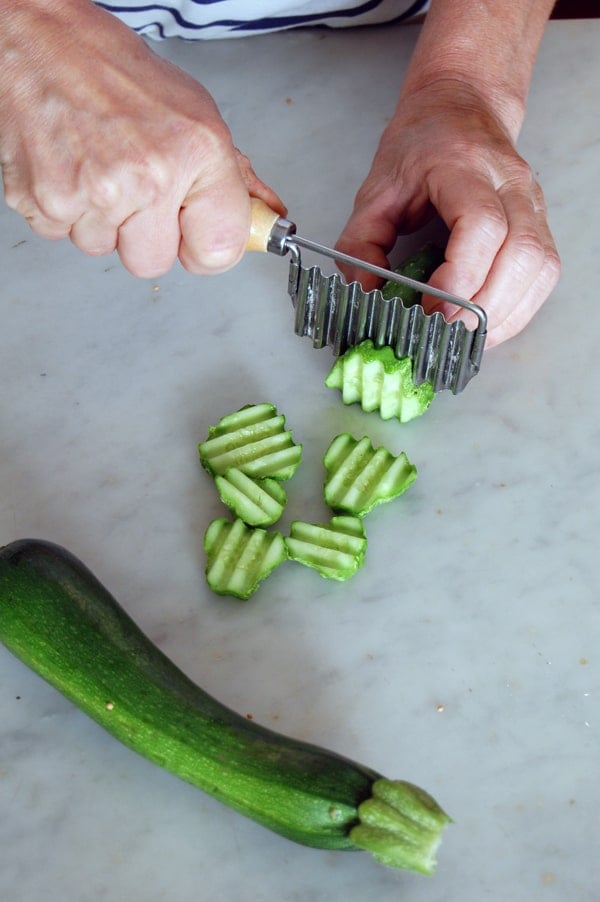 Cut everything into slices like so.  If you, like I, have scary monster hands, all the better.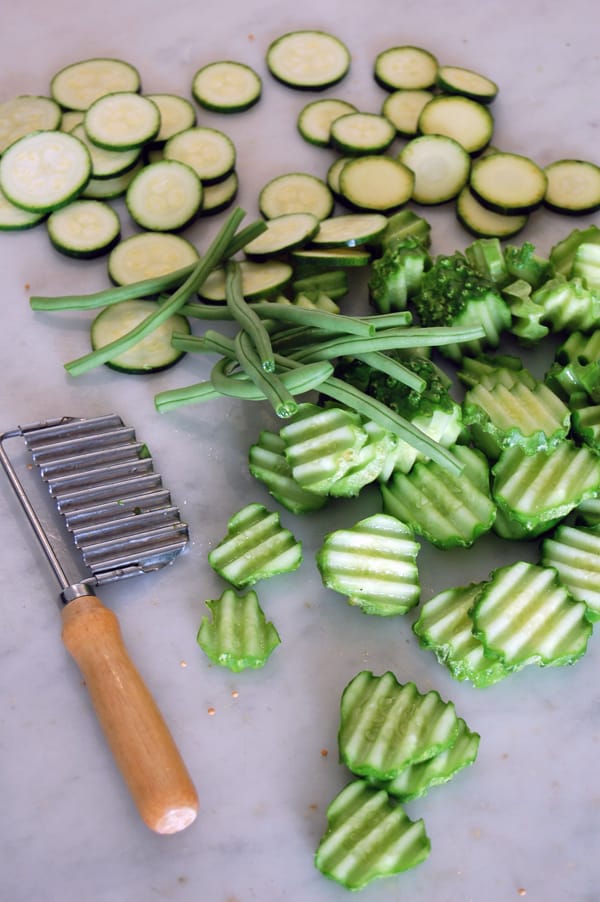 If you only have giant, mammoth cucumbers or zucchini don't worry about it. You can still use them.  If the zucchini has seeds in it, just remove them because they can get bitter when the zucchini is big.
Then just cut the offensively large zucchini/cucumber in half, then cut the halves into quarters lengthwise.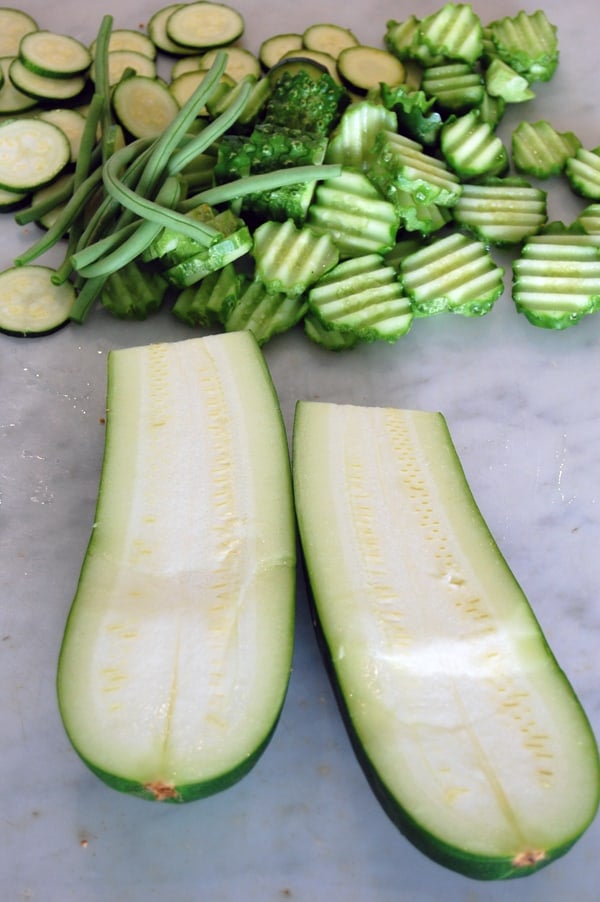 They'll look like little triangles, when  you cut across them, as you can see below.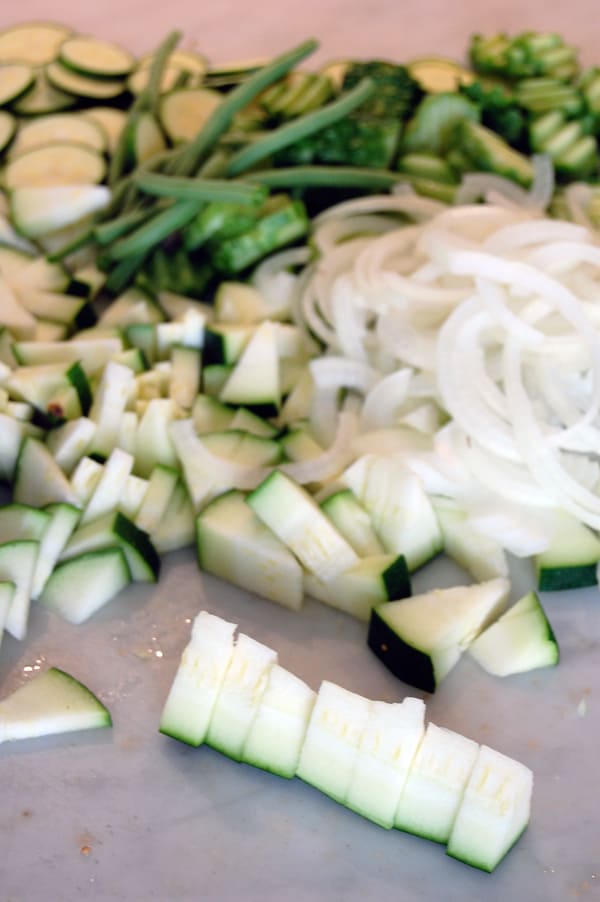 You can use regular table salt to draw the moisture out of your vegetables but kosher/pickling salt is better because it doesn't dissolve as fast or absorb as much.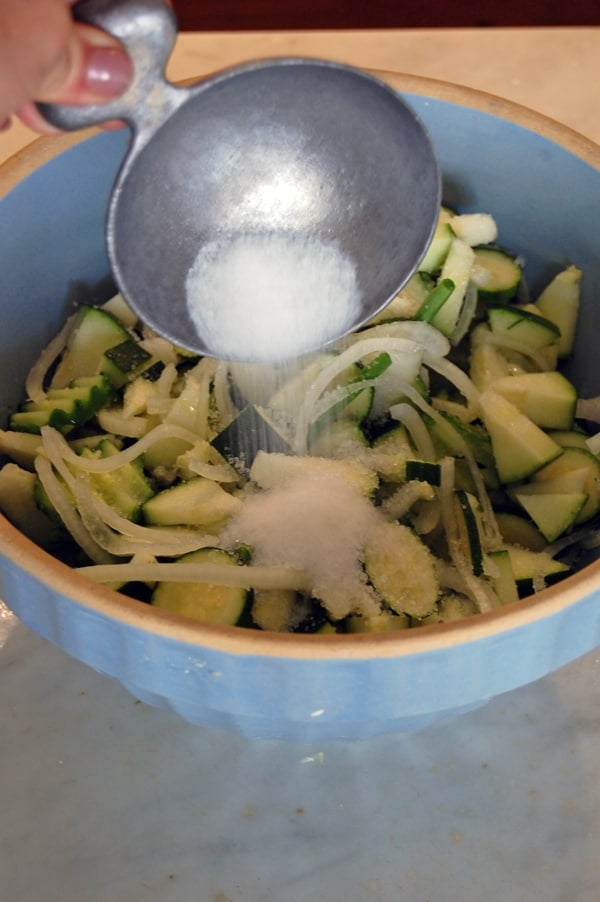 The ice cubes help everything stay cold and crisp.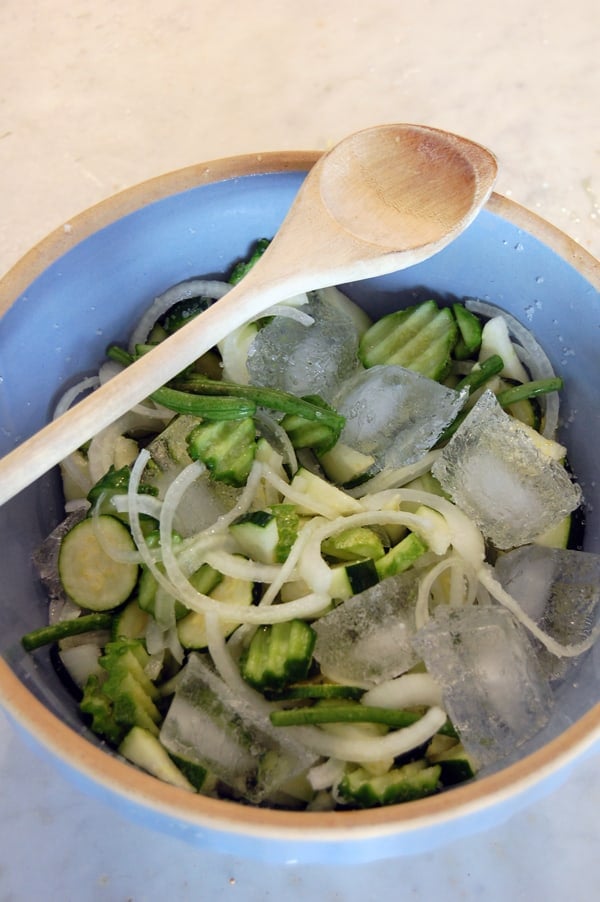 Once the pickles have soaked in salt for 3 hours DON'T forget to rinse them like crazy to get rid of the salt.  Add the rinsed cucumbers to your boiling brine and bring everything back to the boil.
Shove as many pickles into the jar as you can.  Just smash them in there.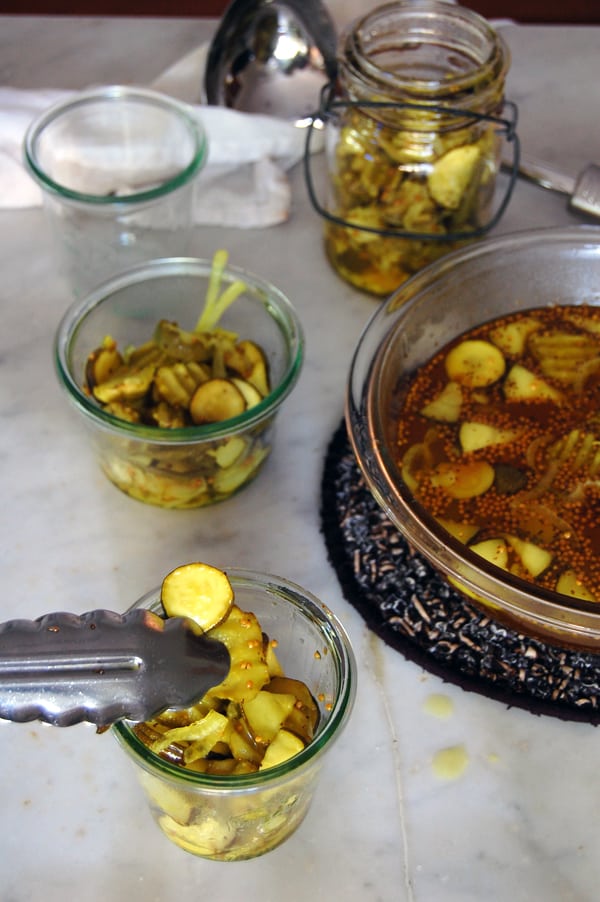 Finally pour the brine overtop.  You may have some left over.  I just stick any leftover brine in the refrigerator and use it when I make a new batch of pickles 1.5 hours from when I made the previous batch of pickles. They're that good.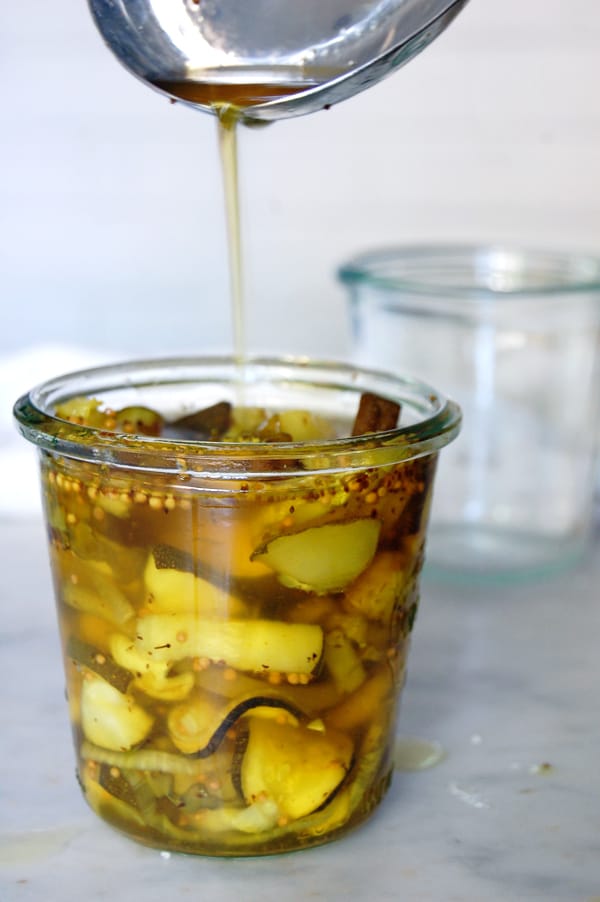 Once your pickles are packed, just store them in the fridge.  If that seems like a waste of time, just leave them on the counter. They'll be gone before you can say who ate all the pickles dammit, you SUCK.
Want to make a HOT version of these?  They're like Wickles, if you're familiar with those.  HOT and sweet pickles. SOOooOOOoooo good.  Here's the one easy trick that will turn these classic bread & butters into hot & sweet pickles!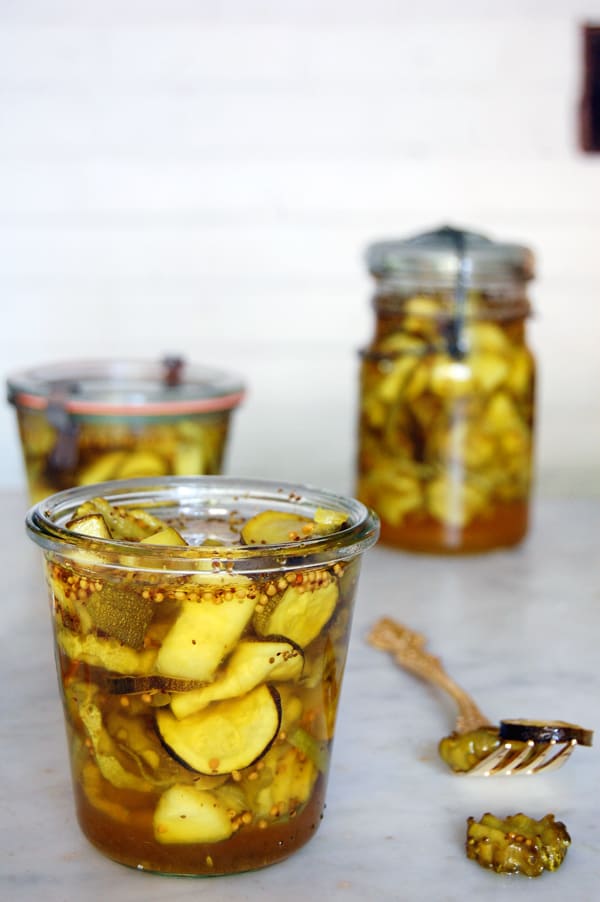 The end.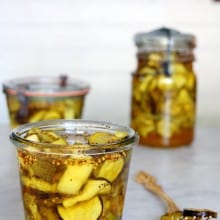 Classic Bread and Butter Pickles.
These sweet and tangy pickles last forever in the fridge and are a perfect addition to a snack plate or charcuterie board.
Print
Pin
Rate
Ingredients
5

lbs

cucumbers

cucumbers, zucchini, green beans ... whatever

2

onions

sliced

¼

cup

salt

kosher or otherwise

3

Cups

cider vinegar

5

cups

sugar

2

Tablespoons

mustard seed

2

teaspoons

celery seed

½

teaspoon

whole cloves

1

Tablespoon

turmeric
Instructions
Slice your cucumbers. I like mine fairly thick. Almost 1/4".

Combine your sliced cucumbers with onions in a bowl. Sprinkle with ¼ cup of pickling salt and toss. Mix in a tray of ice cubes and let sit for 3 hours. (this sucks out the moisture from the cucumbers so they turn into crispier pickles.)

Rinse, rinse, rinse your cucumbers!  Soak them in water and then rinse them again.  You want to get rid of as much salt as possible otherwise your pickles will taste salty.

Combine the vinegar, sugar, mustard seed, celery seed, cloves and turmeric in a pot and bring to a boil, stirring to dissolve the sugar. Add your cucumber/onion mixture to the pot and return to the boil.

Stuff your pickles into sterilized jars, then pour the liquid in until covered. Store in fridge until you wanna eat them (but try to wait a few days otherwise they won't have that great bread & butter pickle flavour)
Notes
This recipe can easily be made into "Hot and Sweet" pickles, by adding one whole, fresh cayenne pepper to the jar.  Slice the pepper in half lengthwise (two or three peppers if you like it really hot) and stick it in the jar.  For the full flavour, let the jar rest in the fridge for a month giving it a shake every so often.
Nutrition
Serving:
1
pint
|
Calories:
283
kcal
|
Carbohydrates:
68
g
|
Protein:
1
g
|
Sodium:
1775
mg
|
Potassium:
270
mg
|
Fiber:
1
g
|
Sugar:
65
g
|
Vitamin A:
100
IU
|
Vitamin C:
5.8
mg
|
Calcium:
36
mg
|
Iron:
0.9
mg
→Follow me on Instagram where I often make a fool of myself←