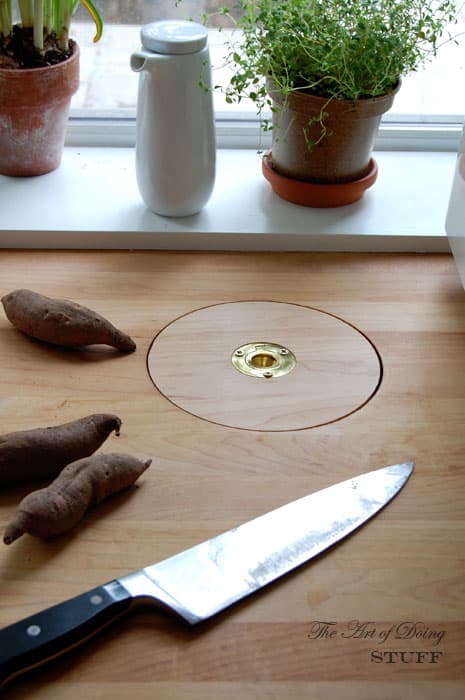 I tried to draw as little attention to it in my post on the greatest refrigerator in the land, but pretty much every one of you spotted the hole in my countertop. Seriously. You people are freakish. I'm gonna start leaving weird things around in my photos just to see who spots it.
One of the few thing I absolutely knew I wanted for the new kitchen was the countertops. There was no stressing out and no decision to be made. They were going to be made out of the braided beards of forest Gnomes. Sturdy stuff. And I mean everybody's using it so it must be great. You see it on all the design shows now.
Turns out Gnome beards are harder to find than you'd think. So I went with my second choice ... butcher block.
I ordered the custom made butcher block counters from Chris' Store Fixtures. They're inch and a half solid maple.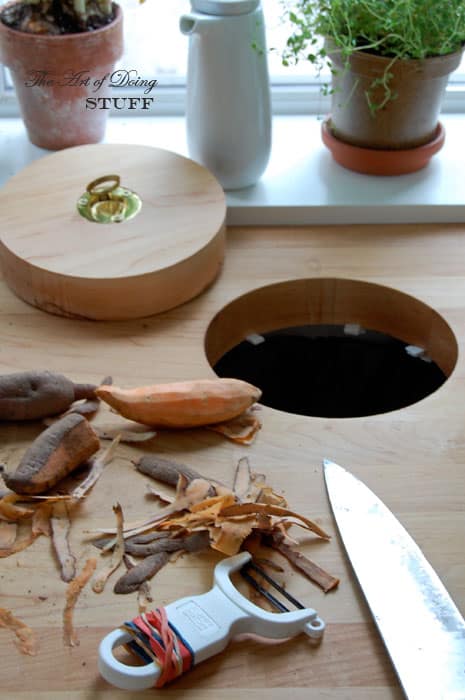 Some time years and years ago. Like, probably 20 years ago, I remember seeing a hole cut into someone's countertop so they could just wipe all their cuttings and peelings into it. I never, ever, EVER forgot that. It was the most genius thing my infantile little brain had ever imagined. Even smarter than super sized bags of chips.
I always thought that I'd get it done if I was ever lucky enough to redo a kitchen. That of course was when I was so infantile I thought redoing a kitchen was fun, FUN, F U N.
But when the time came to order my butcher block countertop I almost didn't order the hole cut into it. It's a scary thing to have a hole put in your very expensive custom made hunk of wood. If I ever built a house, I'm guessing I wouldn't have the nerve to put in doors or windows. The only entryway would be down the chimney.
But just before I ordered the counters I thought "This is stupid. I've been dreaming of this hole for 20 years. If I don't get it now I never will.". So I proceeded to figure out exactly where I thought this waste hole should be and how big.
I ended up putting it near my refrigerator (as you found out) in front of the window looking into my backyard. It's my longest expanse of counter and where I figured I'd be doing most of my prep work because it is close to the fridge and there's lots of room.
I wanted the lid to basically disappear and be flush with the counter when it wasn't in use so I had a lid made out of the same butcher block material and inserted a brass pull ring myself.
To stop the lid from falling through the hole, I've just screwed in some shelf supports underneath for the lid to rest on. I may find a better solution later, but for now it works well and I can pull the stops out to clean them.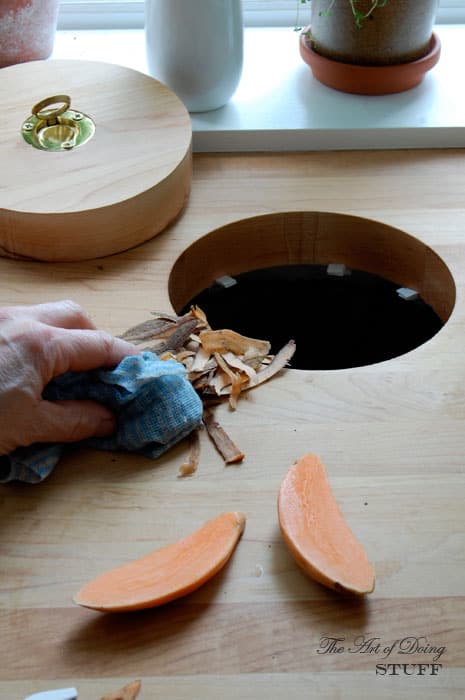 The countertop waste hole is neat and tidy and easily one of the smartest things I did in the kitchen. Everything just gets brushed into the hole where a large bucket sits underneath. Then once a week I pull the bucket out and take it to either the compost pile, the chickens, or the green bin. I didn't have the lid until a few days ago so it was just a gaping hole, but there isn't any smell from it. Meat is what would stink up in a few days but vegetable peelings are fine.
And even though I don't put meat into it, if I knew I was going to empty the bucket right away then I would. And could. It's Karen's Kitchen! ANYTHING can happen. At the moment I'm using the kitchen to do a little bit of bumble bee taxidermy. Just kidding. It's not really taxidermy so much as preserving.
There are two lessons for you in this post. #1 Have courage. Don't be that person who has always dreamed of something and when the time comes to do it you chicken out. #2. Ask yourself why you like something. Is it because you saw it on a design show or because everyone else has it? Or is it because it's what you truly love and want and need.
Because frankly I think braided Gnome beard counters are hideous.