Put those leftover Amazon boxes to good use. This round DIY cat scratching post (a pad really) looks good, costs nothing to make and cats love it.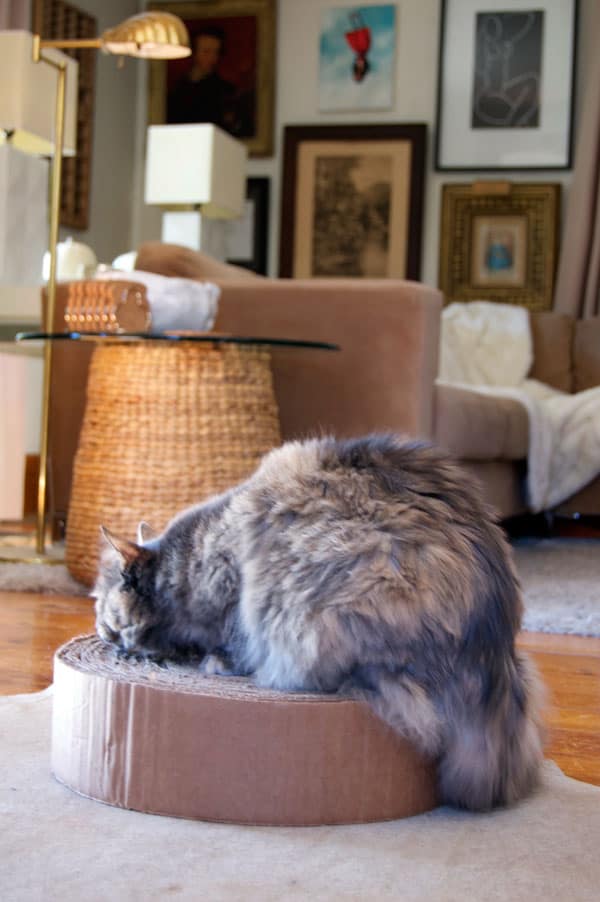 None of my cats have ever been ones for toys, they're just too sophisticated for that, being of higher breeding than most of your garden variety cats. Ernie, a dirty, skinny stray I found on my front porch in the middle of winter comes from a long line of I'm not sure what, but probably something royal.
And Cleo, being of superior Siamese genetics, had such an air about her that if she met Gwyneth Paltrow's cat she would have made it feel dumpy and self conscious.
But the one thing all of my cats have lost their (cat) shit over are cardboard scratching posts. They love them. If you own a cat you've probably seen them in the pet stores. A basic plastic, rectangular box that's filled with a pad made out of cardboard. Cats LOVE these things. They're kindda ugly and really expensive considering they're made out of what is essentially the garbage portion of most things you buy.
Since Amazon season has just finished, and you might have a whack of cardboard boxes at hand now is the perfect time to make this cat scratching pad.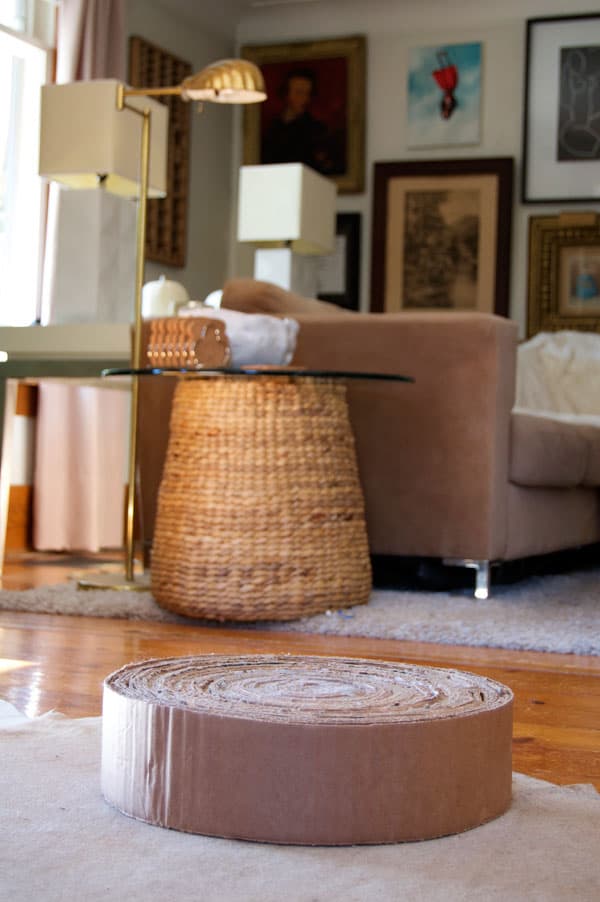 You need a bunch of corrugated cardboard boxes, like the kind online deliveries come in. Any size, any shape.
What you're going to do is cut them into 4" wide strips and then roll them all up tightly and tape them together.
I very much miss two things in the picture above. My gallery wall, and little Cleo who died at the age of 20 after a long battle with Renal disease.
All my pets have been rescues of some sort, including Cleo. But she got me hooked on the Applehead (traditional) Siamese cat's personality and now I want another one very badly even though it probably wouldn't be a rescue and even though Siamese are predisposed to renal failure.
---
If you have a cat that's been diagnosed with renal failure, there's a lot you can do to keep make them feel better and live longer. I gave Cleo subcutaneous fluids at home for a couple of years to keep her healthy and feeling much better. You can read my post on how to give your cat fluids at home if your cat has been diagnosed with renal failure.
---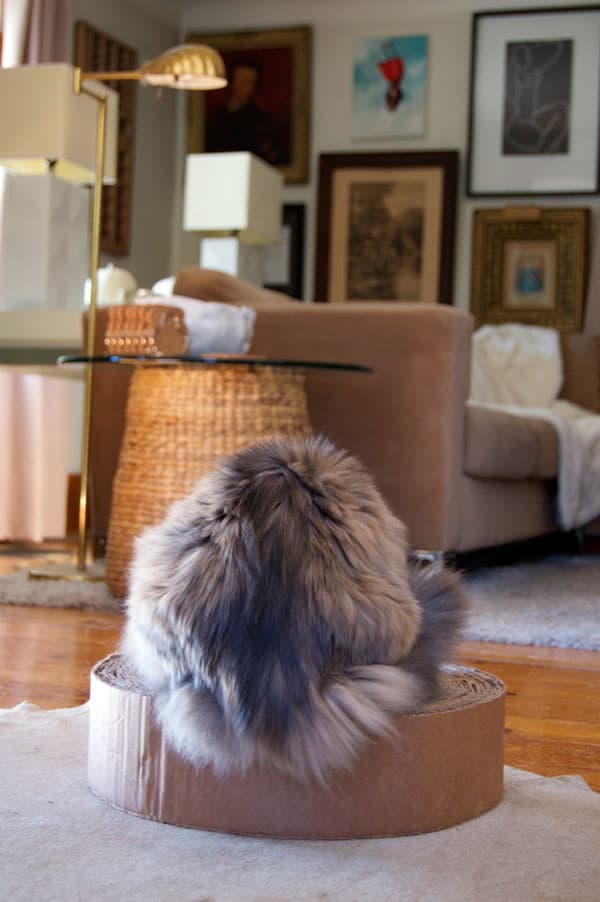 This particular cat scratching pad lasted for years! I got rid of it when I finally got sick of looking at it. But this week I decided I was ready to make another one for Ernie.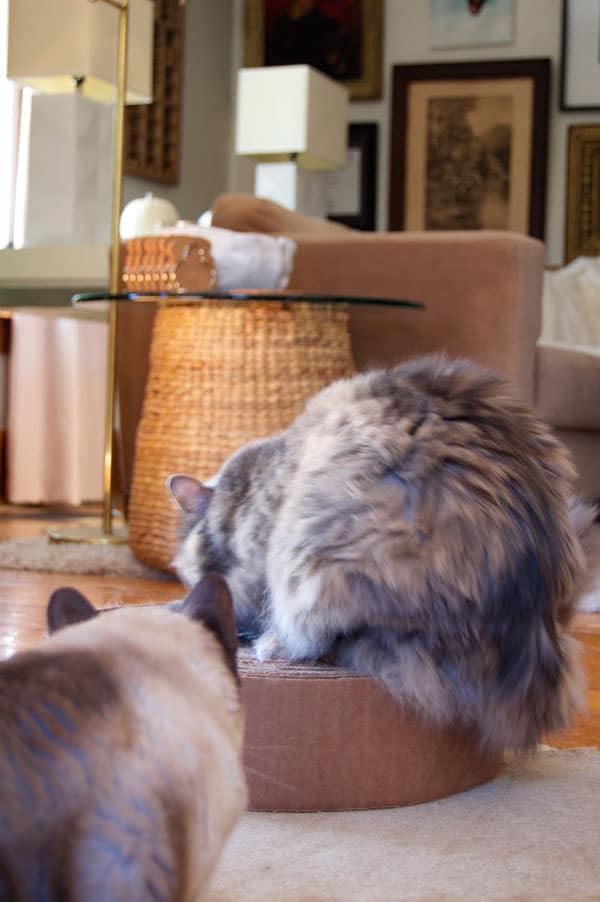 Even for the fussiest of cats this scratching pad is lick smackin' good.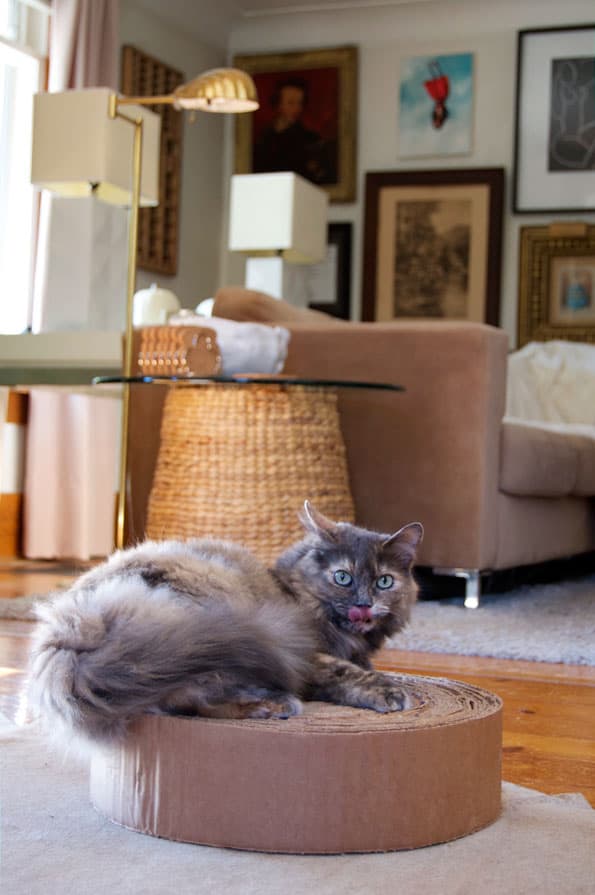 Cats will use it as a scratching post, a bed and a perch. For extra enjoyment sprinkle the top with dried catnip.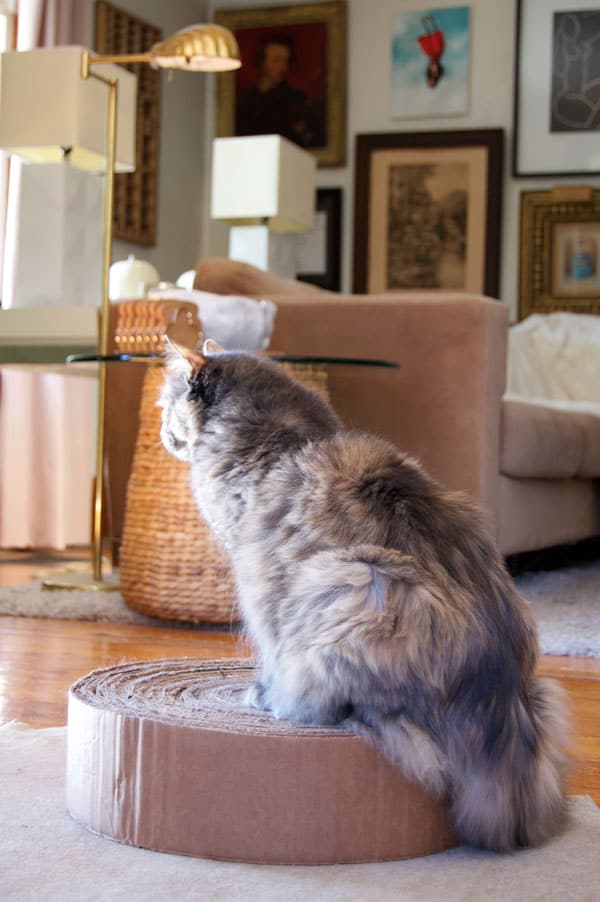 Yet one other thing that enables a cats to look down upon all those around them.
By the time your scratching pad wears out you should have another batch of Amazon boxes to make another one. Just like the old saying says: Reduce, reuse, recycle, reorder, repeat.
→Follow me on Instagram where I often make a fool of myself←