I like to think of myself as someone who does their bit to help the environment. I don't use bottled water, I compost my scraps and I have an appropriate amount of guilt-spasms whenever I throw away tissue paper instead of flattening it out and saving it to reuse later.
If I'm being perfectly honest, that last one is less about the environment and more about being raised by a mother who not only saved tissue paper, but fills out birthday cards in pencil so you can reuse them yourself later.  It's a cheap thing, not an environment thing but the end result is the same.  Saving the forests one pink puff of paper at a time.
Basically I do what I can and beat myself up a moderate amount when I know I could do more.  Like, sometimes if it's pouring rain outside and the recycle bins are already out by the curb,  I'll say a little swear word, look outside,  roll my eyes, then shove my pop can in the actual kitchen garbage and run away quickly.  I have no idea why I run away quickly, I just do.  To date, running away quickly has had little to no impact on anything.
But when I started thinking about how I was going to stain the wood outdoor furniture I made, I found myself gravitating towards the super-hippie, I live in the woods under a fern option of vinegar and steel wool.
Yes.  Staining wood with a solution of steel wool soaked in vinegar.  You've maybe heard about it.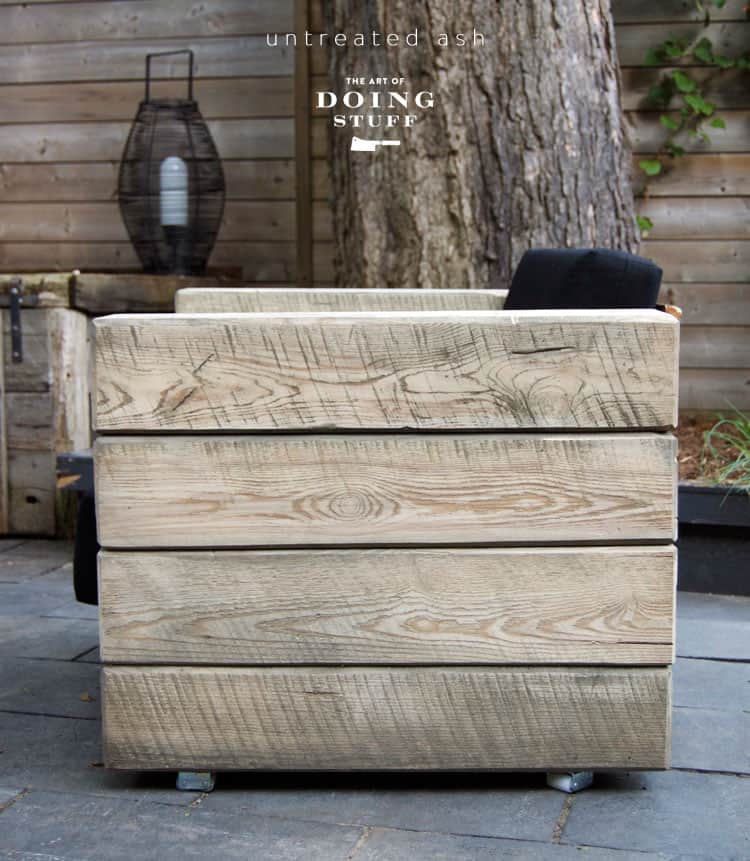 You take a small handful of steel wool (about half a pad) and stick it in a mason jar filled with vinegar and then leave it alone.  What you get after a week or so is a brown, rusty looking solution.  When you paint this on wood it doesn't "stain" the furniture per say, but causes an instantaneous chemical reaction between the solution and the tannins in the wood.
Because of this, the wood ends up looking aged, not artificially stained. Which is perfect if you're trying to make something look a bit old and worn.
Do not put it on your face because of this.
The great part about using a solution like this is it only stinks like vinegar a little bit and the smell goes away quickly, unlike a traditional stain which will stink up a whole house and stays stinky for a long time.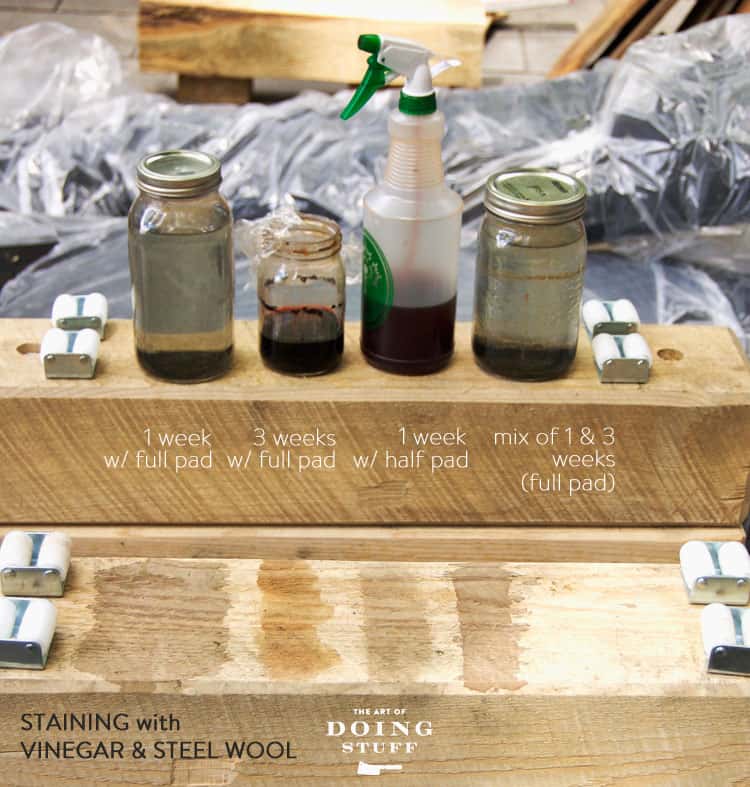 I started some vinegar and steel wool solutions at a few different times so when the time came to stain I had a few options for staining.  I tested them on the underside of my chair arms so I could get a really good idea of what they'd all look like.  I really liked the second example best, the solution that had been sitting for weeks and weeks.  But I didn't have enough of it because I forgot to keep a lid on the jar and it evaporated into thin air.
So I mixed all of the very old solution with some of the 1 week old solution and let that sit for a few days before brushing it on.
It seems like a lot of waiting around for the right colour, but I was being picky.  If you're just trying to make a new wood crate look old, stick some steel wool in a jar of vinegar and let it sit for a few days then brush it on.
It takes no time at all.  You just brush it on and you're done.
What I ended up with was my DIY Restoration Hardware Aspen collection furniture looking like it had been sitting outside weathering for longer than the 3 weeks or so that it had.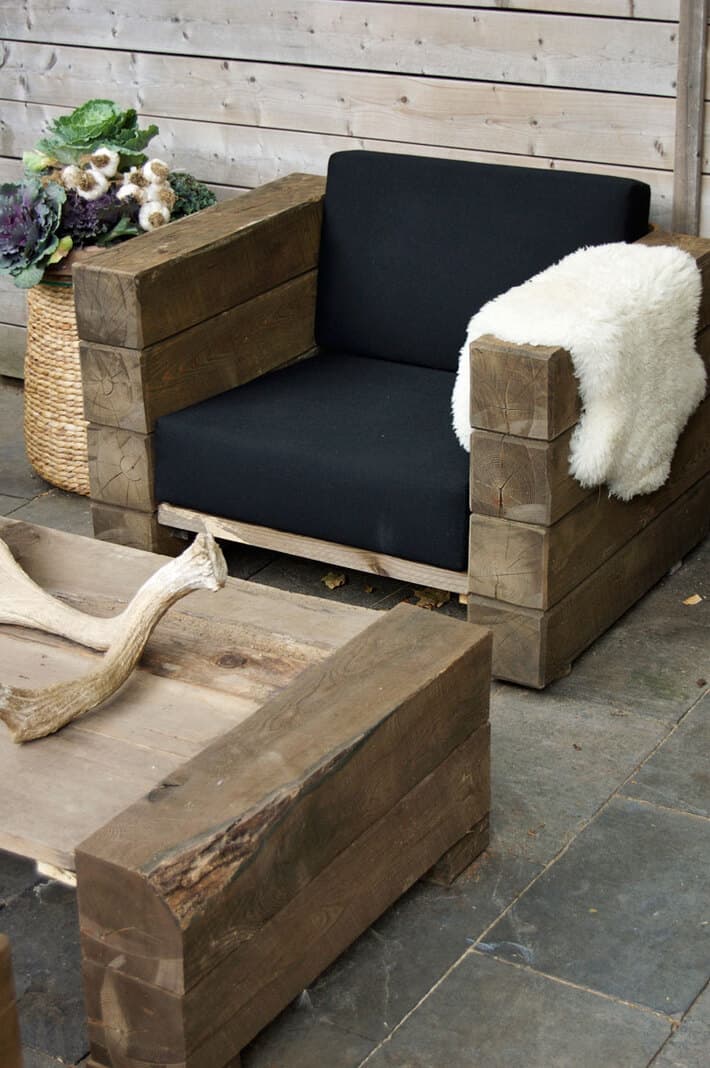 Not only did this eco-friendly method work, it worked better, faster and easier than anything else I could have done.
How easy?  Well, harder than flattening out a piece of tissue paper but easier than running out to the recycle bin in the middle of a lightening storm apparently.