Giving your cat a B12 shot is a really inexpensive way to make a sick cat feel better quickly.  If your cat has lost its appetite, and won't eat no matter what tempting concoction you put in front of it, B12 may get your cat on course again.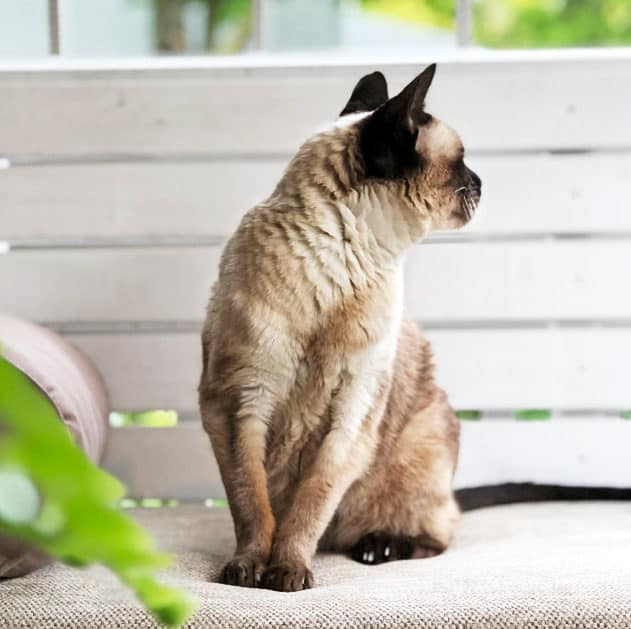 If you take your cat to the vet because he or she is generally feeling unwell, they'll often give your cat a quick Vitamin B12 shot to help them feel better.  For cats with chronic diseases that prevent them from absorbing the vitamin, B12 shots are something you can do at home once a week to stimulate their appetite.
But yes, a needle is involved.  And yes, you have to stick it in your cat.
Suck it up. They're your cat and you love them.  True, if the roles were reversed your cat wouldn't do the same for you but that's only because they don't have fingers.  Or a job to help pay for things like medicine.
B12 is also known by the name Cobalamin so don't get confused if you see that term thrown around online.
My cat Cleo has advanced renal disease. The biggest problems she and I have revolve around food. I want her to eat as much as possible, she wants to give me a stroke by randomly refusing to eat every few weeks.
Since being diagnosed with renal disease I've started to give her Subcutaneous fluids which help with the effects of the disease immensely.  Here's my post on how to give your cat Subcutaneous fluids.  I also give her an anti-nauseant once a day because part of renal disease means your cat constantly feels nauseous.
That all worked fine until a few weeks ago when she just would not eat.  She wouldn't.  She not only went off food, she seemed to develop an aversion to it. Just the sight of her food dish would make her start to gag.  She would eat one thing.  Bacon.  So I started cooking up pounds of it and sitting on the floor with my cat, both of us scarfing down the bacon. As one does with their cat.
If your cat is at the point where it will NOT eat, try to find one thing they can stomach. It might be cat treats, bacon, tuna, cheese … whatever it is, it's your one and only shot at getting calories into them until you can get to the vet.  Just getting something into them is sometimes enough to retrigger their appetite.
This wasn't the case with the bacon.  She ate bacon for days and still wouldn't go near anything else so I called my vet and said I thought it was time to start giving her some B12.  We had discussed it a few visits ago.
A half an hour and $12 later I was at home giving Cleo her B12 shot.  Within 2 days she was not only eating again, she was eating more than she had eaten in the past year.   Plus, I was left with a fridge full of bacon I had to eat before it went bad, so that was a little bonus for me and a big bonus for my back fat.
Symptoms of a B12 Deficiency in Cats
lethargy
vomitting
off food / weight loss
confused
trouble walking or jumping
Does Your Cat Need B12 shots?
Cats with these conditions or diseases are prone to being low on Vitamin B12 or (in the case of heart disease) needing extra.
Diabetes
IBD
Pancreatitis
Sick or unwell cats who are off their food
Renal Disease
Hyperthyroidism
Heart Disease
(if your cat is drinking a lot for any reason it can lead to B12 deficiency)
Adequate B12 is important for a cat's …
Appetite
Brain Health
Gastrointestinal system
Nerve system
What does B12 do for your sick cat?
For sick cats the most important thing B12 does is give them their appetite back and just generally make them feel better.  Like medical marijuana but for cats.  And not marijuana.
B12 is water soluble vitamin so there's no worry of overdosing them with B12.  If your cat has too much B12 in them, they just pee it out.
How to Give Your Cat a B12 Shot
---
Don't give your cat a B12 shot without consulting your vet first.
---
If you've given Subcutaneous fluids before the B12 shot will be simple for you because it's the exact same procedure.  Make a tent in your cat's scruff, and inject the B12 under the skin.  B12 doesn't get jabbed into a vein or muscle; you just inject it into the pocket between the cat's skin and their muscle.
1. Get your B12 and appropriate needles from your vet.  They'll tell you the proper dosage which corresponds with your cat's weight. This tiny little $12 bottle will last for months.
2. Peel back the paper on the syringe package and remove the needle. Everything is all together, you don't need to do anything other than remove it from its packaging. The needle is teeny, tiny.  So small that most cats won't even feel it going in.
3. Turn the bottle of B12 upside down, insert the clean needle into the rubber seal and withdraw the required dosage.
4. Make a tent out of the skin at your cat's scruff.  You want to inject right in that tent so the needle will be going into an air pocket between the skin and the muscle.  Just into air really.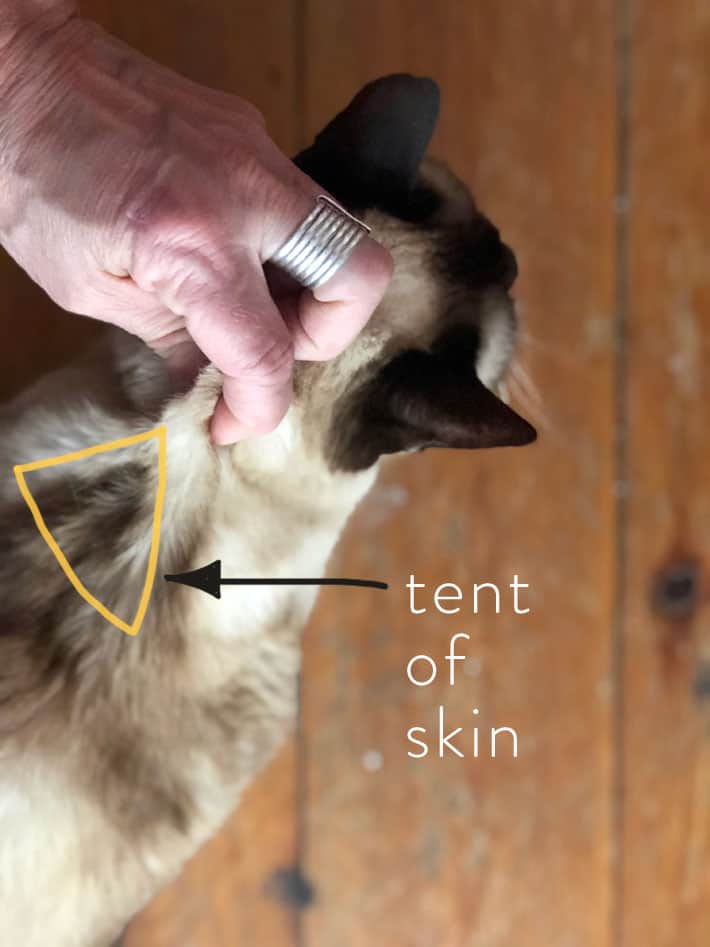 5. Pierce the skin with the needle and inject the B12 into the cat.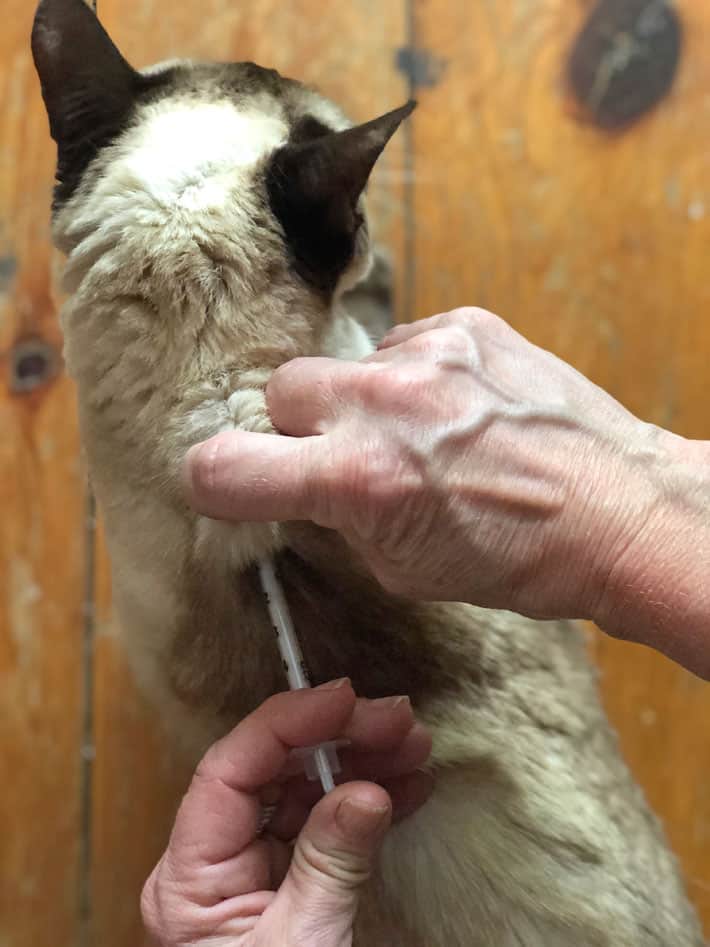 Now that that's over and done with hopefully your cat will be feeling better soon and you can tell her she needs to get out and get herself a job.
Need a video?  Here you go.  If you run an Adblocker the video may not play for you.  Either disable your Adblocker or allow this site on it.  (and other blogs you'd like to continue to glean information from for that matter)
Now about that job for them.  I'd recommend professional napper or burglar.