Folded some laundry, bleached my dirty fingernails, did not write a post on kale salad, tidied the office, rearranged my bedroom, self soothed after a centipede spraying episode, trolled Facebook friends, made a prank phone call, and went to the dentist. These are all the things I'd done by 10:40 this morning in an attempt to avoid writing. The dentist thing was tricky because I had to make up a believable yet inexpensive and pain free reason to go. I went with the old "I think I have a weird edge on my tooth that sticks out and might cut my tongue off, but it might just be my imagination, p.s. could I get a free toothbrush and toothpaste".
At this very moment as a matter of fact I'm sitting on my porch, laptop on my legs, staring at what I thought was a monarch butterfly in distress but just turned out to be half of a small Cheetos bag tumbling across the grass. No Cheetos in it. I checked. If I find I can't muster up the enthusiasm to write in my office, I sometimes take my work outside to the porch or backyard where I can at least by entertained by nature and garbage while I don't write.
It's not that I don't care about you or want to write a bunch of words strung together for you in an informative, yet entertaining manner, it's just that it's summer.
Rest is not idleness, and to lie sometimes on the grass under trees on a summer's day, listening to the murmur of the water, or watching the clouds float across the sky, is by no means a waste of time.

~ John Lubbock
Also did you know Taylor Swift and Lourde are friends?! I learned that while scanning Buzzfeed between the dentist and the Cheeto's bag.
I manage to get all my work done in the summer, it just takes me more time, more focus and more money. I've also been browsing Amazon. So work avoidance is the one thing I manage quite regularly in the summer, the other thing is eating kale. For the past 4 years or so I've been eating this kale salad almost every single day from summer until my black kale finally dies back in January or February.
Black Kale, the only vegetable to be known by more names than Puff Daddy, is a less bitter kale than what you might be used to. Under most circumstances it is also less bitter than Puff Daddy.
Black Kale also goes by the stage names: Tuscan Kale, Lacinato Kale, Cavolo Nero or Dinosaur Kale.
Black Kale is the only kale I like.
Which is a good thing because as far as Kale goes (which we all know is a "superfood" blah, blah, blah) Black Kale has some very specific benefits.
The Health Benefits of Black Kale
Black Kale contains a thing in its cells that gets converted to another "thing" once it's chewed. This second "thing" has been proven to inhibit and destroy cancer cells. You will get 10X the anti-benefits if you eat the kale RAW. Here's one of the studies if you're the medical journal type. The "thing" is called aIsothiocyanates (ITCs) by the way.
Kale is also anti-inflammatory which helps with arthritis, asthma and autoimmune disorders.
Per gram, kale is packed with more calcium than milk.
In 2013 a study was done and preliminary findings were that Black Kale in particular had neuroprotective and immunomodulatory effects. This means Black Kale is now being studied as something that could provide health benefits for people with MS.
So in between chasing Cheetos bags and prank calling Betty I have researched and established that kale is indeed good for you and Black Kale is particularly good. We have also learned on our little journey today that you get 10 X, TEN TIMES, the health benefits in terms of kale being an anti-cancer agent if you eat it raw. I didn't know that. All I knew is that I really like this kale salad and I eat it a lot.
I've talked about it for years now and I figured with fresh, locally grown kale available to one and all, this would be the perfect time to lay it on you.
It's my favourite salad for 3 reasons: It has very few ingredients, it's easy to make and you can dress this salad and leave it in the refrigerator for a week and it doesn't go soggy.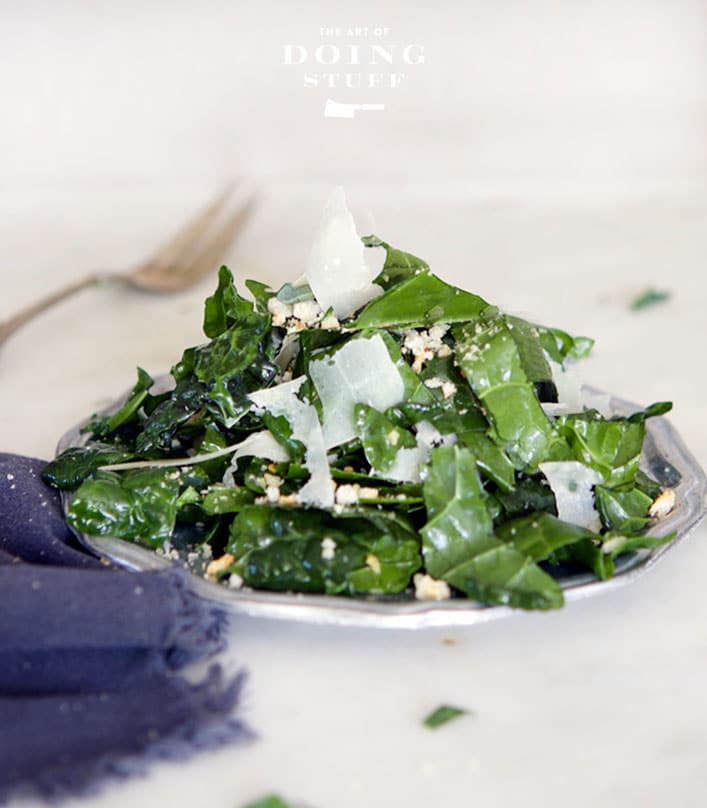 The actual salad is made up of just 3 things. Black kale, parmesan cheese and toasted breadcrumbs (or croutons). That's it.
So the only prep work is making the dressing and cutting the kale.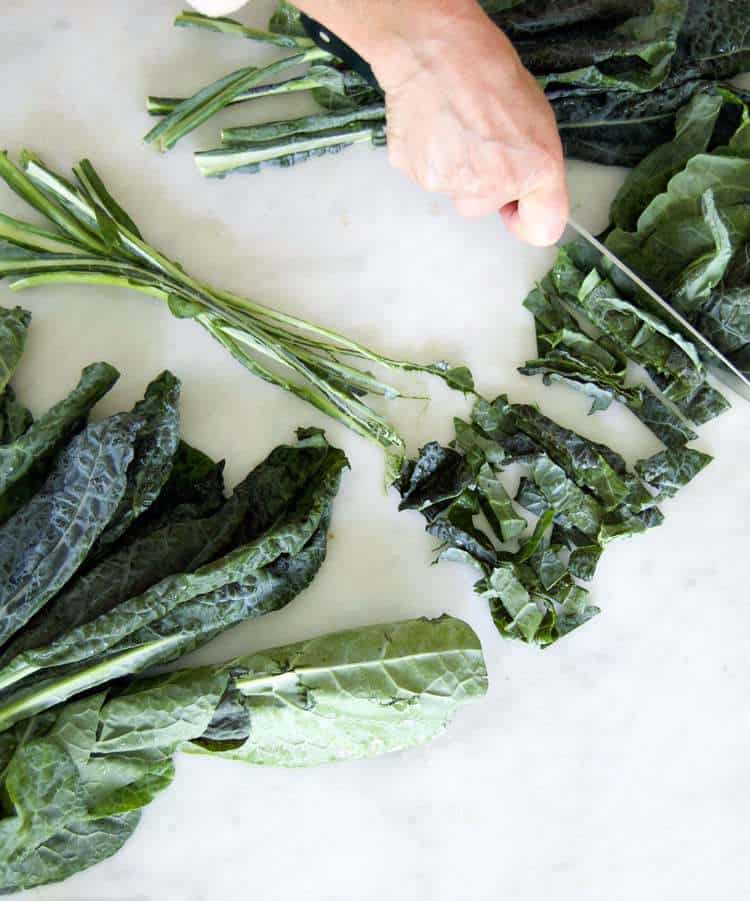 Kale has tough ribs so I remove those first. Just slice down either side of the rib and pull it away from the kale. Then, because even though black kale is the least tough of all the kales, you still need to slice it fairly thin to make it easier to chew. I mean, it IS kale after all. I cut my kale into anything from 1/4″ to 1/2″ wide strips across the width of the kale.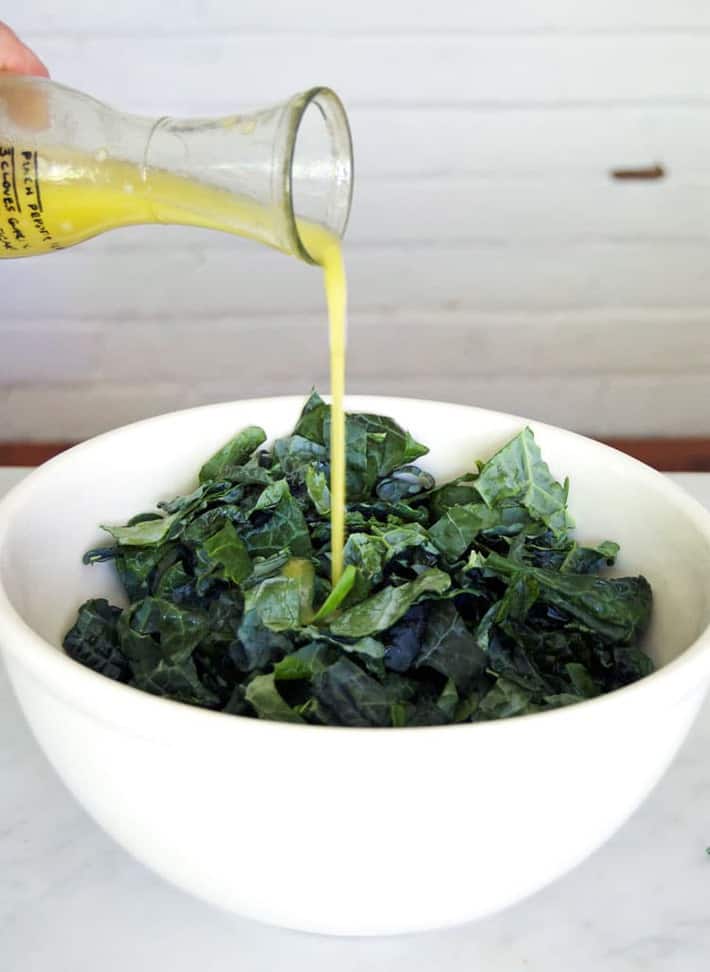 Then I pour on my dressing (recipe at the bottom of this post) and perform the MOST important task with ANY kale salad. I touch it. I caress it. I give it a massage.
Massaging the kale does 2 things. It helps open the cell structure which makes the kale less tough and it allows the dressing to enter the kale giving it better flavour. Kind of like simmering a stew. Massage the salad and then put it in the fridge for a day. You can eat it right away but it's much better after it's been massaged and recuperated from it's massage for 24 hours.
When you want to eat it, just pull a handful out of the bowl, top it with shaved or grated parmesan cheese and some toasted breadcrumbs. I use spelt crumbs when I can find them otherwise I just crunch up a few croutons with my fingers and sprinkle them over the salad.

BLACK KALE SALAD
The beauty of this black kale salad is you can prep and dress it at the beginning of the week and just grab handfuls of it when needed. PLUS it actually tastes good.
Print
Pin
Rate
Ingredients
1/2

cup

olive oil

1/4

cup

lemon juice

3

garlic cloves

minced then mashed

2

Tablespoons

white wine vinegar

1/2

tsp

salt

Big pinch of red pepper flakes1-2 bunches of kale

depending on the size of your family and their appetite for kale

Parmesan cheese to taste

shaved or grated

Bread crumbs or croutons
Instructions
Prep kale by removing ribs and cutting leaves into 1/4" - 1/2" strips.

Whisk together the first 6 ingredients.

Pour dressing over prepped kale.

Massage dressed salad then refrigerate overnight.

Add big shavings of parmesan cheese and a handful of croutons or crumbs and serve.

Salad will keep, dressed, in the fridge for up to a week.
Two other things that help me out with making this the easiest salad ever is using one of my favourite kitchen tips, this little premeasured salad dressing bottle DIY and keeping the kale fresh in one of these bags prior to prepping it.
For someone who couldn't get their ass in gear to write this post I've managed to work this simple salad recipe into a whopping 1,200 words.
Now if you'll excuse me I'm going to "lie on the grass under trees on a summer's day". Rolling around like a bag of Monarch Cheetos.