This is our friend the bee.
You may know him by the name Busy.
If it weren't for our friend Busy Bee,
Life would come to a screeching halt.
Busy Bee pollinates all of the plants on earth.
That's his job.
And this time of year … he's working overtime.
Walking around my front yard I took a look at my monstrous Acorn Squash, which I'd pretty much written off entirely. I planted 4 acorn squash, all in the same spot. One by one I lost them to Vine Borers. I managed to keep them alive through the drought, cucumber beetle and squash bug infestations, but with the Vine Borer I'd met my match.
There's no getting rid of this thing once you have it. It's initials should be VD, not VB.
After a couple of surgeries that involved slicing the stems of my Acorn squash plants and probing around inside to find the grubby, gross venereal disease like bugs, I managed to save one plant. But I figured the bugs would get it in the end.
Read this newer post to see step by step how to eradicate Vine Borers!
So when I saw the plant was not only still alive but growing all kinds of new, little acorn squash I decided I'd do everything in my power to keep these things alive.
There are 2 kinds of flowers on a squash plant. A female flower. And a male flower. In order to produce fruit the male flower has to impregnate the female flower with its "pollen". See? My venereal disease reference really wasn't all that far off.
Female Squash Flower …
has a thicker stem and a little bulge right behind the flower, which will, if pollinated, become the mature squash.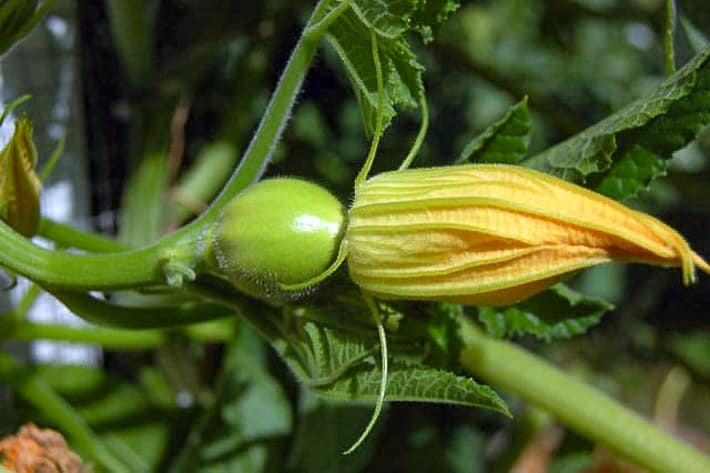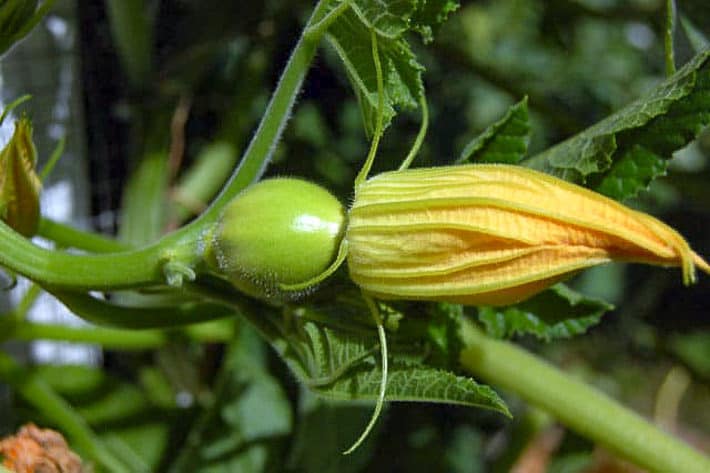 Male Squash Flower …
has a thinner, longer stem with no bulge at the base of the flower.
My squash plant has many female flowers but only a couple of male flowers. This reduces the chances of the bees pollinating the plant properly. Also, there are so many things of interest to bees this time of year they may pass by my squash plants entirely. I mean, squash are nice, but holy crap, LOOK at that hibiscus over there! It's dancing and swaying in the breeze. Winking it's huge magenta petals. What bee could resist that?
So … I decided to take things into my own hands and hand pollinate. That's right. I was going to artificially inseminate my Acorn Squash.
When a bee pollinates your plant he flies into the male flowers, bumbles around a bit and ends up getting pollen on himself. He then flies into a female flower where some of that male pollen falls in and fertilizes the female flower.
As with all fertilized females, within a short period of time … she starts to swell.
You're beginning to have a better understanding of why they call it "the birds and the bees" aren't you?
This method can be used with any plants that have separate male and female flowers. Anything in the cucurbit family.
There are 3 ways you can hand pollinate your plants, but they're all based on the same premise. Getting the pollen from the male flower into the female flower.
You can either use a Q Tip, a small artists brush, or the actual male anthers (that's the stamen looking thing in the centre of the male flower)
Just rub the Q Tip, or artists brush around the centre of the male flower and the anthers.
The pollen will stick to the Q Tip or brush.
Then just brush the female flower's "stigma" with the pollen.
If you have one to spare, you can also just pull off a male flower and use it to rub against the female instead of using a Q Tip or brush.
Provided all goes well and there are no complications, you'll be rewarded with the birth of an acorn squash, butternut squash, zucchini, or whatever other cucurbit type vegetable you use this method with.
There are no natural childbirths in the squash family. They're all C-sections and require some cutting …