Make this moving, blowing halloween ghost decoration in half an hour with a standing fan, some sheer fabric and a pumpkin head. Spiders optional but I mean, come on … what's a ghost bride without some loitering spiders?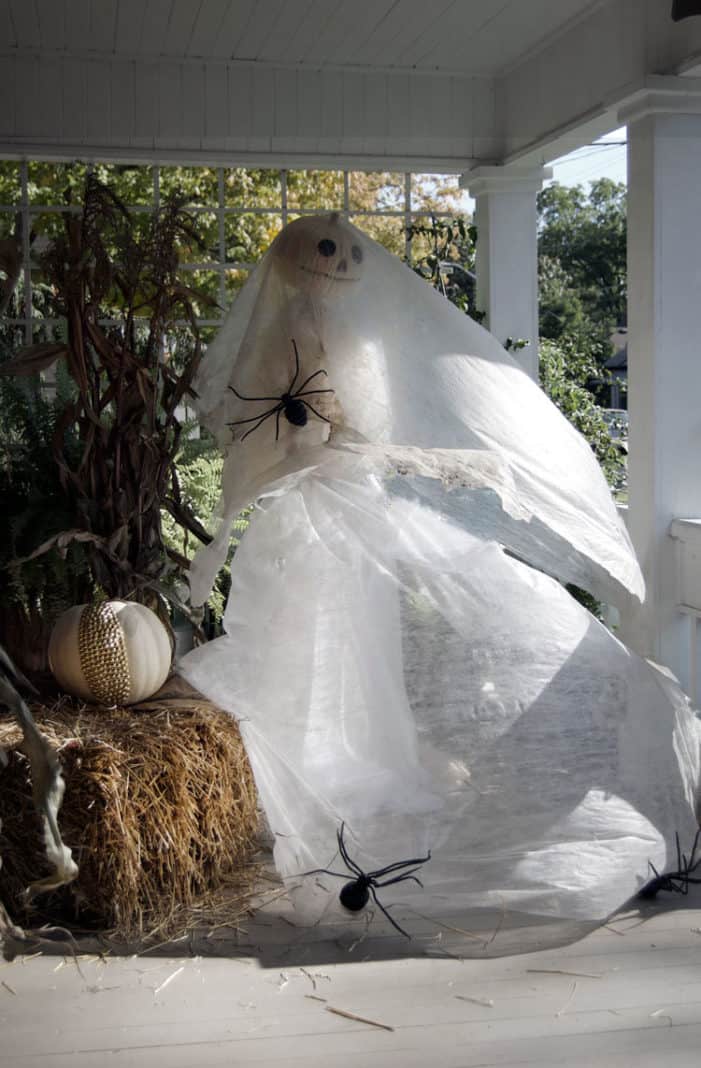 So let me tell you a little something about how we arrived here.
A couple of months ago I was wandering through what is basically a junk hardware store. Think off brand spray paint and steering wheel covers with boobs on them.
This particular store also has a lot of interesting mechanical parts. The kind of things you'd normally have to order off of Chinese Amazon. On my last trip there I found bins and bins of different sized motors. Big motors, small motors, minuscule motors, all lined up just waiting for someone to turn them into something fun and exciting. I gargle-screamed something that ended up sounding like "FRAPTFYIMMINY!!!", and then I choked on my own spit a little.
This was the most exciting day of my life. Although to an outside observer it appeared more like I was in the final stage of cardiac arrest.
I was going to turn those motors into SOMETHING. I just wasn't sure what. There were a billion things I could almost think to do with them around the house, but I kept coming back to Halloween.
Those motors could make skulls spin or witches glide … I just had to come up with a real plan.
And then I forgot all about them until this week when I realized it was too late and I was a big loser and I'd never achieve my goal of making a small child cry this Halloween with my scary motorized something-or-other.
So I moved onto Plan B. Take a fan I owned, rip it apart and use the motor from inside it to make some scary motorized something-or-other. But I liked my fans. And also, I still didn't have a lot of time to come up with something great.
So I moved onto Plan C. Take a fan, cover it with really lightweight material and turn the fan on.
Done.
I happened to have this pumpkin head but you can carve a faux pumpkin (they're hollow inside) with classic triangular eyes and a mouth and it would look great. Fit a lightbulb inside or cut a hole in the bottom big enough to put a flashlight or battery operated candle inside. A light can also be just used at the back of the ghost shining into the sheer fabric to make the whole thing glow.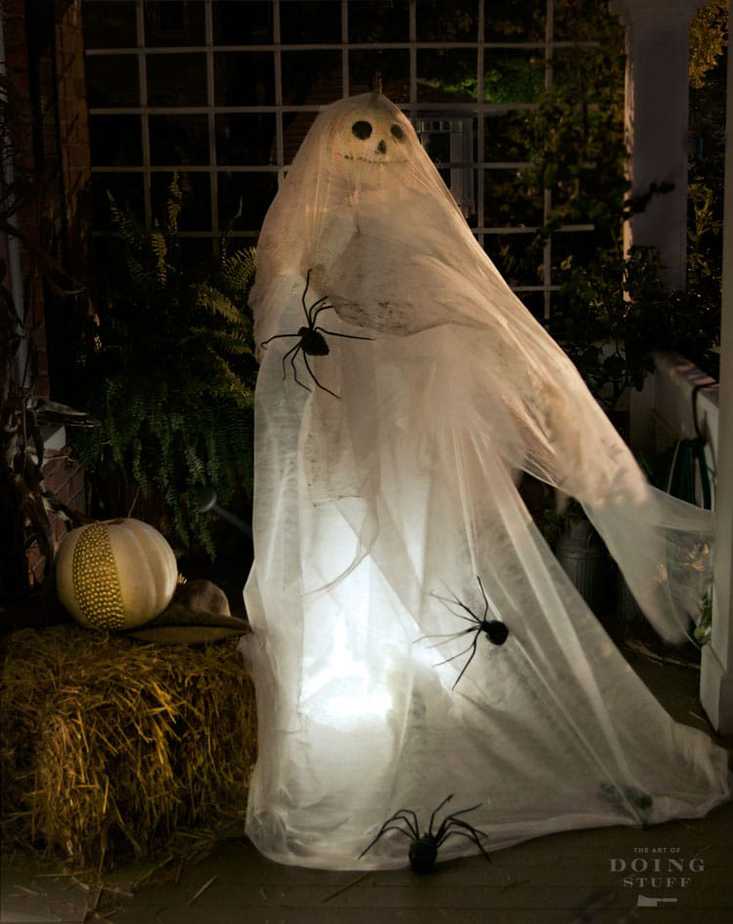 See? I have a light behind the ghost to make the dress glow.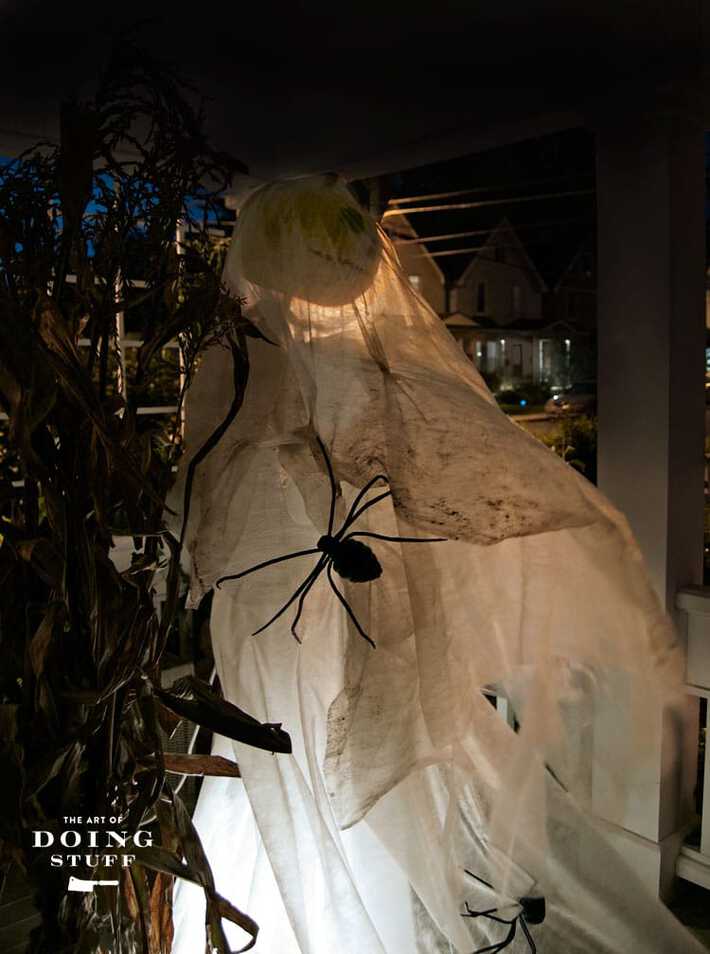 It might not make anyone pee, in fact it looks kind of pretty, but no less than 2 children crossed to the other side of the street when they approached my house as I was testing it out which I see as a very good sign.
This is literally a standing, oscillating fan, with VERY lightweight fabric draped and pinned over it. I tested out all the normal materials for you, so you wouldn't have to go through the trial and error that I did. I also figured out a way to put any kind of head on top that you want and ways to take it over the top at night if you want.
Halloween Ghost Decoration
TIPS FOR MAKING A GHOST DECORATION
1. Use super lightweight fabric. I used row cover for gardening. Sheets are too heavy. Gauzy fabric is too heavy and there are too many large holes for it to blow. A very lightweight sheet would work.
2. Make sure the back of the fan is clear and not covered with fabric. If it's covered by fabric the blowing power will be reduced a LOT.
3. If it isn't blowing the way you want, turn the fan on and then just start pinning and stapling the fabric in different spots until you get the effect you like.
4. To make it even BETTER stick some LED Christmas lights under it or a flashlight to make the whole ghost glow.
Next year I tell ya. NEXT year I'll make something out of one of those fraptfyimminy motors.