How to make homemade fire starters that'll get your fire crackling immediately. 3 different ways to make fire starters with lint, wax, sawdust, belly button lint ... whatever you have on hand. They'll start with one match and burn for 10 minutes.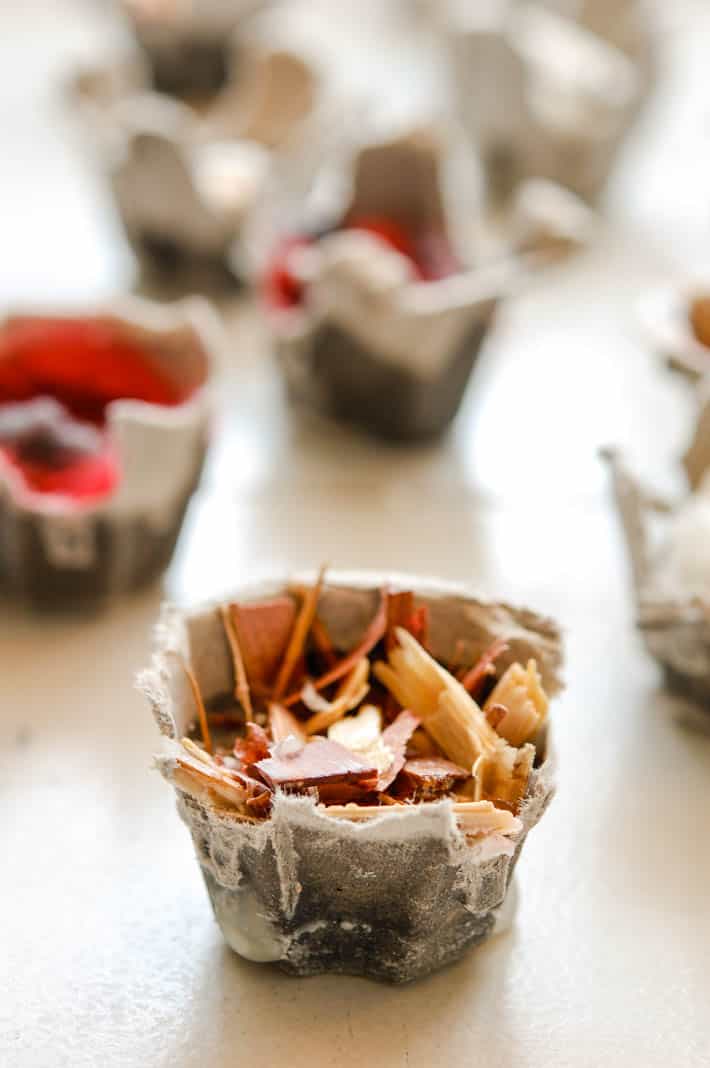 Why go to the trouble of making fire starters? I mean, that seems like a pain. You're probably wondering when exactly would any normal human being ever need a fire starter. I'd like to address this with my comprehensive list of possible scenarios where a person might need to use a fire starter:
When they want to light something on fire.
I make a few versions of homemade fire starters because apparently I like to light things on fire, and I like to have things burst into flames, with ease. Most of the time I just buy my fire starters at my local dollar store but sometimes I run out and need to make some.
If you want to make some too, press on and make your own DIY fire starters. Here are the 3 types of fire starters you can use as campfire starters or for wood burning fireplaces.

Fire Starter Squares
Burn time: 4 minutes
Materials
Paraffin wax or candle stubs
Sawdust
Baking Sheet
Parchment paper
Instructions
Chop your wax up so it will melt more quickly. Melt it in a double boiler or in everyone's favourite coffee warmer; the microwave.
I create a makeshift double boiler for melting wax by putting a metal can inside a small pot with water in the bottom of it. Put your wax inside the can and simmer the water on the stove, gently melting the wax without ruining your pot.
2. Line a baking pan with parchment paper, tin foil or plastic wrap and then fill it with sawdust. Pack the sawdust down a bit with the palms of your hands.
3. Drizzle your melted wax over the entire tray.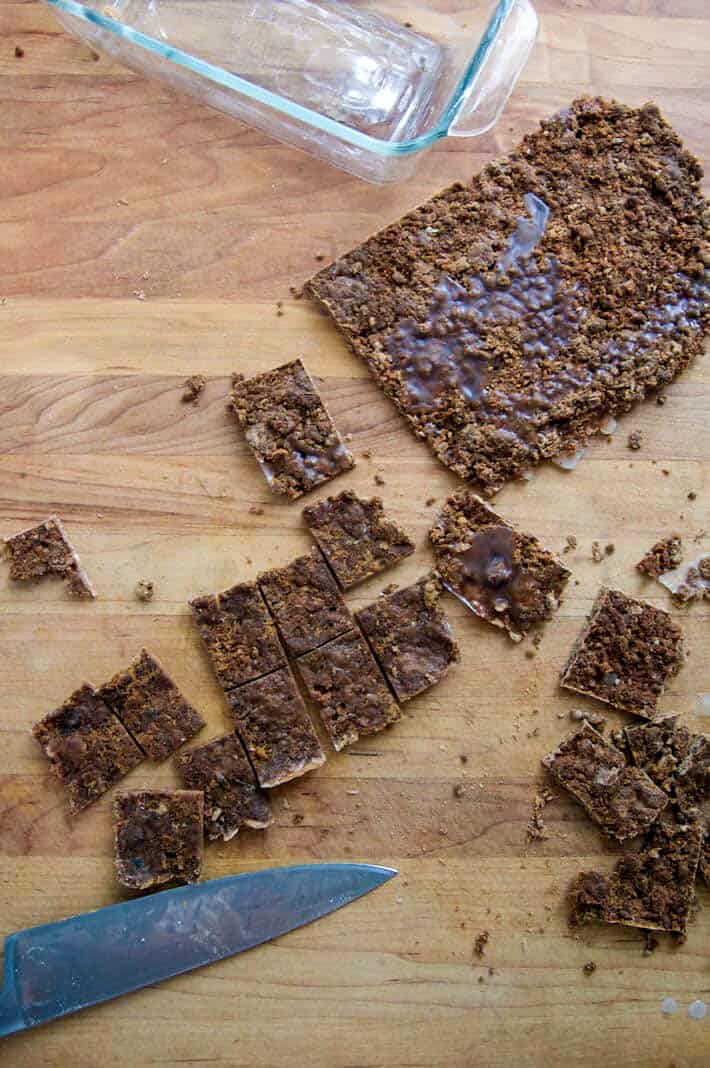 4. Let it sit until it's hardened and then cut into squares.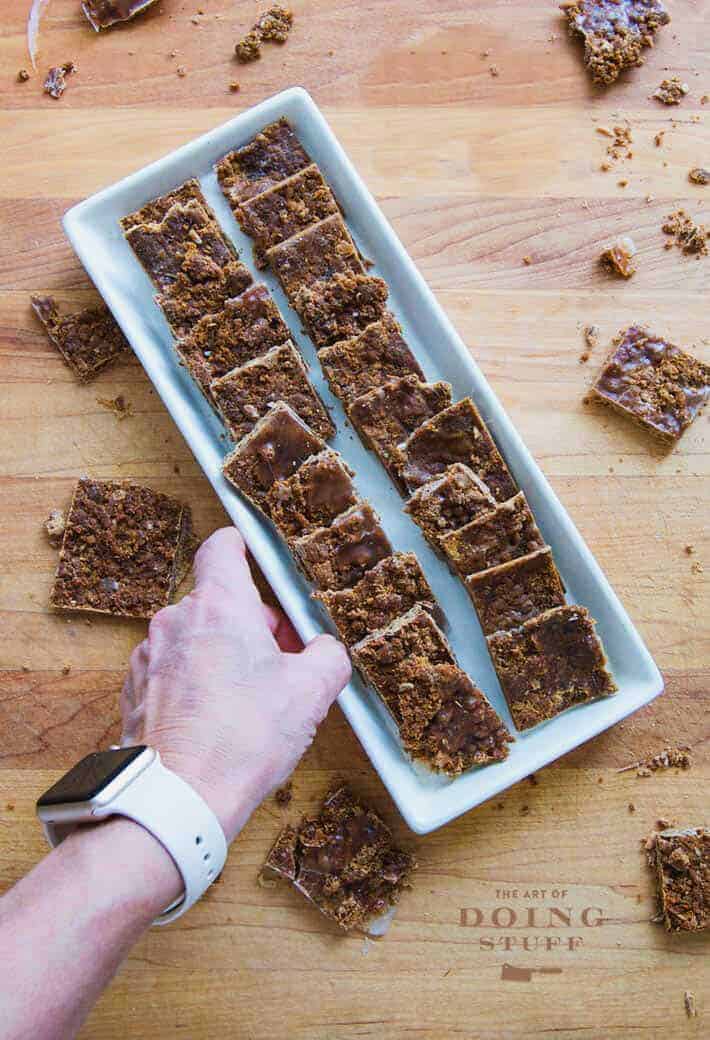 They look just like a delicious caramel dessert.
Now is probably a good time to say don't feed these to your children or leave them out where children will feed themselves with them. It's not gonna kill 'em or anything, it'd just be embarrassing for you if they said they were the best dessert you've ever made.
---
I go through 7 face cords of wood every year so I also go through a LOT of fire starters. Here's my post on how to stack wood so it's tidy and doesn't fall over.
---
Egg Carton Campfire Starters
Burn time: 9 minutes.
Materials
Cardboard egg carton
Parrafin Wax or candle stubs
Sawdust, wood chips, cotton balls, dryer lint, belly button lint and/or paper towels
Instructions
Shove whatever you have on hand in the cups of a cardboard egg carton. Lint, sawdust, wood chips, cotton balls or paper towels.

Chop your wax up so it will melt more quickly. Melt it in a double boiler or in everyone's favourite coffee warmer; the microwave.
Place your egg carton onto a baking sheet lined with tin foil or a surface you can easily scrape wax drips off of.
Pour wax into each egg carton cup, let them harden and then pull them apart into individual cups.
These suckers will light up with one match.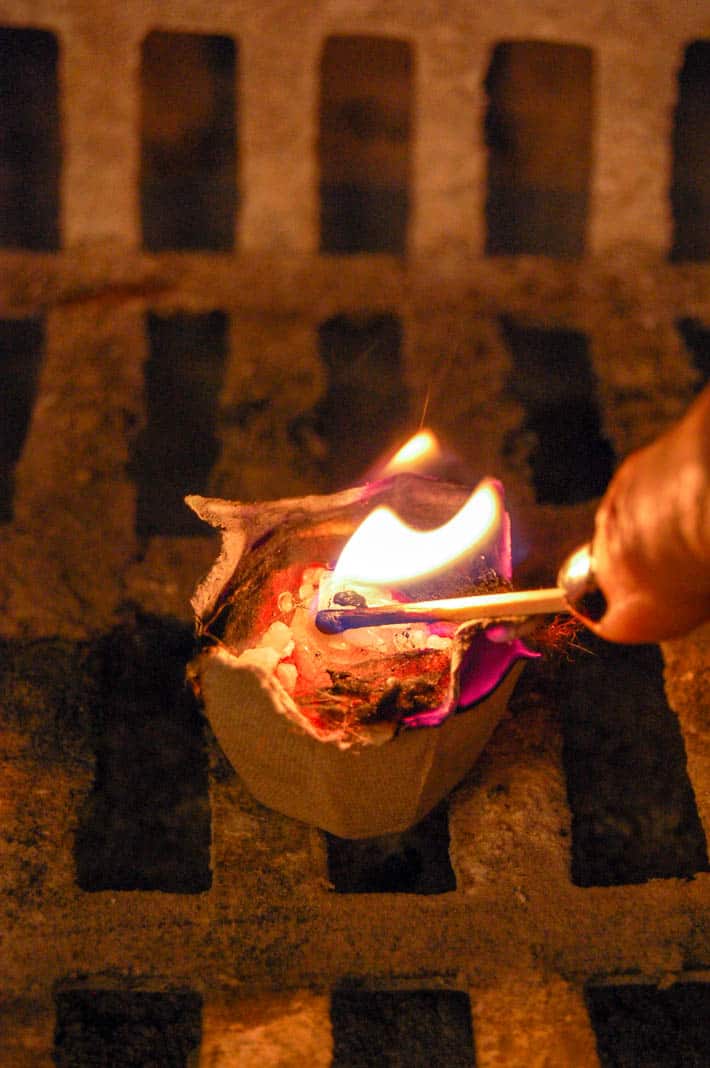 Easy Homemade Fire Starters.
Burn time: 5 minutes
These don't burn as long or as easily, but they DO work and you can whip a couple of them up in only a second.
Materials
Cardboard egg carton
Candle stubs
Dryer lint
Instructions
Stick a candle stub into the cup of an egg carton.
Pack dryer lint around the stub.
Sprinkle chopped up wax on top of the lint. (optional - helps it to burn better)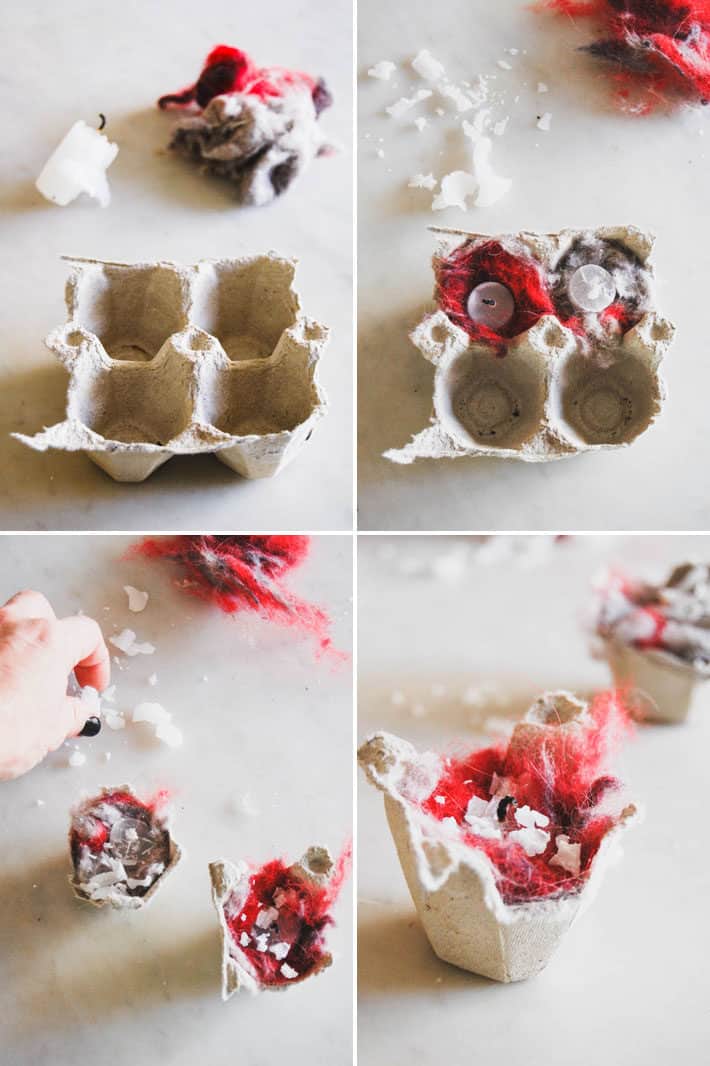 Your local dollar store carries firestarters for a dollar. So I still buy them there, but when I run out or just want to use up a whack of dryer lint I make some version of these. Besides, when you're at the dollar store buying firestarters you can also buy a bag of Bugles, a pair of poorly made socks of questionable material and metal garbage can with all of the Muppets on it. Clearly … this gives the dollar store an advantage.
→Follow me on Instagram where I often make a fool of myself←