There are two ways to stack a cord of wood: with the help of a rack or without one. Only one of these methods will get you taken seriously as a mountain man. Woman. Person.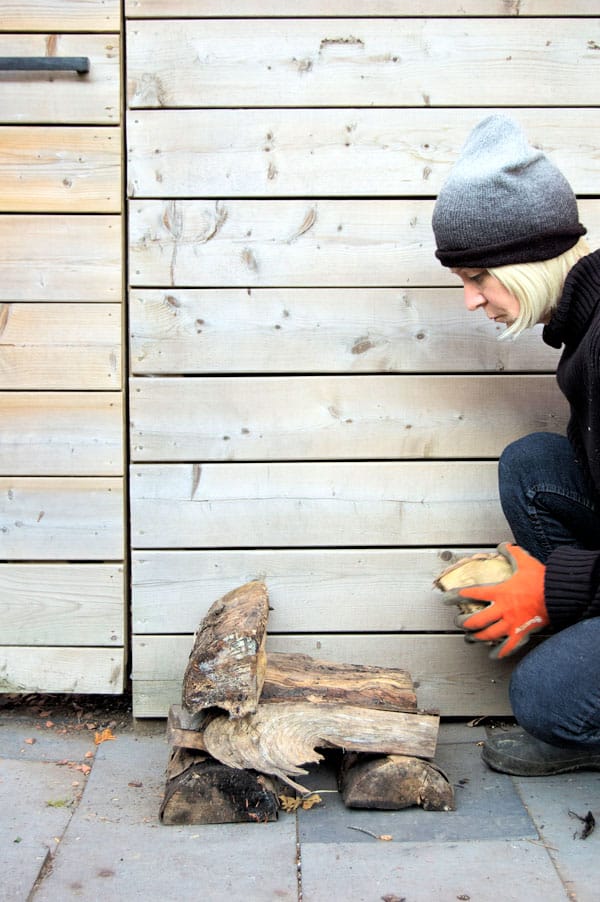 Skip right to the stacking tutorial.
I've been stacking wood since I was 9 years old. Because apparently I was some sort of pioneer child, further proven by the fact that my favourite toy was a potato. My father Norm taught me how to stack wood. According to Norm (may he rest in peace with a roaring fire) you should basically be able to drive a monster truck up one side of your wood pile and down the other without it moving an inch.
While it's true you want a very stable pile of wood, if it's stored outside you don't want it so tightly packed that no air can circulate through the logs. That'd get you laughed RIGHT OFF THE MOUNTAIN.
First some fun facts about wood. I mean what facts about wood aren't fun? Do they even exist?
What's a face cord of wood?
8 feet wide x 4 feet high x 16" deep.
A face cord of wood is a stack of wood that's 8' long x 4' high made of wood that's 16"-18" lengths. So if someone delivers wood to you saying it's a face cord but it doesn't measure that when you stack it, then you didn't get a face cord. A face cord is also called a rick. I have NO idea why.
What's a bush cord of wood?
8 feet wide x 4 feet high x 4 feet deep.
A bush cord is the same amount as 3 face cords. It's called a "face cord" because the amount is the same as what you see on the face of a bush cord.
Is Stacking Wood Good Exercise?
You bet it is. Even the tiniest person will burn around 300 calories an hour moving and stacking wood. The bigger you are the more calories you'll burn.
How do you get a stable, solid stack of wood without using racks? You use the wood stacking technique of making wood pillars.
How to Stack Wood (without a rack)
To stack cords of wood without the help of any rack you're going to have to build something to contain and stabilize the wood pile. You have to make wood columns out of your firewood on either end of your wood pile. If you do it right they'll act just like regular columns and stabilize the whole pile.
Pros
No extra materials or costs required for this method.
Looks super-cool.
Very sturdy.
Gives you street cred. Errr ... pioneer cred. Homesteader cred?
Cons
It's time consuming.
You have to be precise. If one log in your pillar isn't steady your entire pile could crash down.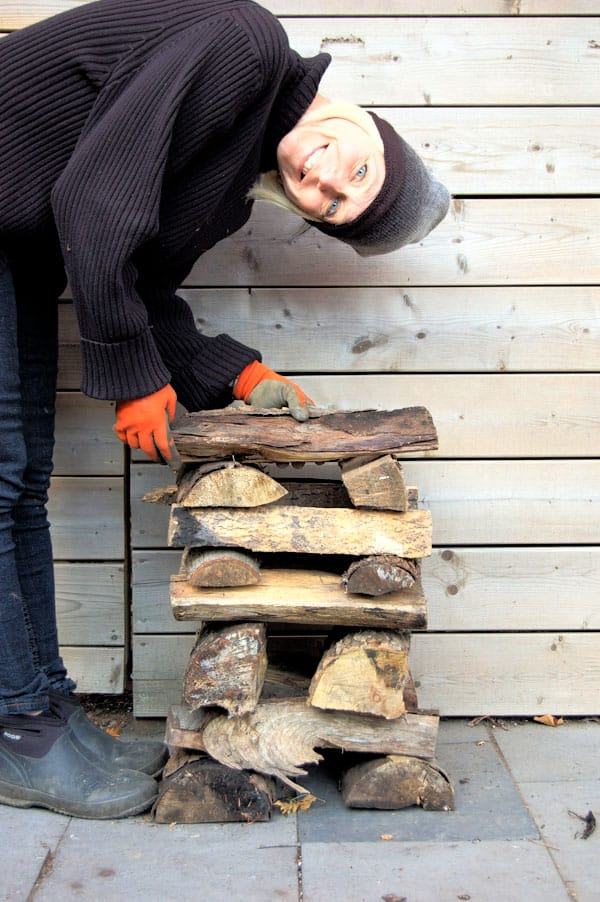 **The night before your wood is going to be delivered make a batch of chili. Seriously. You'll be so happy you did then when you're 8 hours into stacking wood the next day.**
Here's my award winning (not really but it COULD be) Chili Con Carne recipe.
Lay equal sized pieces of wood side by side, then side by side in the opposite direction. Test your stack as you build it to make sure it isn't rickety. When you push on the wood there shouldn't be any wiggling.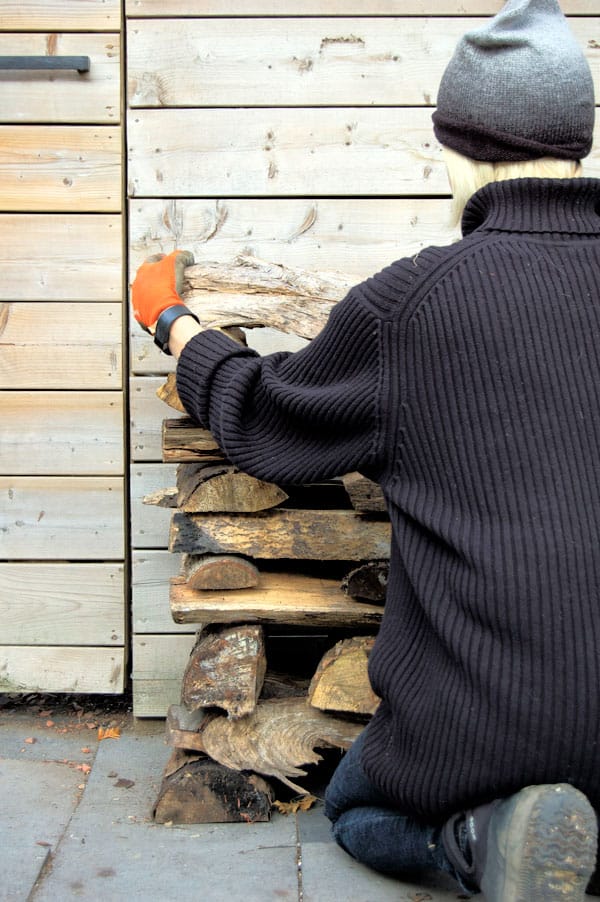 2. Continue doing this until your stack is 4' high.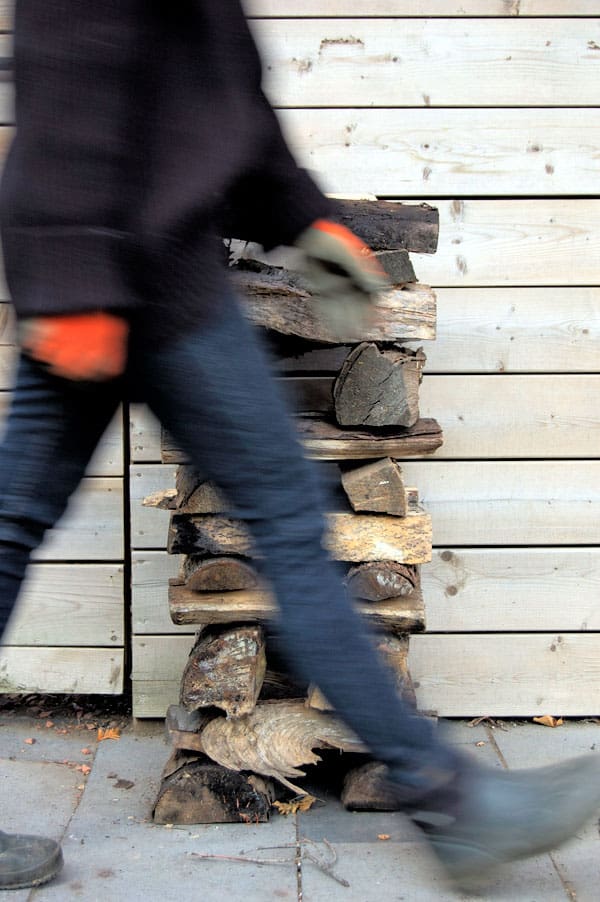 3. Fill any large gaps in the column with smaller pieces of wood to create a sturdier structure.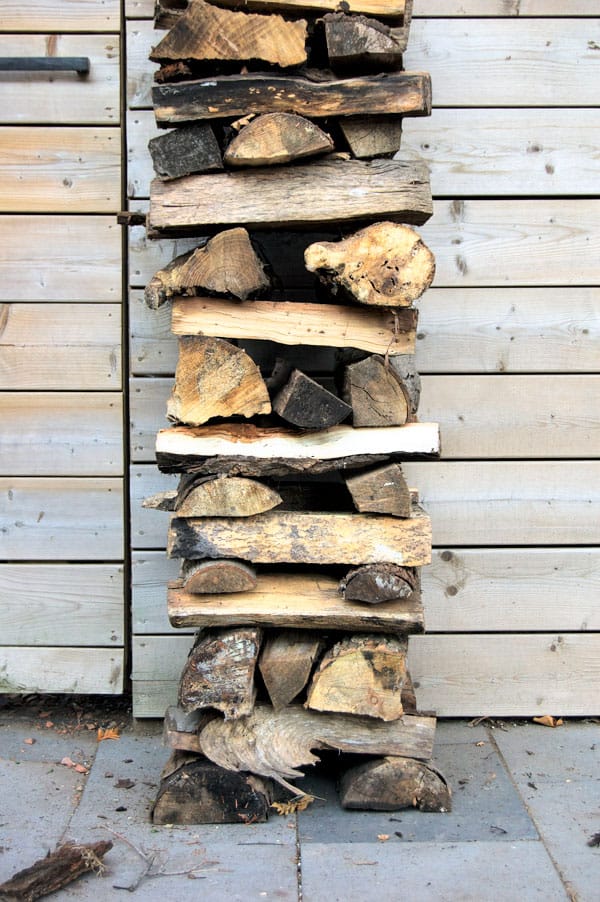 4. Repeat this on the other end of where your wood pile will be. There should be a space of around 7' between your columns.
For the past few years I've made my columns anywhere from 4'-5' high and I haven't had a single one fall down.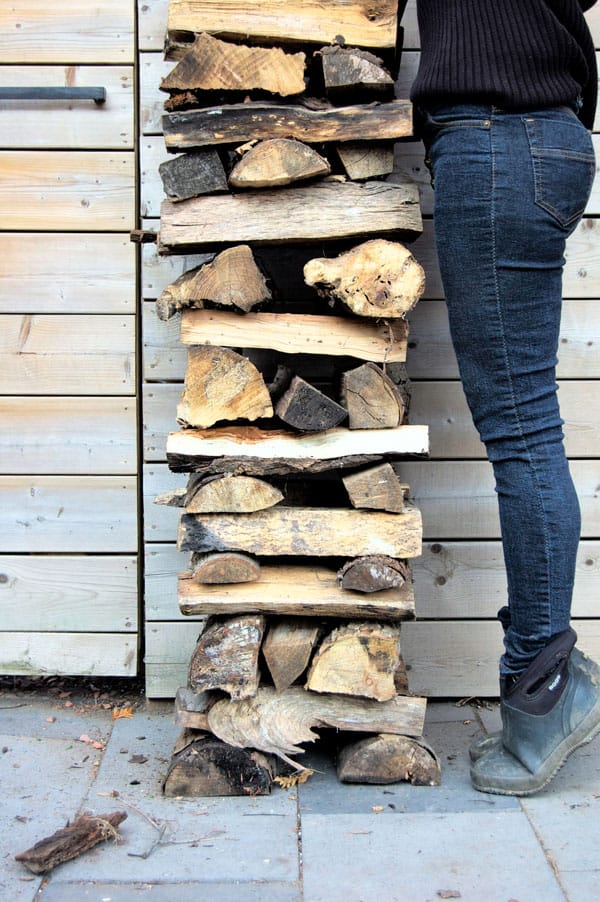 5. Once you have made your wood columns, you can stack your wood in between.
Wood Stacking Tips
Use square cut logs or logs with a very flat side for your columns. Save round logs for in your main pile.
Use the largest pieces of wood on the bottom of the main pile (in between the columns) so they can support the rest of the wood.
I do 2 logs one way, 2 logs the other way and then fill in the columns. Doing 3 and 3 logs will make a sturdier column, but also take a lot more time.
The MOST important thing for stacking the columns and your main pile is to make sure they are level. If things aren't level they'll eventually topple over. It might not be today or this week, but they will fall down.
I stack directly on my flagstone because it doesn't hold water. Do not stack directly on soil or grass if you can help it because that'll rot the wood AND it'll be filled with bugs who happily house themselves in your pile. Just place a couple of long 2x4s down 12" apart and stack your wood on that to keep it off the ground and dry.
Put any weirdly shaped logs that just won't fit into the pile nicely off to the side. They'll only make your wood pile wobbly. When you're done stacking you can put the weird ones on top of your finished pile.
To cover or not to cover? If your wood is in open air the best thing to do is cover just the top of the pile with a tarp to keep rain and melting snow off of it. The rest of the pile should be left open to allow for air circulation. The easiest thing to do is to place a folded tarp over the pile and hold it down with a few of the weirdly shaped logs.
Wear steel toed or HEAVY boots for wood stacking. I wear Bogs like this and I've had them for years.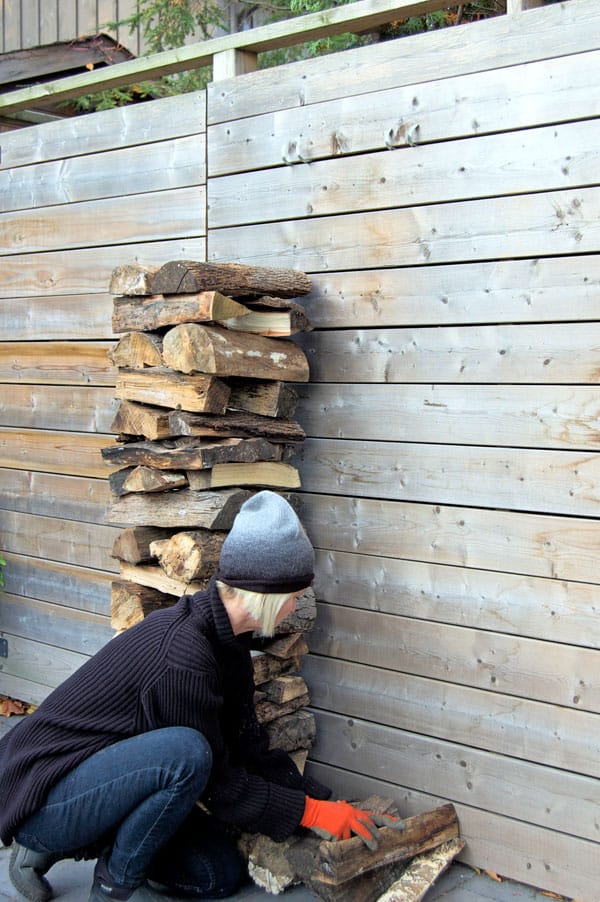 ---
There are 2 mistakes people make when stacking wood. They either stack it too tight so there's absolutely no air circulation in between the logs which promotes damp wood that isn't ready for a fire OR they just drop it down and end up with a pile so loose and wobbly that it tumbles over the second an amorous squirrel chases his lover over it.
---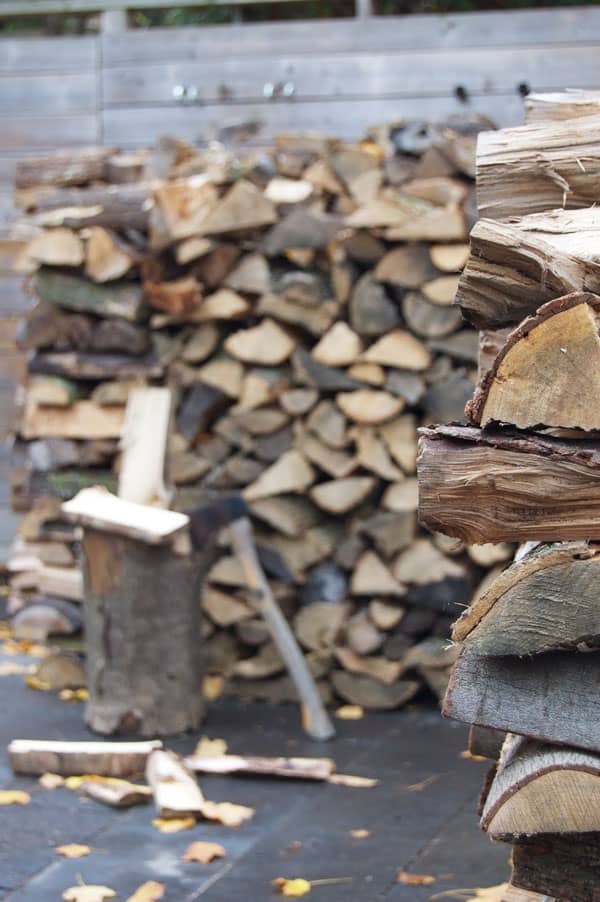 If you don't have a huge property for keeping wood, just use whatever space you can to stack your wood. If you have nice piles they look really good around your yard come fall and winter.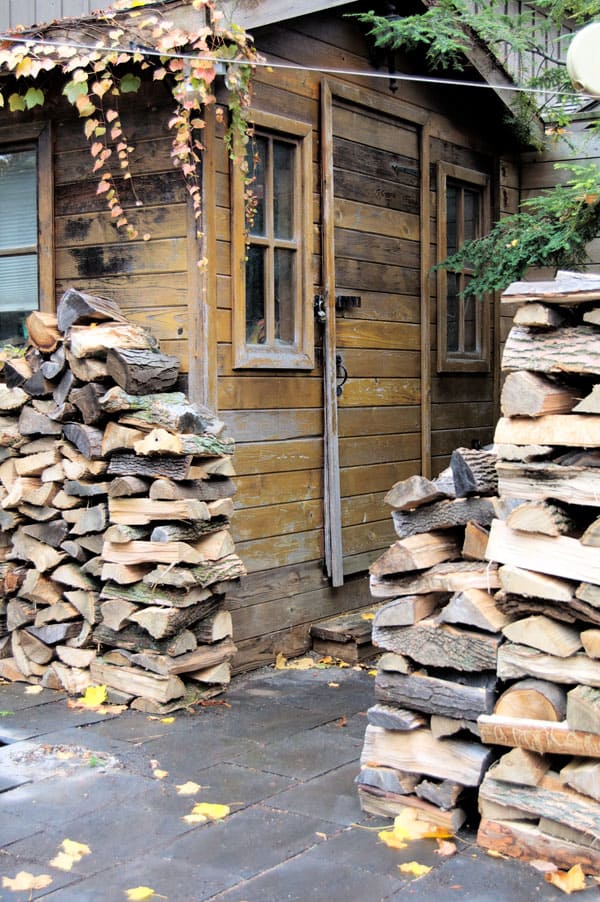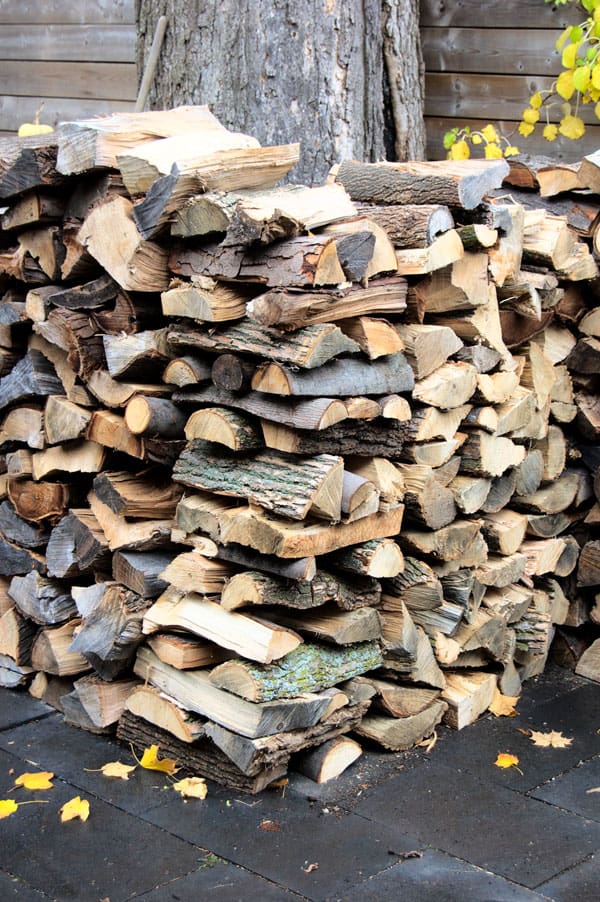 To Stack Firewood with a Rack
Buy a firewood rack, set it up and start stacking. That's all there is to it.
Pros
Much faster to stack wood on than making wood columns.
Keeps wood off of the wet ground.
Almost zero chance of the wood pile ever toppling over (which is really dangerous!)
Cons
It can get expensive if you need a lot of racks.
You have to store the rack somewhere when it isn't in use.
Where to buy Wood Racks
Most hardware stores carry some form of rack, but for larger racks you're best bet is Amazon. You can see all the Amazon wood stacking racks from big to small here.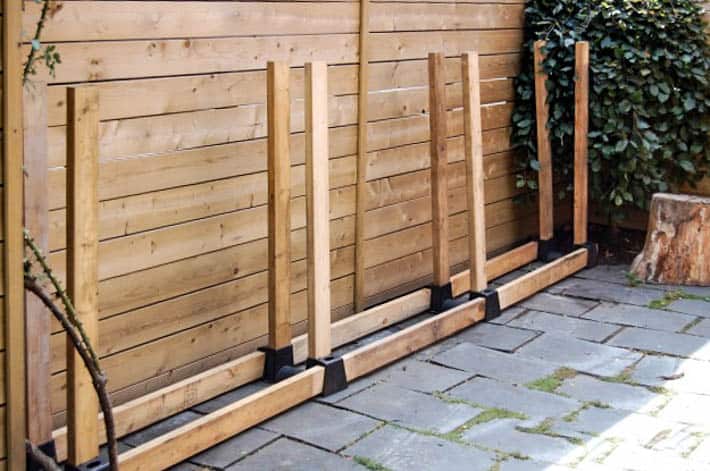 You can also buy plain brackets that 2x4s fit into which create a rack that can be disassembled at the end of the season. They work great but you're going to have the added expense of the brackets themselves, plus you need a lot of 2x4s if you're stacking a lot of wood. All of which you're going to need to store when they're not in use.
The racks I'm using in this photo are plastic, which eventually cracked but you can now buy cast iron brackets.


My wood order for last year was 2 bush cords. This year I only got half that amount delivered. In January I'll order the next half.
Splitting the orders means you only have to find half the amount of room in your backyard to stack it, plus in January when I get the next order it'll give me a reason to get outside and move my Christmas ass.
Curious about what 2 bush cords look like when they're dumped on the road and how long it takes to stack them? It goes something like this ...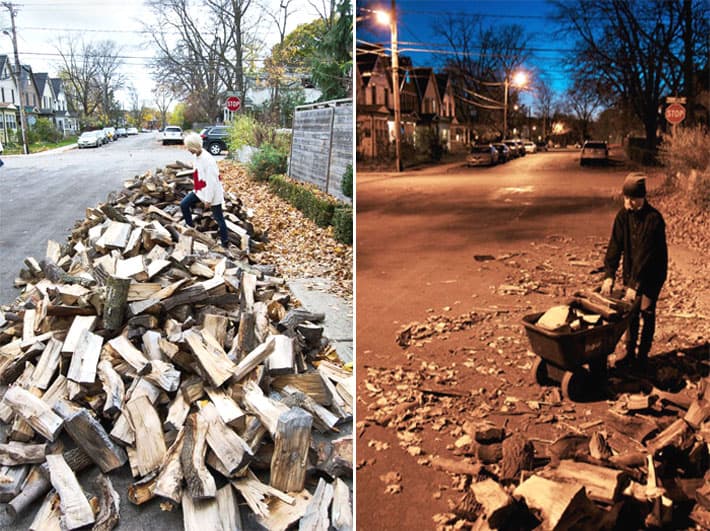 You wake up in the morning and you stack. And you stack and you stack and you stack. And when the neighbour asks if you'd like some help you say NO. Because you're stoic. And hard working. And filled with OCD tendencies about your wood stacking. So no. But thank you.
And hours pass and neighbours pass and you start to feel embarrassed because it's getting late and you're still stacking wood. You're sure people think you're lazy. You aren't stacking fast enough.
And just when you're about to cry a neighbour comes over and starts lugging wood into the backyard. He doesn't ask if you need help. He just starts stacking. And then so does his son. And later on the elderly woman from down the street who recently fought cancer and the heartbreaking death of her husband grabs a rake and starts to help clean up.
And by 9 o'clock or so, almost 12 hours after you started, those 2 cords of wood are finally moved.
And so are you.
→Follow me on Instagram where I often make a fool of myself←