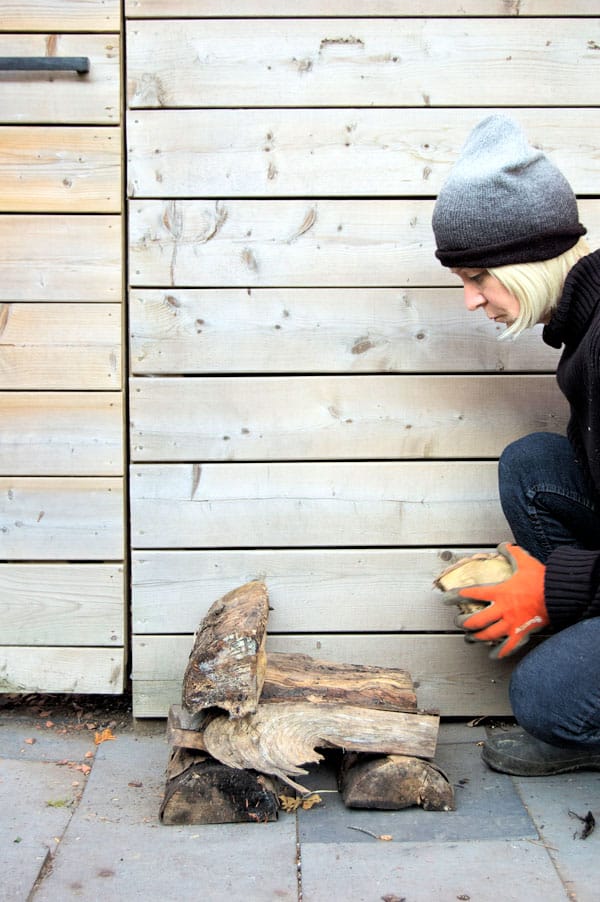 A few years ago I did a post on how to stack wood. It was how I stacked it at the time, which was using a combination of plastic end pieces and 2x4s to create open boxes basically. They worked great, but this method has an expense attached to it. You had to buy a lot of 2x4s, and the plastic brackets. I didn't love how they looked even though they were really fairly neat and tidy. Plus I had to store all of the plastic ends and the 2x4s throughout the spring and summer when I wasn't using them. I don't have a lot of storage in this house and any extra storage I do have I prefer to save for storing things I use all year round. Like my chickens. And my hooch still.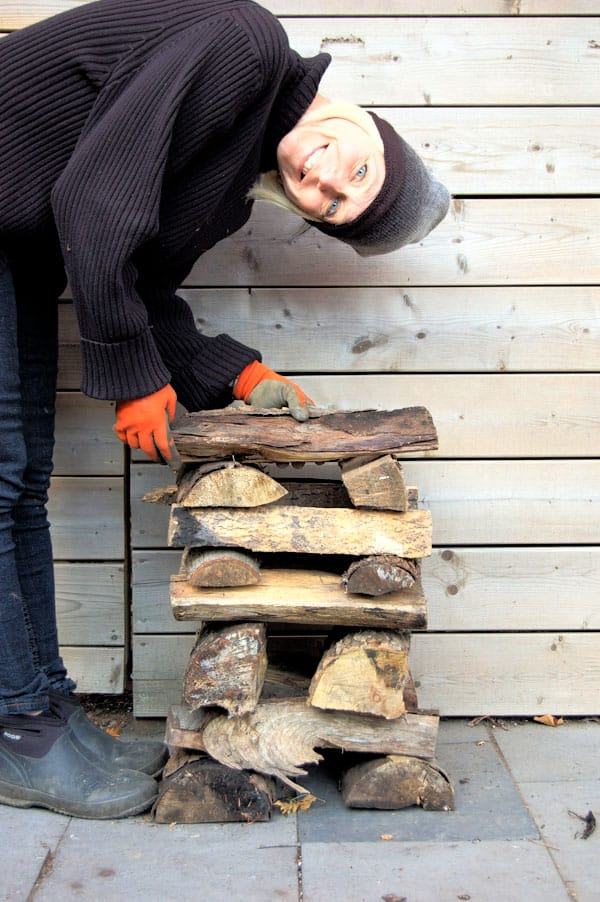 As the years went by I kept dipping into my stash of 2x4s. A small project here, a chicken coop there and before knew it I'd blown through the majority of my wood stacking 2x4s. And I really, REALLY didn't want to go out and buy more of them. So I changed up my wood stacking method.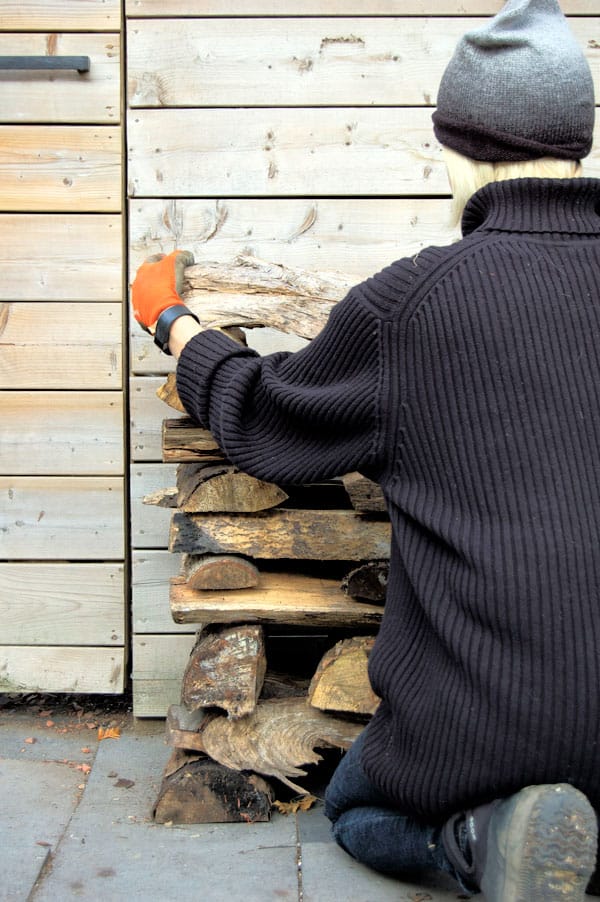 I've gone through several wood stacking kicks and it's officially come full circle. Years ago … and I mean a really long time ago … like even before the Motorola flip phone, I read a Martha Stewart article on how to stack wood that was worthy of Miss. Martha. And therefore me.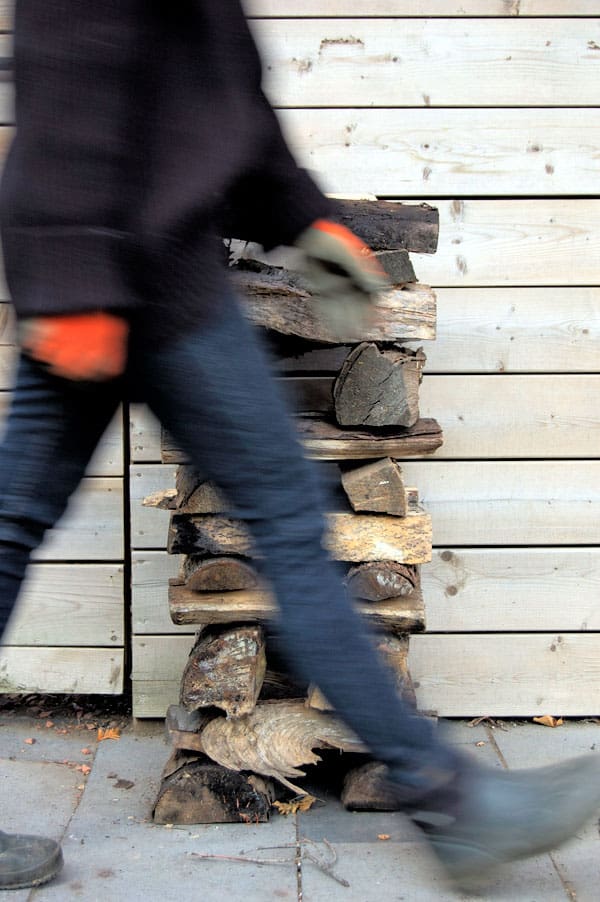 It requires no additional equipment. All you need is your firewood.
By laying equal sized pieces of wood side by side, then side by side in the opposite direction you can create a sturdy column of wood.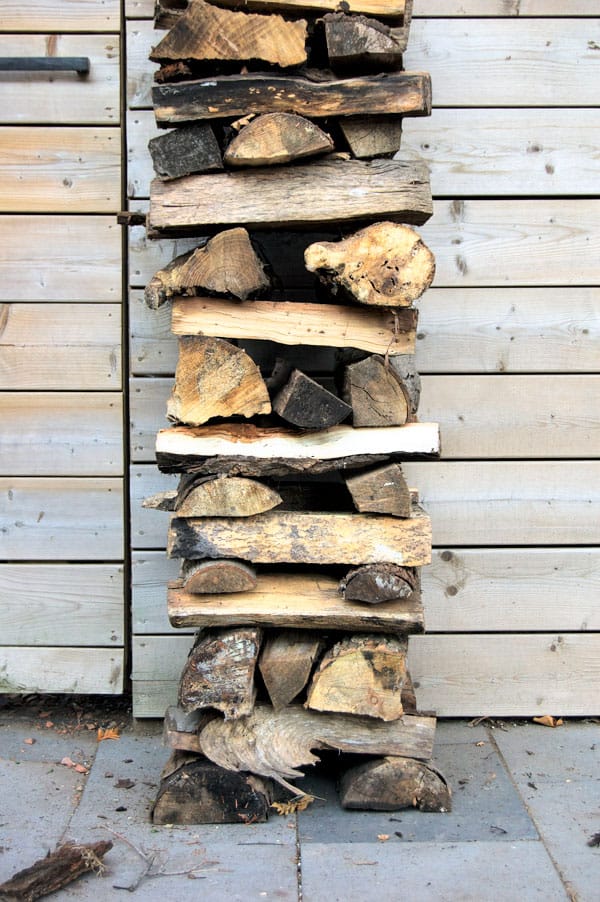 For the past few years I've made my columns anywhere from 4′-5′ high and I haven't had a single one fall down.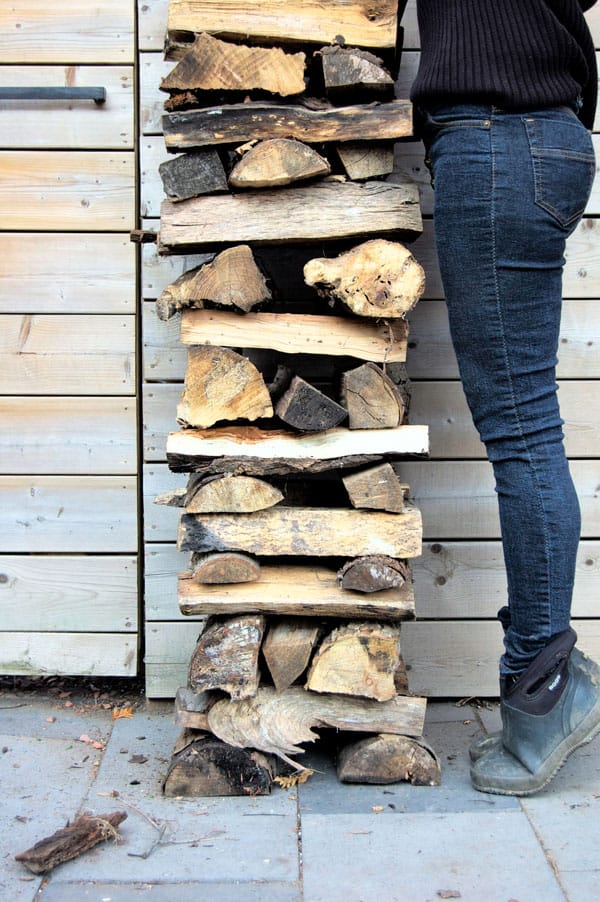 You do a column of wood stacked like this on either side of where you want your wood to go and then just start stacking like you normally wood. Would.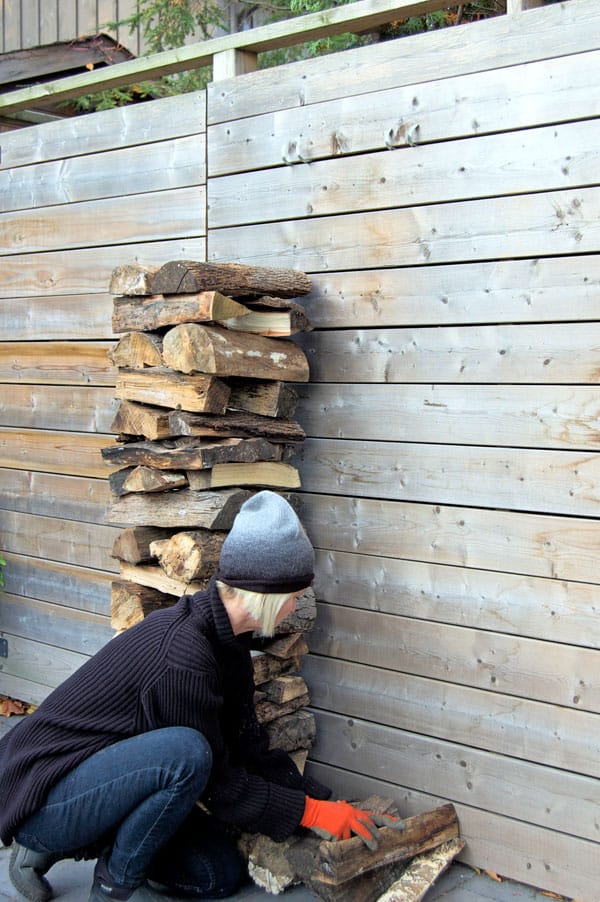 Want more STUFF like this?
Get my posts emailed to you daily.
There are 2 mistakes people make when stacking wood. They either stack it too tight so there's absolutely no air circulation in between the logs which promotes damp wood that never dries out. OR they just drop it down and end up with a pile so loose and wobbly that it tumbles over the second an amorous squirrel chases his lover over it.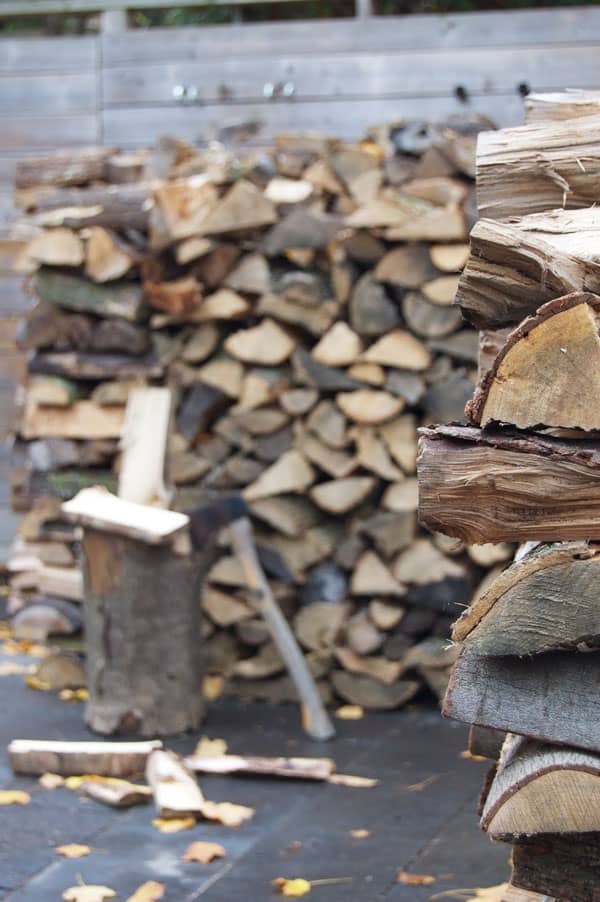 My wood order for this year was 2 bush cords.
"Bush Cord" def: a 4'x4'x8′ stack of dry wood
So I got two of those. Which means a stack of 8 foot by 8 foot by 16 foot. Curious about how much wood that looks like when it's dumped on the road?
When you have a small backyard you may not have room for one big 4′ x 4′ x 8′ block of wood, let alone 2 of them. So you find other ways to stack it. In and around buildings for instance.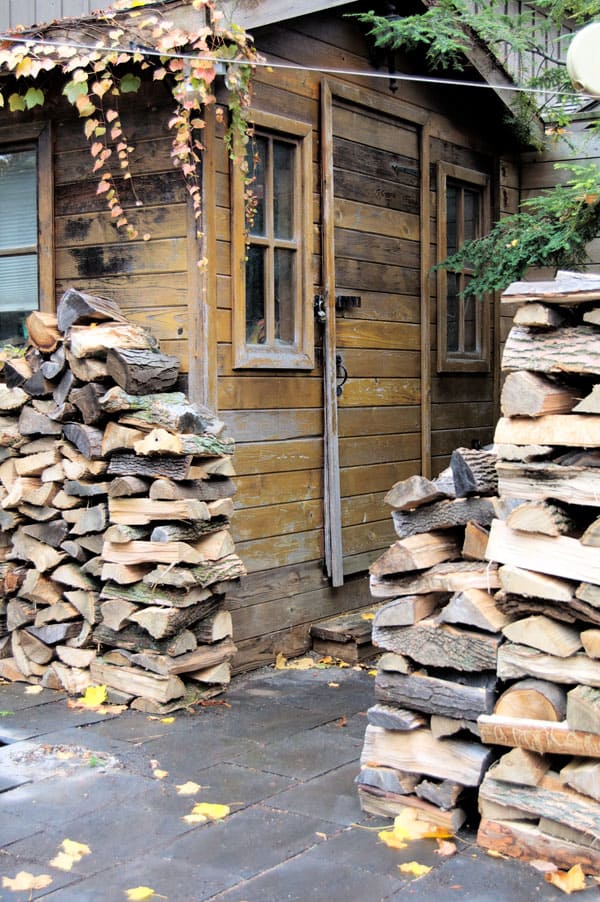 In corners.
Around corners.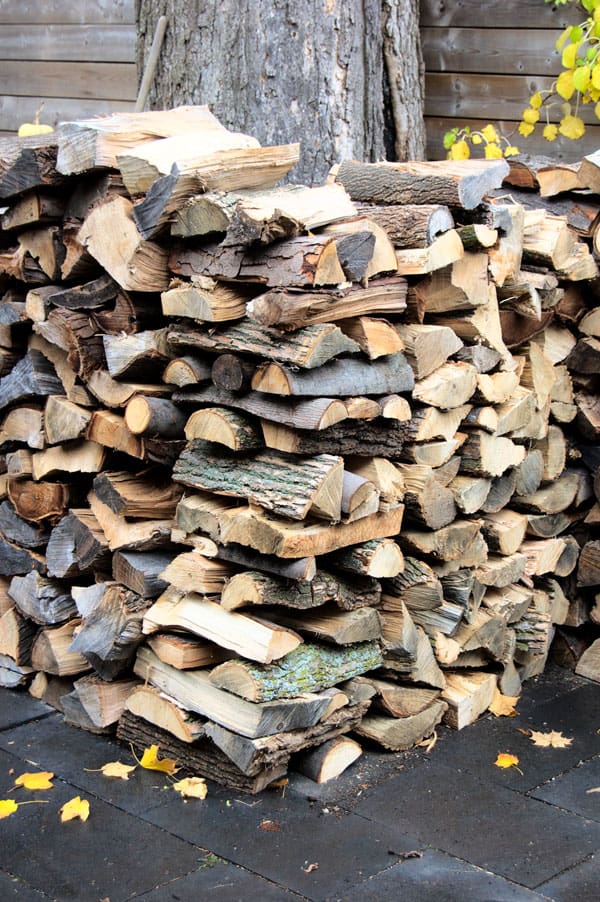 You wake up in the morning and you stack. And you stack and you stack and you stack. And when the neighbour asks if you'd like some help you say NO. Because you're stoic. And hard working. And filled with OCD tendencies about your wood stacking. So no. But thank you.
And hours pass and neighbours pass and you start to feel embarrassed because it's getting late and you're still stacking wood. You're sure people think you're lazy. You aren't stacking fast enough.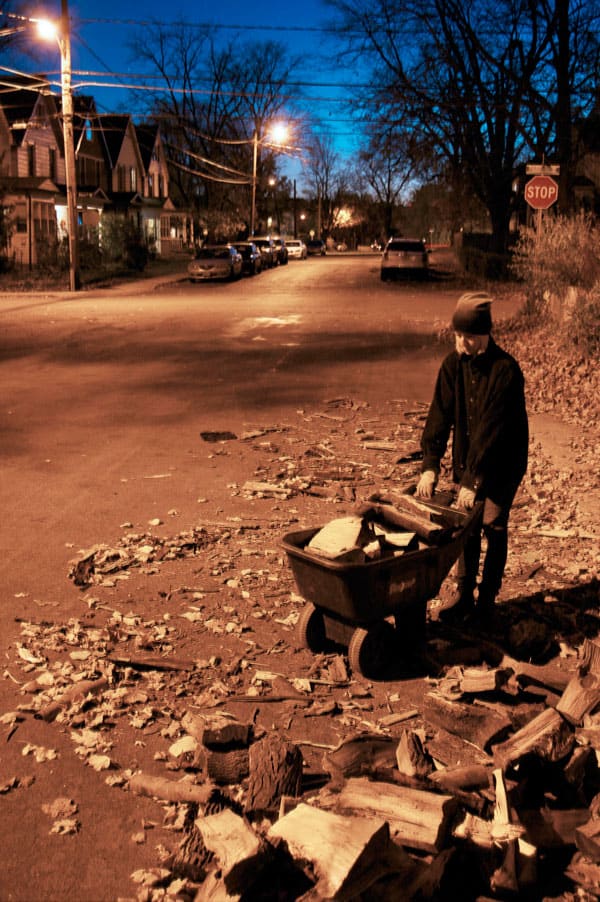 And just when you're about to cry a neighbour comes over and starts lugging wood into the backyard. He doesn't ask if you need help. He just starts stacking. And then so does his son. And later on the elderly woman from down the street who recently fought cancer and the heartbreaking death of her husband grabs a rake and starts to help clean up.
And by 9 o'clock or so, almost 12 hours after you started, those 2 cords of wood are finally moved. And so are you.
[shareaholic app="share_buttons" id="5342563″]