Looking to do something with the space under your stairs? Throw up a few boards of wood to make under stair shelves. It's an easy, hour long job, so don't start getting nervous on me now.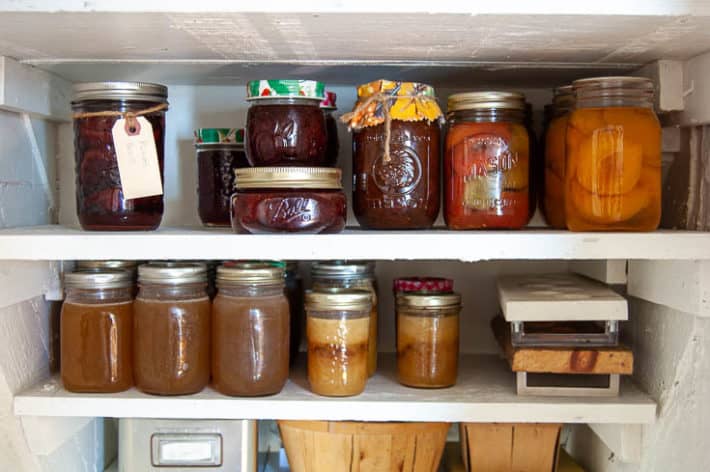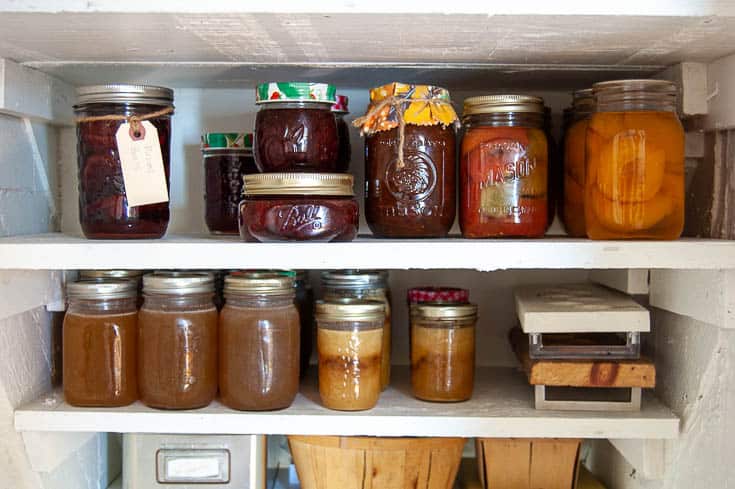 I live in a 180 year old house. As anyone who owns an old house knows, this means 3 things: really curious plumbing, foundation holes large enough for a circus clown to get through and no storage space.
When you don't have any closet space it means you have to find places to put everything normal people would put in a cupboard or closet. Things like my cookie making supplies, extra garbage bags, wreaths made entirely of actual bones and other perfectly normal stuff. You can learn how to make your own bone wreath here, I know you want to.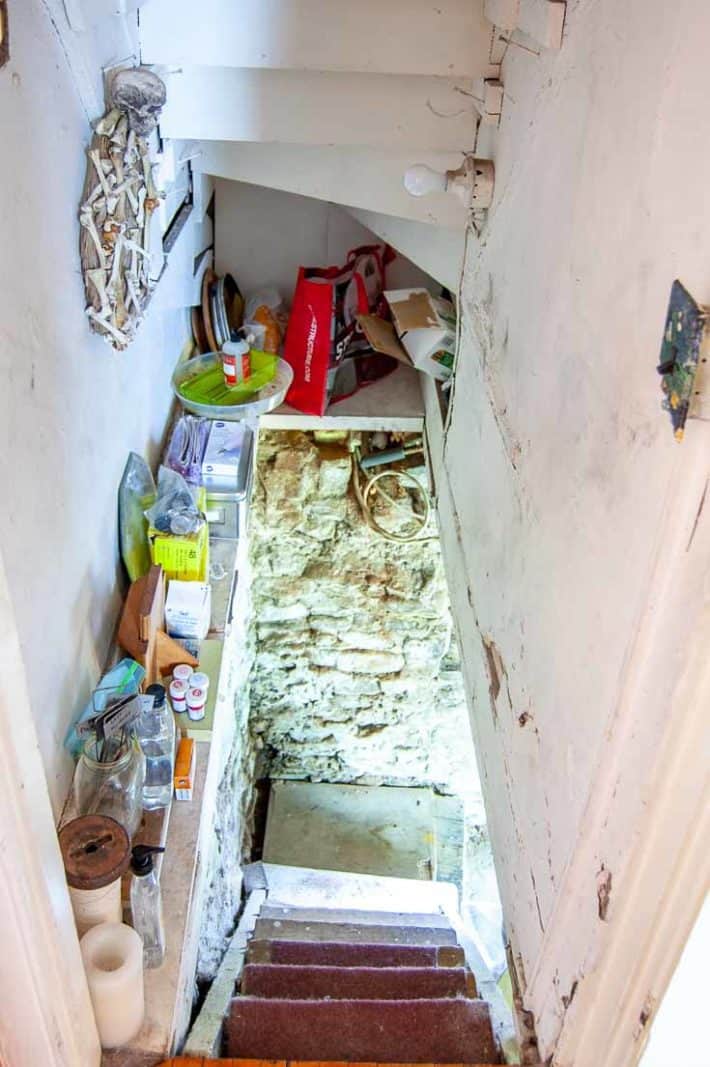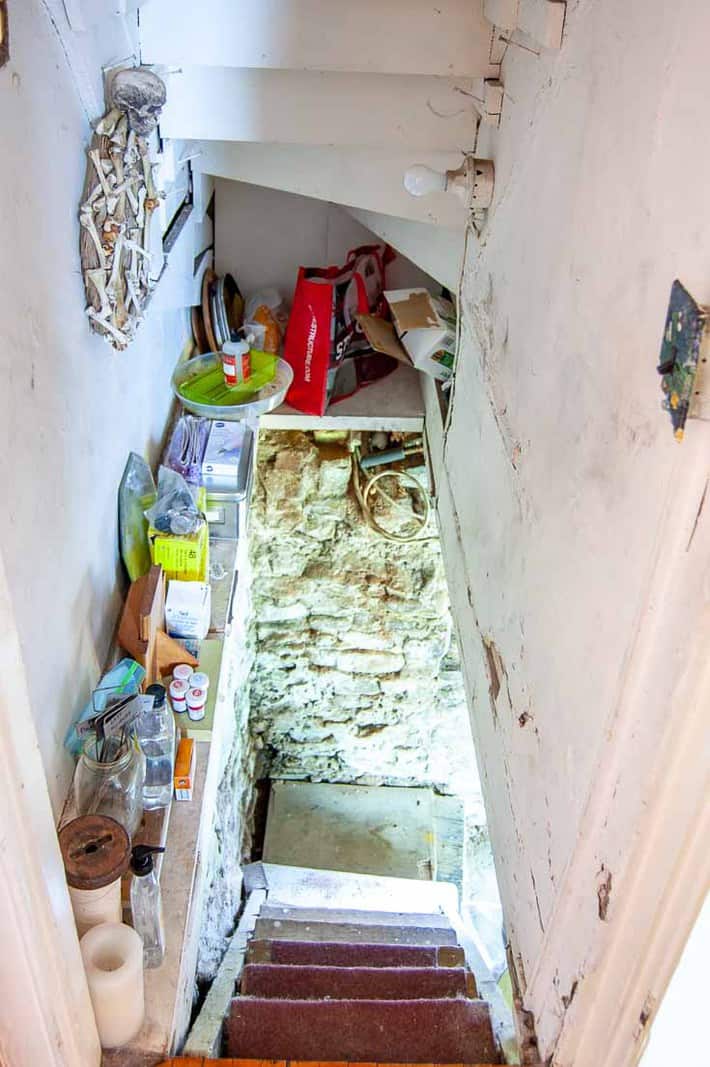 We all have those things in our houses. I'm sure you do too. The cobweb that's been there since 1982 that you never noticed until your mother-in-law helpfully pointed it out. My stairs are one of those things. They're horrific but they've been this way since I moved in (they've probably been this way since 1840) and for some reason I just accepted that this is how they always had to be.
One sad little shelf on the left as you go down the stairs, chipping paint and crooked stairs, three of which have indoor outdoor carpet stapled to them. I have no idea why, only 3 stairs were carpeted but I'm guessing whoever had this house before me had a really intricate and interesting way of going down stairs. Like hop, hop, hop, JUMP. Something like that.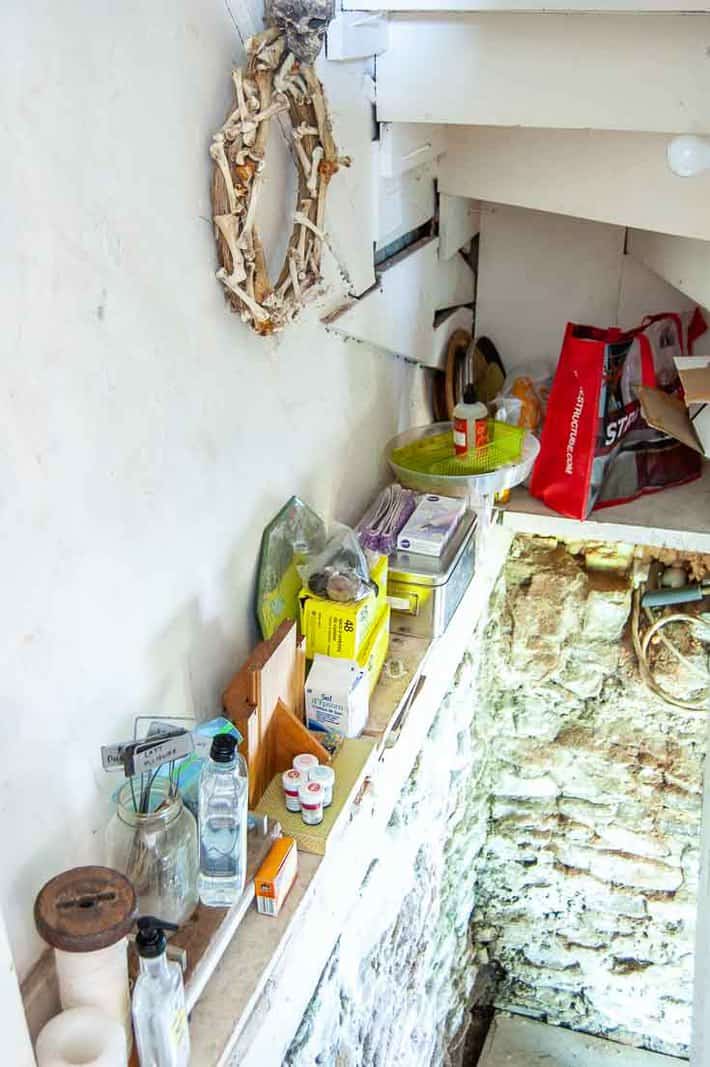 A few years ago I finally got sick of wrestling my food colouring away from the centipedes so I cleaned up the area leading down to my basement and created some storage under the stairs by adding in shelves.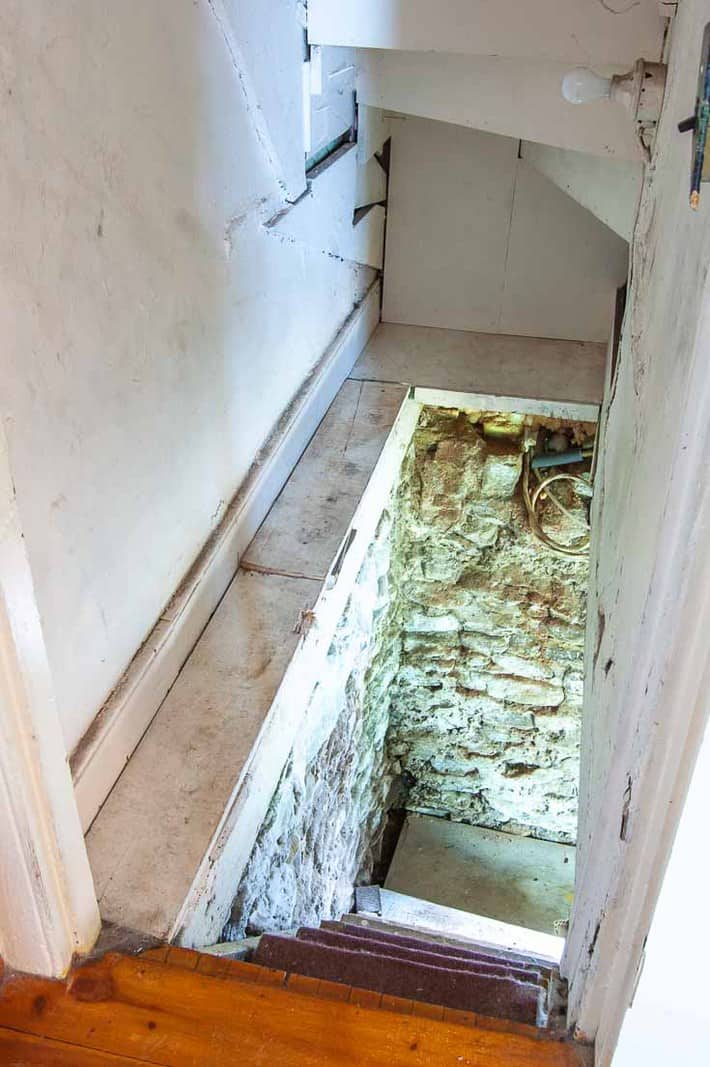 Job number one was removing everything that was shoved around the stairs. I obviously didn't need to clean the area because as you can see even though it was messy I had always done a fantastic job of maintaining the cleanliness of my staircase.
I wiped and Windexed and washed the staircase for an hour. For overkill you understand. And then I painted and vacuumed the rubble walls of Chez Centipede because it was either that or try to book an exorcism.
Once the area was prepped, I could build the shelves.
Building Under Stairs Storage
To build some quick shelves under your stairs you just need some brackets or pieces of 1x2 to support the shelves and any wood that's as wide as your staircase.
Basic flat boards that are 12" wide will work well, but you can use multiple boards. Three 4" wide boards or two 6" wide boards for example.
In my case I had a junky piece of ½" plywood to use for both the shelves and the supports.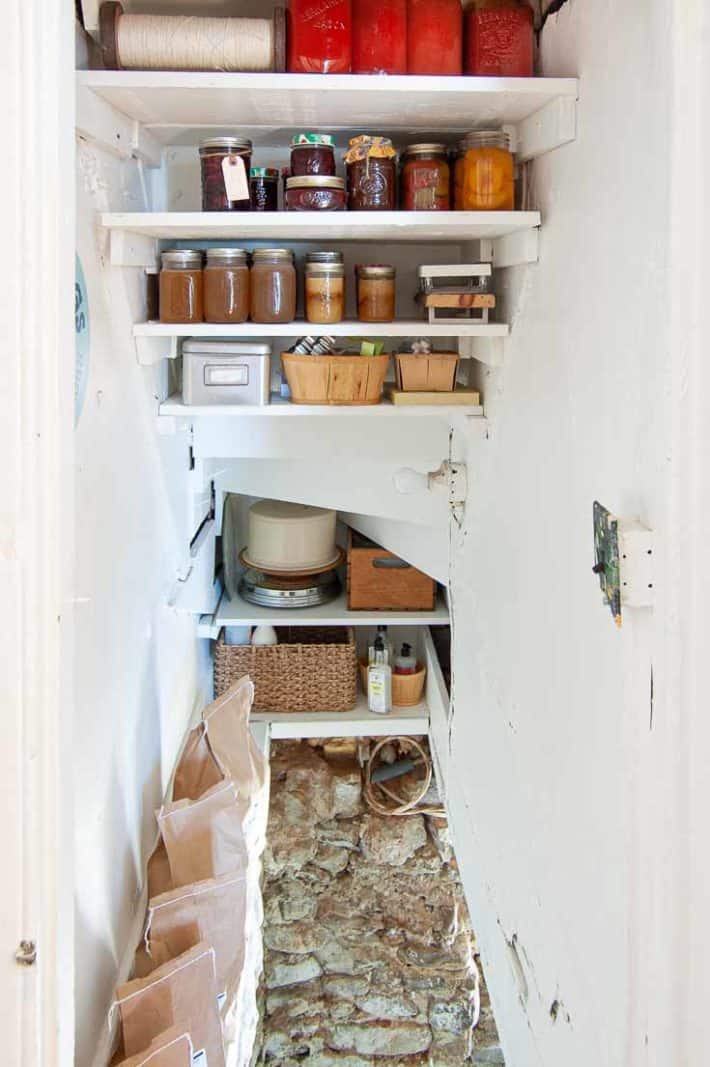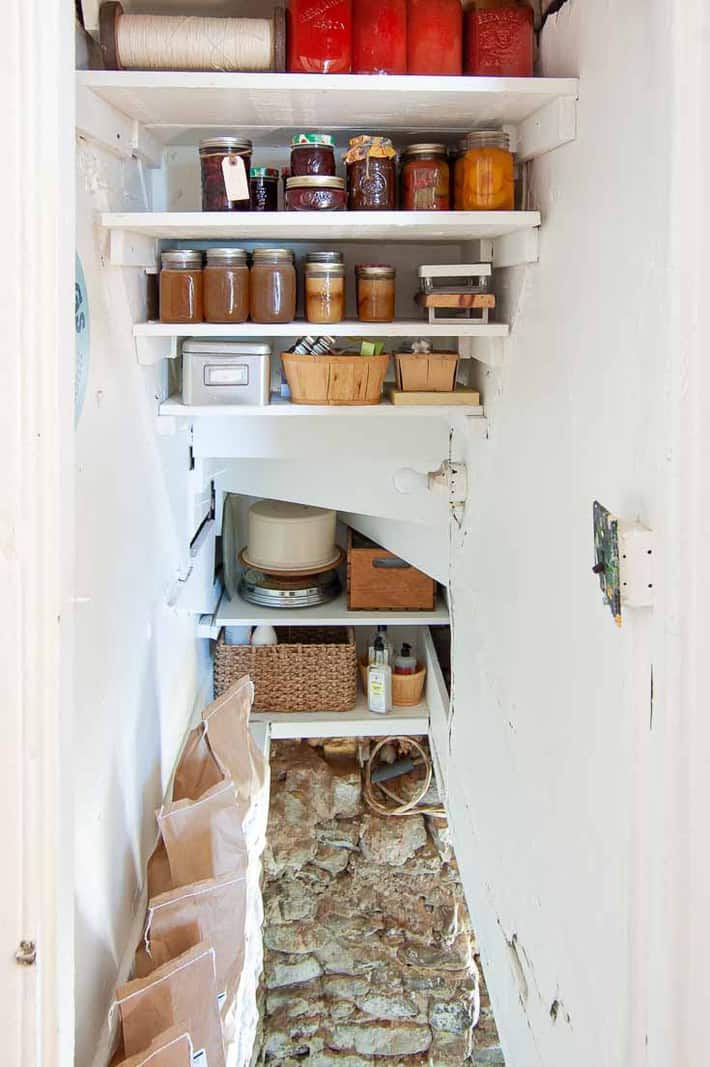 Measure the width of your stairs and cut your wood ¼" shorter to account for wonky walls. Paint them if you're feeling ambitious.
Screw 12" long strips of wood or standard shelf brackets into the wall under the stairs.
Place your shelf on top of the supports. Screw or glue the shelves in place.
Done.
---
---
My stairs still look like a bit of a nightmare but it's way better than it was and I have extra storage.
When I was done with the shelving I also did something crazy. I carpeted EACH AND EVERY STAIR. I know. Extravagant.
The stairs are still wonky and there's nothing I can do about that. They feel safer now and cleaner.
Plus now instead of being creeped out every time I have to go into the basement I kind of like it. I'm greeted by smiling jars of jam, chili sauce, peaches and tomatoes beneath the stairs. The pickled beets don't really smile. They're moody.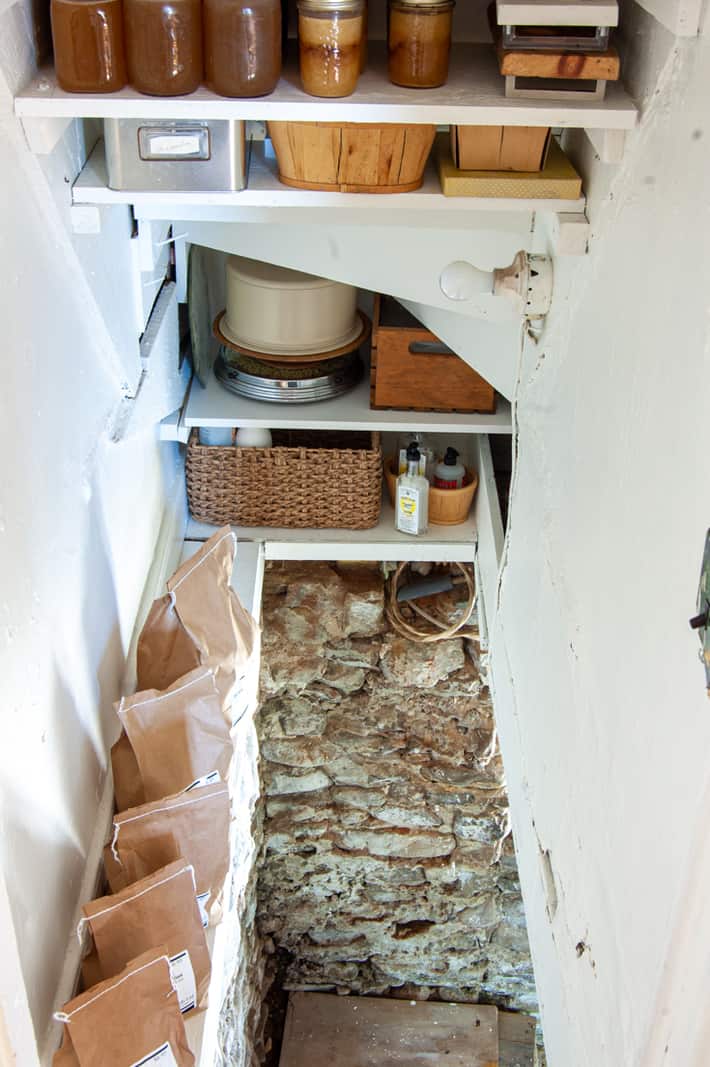 There are some people who will be able to take this very idea and apply it to their own home. For the rest of you, let this be a reminder that sometimes awful things can be fixed fairly quickly. Sometimes you don't even notice the awful things so maybe take a day to actually look for them in your house. You know. Before your mother-in-law does.
→Follow me on Instagram where I often make a fool of myself←