Put your mothballs and steel wool away. They don't deter mice, no matter what you've read on the Internet. Here I lay out what you really need to do to keep mice out of your house and how to get rid of them if they're already in there.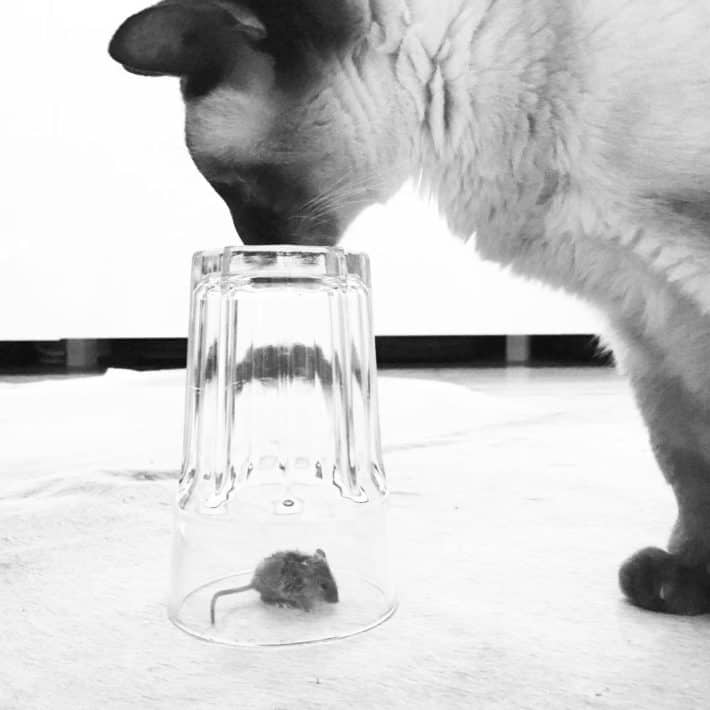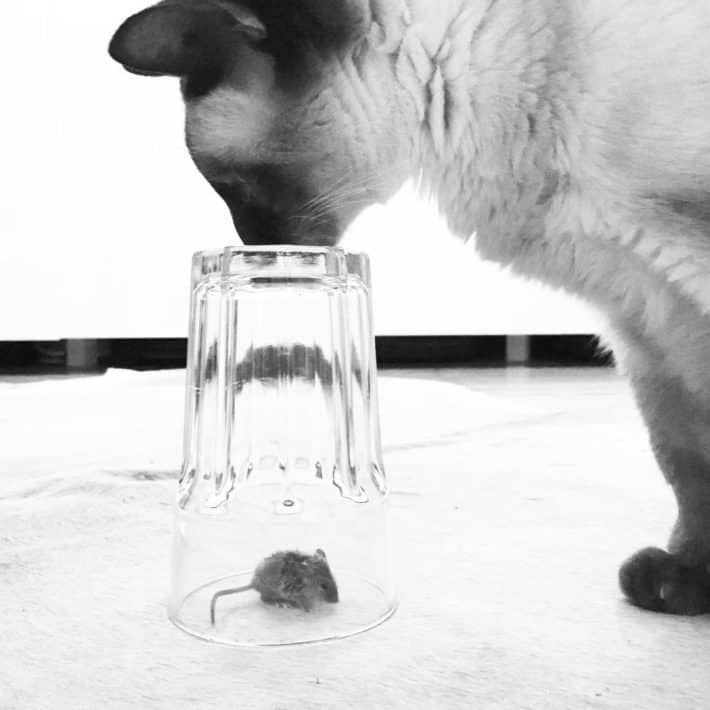 I speak from experience.
They've always arrived without invitation. Roaming around as if they pay the mortgage, eating stuff I leave on the counter, going to the bathroom behind the stove. I've spent a lot of time researching how to get rid of my family members but neither poison, bait or traps work. They keep showing up. Mice? Now, those I know how to get rid of.
Like you, I've had mice in my house. You're not gross, or dirty or living in a hovel if you have mice, you're just a regular human living in a regular house.
Over the course of 20 years in my home, I've had to evict mice every few years. It's not that I'm afraid of mice or even all that bothered by seeing one skitter across the foyer, followed by a pouncing cat. I just know the kind of damage they can do. And also, yuck.
Are Mice Dangerous?
Yep.
Mice like chewing on things: wood, wires, food, cushions, heirloom vegetable seeds lovingly gathered and carefully stored in paper envelopes for future generations to come. Also noses. I have no actual proof but if presented with a nose I'm sure a mouse would chew on that as well.
When mice chew on wood, drywall and electrical wires in your house. That means you'll either have an expensive repair in your future, or worse, a fire inside your walls.
Mice mark their territory by peeing and pooping all over your house. Which is gross. But also a danger in terms of the viruses and diseases they carry.
Mice have parasites on them because of their filthy habit of being mice. Ticks, fleas, and other parasites all come into your home with the mice.
Hey! I got a tick on my neck. If you happen to get one, here's how to properly identify and remove it. Since we're talking about pests and all.
O.K., so 30% of all homes have mice in them. Some of them even have rats. I'm guessing you want to get rid of them.
How to Get Rid of Mice.
Poison
Traps
A Cat
Poison is effective but it's also a slow, painful death for the animal. Plus there's a danger if you use open poison and have kids or pets in your house. Kids won't eat broccoli but they'll sure as shit eat mouse poison if you leave it out. I personally once drank an entire bottle of motor oil when I was a a kid. Yup.
What if your pet eats a poisoned mouse? The percentage isn't 0% but there's very little chance that your pet would become poisoned after eating a poisoned mouse. Mice can only eat a few grams of poison a day. Even if your pet ate the entire poisoned mouse it still wouldn't be enough to poison even the smallest dog. Around 56 grams of poison would need to be consumed by a very small dog to poison it.
**secondary poisoning like this is more common if you have barn cats that have to actually hunt for their food and might eat several mice in a day. House cats prefer to get their food in a bowl.**
Traps are your best choice for eliminating mice that are in your house. You just have to decide which type of trap to use.
Getting a cat REALLY will help your mouse problem. It will scare them from coming into your house, plus cats really are good mousers. A lot of dogs are as well.
---
Types of Mouse Traps
Electric Mouse Traps

**Best Choice**
These Viktor electronic mouse traps are my favourite. They electrocute the mouse instantly and there is a 0% chance that it will only be maimed or hurt. There is no blood ever, the traps stay clean and you can use them indefinitely. Just replace the batteries when needed. Of all the kill traps, these are the most humane.

Classic Snap Trap

**Best Choice**
If you don't want to put out the money for an electronic mouse trap, your next best bet is the classic, wood snap trap. They work better than anything else but they're also the most difficult to set and use. They're basically terrifying. Don't worry about it though, I'm going to show you how to properly set one.


Plastic Snap Traps

There are a few different new fangled plastic snap traps on the market. They promise instant death and less chance of pets and fingers getting caught in them because they're easier to set. I've had a little luck with these but not a lot. I've set these traps out and caught one mouse compared to 10 in the classic wood or electric trap.

Live Traps

Live traps like this are little Hotel Californias. The mouse goes in but it can't get out. They work, but require more commitment from you. You need to check the traps more often because you're holding a living thing in them, plus when they're caught you need to travel with the mouse a mile or so away from your home to relocate it. Keep in mind you might catch 5 mice in one day. That's a lot of road trips with your mice friends.

Glue Traps

**Worst Choice**
Avoid these at all costs. They're gross, sticky, messy and completely inhumane. These pads covered in ultra sticky glue trap render the mouse immobile until it either dies of thirst and starvation or until they struggle to get away, breaking their little feet or legs off. They're awful inventions.
---
So now you know that if you have mice you're going to need to either put down a contained bait station, or set a mouse trap.
Setting Bait stations are easy. You just take them out of their box and place them where you see mouse activity, preferably against a wall. They're already baited and ready to go.
A mouse trap however is trickier, especially one of the best kinds of mouse traps, the snap trap. Here's how to set one.
How to Set a Mouse Trap
Wear latex gloves when handling mouse traps and food to keep human scent off of them.
Slightly bend the hook on the bait holder that holds the pin so it just barely holds the pin in place without setting off the trap. Be CAREFUL and keep your fingers out of the way. Doing this to your trap will give it a hair trigger to better catch mice. And fingers.
Bait the trap with a *small* amount of bait. No food bigger than pea sized. The best bait is half of a peanut or a kernel of corn wedged under the teeth of the bait holder. Peanut butter can be your 3rd choice but the others are better because the mouse can't just lick it off. With corn or a peanut they have to work on pulling it out which is more likely to set off the trap.
Mice run along backs of cupboards and walls because it's dark and they feel safe there. Place the trap with the baited end against a wall so the mouse can only get at it from the left or right as it runs along the wall. This helps make sure the mouse is killed instantly because it's coming at the trap from the ideal direction.
Put out a LOT of traps. Not just one or two. Put them everywhere you see mouse poop but away from where pets and kids can get at them.
Still confused? Here it is on video.

How to Keep Mice Out Of Your House
The best thing you can do to get rid of mice is to not let them in your house in the first place. Duh.
Let me say you're probably never going to make your house 100% mouse proof, but you can at least make it a challenge for them to get in.
This summer I took down some parging that was on the side of my house. It's been there since I moved in and I still have no idea why it was there, covering up a small portion of the almost 200 year old brick. When I removed the pargeing, it revealed a huge gap between a window and the original brick. A BIG crack. Big enough that a pig could squeeze in, let alone a mouse.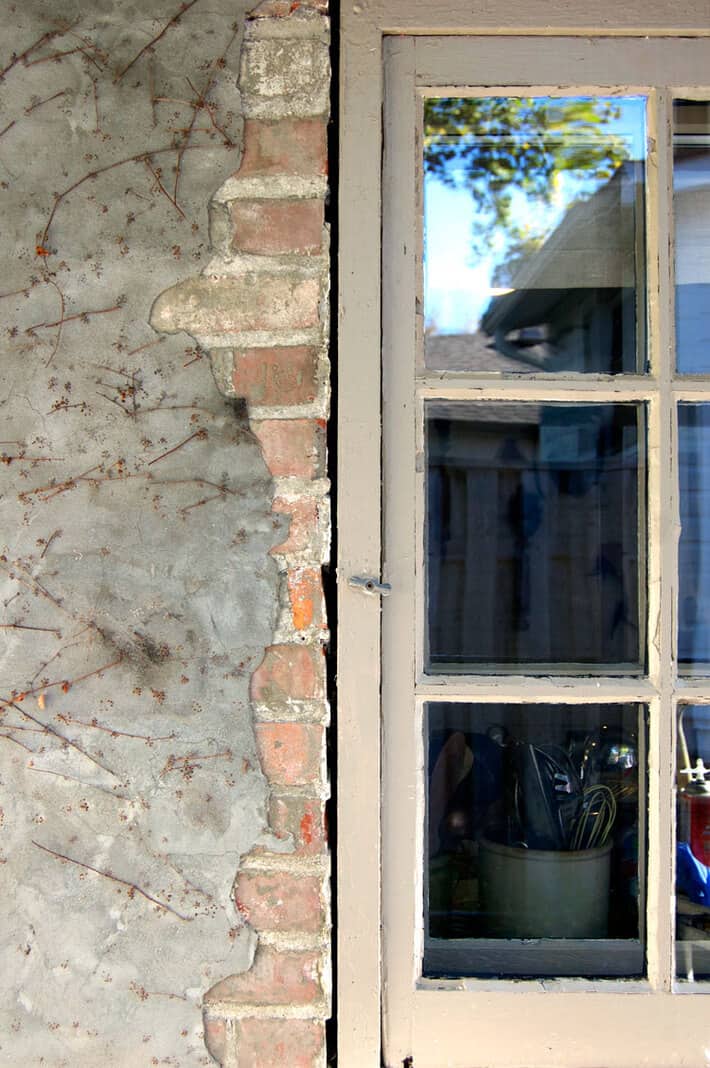 To keep mice out you need to go around the house looking for holes and cracks. And then … you need to FILL THEM PROPERLY.
MICE CAN CHEW THROUGH CONCRETE IF THEY WANT TO SO STEEL WOOL IS LIKE A PALATE CLEANSER. It won't even phase them.
To Fill Foundation Cracks
---
How small of a hole can a mouse get through? If you can stick a pencil into it, a mouse can get into it too.
---
Here's what you need to do.
Push a piece of metal (rod or crumpled wire) into smaller holes and then fill them with expandable spray foam like Great Stuff.
Fill larger cracks with 1/4″ hardware cloth and then use the spray foam.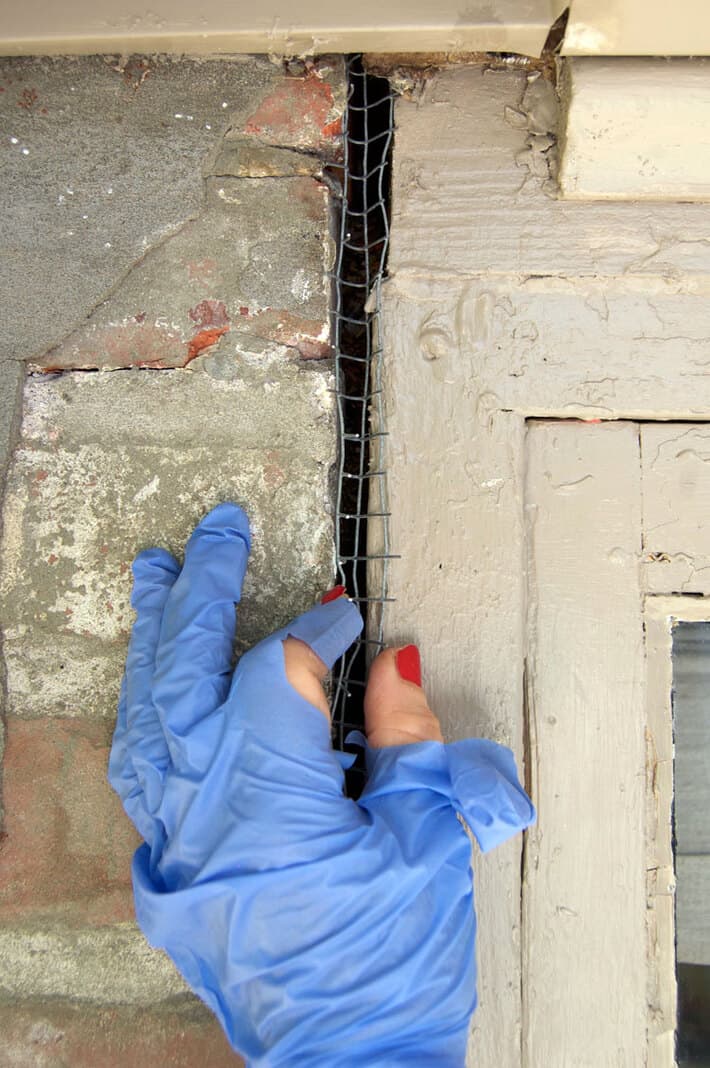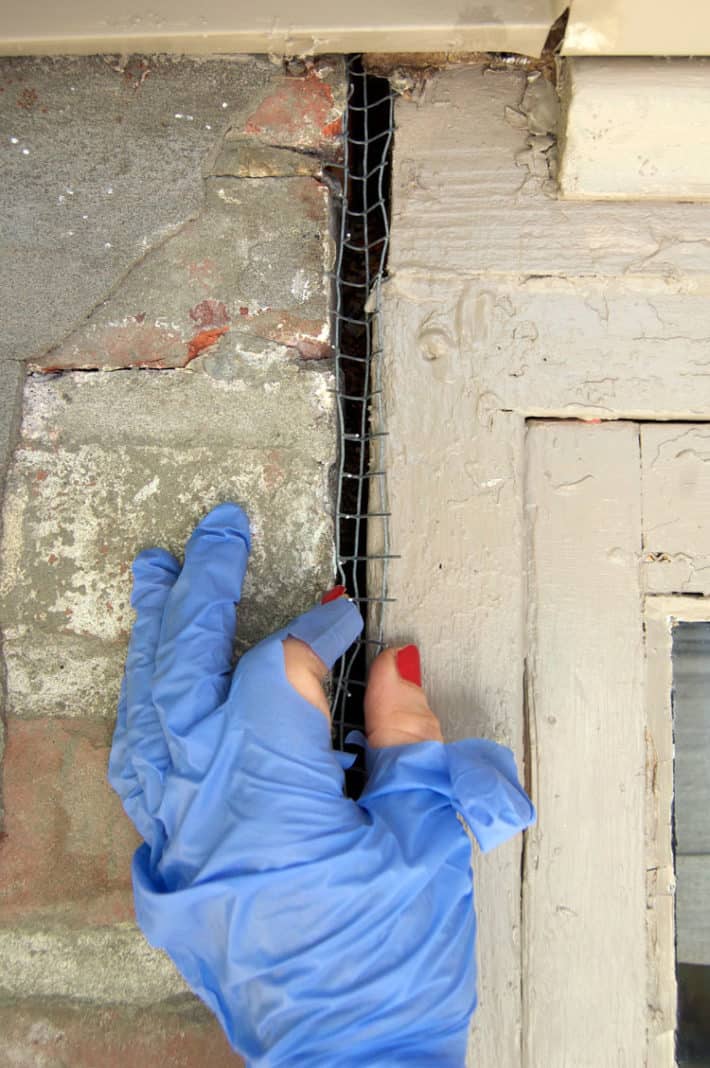 Handy Tip: Use gloves that are slightly more resilient than latex gloves.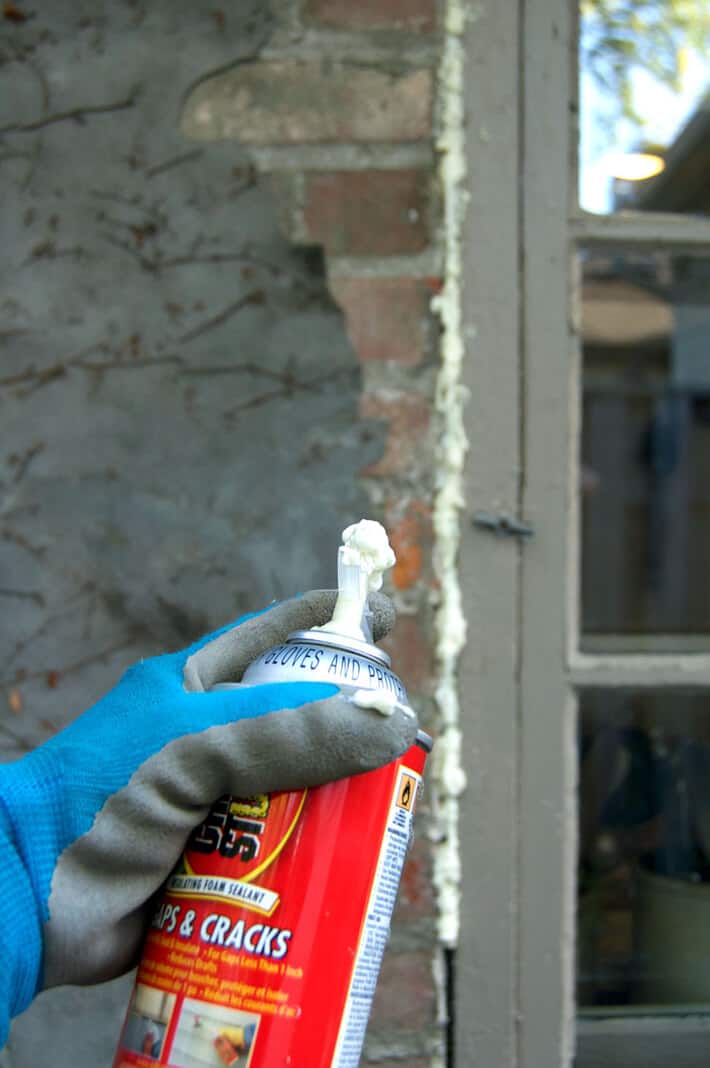 3. After filling the crack with hardware cloth and spray foam, cut the excess foam off with a sharp knife when it's dried.
---
Final Tip on Mouse Control.
Don't rely on only one method for controlling mice. Use everything you've got. Your whole arsenal. And don't let your guard down.
Mice are super suspicious but not of the opposite sex. Ever. They are constantly having mouse sex and making babies. Like, non-stop. So as long as there are mice in this world, there's going to be a chance that one or worse, TWO will get into your house and claim it as their love pad. By using two or three of these methods you'll have a good shot at keeping the population in your house down.

→Follow me on Instagram where I often make a fool of myself←