Halloween is coming up so I thought today I'd focus on the scariest place in everyone's home. Not the basement, no. Or the attic. That's so cliche. No, I'm talking about the ACTUAL scariest place in your house. The cabinet under your sink.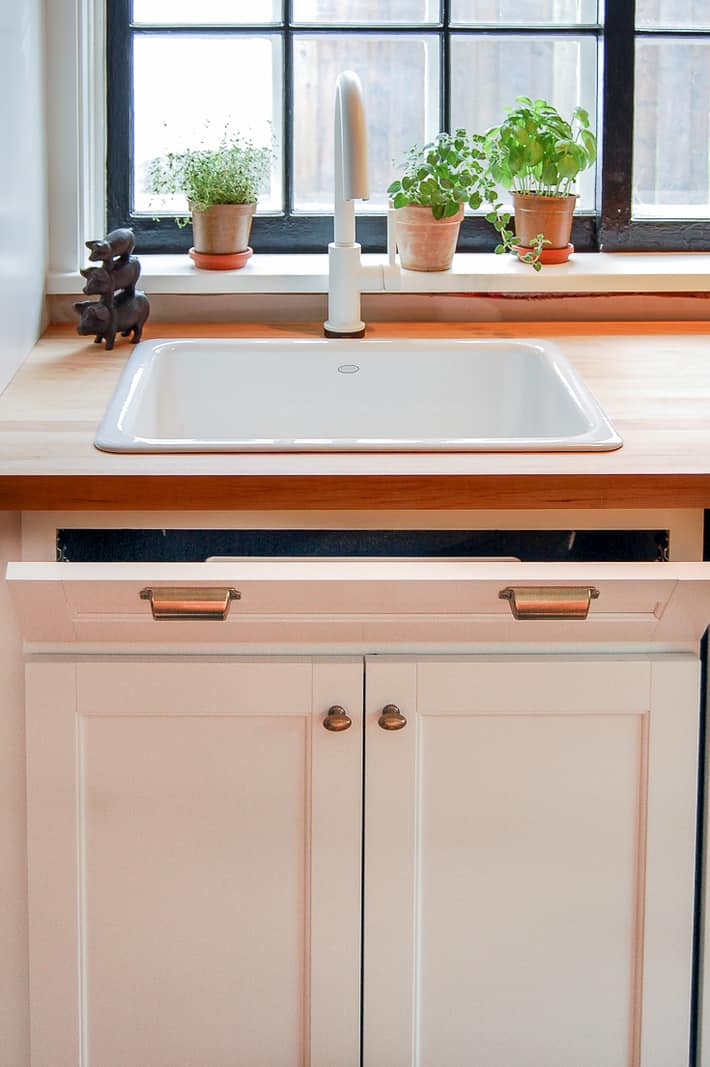 The one thing you never hear in realtor home listings is a glowing description of the cabinet under the sink. They can get away with calling a dilapidated shack "a charming blank canvas waiting for your special touch in Olde town." But it's hard to talk up the torture chamber of death under the sink.
A crispy J cloth in the original crumpled up shape shoved in the back corner, musty sponges, sticky soap drips, crumbs and guck all laid out like an adventure park with buffet for rats, mice, and centipedes.
As such, I like to avoid reaching into the cabinet under my sink which commonly houses things that crawl and sometimes bite me. Or *could* bite me. Nothing has actually bitten me while reaching under there but that's probably only because I always give my sink cupboards a few warning roundhouse kicks accompanied by a throaty devil sound before opening them.
Just to let 'em know I'm coming and am bigger than them.
Because of this aversion of mine (either to sink cabinets or cleaning under there depending on which way you look at it) I installed a tip out shelf.
That little spot underneath the front of your sink is the holy space. A clean, scare free, UNUSED space for keeping your counter tidy and your hands out of the sink cabinet.
Sure it can't hold a lot but it can hold a cloth, a scrubbie pad, a pot scraper and a little vial of dish soap.  Those are 4 things that we use all the time but don't really want to leave sitting on the counter.
How to Install a Tip Out Tray (Rev-A-Shelf)
I know DIYers like myself always say things are easy when really they're only easy for us and everyone else thinks a) it's hard and b) bloggers are assholes.
So. I would like to reiterate this really IS easy if you're comfortable with a screwdriver and bending under the sink.
Materials
Tip out Tray - will include all necessary hardware
Screwdriver
Pencil
Drill
7/64th drill bit
Ruler or tape measure
Instructions
The first step is to take your false front off. There will either just be plastic clips holding it on (like mine) or screws. Either way it's easy to remove.
2. Once you remove the screws or clips pull it off.
3. Clear out under your sink EEP a bit so you have room to move under there.
4. The tip out tray will come with very elaborate looking hardware. Don't worry. They're easy to install.
5. Centre your tray on the back of the false drawer face and screw it in place.
6. Test it by placing the panel back into position at the sink to make sure the tray doesn't interfere with the opening and closing of the tip out.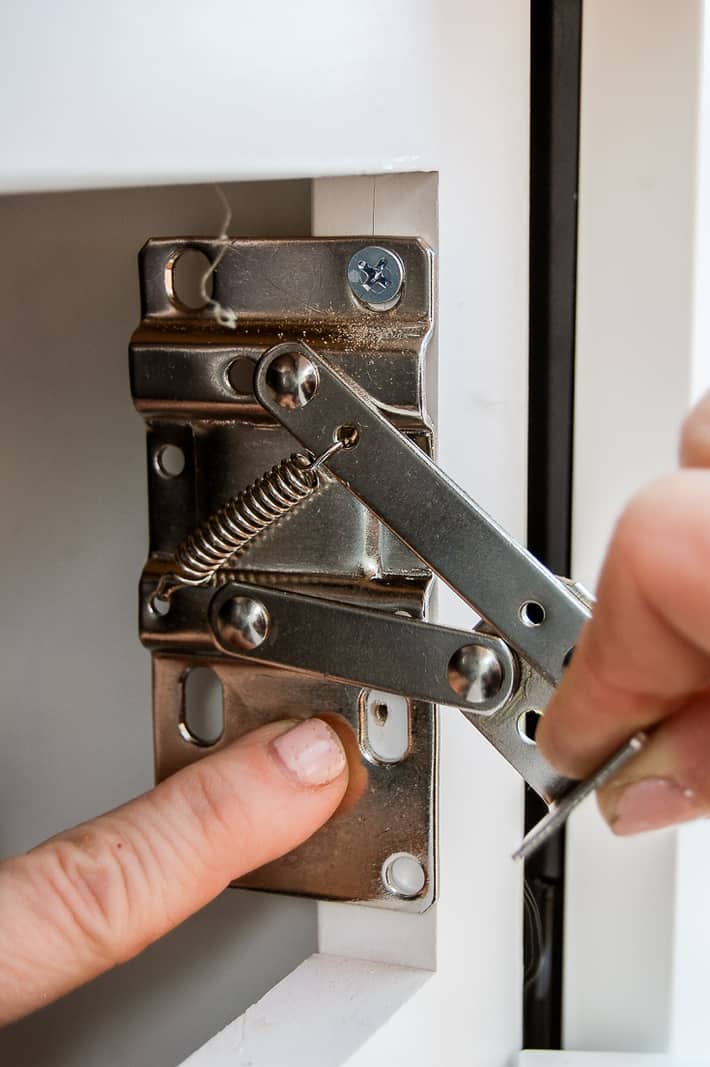 7. Place the right hinge against the right side of your opening so it is centred in the space and flush with the front edge.
8. Pull the hinge away and mark with a pencil where you want to screw it in. Pre-drill your hole. Screw the hinge in. Repeat for left side.
TIP: Pay attention. The hinges will be marked Left and Right.
9. While holding your front panel in place with one hand, slide under the cabinet and mark where the holes that attach the hinge to the drawer front are.
10. Pre-drill those marked holes.
11. Hold the panel in place with one hand like you did before and then from underneath the cabinet, screw the hinge into the drawer front. You will be contorted and squished but it shouldn't be too difficult.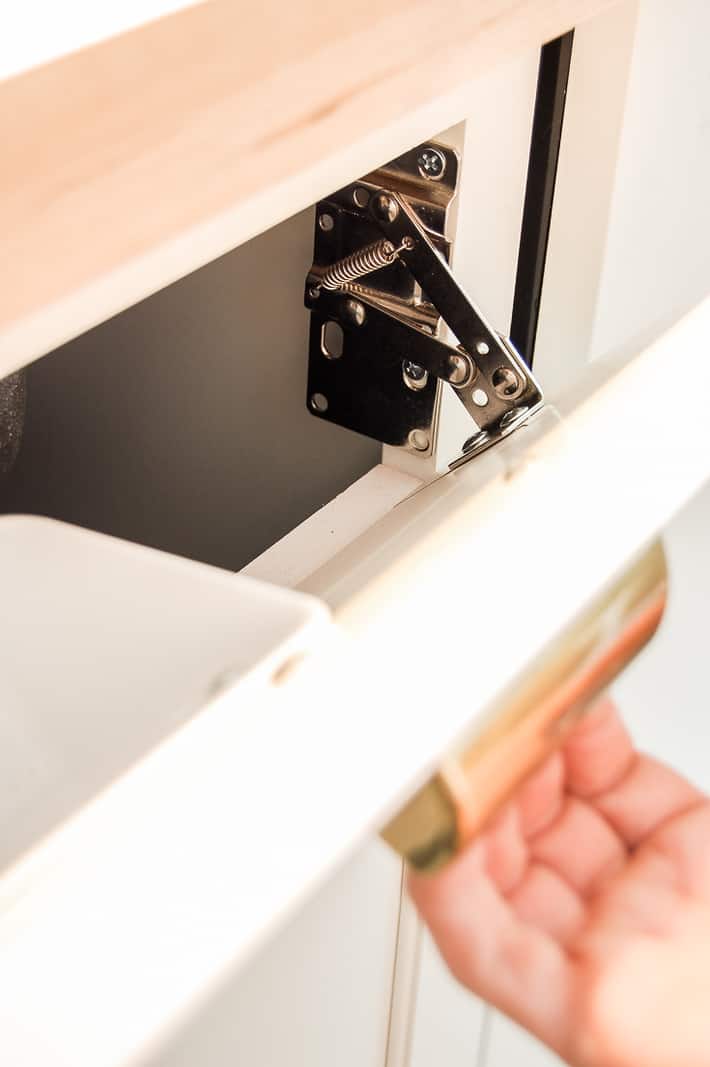 And you're done.
You'll soon be inviting friends and neighbours over for the sheer joy of making them jealous. Then you'll bonk them on the head to induce a little harmless short term memory loss, so you can show them all over again.
You can get the exact ones I have here online but most hardware stores carry some variation of it. This particular tip out tray is by Rev-A-Shelf.
---
TIP: If you buy a kit make sure it comes with the tray AND the hinges. The trays are also sold separately sometimes.
---

Any time you see me in my kitchen about to wash dishes I will be pleasantly using my tip out tray and avoiding all things under my sink.

As proof, here is an action shot of me pretending to casually reach for a plant to water it. That plant is now dead.
That's all there is to installing a tip down tray.  No mystery. No real effort.  No real explanation as to why cabinet makers don't just make them standard other than to anger me.  And you.  All of us really.
As for those mice under the sink - this mouse catching post will help you out with that. In the very near future I'm going to do what I should have done when I first renovated my kitchen - I'm going to install LED strip lights in that sink cabinet.
Because if you can SEE the scary stuff at least you know which direction to kick in.
→Follow me on Instagram where I often make a fool of myself←