Replacing the false front of your sink with one of these tip out trays is one of those DIYS that looks like magic (hard) but is actually surprisingly easy. And the cost to convert your sink front into a useable space is only about $20.
Upon first inspection it's a common variety fake drawer front. And it was exactly that at one point until I installed a little tip out tray that makes this fake drawer front actually USEFUL.
I'm not sure why all kitchen cabinet makers don't just make all their fake drawer fronts into tip out trays from the get go – but they don't for some reason. After eating 7 macaroons and an entire bag of Ruffles with dip last night I'm in a particularly foul mood today … so I'm going with "they're just trying to anger me".
That little spot underneath the front of your sink is UNUSED space for keeping your counter tidy. Sure it can't hold a lot but it can hold a cloth, a scrubbie pad, a pot scraper and a little vial of dish soap. Those are 4 things that we use all the time and need to be able to grab quickly. I mean those of who aren't either royals or prisoners.
At the same time, I don't like leaving them on the counter because they weren't designed by Steve Jobs, the King (RIP) of simple design.
Most false drawers like this are easy to remove. This Martha Stewart fake front is just attached with clips so you can pop it right off. Others might be attached with screws.
Once you get your front removed all you have to do is install your tray and hinges and you're well on your way to being the greatest person on your block. You'll invite friends and neighbours over for the sheer joy of making them jealous. Then you'll bonk them on the head to induce a little harmless short term memory loss, so you can show them all over again.
To do this DIY all you need are the proper hinges and of course the tray that will hold whatever it is you want to hold in there.
You can get the exact ones I have here online but most hardware stores carry some variation of it. This particular tip out tray is by Rev-A-Shelf.
If you buy a kit make sure it comes with the tray AND the hinges. The trays are also sold separately sometimes.
You may as well do the easy part first to make you feel like you're accomplishing something immediately. It's the whole instant gratification thing.
So centre your tray and screw it in place. Make sure you pay attention to the closing and opening of the drawer so the tray doesn't interfere with that. There isn't a lot of wiggle room. The plastic clip you see on the right needs to be removed. It will be replaced with the specialty hinge.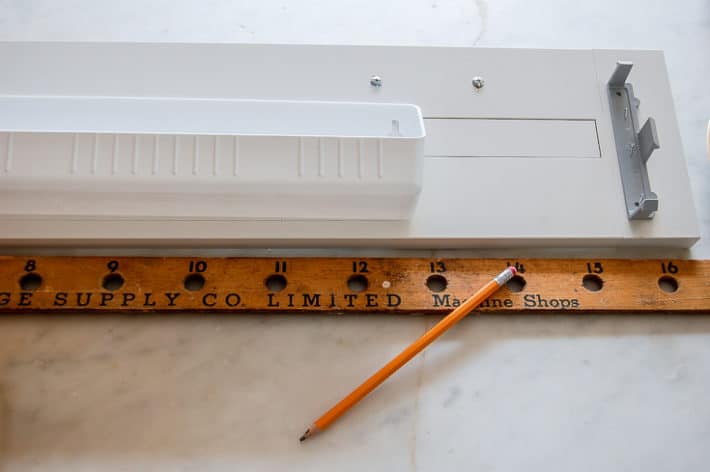 The hinges are marked left and right so there's no confusion. When you hold up your hands as though you're framing a picture, the hand that is in the shape of an "L" is your left hand. In case you were unsure. Don't worry. I won't judge you for not knowing. I will however judge you if you admit to liking canned cream of mushroom soup. For that I will judge.
You will be installing the hinges on the edge of your opening.
Like so. Notice I am using the "R" hinge on the right side. Because I am clever. And held my hands up.
Place the hinge in the centre of your edge and mark your holes with a pencil. Drill your holes.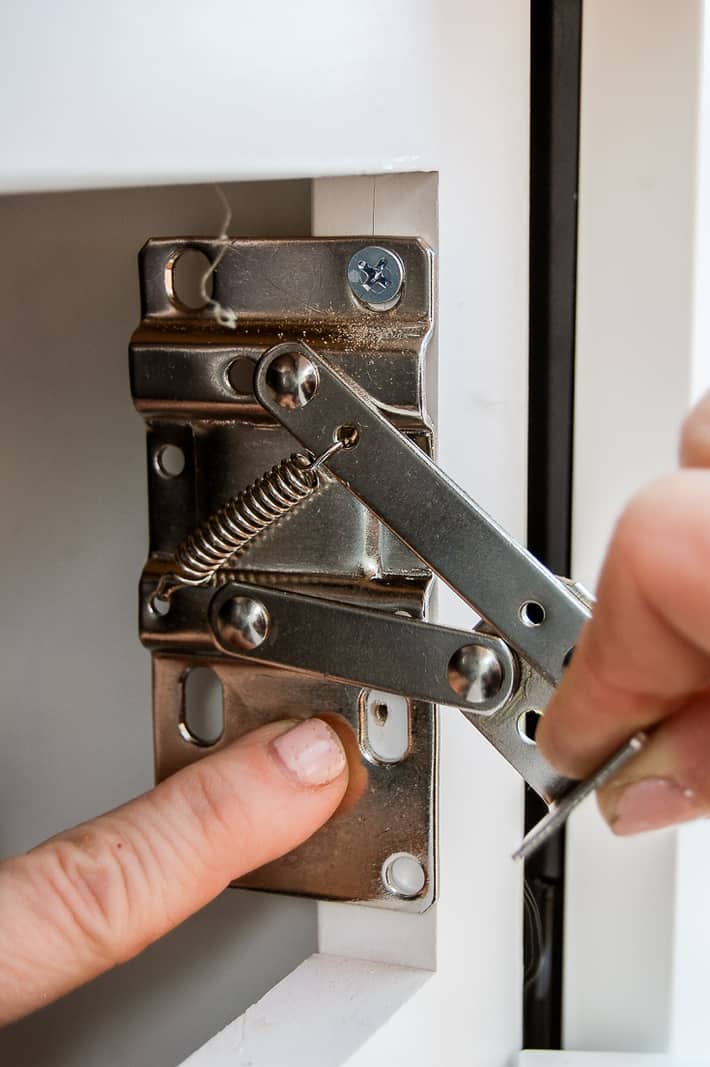 Install your screws. Do the same thing on the left side. I can't believe I had to tell you that.
Now hold your front panel in place, slide under the cabinet and mark where the holes that attach the hinge to the drawer front are. Don't worry. It'll make sense when you're doing it.
Here's an action shot for you.
Tip! Predrill your holes.
That'll make screwing into the hard material MUCH easier and neater.
From underneath the cabinet (like you were when you were marking the hinge holes with a pencil) screw the hinge into the drawer front. You will be contorted and squished but it shouldn't be too difficult.

Now that the hinges are screwed to the drawer front and the cabinet you can see the drawer in action.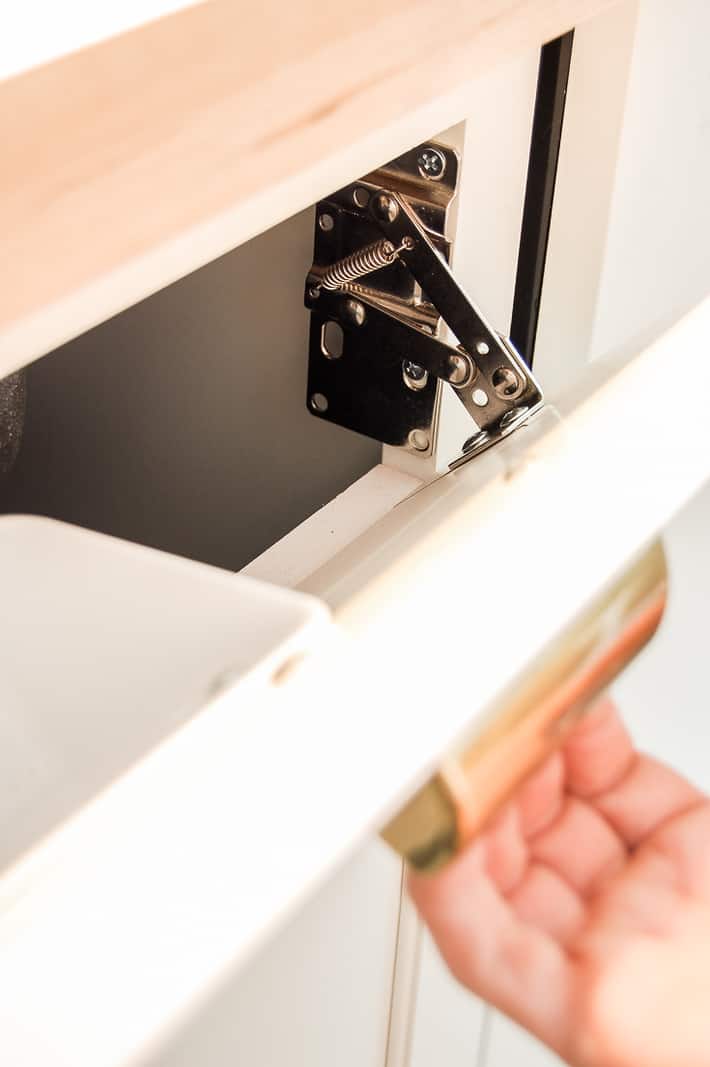 And finally me and the tray in action. The both of us. In action. I'm casually reaching for a plant to pretend to water. That plant is now dead.
That's all there is to installing a tip down drawer. No mystery. No real effort. No real explanation as to why cabinet makers don't just make them standard other than to anger me. And you. All of us really.
What's the best way to cure tip-out tray and potato chip bingeing anger? Chili Con Carne obviously.
→Follow me on Instagram where I often make a fool of myself←