Fire.
It was the creation of fire by those filthy footed cavemen that changed the course of humankind. It's critical to how we live, even now, 300,000 years later.
Fire creates the opportunity to cook food, heat your surroundings and burn evidence.
I can now say I'm able to do all three of those things in my kitchen. For 15 years I've only been able to make a meal and torch the odd incriminating exterminator bill. (Nobody needs to know the extent of my centipede problem.)
NOW … I have heat.
My house, as you may know, may in fact have housed a caveman. It was built … I don't know … 180 years ago or so. Which by North American standards is quite old but more of a contemporary dwelling to the rest of the world.
The house has been built onto over the years, and the part that was built close to 200 years ago is easily the most solid, well constructed part of the house. The newer the part of the house the worse it gets.
The kitchen and mudroom were the last additions to be put on the house. I'm not sure when they were done, but judging by the kitchen cabinets I'd have to say around 1940. Again. Total guess.
Which is odd. By 1940 you wouldn't think there'd be any more cavemen around, but clearly they were, because this addition was obviously built by someone with the construction know-how of someone who had hair on the bottom of their feet.
Because of that, the kitchen is at least 10 degrees colder than the rest of the house in the winter. Sometimes even 15. That's A LOT colder. As a result, I myself have grown hair on the bottom of my feet.
And now … I have the solution to the hairy footed cold kitchen.
Radiant Floor Heating. H O L Y C R A P.
I didn't think I'd be able to get radiant floor heating because I was putting down commercial VCT tiles, which are glue down vinyl tiles. But one night, just prior to starting my floor I accidentally stumbled upon something on the Internet that said you COULD use radiant heating with VCT tiles. And apparently … it was fairly easy to do.
So being the bold blogger I am, with quite a loyal following I emailed the company whose product seemed to fit my needs the best. Warmly Yours is based in both the U.S. and Canada, and they sell radiant floor heated mats, as opposed to just a bunch of wires you need to run yourself. So it was DIY friendly and available to order over the Internet.
The company agreed to provide me with all of my radiant floor heating needs for free, if I'd be kind enough to take pictures and do a post about it. Since I would have done a post on it anyway, I had no problem agreeing to their terms.
In this post I'm going to describe exactly how to lay Radiant Floor Heating and some of the problems you might encounter that aren't addressed elsewhere on the web.
If you're buying your radiant heating through the Internet, which I STRONGLY suggest you do, you will get a customer service representative who will have you send them a detailed drawing of the room you want to heat including all cabinets, obstructions, etc. etc. You need to provide all the exact measurements of the room.
In return, they will send you a map of how much radiant heating you need and exactly how to lay it out.
This is why I strongly suggest you buy your heated floor through the Internet as opposed to going to a big box store and trying to buy the coils and figuring it out yourself. Ordering on-line takes out ALL of the guesswork and stress. It's also incredibly fast. You'll have your plans and quote emailed to you within a few hours.
Like this.
The cost for my 15′ x 9′ kitchen was $1,200 including the mats, circuit testers and thermostat.
The cost for my small bathroom was only $300.
The first few steps, prior to actually laying your floor are as follows.
Receive your box of flooring in the mail and check to make sure everything is in it.
Yup! It's all there.
Now, before installing them, you have to check that all your mats are working when you receive them and that nothing has gone wrong. You need to do an Ohm reading and a circuit test. The circuit checker comes with your kit. You must provide your own Ohm reader.
The instructions on how to check everything come in the manual.
For your Ohm reading, you check the sticker on your mat. It will tell you what the Ohm reading was on it when it left the factory. Your Ohm reading should be about the same. To check the Ohm reading, just turn the dial of your Ohm meter to "Ohm" which is the area that's marked with an upside down horseshoe. Set it to "200". Then touch the black wire of your Ohm meter to the black wire of the mat. Touch the red wire of the Ohm meter to the yellow wire of the mat. Leave it and let the Ohm reading register. Done.
Write down the reading. You will also check the Ohm readings during your installation and when you've completed the installation. All of these readings need to be written down.
Once you've attached your circuit checker leave it on the mat. It's set up in such a way that if any of the wires are cut, or damaged an alarm will sound. That way you'll know you've done some horrible, horrible thing and need to fix it or replace your mat. NOT using the circuit checker throughout the installation could very well result in your installing your heated floor, covering it with concrete, then covering it with flooring only to find out … it doesn't work.
Once you've made sure all your mats are in working order it's time to lay the mats.
They wires are encased in a plastic-like mesh so all you have to do is roll it out according to the measurements Warmly Yours (or whatever company you go with) sent you.
Get your roll, (in my case there were two rolls needed for the kitchen) and follow their directions for cutting through the mesh (NOT THE WIRE) and flipping the mats.
Like this. You can see here I'm cutting the mesh, but not going through the wire.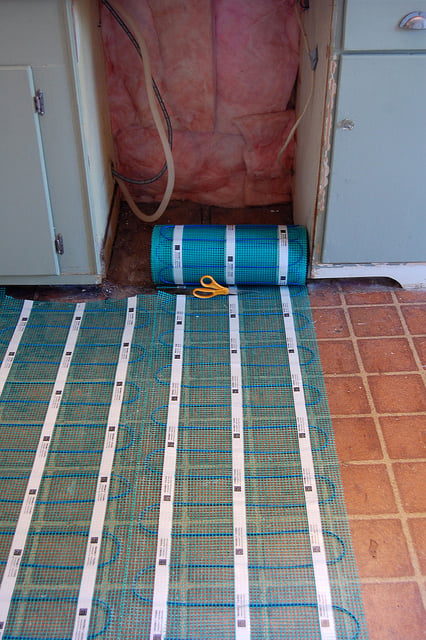 Once you get done cutting to the end of the mesh, just pull the remainder of the mat over and lay it down.
Like this.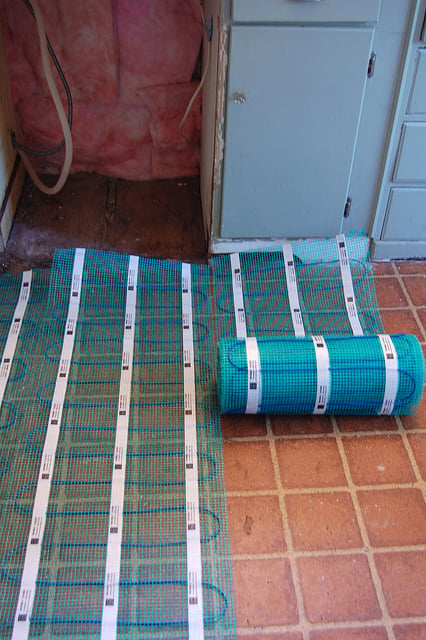 You can see that after you cut and flip the mat a small portion of the wire will be loose. That's fine. That's how it's supposed to be.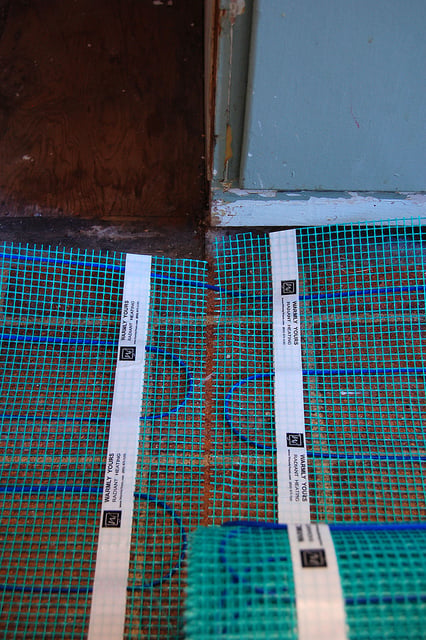 Continue cutting and flipping your way through the mat.
Eventually you may get to a portion of the map that is confusing. Like the squiggly lines. What the hell does that mean? Well if you read your manual you know that it means you need to cut away the mesh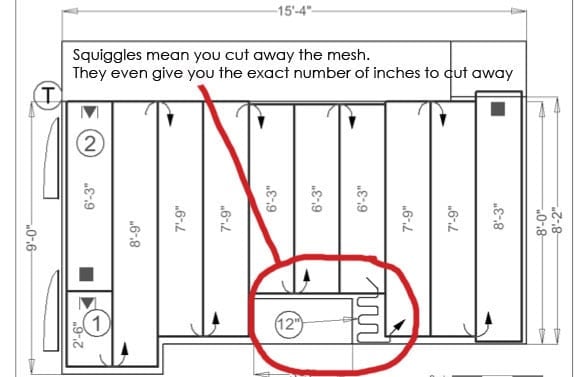 The map shows you that you need to cut away 12″ of mesh from the wire.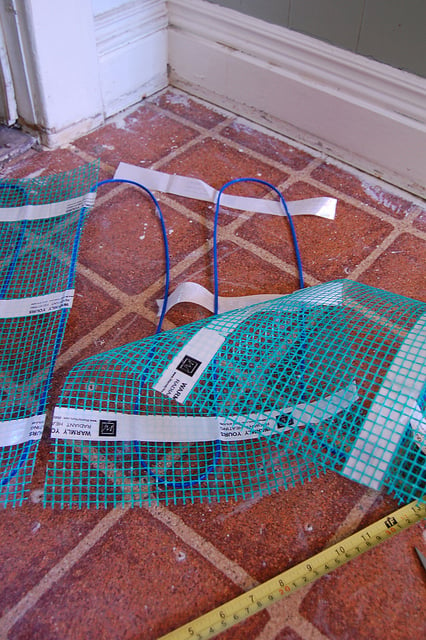 Then just pull the mesh away, leaving the wires bare.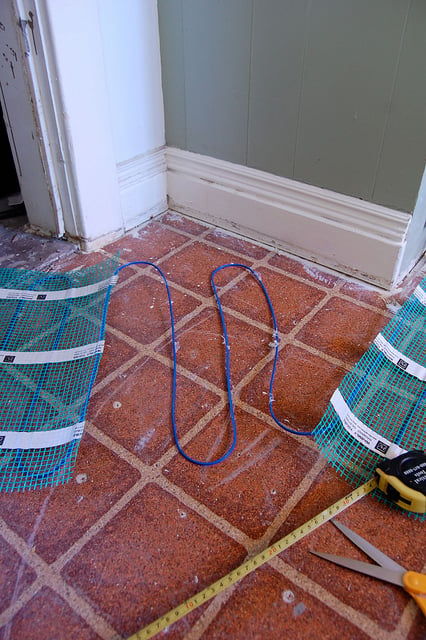 Then continue to lay the wires and mat the way they show you in the instructions. You normally need to do this when there isn't room for the whole mat to lay.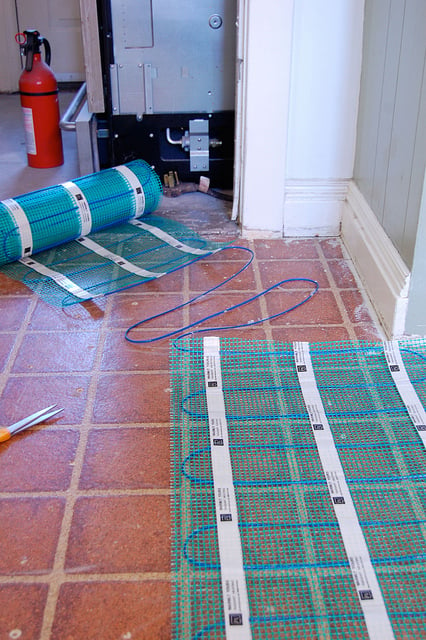 Flip your mat and continue working.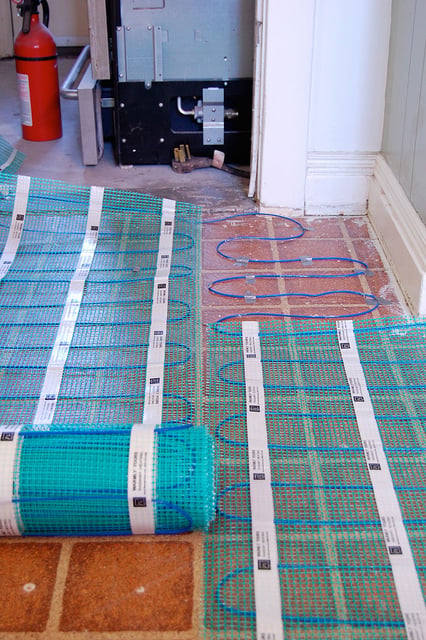 In no time at all your entire floor will be done. Only it isn't done. It just looks done.
Now you have to insert the temperature probe. It will eventually run to the thermostat. I wove mine through the mesh.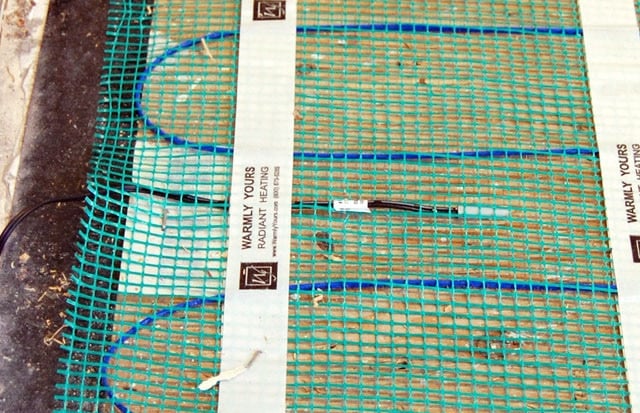 Something that isn't mentioned in the manual is the fact that you'll need to dig a little tunnel for the fat ends of the wires. At the end of each mat there's a big bulky wire connection. I knew I wanted to pour as little concrete over my mats as possible to keep my floor level the same as it was before. Trying to pour enough concrete to hide these bulky wires was going to be a problem.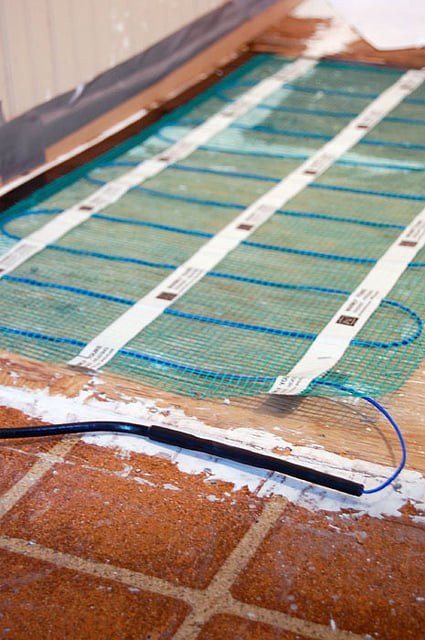 So you may have to chisel out some of your subfloor to shove the wire into.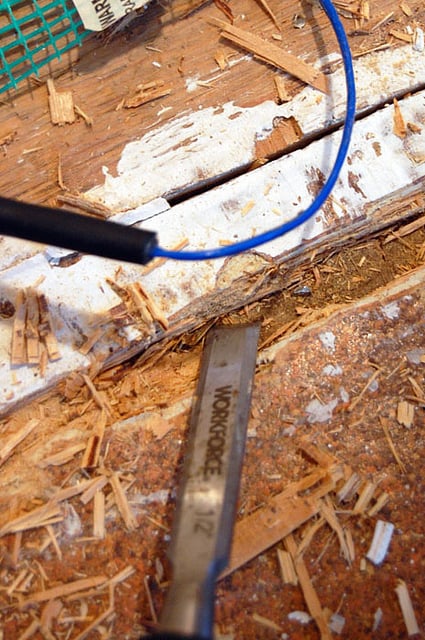 It doesn't have to be neat or pretty, it just needs to accommodate the wire.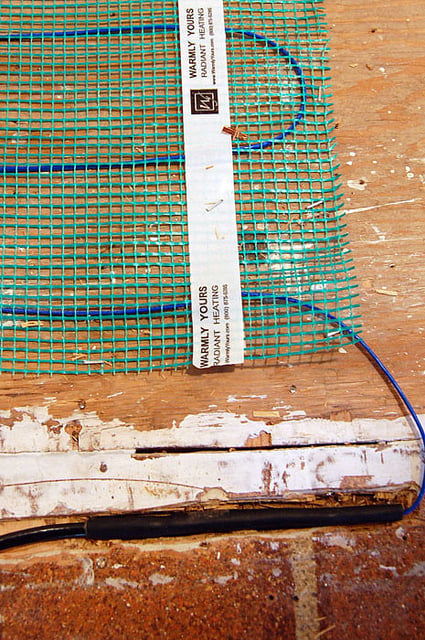 Finally you have to go over your entire mats with a staple gun or hot glue gun to secure it to the subfloor.
I CANNOT STRESS ENOUGH HOW IMPORTANT IT IS TO MAKE SURE EVERY BUMP, AND SEAM IS SECURED TO THE FLOOR AND FLAT. YOU CANNOT USE ENOUGH GLUE OR STAPLES. Just be reallyyyy careful not to staple through the actual wires.
What may seem like a small bump will end up looking like and being a huge bump, once you get to the concrete pouring part of this job.
And yes. There is a concrete pouring part. The floor needs to be encased in something and it will either be self levelling concrete if you're doing a commercial vinyl tile like I am, or tile cement if you're having a ceramic floor put down on top.
I'll be doing a post on how to pour self levelling concrete next.
The final step is the electrical work. I had every intention of doing this myself, but realized that I just didn't have enough power in my kitchen. I hired an electrician who came and ran new lines to new breakers in my panel.
Since he was here doing electrical type stuff, he installed the thermostats for me as well, but really it's just a matter of hooking up the wires.
Another thing the manual doesn't talk about is what to do if you have 2 mats and 1 thermostat. It confused me. I was confused. I emailed their customer support and was told right away that all you have to do is twist the wires of the two mats together, treating them as one wire. So black to black and yellow to yellow. Problem solved.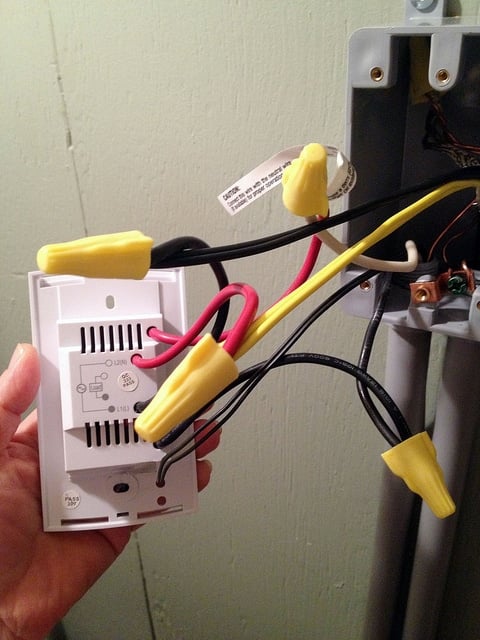 If you're hiring an electrician one thing that will make your life a little easier is if you have him come first to take a look at how he'll wire the mats. With my house, as with many older homes, the wiring isn't as easy as it seems. There were a variety of routes he looked into but we finally decided on the one and only option, which required I changed how I laid my mats a little bit. Because of this, you're better to have the electrician come first to avoid any surprises later on.
The thermostat itself is FUN. It glows. Which I like. I like anything that glows. Car dashboards, night lights, my face after drinking my mom's 17 year old "holidays only" Creme de Menthe. Even the Creme de Menthe itself glows come to think of it.
I realize this is a long post with a lot of pictures but I laid my flooring in less than one day. In fact it took me longer to write this post than to lay the radiant heating. It then took another 2 days to pour the concrete on top (which I'll post about later).
I've had warm floors for a week or so now and just like magic, the temperature in Southern Ontario has dipped to the point that there's been snow. Kind of unheard of for May. So … I've been able to turn my heated floors out of necessity, not just curiosity. I look at it as the weather Gods aligning in favour of my feet.
My warm, warm, freshly shaved feet.