Even for those of us who consider ourselves to be pretty handy within the home improvement world, the thought of pouring self leveling concrete IN OUR HOUSE is moderately terrifying. O.K., completely terrifying. Don't worry. You can do this.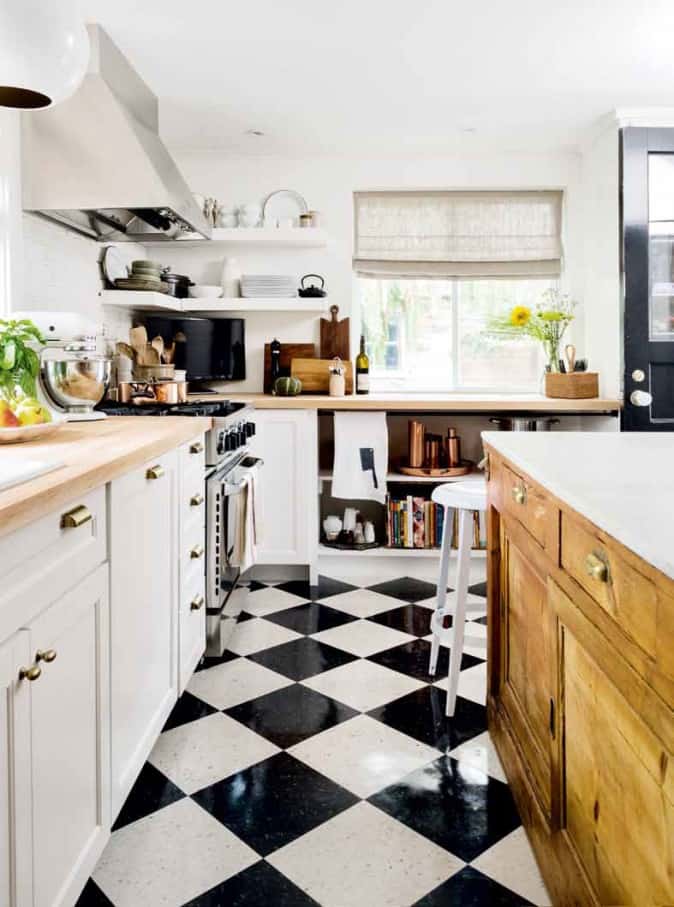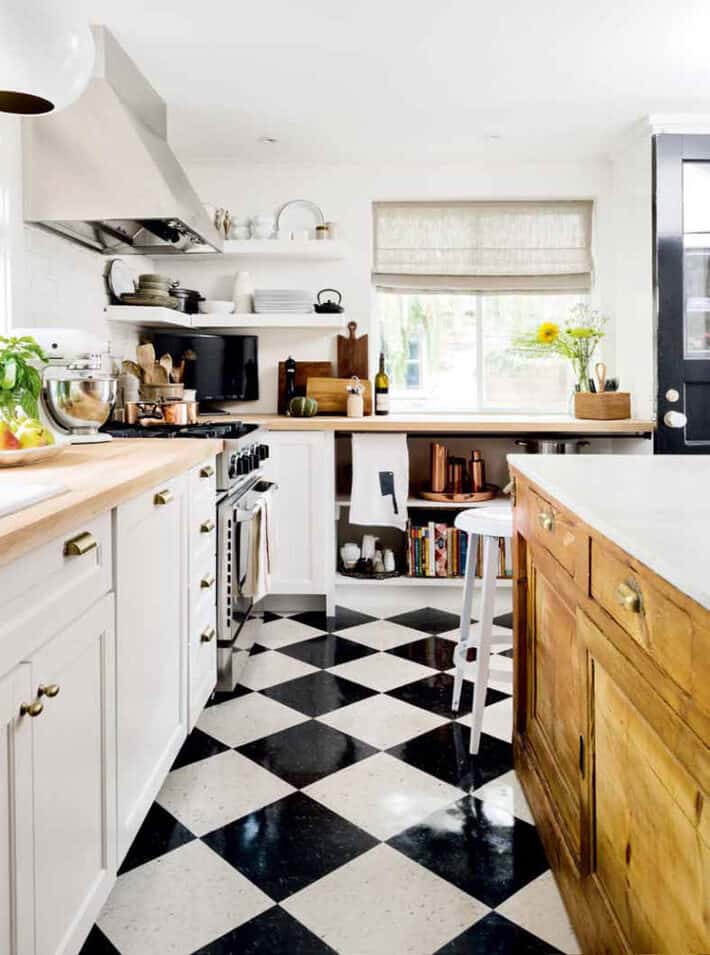 The VCT floor I laid, on top of the cement I poured, over the self installed heated floors.
First things first. I ate a whole can of Pringles today. They were Salt & Vinegar and now my tongue feels like I ate a ball of sandpaper. That might not seem pertinent to the task at hand - and it isn't.
---
When I redid my kitchen a decade ago I really wanted to address my cold floors. So I ripped out all of my ceramic tile and laid down heated floor mats. That wasn't scary at all. Pouring buckets of self leveling concrete over them WAS.
The cement floor would encase the heating elements, allow them to radiate heat still, plus provide a level smooth surface for tiles. That was my reason for pouring cement all over my floors and working myself into a panic.
Whatever your reason, you don't need to be afraid. I say that because I was afraid. Really afraid. Letter from the tax department afraid. You don't need to be.
Using Self leveling concrete
Self levelling concrete is cement based like traditional concrete, but it flows much easier and sets up more quickly due to polymers added to it. It's used to create a smooth, level surface for laying carpet, ceramic tiles or other floor coverings on.
For use almost exclusively on interior flooring.
Self leveling cement (concrete) can be poured up to a 1 inch thickness.
Materials
Self leveling concrete*
Leveling primer**
a strong drill (rent an industrial one)
trowel
filler (like Durabond 90)
* It may also be called self leveling concrete, leveling compound, self leveling floor resurfacer or self leveling underlayment. Make sure you get REGULAR instead of QUICK DRYING. Regular will give you more time to work and spread out the material before it starts to set.
** Primer is needed when you're pouring concrete onto a porous surface like an existing concrete floor. It isn't needed when pouring onto old tile.
Method
PREP WORK
Scrape up any loose debris or old tiles from the floor.
Fill any cracks or holes with Durabond 90 and create a dam to prevent the runny concrete from seeping anywhere you don't want it to go.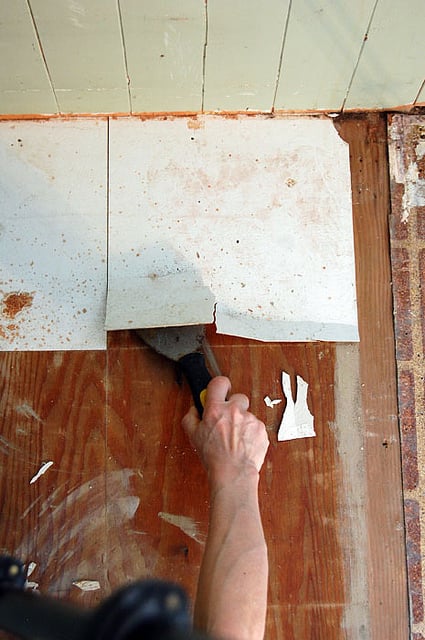 Vacuum so you have a clean surface.
Gather your materials.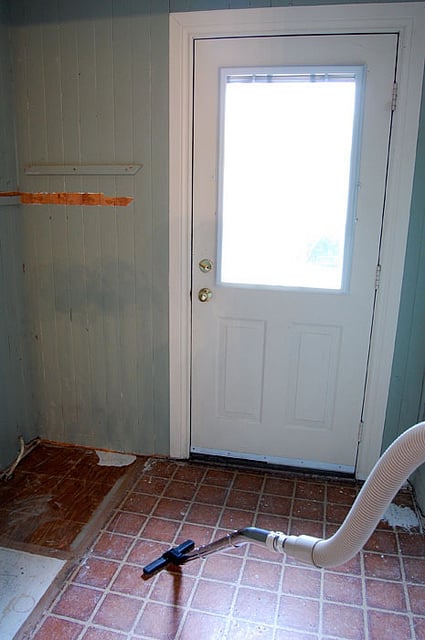 The brand of resurfacer doesn't matter so much as the type. There are 2 types. Quick drying and regular. You want regular.
POURING
Add the required amount of water to the bucket FIRST. (the bag will tell you how much water to compound mix to use)
Add ¼ - ⅓ of the powdered compound. Mix with water using the drill. Continue mixing in the remainder of the bag bit by bit until it's all incorporated. Mix for prescribed amount of time as detailed on the bag.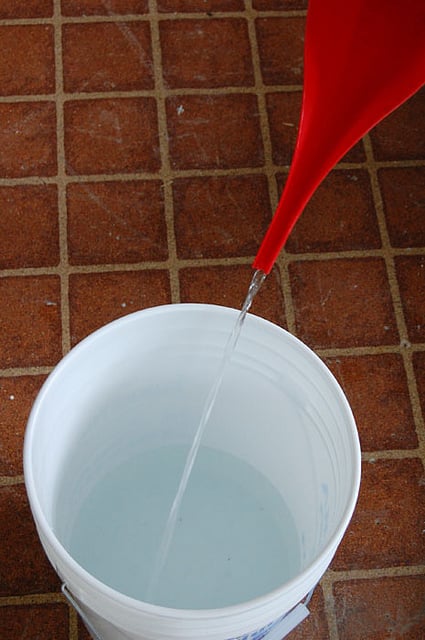 ---
For one bucket of concrete a strong cordless drill will do the job, but if you have any more than 1 bucket to do you're in trouble. The battery will die after 1 or 2 buckets. Then you'll go for your corded drill, which will burn out and will get thrown in the garbage.
---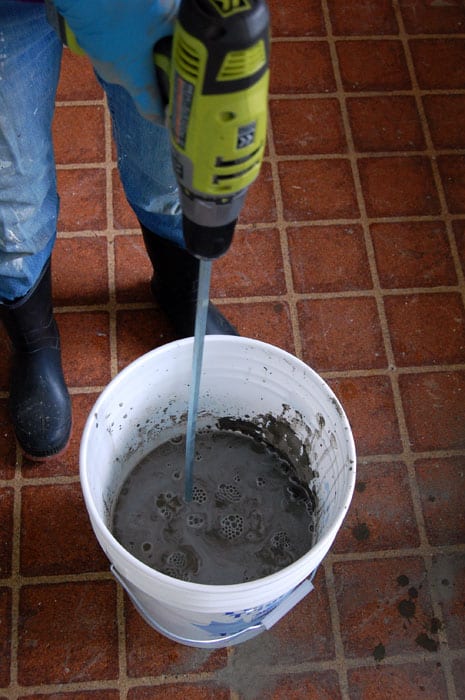 ---
Save your anger, your sanity and your relationship and RENT AN INDUSTRIAL DRILL. After the first day I rented a strong drill for $20 for half a day.
---
Pour your leveling compound where you want it.
Trowel it. Using a trowel push and pull the mixture where it needs to go. Push it into corners and pull it towards you. Excuse my hair. It appears I was having a Paul Weller moment.
Clean up your drips.
Wait 24 hours to walk on it.
Wait 3 days to place furniture back.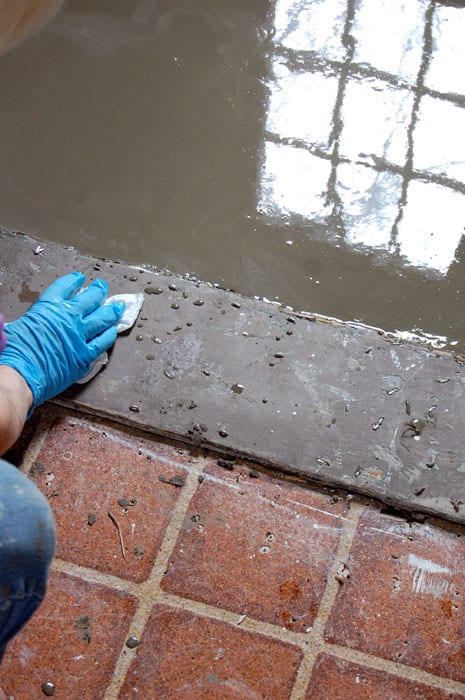 The mudroom went perfectly well. It couldn't have gone better so I continued onto the kitchen where things were a bit tricker.
---
Tips for Larger Rooms
A bigger room means you have to pour the buckets of concrete, run back to the mixer and mix up another batch (which needs to be mixed a longgg time), run through the house with a 50 pound bucket of cement and pour it where you left off. And repeat.
Larger rooms are easier to do if there are 2 people working. One mixing the cement and one pouring it.
Use a stiff squeegee on a long broom handle for pushing and pulling the compound into place.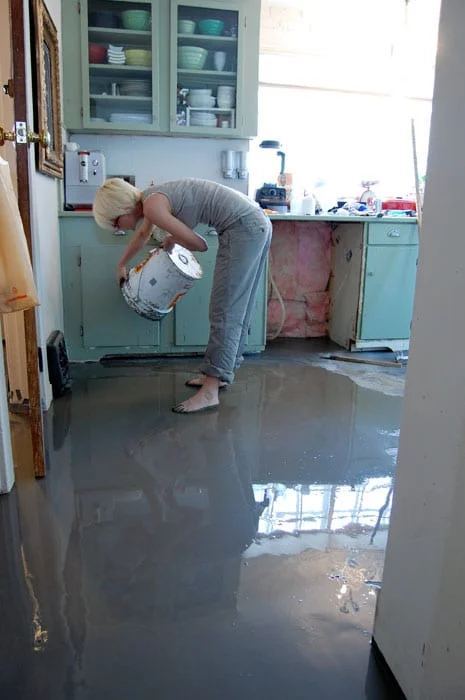 NOTE: Wet concrete is caustic and can burn.
YOU HAVE TO WASH YOUR FEET IMMEDIATELY AFTER YOU WALK THROUGH IT. Do so after every time you walk through it. Also don't walk through wet cement if you have open cuts.
If you find bits of unmixed lumps of cement. Just mush them with your fingertips.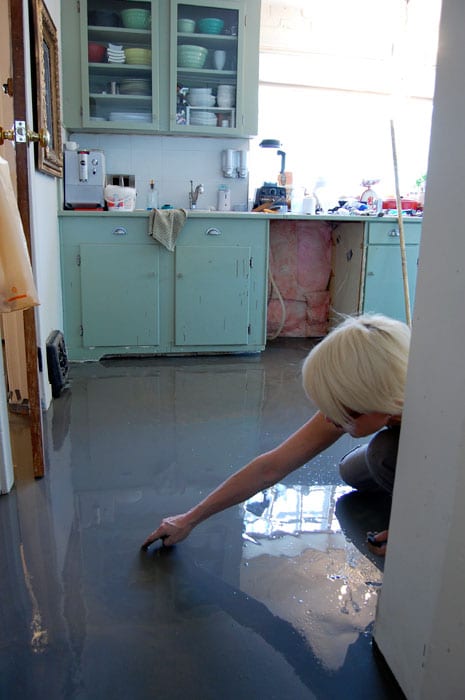 You may need to do a second coat if the first coat didn't cover. You could still see the heated floor mats I installed after the first coat, so I did a second.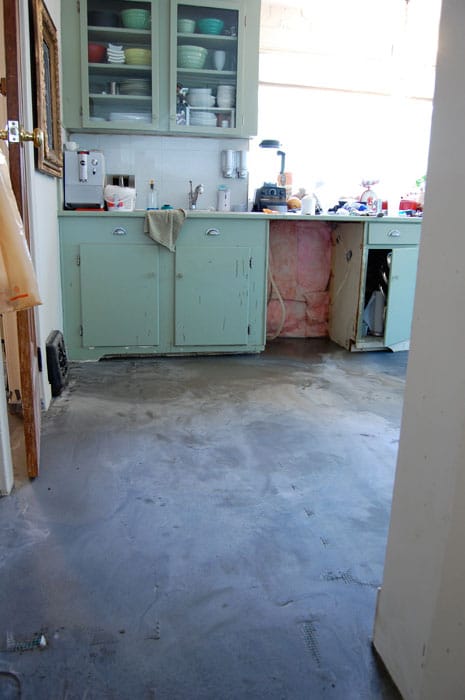 It may look uneven, but it's just an optical illusion. The photo on the right is a levelled floor that is perfectly smooth.
After leveling if you have any issue with dips and bumps you can correct them with a bit of Durabond 90. (fill, let dry, then sand)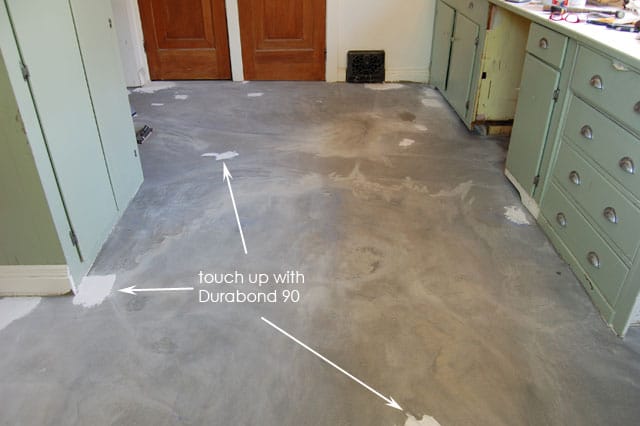 Would you ever want to pour self leveling concrete?
To level an uneven concrete floor.
If you have a wonky basement floor that's uneven you can use self leveling concrete to smooth everything out and get it nice and flat. It's even handy if your concrete floors are just filthy. A thin layer of this will give you nice, clean concrete floors.
To prep a floor for laying down tile or to encase radiant floor heating.
The reason I poured it in my kitchen, bathroom and mudroom was so I could put down radiant floor heating. There's no basement or crawlspace at the back of my house which makes the floors pretty darn cold in the middle of a Canadian winter.
How much does a 50 lb bag of self leveler cover?
How much the cement will cover depends on how thick you will need it to be. This mudroom is around 30 square feet and one 50 pound bag of cement just barely covered it at about ¼" thickness.
Quick drying self leveling cement
Starts to set up in 5 minutes. This is only used when you have a small area to do and are an experienced concrete finisher.
Regular drying self leveling cement
It starts to set up within 15 minutes. This gives the amateur user much more working time. Those extra 10 minutes make a huge difference when you aren't exactly sure of what the hell you're doing.
OTHER TUTORIALS REFERENCED IN THIS POST
p.s. I'm out of chips.
→Follow me on Instagram where I often make a fool of myself←