So as I was aimlessly meandering around my kitchen last week I thought to myself, I love tea towels.  And I do.  I love them more than I should.  In fact, I love them more than most people should love anything.
I can't really give you an answer as to why I love them so much.  It would make sense if I could tell you that as a baby my disadvantaged (crackhead) mother birthed me directly into a broken cotton candy vat at a carnival she working at  ... where some kind, stranger found me, wrapped me in a tea towel and took me home.
But that isn't the case.  Although I do also have a strong affinity for cotton candy.
The truth is I just love tea towels.  They're a quick way to change up your kitchen a bit and let's face it ... tea towels are the workhorse of the kitchen.  If it weren't for tea towels, well ... I don't even want to think of a world without  tea towels.
So as I was meandering around my kitchen I thought of all the things I could and have done with tea towels.  For a long time they acted as cafe curtains on the windows in my 40's kitchen.  They're often used as a table runner on my table.  And of course I wipe my hands on them and clean up spills that were often caused by my hands.
Then it hit me.  A TEA TOWEL APRON!!!  Yup.  I was going to make an apron out of a tea towel.   I was quite impressed with myself for inventing something as basic and obvious as an apron made out of a tea towel.  Then I got a quivery feeling inside of me and decided to Google it to make sure no one else had thought of it.  Google displayed close to 800,000 results.
Shit.
This was just like the time I thought I invented cheeseburgers.
I still like my tea towel aprons and decided to share them with you.  Yes.  There are two of them.  A full apron, and a half apron.  Here we go!
Materials
Tea Towel of your choice
Polyester (silk-like) Ribbon (got mine at the Dollar Store)
Sewing Machine (could hand sew if you need to)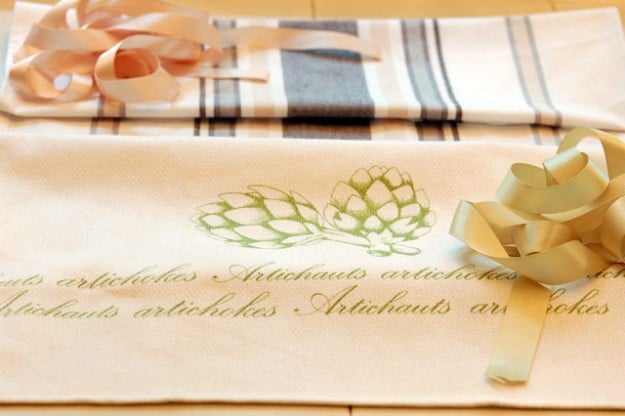 FULL APRON
The first thing you need to do is take the ribbon and hang it around your neck.  Cut the ribbon off at about 5" past your collarbones.  This is what will go around your neck and attach to the bib of the apron.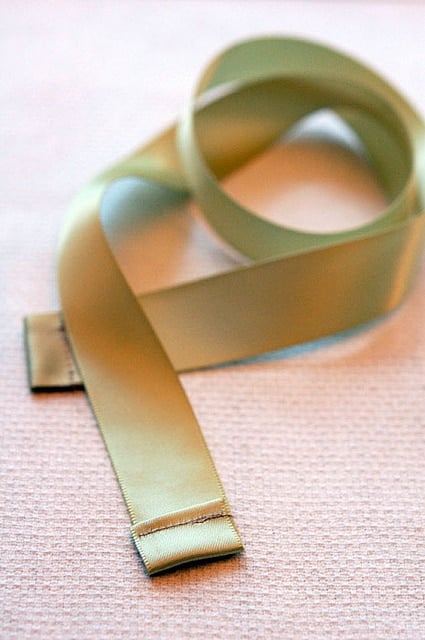 Turn the ends of the ribbon under twice so the salvage is enclosed.  Sew it shut. This is what's going to stop the ribbon from fraying to bits when you wash it.
Place your ribbon along one of the short ends of the tea towel.  Pin it and hang it around your neck.  Adjust as needed.  When you have it placed where it's comfortable, sew the ribbon onto the towel.  It will look neatest if you make sure to line your stitching up with stitching that's already on the apron.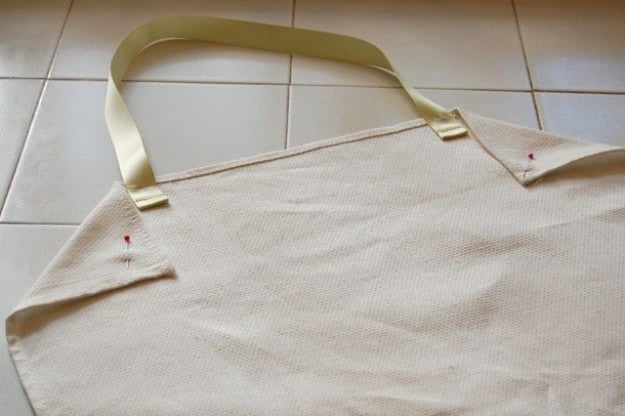 Fold and pin the corners in as shown.
Sew them along the edge to hold them down.  I didn't bother cutting the corners off or anything.  This is a quick apron.  Not a fancy, involved apron.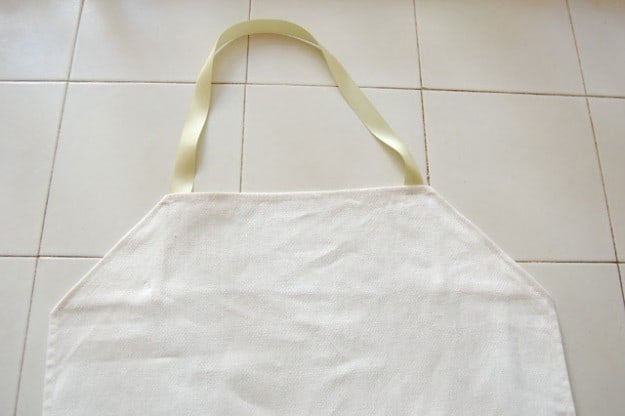 Cut and hem 2 more lengths of ribbon and sew them onto the sides of the apron like sew.  Heh heh.  A little sewing humour there.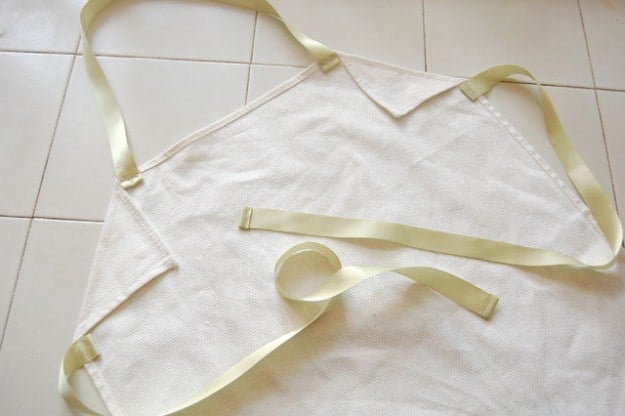 TA DA!
Your apron is done.
I washed this apron to make sure the ribbon would wash fine.  It did.  Throw it in the washing machine and hang to dry.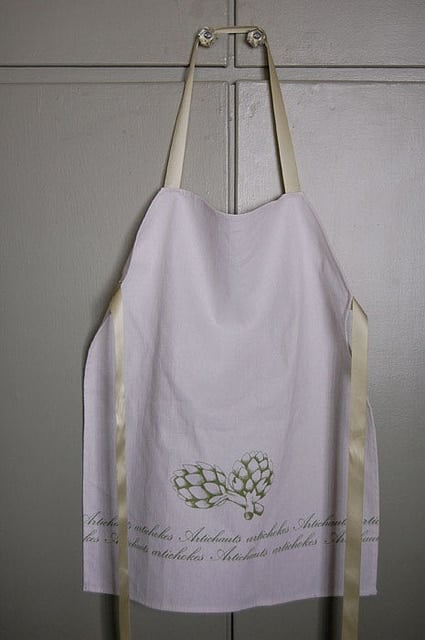 It's really quite fetching I must say.  Plus this way you can make quick easy holiday aprons.  For when you're feeling super-geeky and want to walk around with say, a big turkey on your apron, or a Snowman covered apron with scads of horrendous holly.  Holiday tea towels you see, are easy to find.  Holiday aprons, not so much.  Plus they're considerably more expensive than the $3 or so you'll spend on a homemade tea towel apron.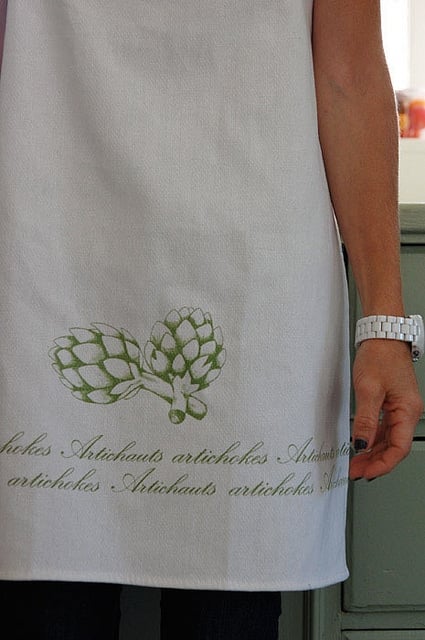 HALF APRON
To make a half apron, cut 2 long lengths of ribbon and hem the edges.
Sew each ribbon to a corner along the long length of the tea towel.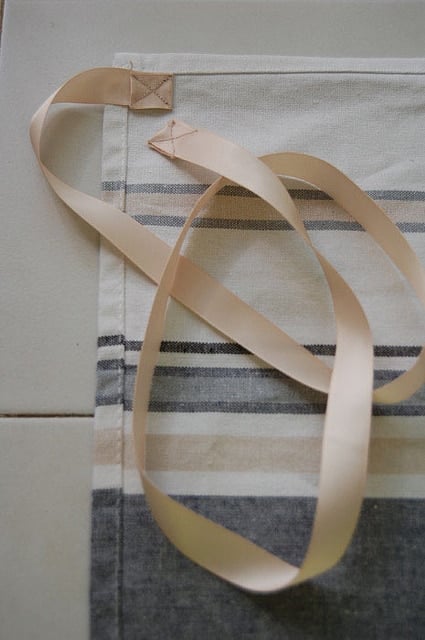 If you insist on being fancy, you can hem them in a criss cross pattern, like this.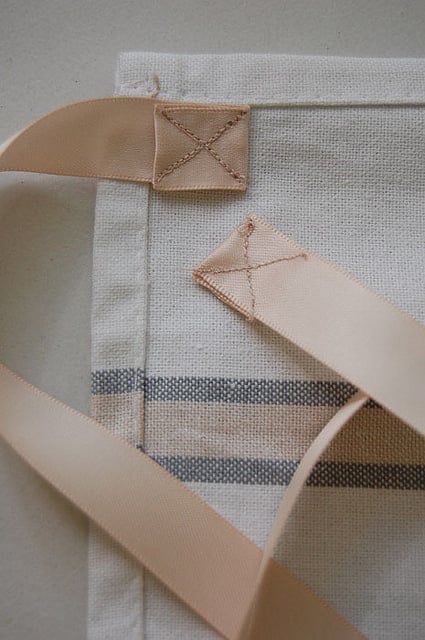 Make sure you use enough ribbon so  you can wrap the ribbon from the back of the apron around to your front.  It's much easier to tie an apron in the front than the back.  See how pretty?  I don't tie bows.  I'm not a bow kind of gal.  I do, however, like using this sort of slipknot, half bow.
And there you have it ... a pretty, pretty apron to do all of your delicate, delicate baking.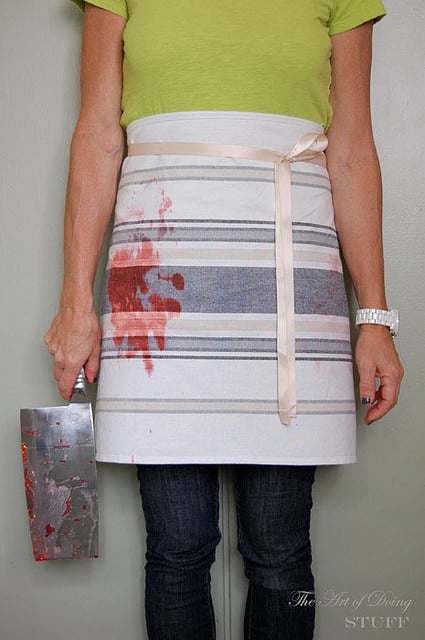 Or whatever else you might do in the kitchen ...