Cannabis gummies are having a moment right now. With the legalization of pot across all of Canada, people who are looking for the effects but don't want to smoke are heading to their local cannabis outlet to buy pot gummies.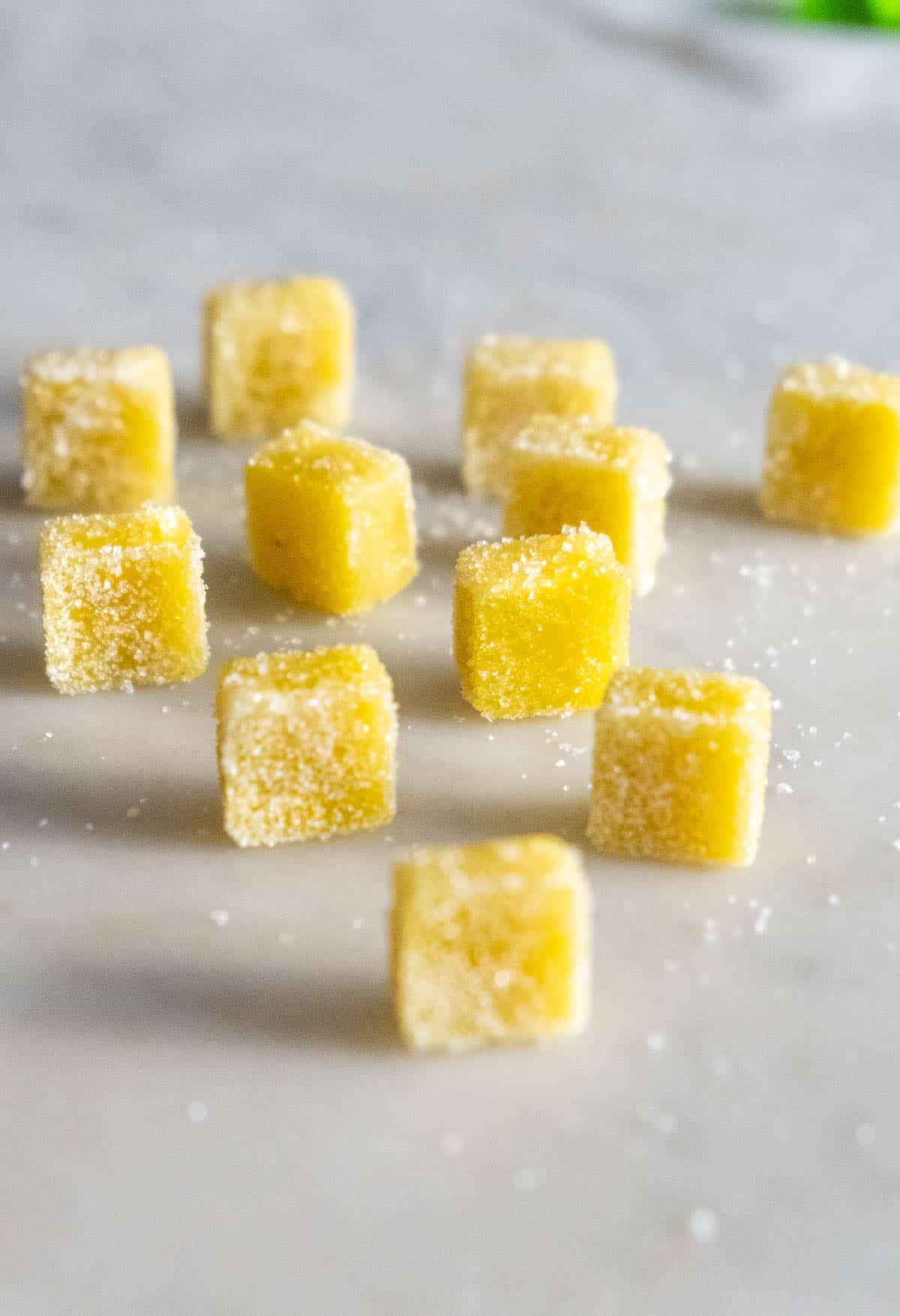 Pot gummies are chewy little bites of bliss. What kind of bliss depends on the type of gummy. It could be a CBD laden gummy for pain relief, anxiety lessening, relaxation or your more traditional THC based, quick somebody put on a Pink Floyd, I'm-so-loopy bliss.
Do people even say loopy? Is that a thing? Maybe they say stoned. I have no idea. High? Is that the term? Snooped? I'm fairly certain we've graduated from doobie to joint but I'm kindda cloudy on the other cannabis vernacular.
I have gone from ZERO experience with CBD, THC, gummies, growing, or even being able to identify cannabis to someone who is now willing to sit for an hour long conversation with a stranger convincing them to go ahead and give it a try.
And the way most people feel comfortable trying it is with gummies.
If you want a little more chocolate in your edibles you can try my pot brownie recipe. I got the recipe from a very unsuspicious elderly woman who lives on a cul de sac. Because that's who is using cannabis now.
I'm going to walk you through how to make CBD gummies (the technique is exactly the same for THC gummies) and then we'll talk a bit about the difference between CBD and THC, dosing, figuring out the potency and those kinds of things.
This is a most BASIC recipe for gummies. I don't "bloom" the gelatin, or worry about anything really too much.
If you delve deeper into the cooking methods you can get really serious about your gummies and getting them to be the exact consistency of store bought gummy bears.
But if you just want to try doing a basic concoction before getting *really* serious about making store quality gummies? This is the recipe for you.
Most people like to try a gummy recipe WITHOUT a thc or cbd infused oil first so if things go sideways, you haven't wasted your most expensive ingredient.
Ingredients
Water - ½ cup
Jello powder - 1 small package
Gelatin - 2 tablespoon (2 small packets)
CBD infused coconut oil - ½ cup*
Soy or Sunflower Lecithin - ½ tsp
Potassium Sorbate - ¼ teaspoon (optional, preservative)
Sour Sugar Coating
The sour sugar coating is what gives the gummy some good flavour. Just enough sweet and pucker. To make sour sugar:
Mix ½ cup of sugar with ½ teaspoon of citric acid then adjust to taste up to 2 tsps citric acid. You can use either powdered or regular sugar.
Strength/Potency
If you're hoping to make something similar to the strength of store bought cannabis gummies (usually 5 mg) use the below proportions for your infused coconut oil. 👇🏻
*5mg THC per gummy = Use 3.5 grams of 17% THC per ½ cup of oil. This will fill 112 gummy molds with a THC level of (apx) 5 mg per single gummy.
Materials
How to Make CBD/THC Infused Oil
You can make a cannabis infused oil the exact same way I show you how to make cannabutter in this post.
---
Add your water, infused oil and lecithin to a pot. Heat over low whisking to incorporate everything. The lecithin can be a pain to mix in. It wants to clump. Break it up with your fingers if you have to.

Add in the jello and unflavoured gelatin and whisk. Keep the mixture over low heat, stirring often for about 10 minutes.

If you're confident there are no lumps of anything (gelatin, lecithin, jello) left you can continue with the rest of the recipe.
If you see lumps, just strain it.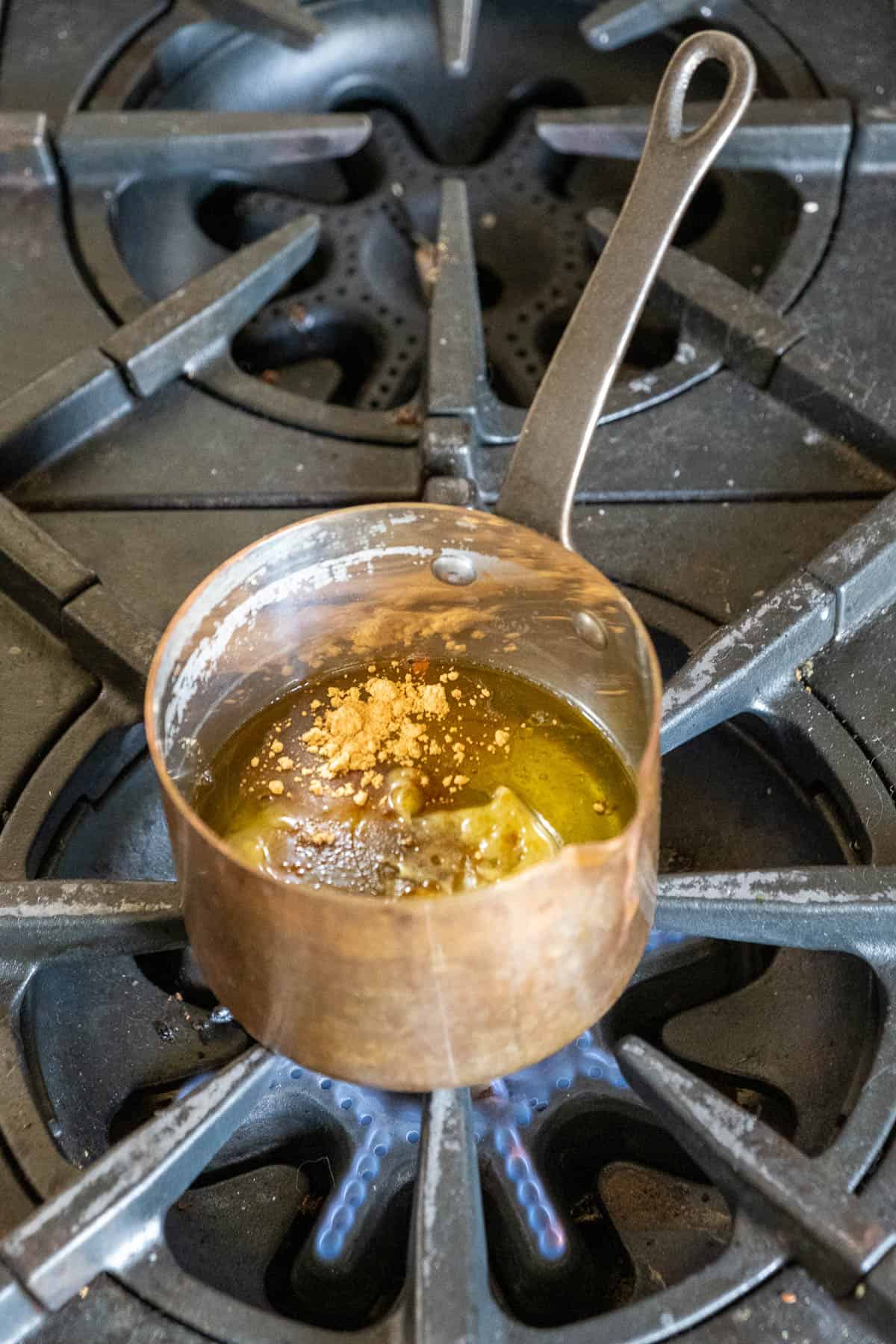 Place your gummy mold onto a large platter or baking sheet before you fill it. This way when you go to stick them in the freezer, you won't be trying to lift a flimsy silicone sheet filled with liquid.

Working quickly because the mixture sets up as soon as it starts to cool, use a dropper to fill your candy molds. Make sure they're filled to the same level so they all have the exact same amount of CBD or THC. If you under fill by half, that gummy will only have ½ of the potency as a full one.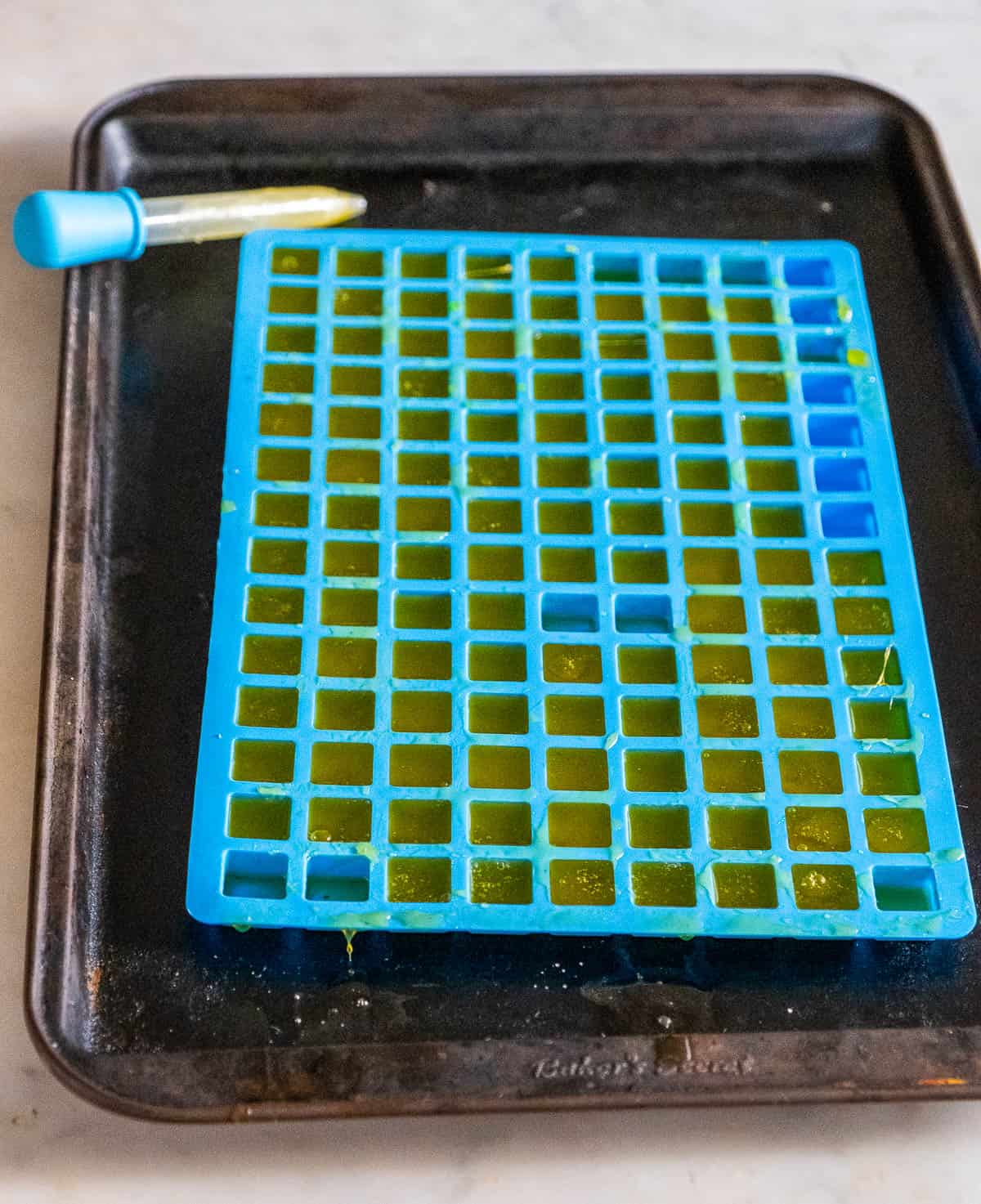 IF YOUR MIXTURE STARTS TO SET UP, JUST PLACE THE POT BACK ON THE BURNER AGAIN FOR A MOMENT. THIS WILL HEAT/LOOSEN IT UP AGAIN.
Once your trays are filled, carefully bang the baking sheet to knock out some of the air bubbles. Stick the whole tray into the freezer for 20 minutes.
Remove the gummies from the freezer and then pop them out.
Let them air dry for half a day. Flip them once.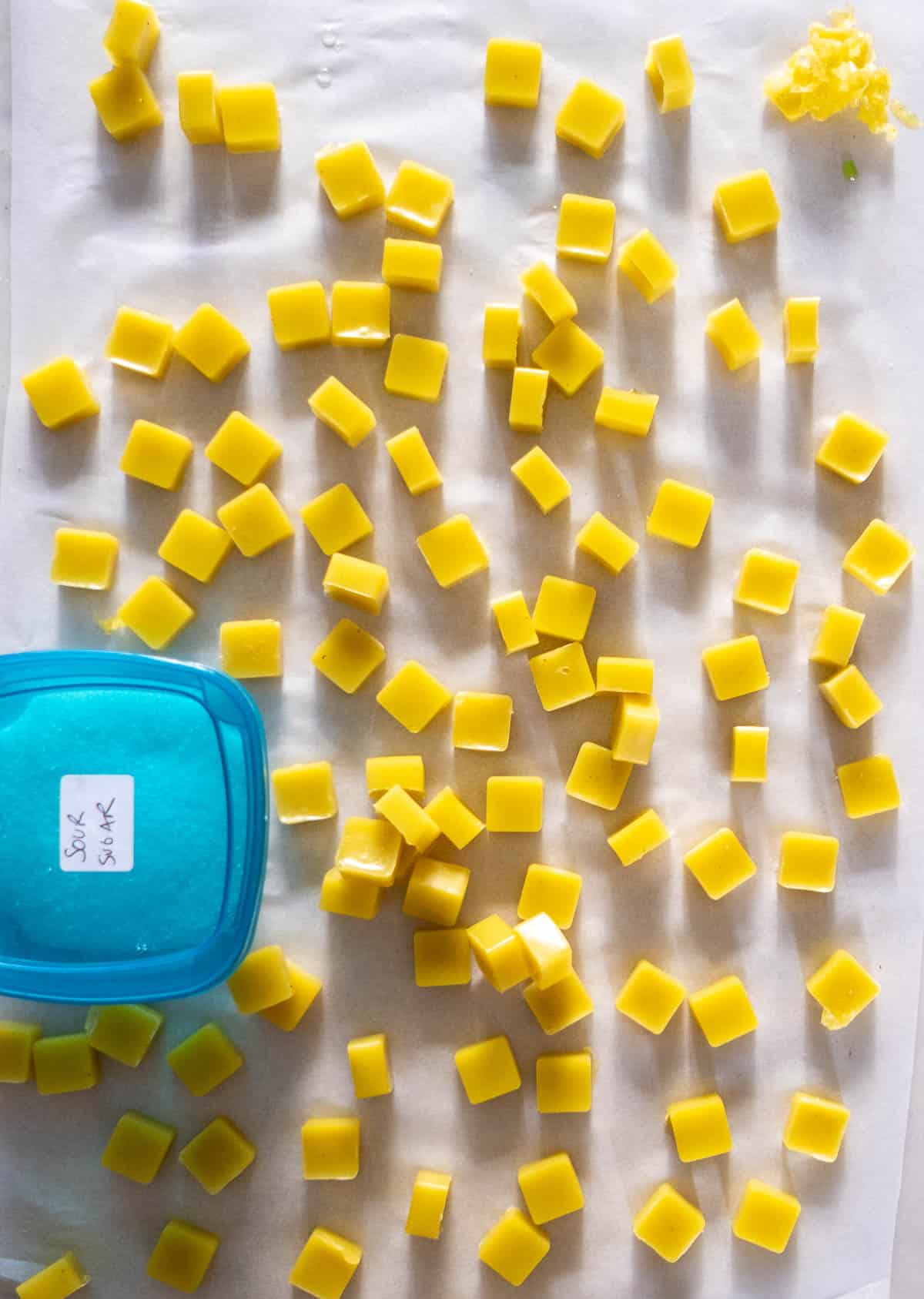 Once they're dry to the touch you can go ahead and toss the gummies in your sour sugar. Try a few at first and come back to them a few hours later to see how they're doing. If the gummies are still too wet the sugar will have melted into a sticky mess. If they are still dry you can sugar coat the rest of your gummies.
So how strong are these?
It depends on how strong your oil is and how large your gummies are. Either use the recommended measurements I mention at the top of the recipe or use this easy to use edible calculator to figure it out.
What's the difference between a CBD and a THC gummy?
About $5 and 3 laughing fits. Just kidding. Gummies, the same as cannabis can be heavy on CBD (the cannabinoid with various medicinal qualities), or THC (the cannabinoid that has psychotropic effects) - that thing that makes you feel Snooped.
CBD gummies will be made with a high concentration of CBD and very little THC. So all the medicinal benefits of CBD with none of the high. You can chew 1-2 and continue on with your day.
THC gummies will be made with a high concentration of THC and you will get high.
A balanced 1:1 gummy will have equal parts of CBD and THC. How you react to them will depend on your tolerance level for THC.
---
The pot I used in this recipe is CBD that I grew. It's a CBD with a 1:2 ratio of THC:CBD which means it's heavy on the CBD but also contains some THC.
A Word About Lecithin
Lecithin is what allows the oil and water to emulsify. Without it, the mixtures just wouldn't mix. I used lecithin granules, because that's what I had on hand but a LIQUID lecithin is better for this. The granules can be stubborn about dissolving and incorporating.
How to Store Homemade Gummies
If you plan to eat all your gummies within a week (???!!!) you can leave them on the counter and they'll be fine. But if you plan to spread your edible consumption out for a longer period of time you'll want to either store them in the fridge OR add potassium sorbate to your recipe.
Potassium sorbate is a preservative that will keep your gummies shelf stable so you can keep them on the counter. You mix it with water to create a solution. The ratio will be on the bag of potassium sorbate. Once mixed you can keep it in a mason jar in the cupboard.
It really isn't necessary to add the potassium sorbate unless you don't have a fridge or plan on commercially selling the gummies.
Is this how you make gummy bears too?

Yep. So if you want to make your gummies less strong you can put them in moulds with smaller candies - like gummy bear molds. (smaller molds means there's less product in each mold and therefore less THC)
Can you freeze them?

You can freeze cannabis gummies, cannabis oil and cannabis butter without changing the properties at all. Lay them in a glass freezer container with parchment below and above each layer.
How many to eat?

Just one. Always start low and go slow. And remember that edibles take a long time to enter your system. It takes 1-2 hours (sometimes more) before you will feel the effects.
How long do the effects last?

Edibles can have lasting effects for 6 hours, sometimes more. The effects will peak and then decline after a few hours.
---
It's entirely possible that if you've tried CBD for any of your ailments you've been disappointed. That's because it doesn't work like an aspirin, a frosty gin & tonic or a John Hughes movie. All of those things help you immediately.
CBD doesn't work immediately.
It needs to build up in your system and stay there constantly. That means you have to take a dose (in oil, gummy or smoking form) every day, preferably at the same time.
My experience with taking CBD oil was that within a month I had relief from anxiety, but it was so gradual that I figured it just went away on its own. So I stopped taking CBD.
Then the anxiety came back. So I started taking CBD again. Then I stopped.
This went on a few times before I believed it was genuinely working. I like extra proof in bread and in life.