You're never going to believe this but … homemade pasta dough? Stupid-easy to make. Read on!
O.K. everyone on their feet.
I want you to reach your arms up as high as you can, straight up over your head. Stretch all the way up through your fingertips. Now widen your stance, put your hands on your hips and twist your body around. Feel your back stretch.
Good. You're now ready for the monumental task of searching for that pasta machine you own but have never, ever used.
Don't give up. You'll find it. Try behind the bread maker.
Today we're making pasta dough.
Firstly, pasta dough is very different from other doughs. Pie dough for instance, likes to be cold and rolled out onto a cold surface like marble. Pasta dough likes to be warm, and rolled out on a warm surface, like wood. Bread dough is folded over itself when kneading. Pasta dough is only stretched and bashed.
Don't fret too much about it. It's not hard and the measurements aren't even really that important. Not like baking. All you need are eggs, flour and if you want, a drizzle of olive oil. It just adds a bit of flavour.
Dump your flour onto your work surface. Wood is best. Make a well in the centre.
Add your eggs to the well.
You can either add them whole or beat them before hand and add them.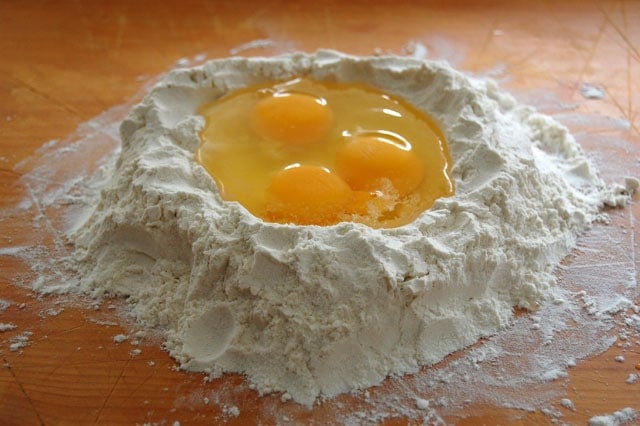 Whisk eggs.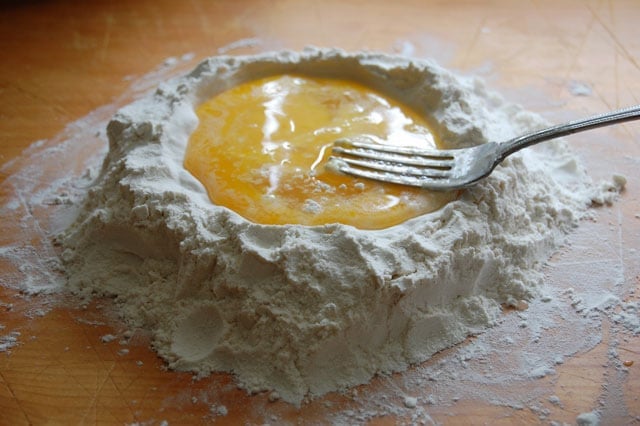 Add a teaspoon or so of olive oil.
You can add this prior to whisking the eggs as well. Doesn't matter.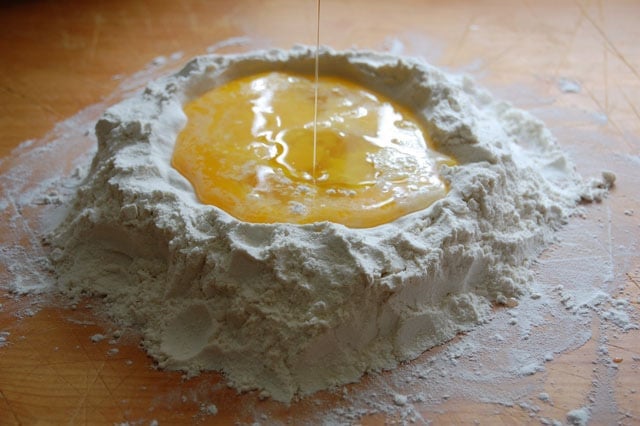 With a fork, start incorporating the flour with the eggs.
Just grab a little bit from bottom or sides as you're whisking. Little by little pull in more flour.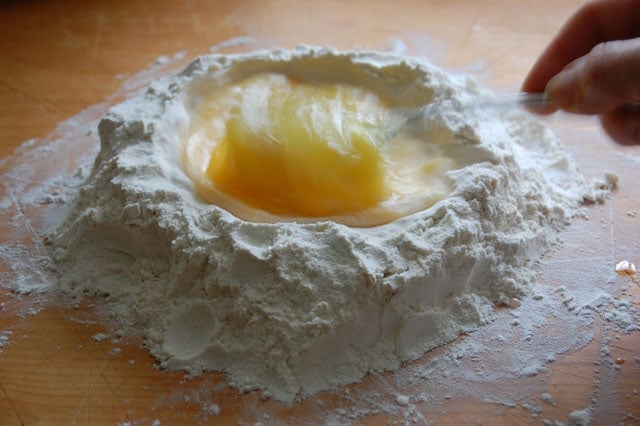 You can also just use your fingers. Just swirl your fingers around the centre of the eggs and pull in the flour like you would with a fork. It's gucky.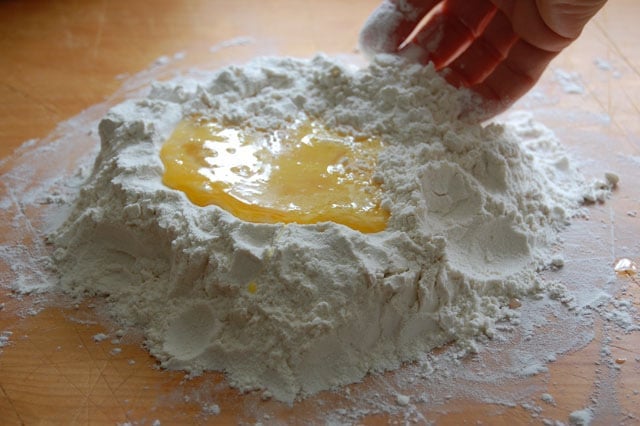 You will have a shaggy mess by the time most of the flour is incorporated.
You have to use your judgement in terms of whether to use all the flour.
It's a tough dough in general, not light and fluffy.
It needs to be sticky and not fall apart but not so sticky you can't even knead it.
Pat the dough together into a ball.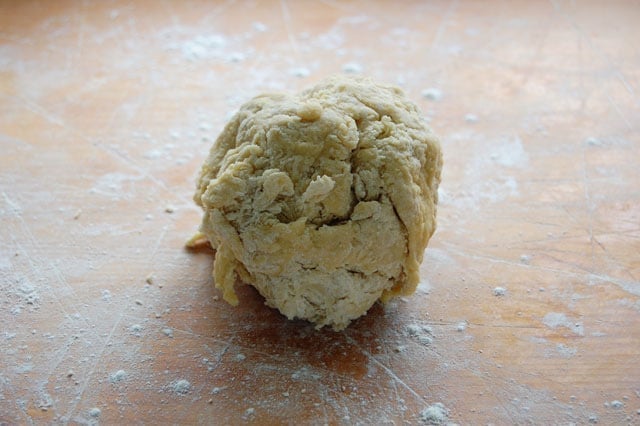 Knead the dough for 5-10 minutes.
Kneading pasta dough is different from kneading pie dough.
Do not fold the pasta dough on itself. Just push the ball away from you with the palm of your hand, form it into a ball again, and push it away again. It's all about the stretching.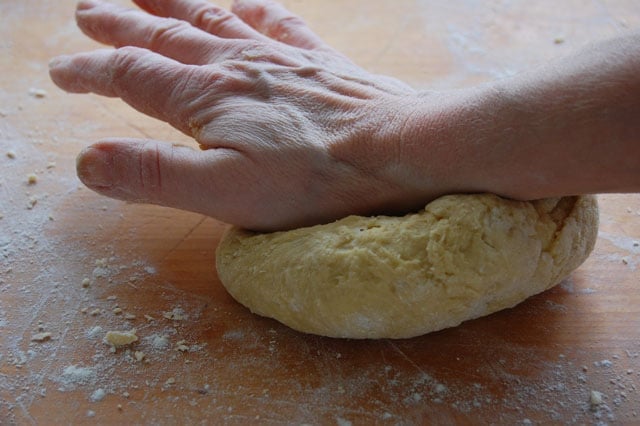 You're done kneading when your dough is soft, stretches easily and smooth.
When you poke your finger into it, it'll bounce back.
Wrap the dough and let it rest in the fridge for 1/2 an hour. Your dough is now ready to roll.
Pasta Dough
More than a recipe, pasta dough is a technique. After a few times you'll get the feel of the dough and be able to adjust your measurements as needed.
Print
Pin
Rate
Ingredients
2.5

cups

flour

4

eggs

1

Tbsp

Olive Oil
Instructions
Dump flour and salt onto counter so it falls into a pile. Make a well in the centre that will hold the eggs.

Break the eggs into the well and add the oil.

Using a fork mix the eggs in the well.

Once the eggs are mixed together, start incorporating bits of the flour from around the well into the eggs. Continue until the mixture becomes too thick to mix with a fork.

Continue incorporating the flour with your fingers.

Once the dough comes together form it into a ball and knead it for 10 minutes.

If the dough still sticks to your hand after kneading dust it with some more flour and knead a bit more.

The dough will feel smooth and elastic once it's kneaded properly.

Let the dough rest for 10 minutes.

Roll out by hand or with a pasta machine.
Notes
You may not need to use all the flour if your eggs are quite large.
If it's especially dry out, you may not need to use all the flour.
If it's especially humid out, you may need to use a bit more flour.
The best place to work pasta dough is on a warm surface like wood, as opposed to natural stone. If you don't have wood counters, work the dough on a wood cutting board if you have one.
Nutrition
Calories:
378
kcal
|
Carbohydrates:
59
g
|
Protein:
13
g
|
Fat:
8
g
|
Saturated Fat:
1
g
|
Cholesterol:
163
mg
|
Sodium:
73
mg
|
Potassium:
144
mg
|
Fiber:
2
g
|
Vitamin A:
240
IU
|
Calcium:
36
mg
|
Iron:
4.4
mg
Still confused? Watch the video!
Homemade Pasta Recipe.
Easy to follow, quick video tutorial on making pasta dough by hand.
And that's all there is to it. It's really not very hard and it doesn't take much time.
Next up … how to roll the dough through that pasta maker you got 7 years ago.