Yup. It's true. Pumpkins are good for something other than pie. These pumpkin raviolis were actually made with a sweet squash because they're usually more readily available. P.S. Browned butter!!
You cannot see this, but at the moment I am wearing my favourite winter outfit. 14 pounds of moisturizing cream topped with a hat made out of humidifier.
It's a look.
When winter rolls around and then sticks around and then overstays its welcome there's only one way to deal with it. Moisturize, moisturize, moisturize then EAT PUMPKIN RAVIOLI.
Don't get the two mixed up, you don't want to eat moisturizer unless you've tried absolutely everything else for your itchy pancreas.
So pumpkin ravioli. It's a bit of a misnomer since people usually make it out of squash. 'Round these parts you can rustle up a squash easier than a pumpkin. These parts are not in the American west by the way I've just randomly become a cowgirl. Which is a side effect of eating moisturizer, so again … don't do that.
This isn't one of those incredibly fast weeknight recipes. This. Is. Not. That.
But if you prepare a few things in advance, they can be kept in the freezer for when the pumpkin ravioli mood strikes you. You can make fresh pasta dough and freeze it to have on hand for instance. You can also make the filling and freeze that. And if you want to be incredibly Martha about it you can make the ravioli entirely and then freeze those whole.
The first thing you need to do is pick out a good pumpkin or ravioli.
What's the Best Variety for Pumpkin Ravioli?
b e s t t y p e o f p u m p k i n f o r r a v i o l i
pie pumpkin
b e s t t y p e o f s q u a s h f o r r a v i o l i
Delicata
Kabocha
Honeynut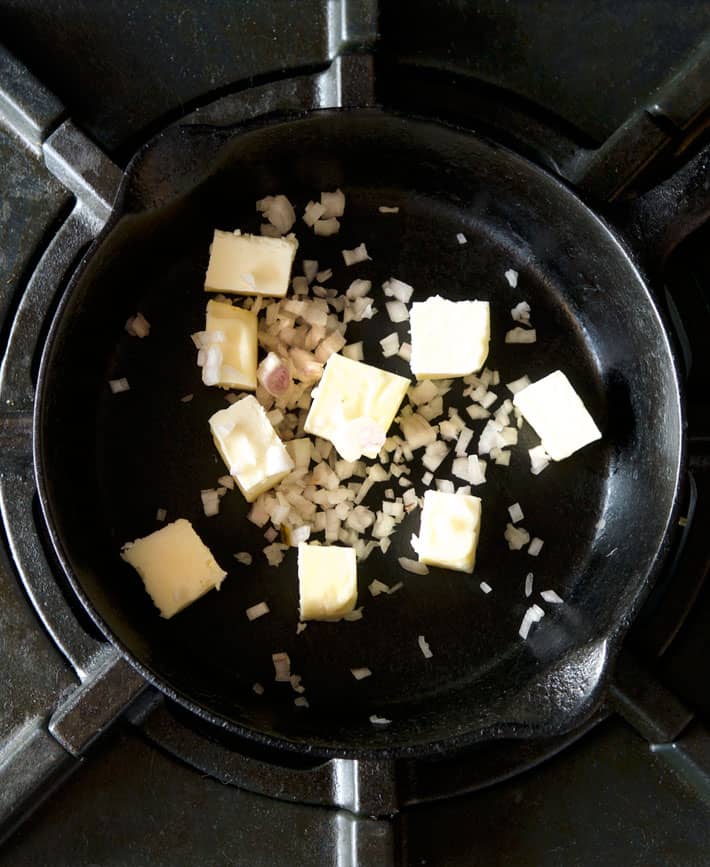 In a nut shell you're going to roast a squash or pumpkin, make some pasta dough, mix a few things together, assemble the ravioli and you're done.
Butter and shallots get added to a pan to sauté while the pasta is resting and the squash/pumpkin is roasting.
Then all the filling ingredients get cooked a bit, thrown in the blender to whiz around a little, then back to the pan where you add some cream and simmer that sucker down until it's thick.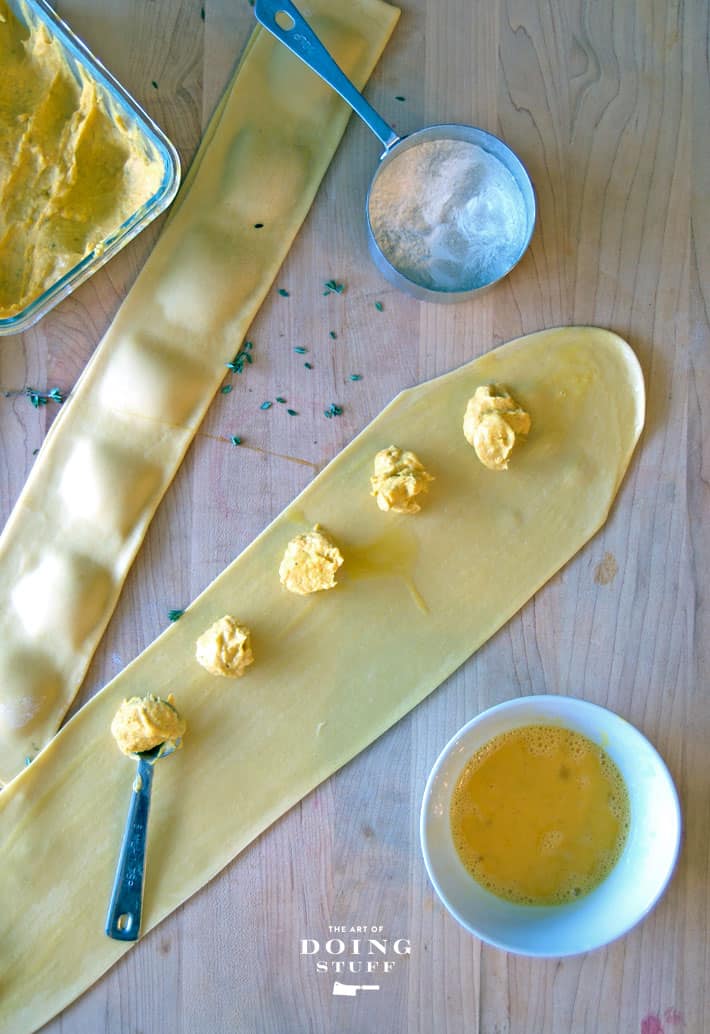 It's at this point that you can either go ahead and make entire raviolis, or freeze the pasta dough and the filling for use in the future. 'Course only crazy people get this far and don't continue on to the actual ravioli making.
TIP
The one trick I use is to brush the entire strip of pasta dough with a beaten egg before adding the filling. It's easier to do this than to add little bits of egg wash to the edges of the pasta after you've put the filling on. Plus your chances of a perfect seal are WAY improved by brushing the entire pasta with egg.
Try to work quickly because you want the egg to be nice and sticky so you get a good seal around the ravioli.
LISTEN UP! You need to press all the air out of the ravioli before sealing it completely. Just start pressing around the filling out towards the edges with your fingers, to push out any air.
Dust your counter with flour and sprinkle the assembled ravioli squares with flour too to keep everything from sticking while you continue on your ravioli making journey.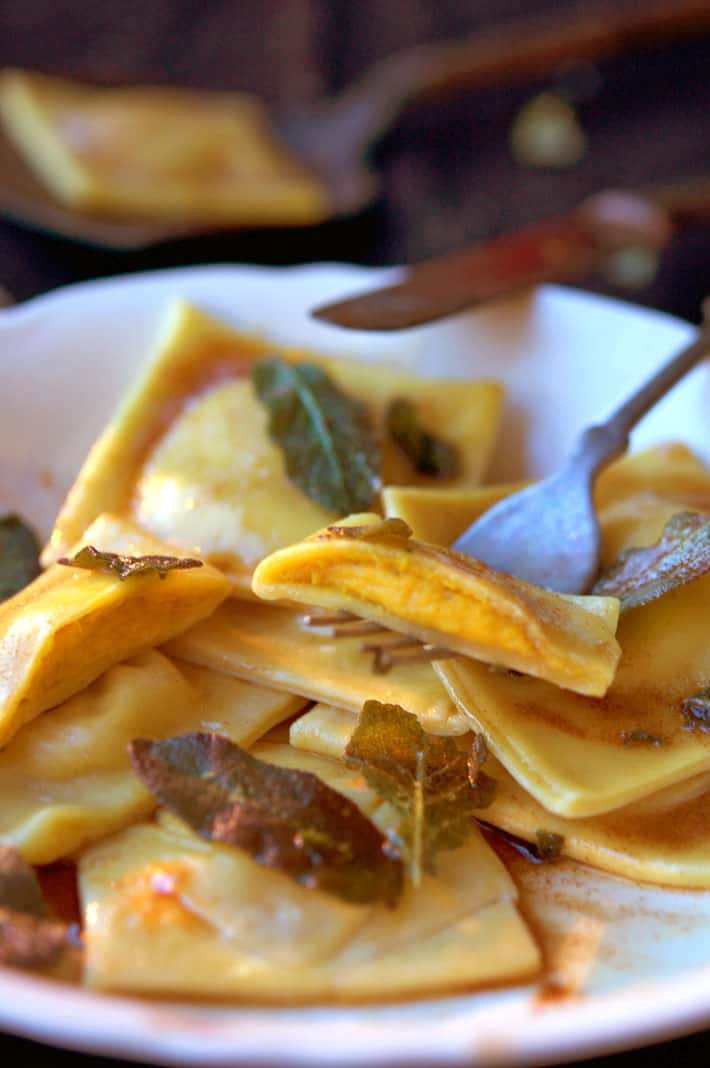 Around 7 of these will make a meal but you can also have fewer of them and serve the ravioli with a side of sausage.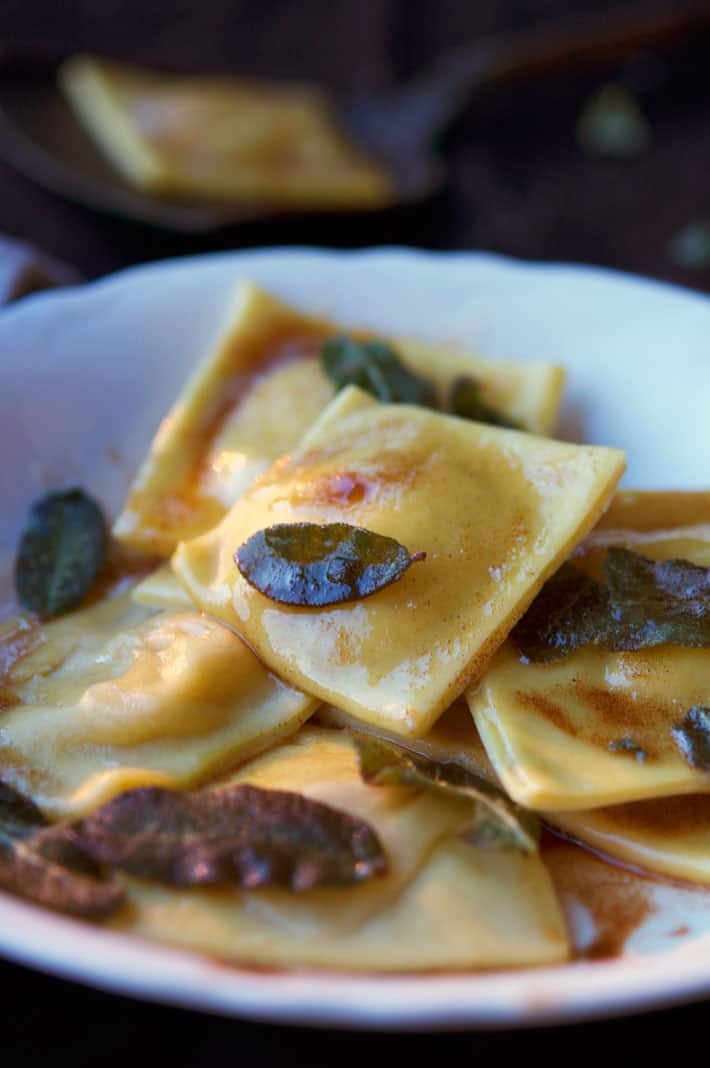 Print Recipe
Pumpkin Ravioli with Browned Butter
This Pumpkin Ravioli can be made with squash too! Also don't be crazy, you don't HAVE to make your own pasta. Cut down on the prep time by using premade fresh pasta.
Ingredients
1

pie pumpkin

about 2-1/4 pounds

4

teaspoons

shallot

chopped

1/3

cup

butter

cubed

1

tablespoon

fresh sage

minced

1

teaspoon

fresh thyme

minced

1/4

teaspoon

salt

1/4

teaspoon

pepper

1

cup

heavy cream

1

bay leaf

1

egg

beaten
Sauce
3/4

cup

butter

salted

24

sage leaves
Pasta Dough
4

cups

flour

6

eggs

1

TBSP

olive oil
Instructions
Cut pumpkin or squash in half and lay flesh side down on a baking sheet. Roast in oven until tender. Remove from oven when done and scoop out flesh when it's cool enough to touch.

Sauté shallot in butter on low heat until tender.

Add roasted pumpkin, sage, thyme, salt and pepper and stir until combined. Simmer for 5 minutes.

Transfer everything to a food processor or blender and process until smooth.

Return to the pan and stir in the cream and bay leaf. Bring the mixture to a boil, stirring constantly.

Reduce heat and simmer the filling, uncovered until it's thickened. This will take around 20 minutes. Get rid of the bay leaf. Chuck it. Just throw it away.

Cut your prepared pasta dough into 2" wide strips.

Brush entire strip of pasta dough with beaten egg.

Drop 1 tsp. of filling onto centre of pasta, every 2".

Cover with another sheet of pasta and carefully press around each mound of filling pressing the air out to the edges of the dough. Seal tightly by pressing the pasta together with your fingers. If you leave any space un sealed your filling will bleed out when you boil the ravioli.

Cut strips of ravioli into squares with a knife, pizza wheel or fancy pasta cutter that will give a crimped looking edge.

Bring a large pot of water to the boil. Boil ravioli for approximately 4 minutes, or until they float.
Sauce
While the pasta is cooking, make the browned butter sauce by melting 3/4 cup of butter in a pan over low heat stirring constantly.

As soon as the butter starts to melt, add in the sage leaves.

Continue stirring. The butter will start to foam, then finally separate and brown.

Remove from heat as soon as the butter smells nutty and looks darkened. Transfer it to a dish immediately so it doesn't cook any further.

Serve ravioli with a few tablespoons of browned butter on top and around 1 sage leaf per ravioli.
Notes
If you taste your squash and it's kind of ... tasteless, add about 1/8th of a teaspoon of nutmeg and some brown sugar to taste until it has some oomph.
QUESTIONS/ANSWERS
Can you freeze pumpkin ravioli? Yep. Absolutely. Like I said, either freeze them whole after assembling or freeze the filling on its own and assemble the ravioli later.
Can you use Pumpkin Puree for pumpkin ravioli? I don't see why not. You'll lose a bit of the roasted flavour and it might take a bit longer to thicken up but it should work fine.
I hate sage. Can I make this pumpkin ravioli without sage? Sure. I mean, you're a weirdo but sure. I don't really love sage either, but once you fry it in butter it tastes completely different. Better.
What can I serve with Pumpkin Ravioli? I honestly like them on their own with a side salad, but you can serve them with a few slices of sausage. The quickest, easiest way to cook sausage is to slice it into 1″ thick slices and pan fry it. It cooks in no time and all of the sides get nice and crispy and browned.
I know the recipe looks a bit daunting, but it really isn't hard at all. It ain't that hard. Any of it.
Yippee ki yay.
→Follow me on Instagram where I often make a fool of myself←