Yes, making tortellini is hard. Deal with it. It's no harder than living for 9 months in a stomach and shooting out through a birth canal and you all got through that, so put your tortellini mitts on and meet me in the second paragraph.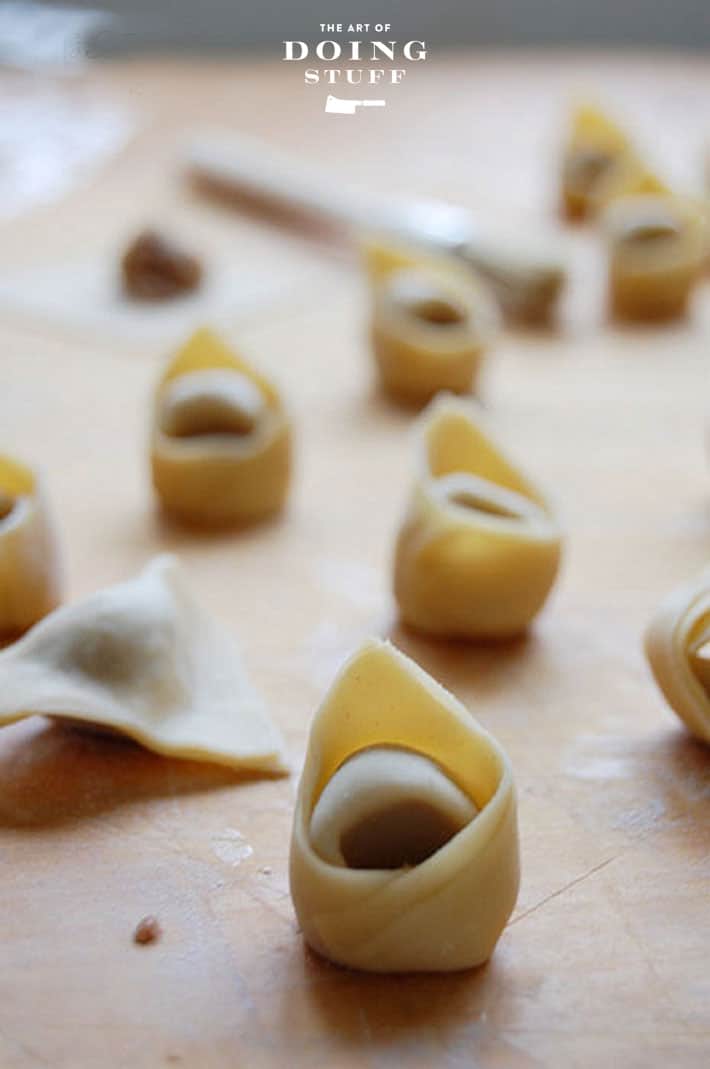 Jump to Recipe
Good. I'm glad you took a leap of faith and decided to meet me here. You're strong, resilient, and adventurous. YOU are going to make T O R T E L L I N I. Which makes you better than anyone else. It makes you WONDERFUL.
Making tortellini is like bungee jumping. You only need to do it once to say you did it. Then, if you like it ... you can do it again. If you don't like it, you at least have bragging rights. I think you'll be surprised at how many times you can bring up the subject of making your own tortellini at dinner parties, soccer practices or even during a breast exam (prostate exam for the fellas).
Now that I've shown you how to make pasta dough, and how to roll it out all you need now is the traditional meat filling for the tortellini and a lesson on how to shape them.
You can use this same filling for making ravioli. But then you wouldn't have the honour of tortellini maker bestowed upon you. Your choice.
The Cuisinart (food processor) is important in this filling. You cannot just use the ground meat. It needs to be like a soft paste. If you don't have a food processor you can try doing small batches with a stick blender if you have one but I'm honestly not sure how that would work.
Kay. Now the fun part. We're going to make tortellini! Roll up your sleeves and pick out your swear words.
Lay out your rolled pasta dough (for tortellini I use setting #7) and cut the ends square.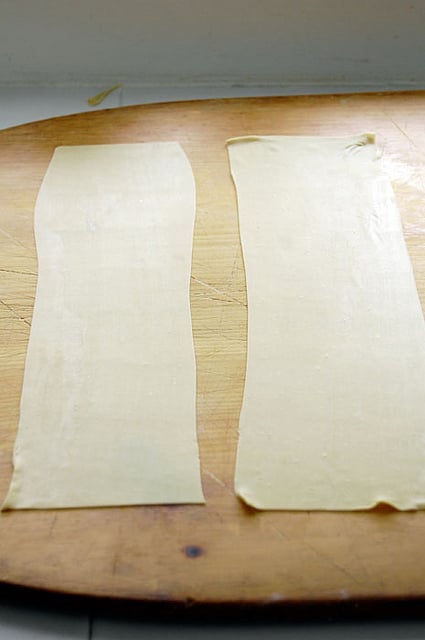 Using a pizza cutter cut your dough into widths of 1½ - 2" in length, then again crosswise so you have squares of pasta.    Put the scraps into a plastic baggie or under plastic wrap to roll out again later.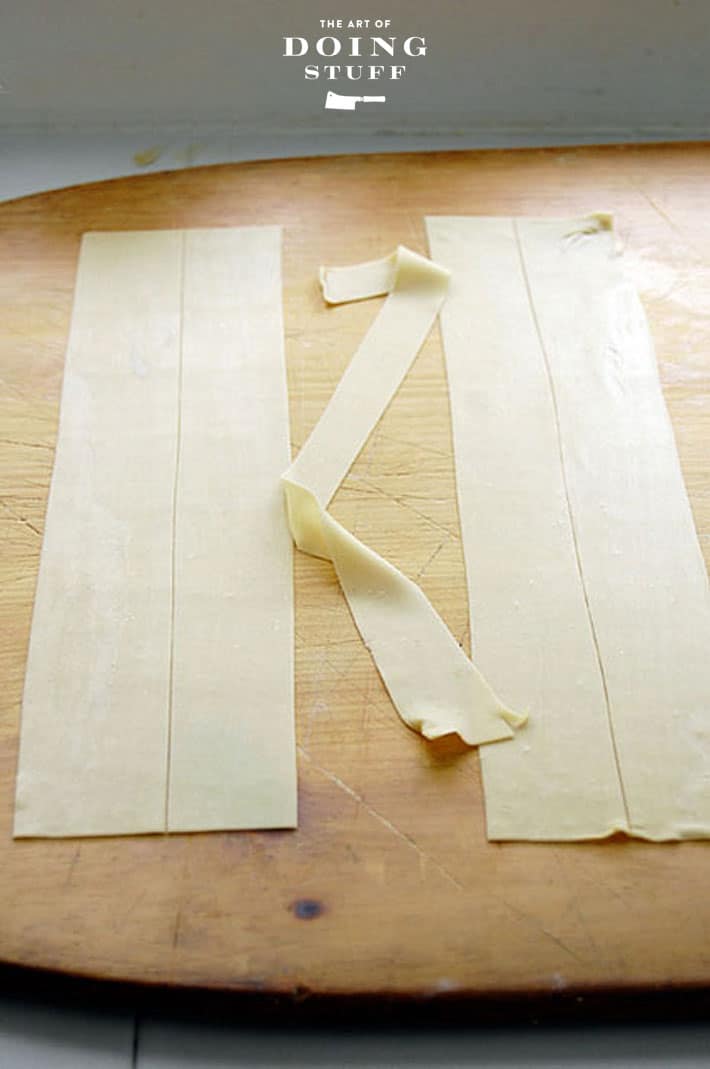 Take your filling out of the refrigerator and get a tiny spoon.  A ¼ teaspoon works well.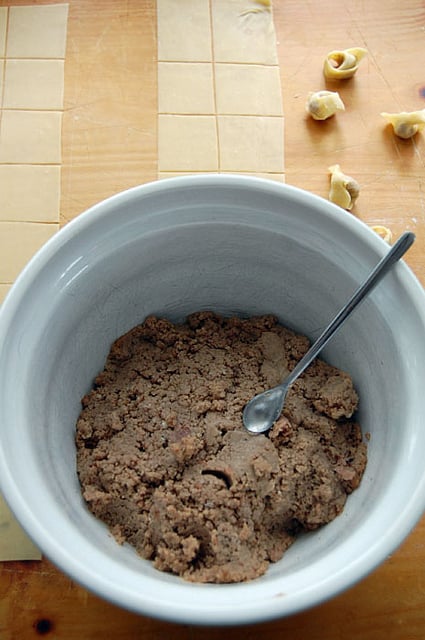 Using your teaspoon shape the filling into small balls and place them in the centre of the squares.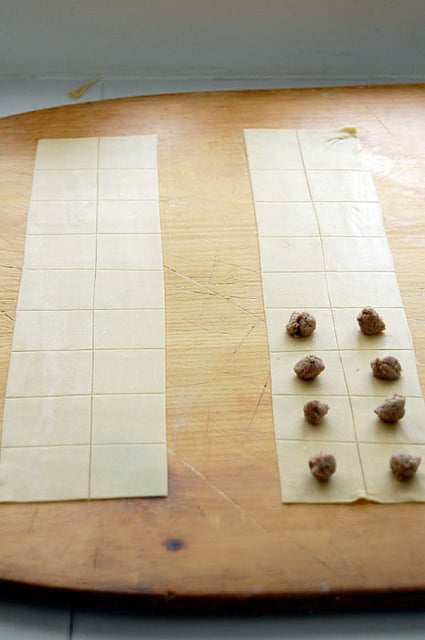 Don't be tempted to use too much filling.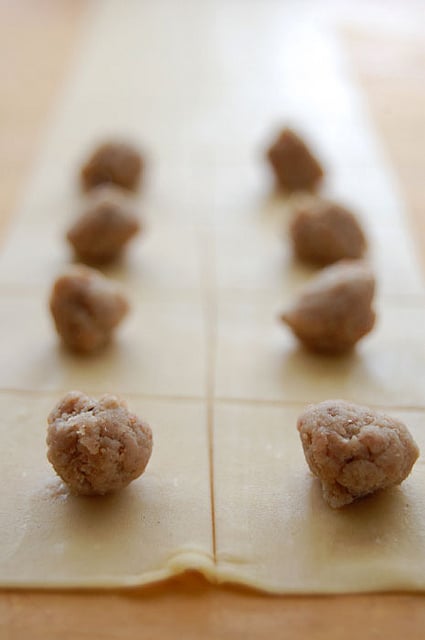 Fold the dough in half to form a triangle over the filling.  Gently press all the air out.  This step is very important.  If you don't do it  your tortellini will break when you boil them.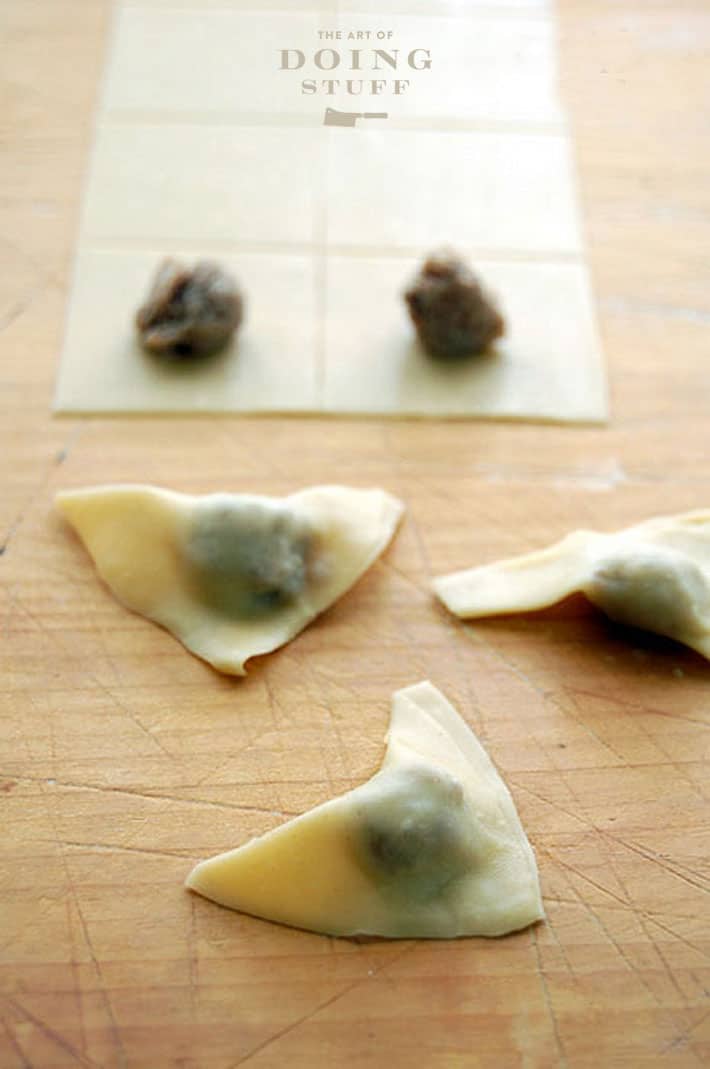 Take a triangle of tortellini and squish the filling upwards with your thumb or the end of a wooden spoon.  Just a little bit.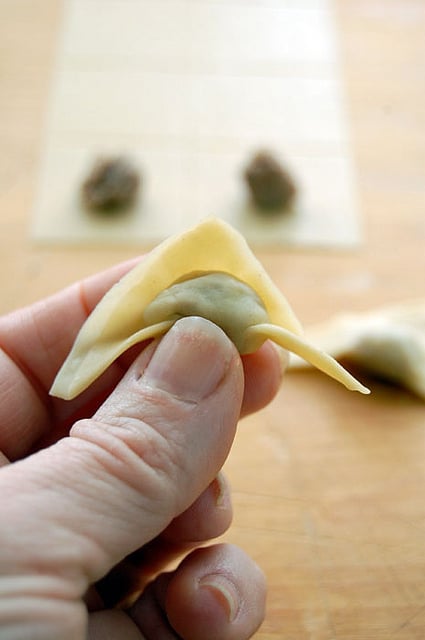 It will look kind of like the Flying Nun's hat.  I say that with all the confidence of someone who has never seen the Flying Nun, but I'm sure you know what I mean.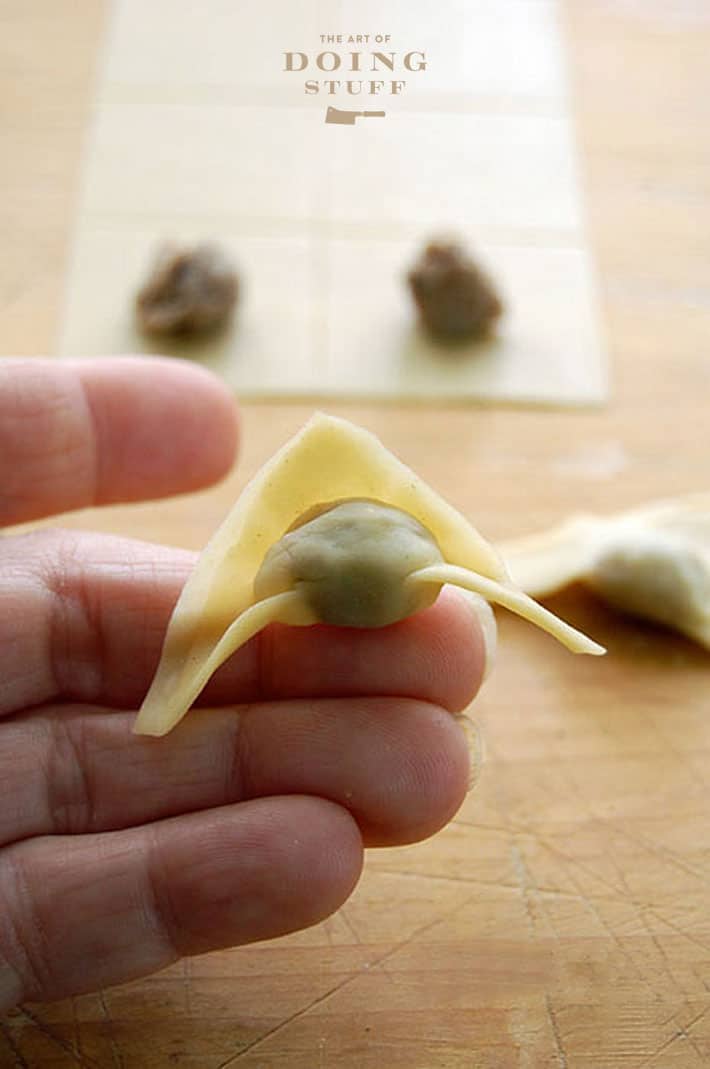 Stick the end of a wooden spoon into the tortellini and push the two ends around the spoon.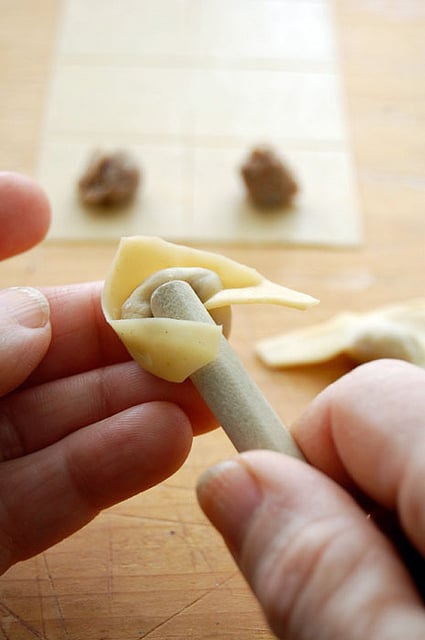 Press together with your thumb to seal.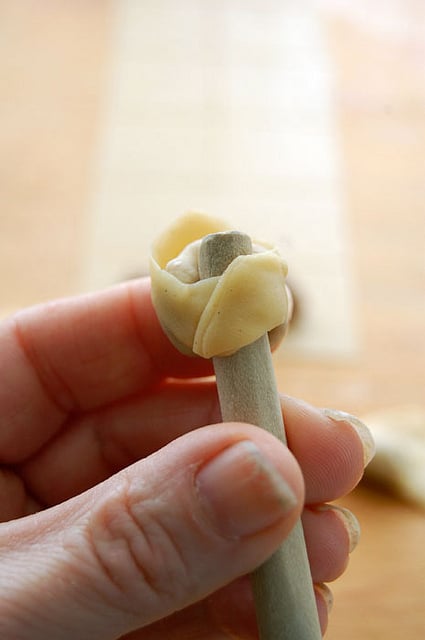 Slip the tortellini off of the handle.
You have now formed a classic tortellini.
You have a few more to go.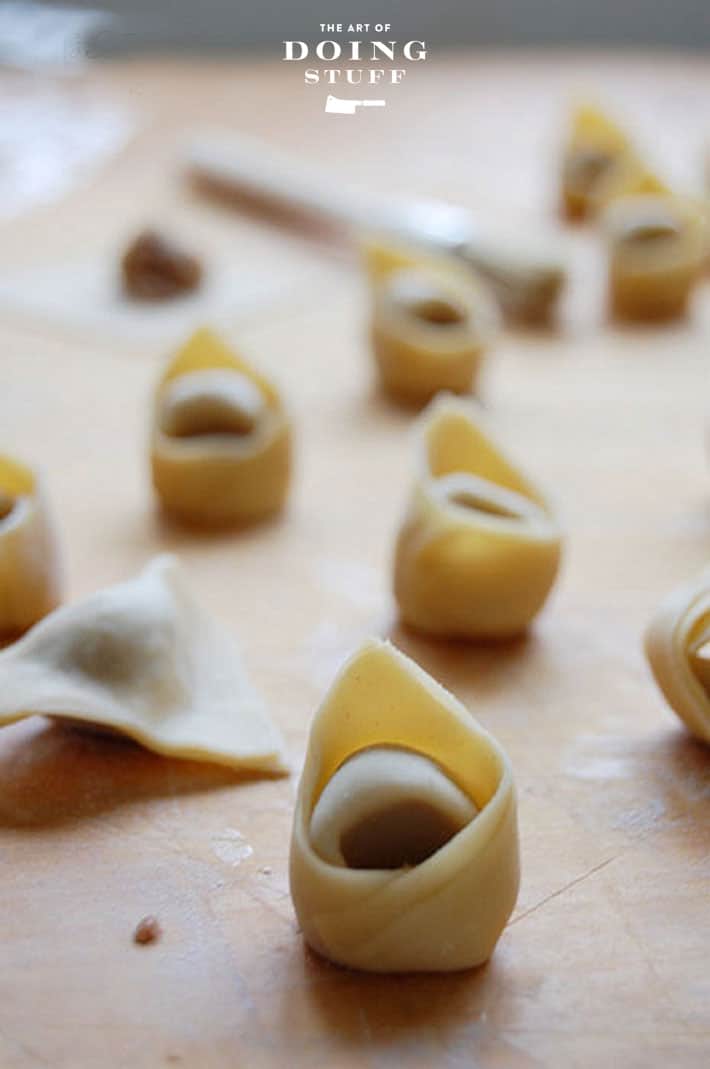 Homemade Tortellini
Homemade Tortellini, perfect for dousing in a rich tomato sauce or floating in a beef broth for tortellini en brodo. Serve with crusty, CRUSTY, bread.
Print
Pin
Rate
Ingredients
2

tablespoons

butter

1

tablespoon

extra-virgin olive oil

4

ounces

ground turkey

can substitute chicken

4

ounces

ground beef

4

ounces

ground pork

4

ounces

prosciutto

finely diced

2

ounces

mortadella

finely diced*

1

egg

beaten

1

cups

Parmesan cheese

grated

¼

teaspoon

nutmeg
Instructions
Heat the butter and oil over high heat in a large pan until the butter foams. Add all of the ground meat (turkey, beef and pork). Brown and cook until almost done.

Add the prosciutto and mortadella and cook for a few minutes.

Remove from heat and let cool.

Run the mixture through a food processor until it's like a paste.

Add the beaten egg and parmesan cheese. Mix.

Add salt and pepper and ¼ teaspoon of freshly grated nutmeg. Mix.

Refrigerate until you're ready to start making your tortellini.
Notes
*I find the mortadella can overpower the filling, so I only use 2 ounces. Traditionally you'd use 4 ounces.
Nutrition
Calories:
2144
kcal
|
Carbohydrates:
6
g
|
Protein:
130
g
|
Fat:
175
g
|
Saturated Fat:
72
g
|
Cholesterol:
623
mg
|
Sodium:
3519
mg
|
Potassium:
1435
mg
|
Sugar:
1
g
|
Vitamin A:
1720
IU
|
Calcium:
1255
mg
|
Iron:
6.9
mg
TORTELLINI MAKING TIPS:
Only roll out a small amount of dough at a time.  It dries out quickly.
As soon as you cut your dough into squares cover it all in plastic wrap.  Keep the dough covered unless you're actually forming your tortellini.
If your dough does dry out you can rub a little beaten egg around the edges of the dough to seal it.
If you get discouraged and things are slowing down, put on some good music. Good music helps everything.  You're making TORTELLINI!  What a wonderful, wonderful world.
Still confused?  Watch the video on how to make tortellini ...
How to Make Tortellini
How to shape perfect tortellini with a wooden spoon handle.