The fella sometimes travels for work.
On his last walkabout a few years ago the fella headed to Saskatchewan where he lived for 6 months, flying home every 16 days.  He lived in a typical, small Prairie town.  How small?  I went to visit him once and he wouldn't let me carry my purse to the town restaurant/bar/variety store/video rental place.  Apparently carrying a purse, or anything other than a hoof pick, would have immediately pegged me as an outsider.  It would have been "embarrassing".   To carry a purse.  Into a restaurant/bar/variety store/video rental place.
So I didn't.  Because I'm nothing if not accommodating.  Plus, you've never seen anyone pitch a fit like the fella when he gets worked up.
On this same trip, in this same town, the fella went into the grocery store/garden centre/travel agency to pick up a few things for dinner.  He was making meatloaf and he wanted mashed potatoes with it.  So he grabbed a few potatoes and took them up to the cash.  Thelba, or whatever her name was, started to ring him up and asked him how long he was planning on staying in town.   He said he wasn't sure, but he wanted to get home to make dinner.  Thelba said "You aren't plannin' on eatin' them potatoes are ya?  Them there are seed potatoes fella."  To which the fella replied, Yeah, yeah.  Seed potatoes.  Whatever.  Ring 'em up.    Thelba then explained to the fella They're for crops.  For planting.   She was very nice about it apparently, but I'm sure all the while Thelba was thinking, "Holy shit Mr. City, all you're missing is the purse".
And that is my seed potato story.
SO!  You wanna plant potatoes but you don't have any room?  You only have a balcony?  Most of your yard real estate is taken up  by decorative Gnomes and a shuffleboard court?  No problem.
You can plant potatoes in half bushel baskets, with 6" of dirt and a bunch of straw.
And here's how ...
The first thing you have to do is get yourself seed potatoes.  You can get them this time of year at garden centres, seed stores and sometimes even hardware stores carry them.  Seed potatoes have been guaranteed to be disease free.  If you buy potatoes from the grocery store that happen to grow eyes, you aren't guaranteed they'll be disease free and grow into nice healthy potatoes.  But ... chances are they will.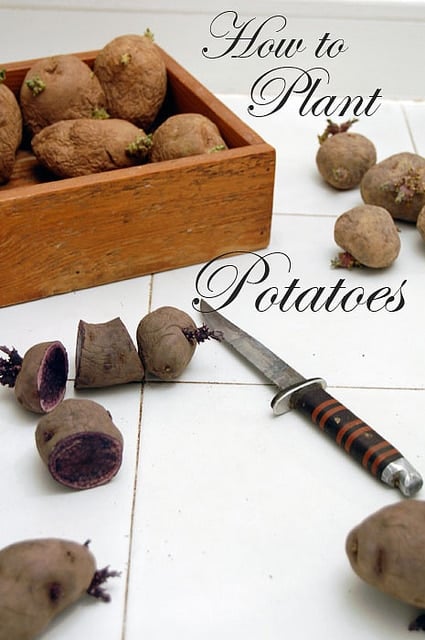 Howevever, I want to know EXACTLY what kind of potato I'm growing so I bought a variety of interesting certified seed potatoes.
One of the varieties I'm growing are French Fingerlings.  They're long, small fingerling potatoes with a pink swirl inside.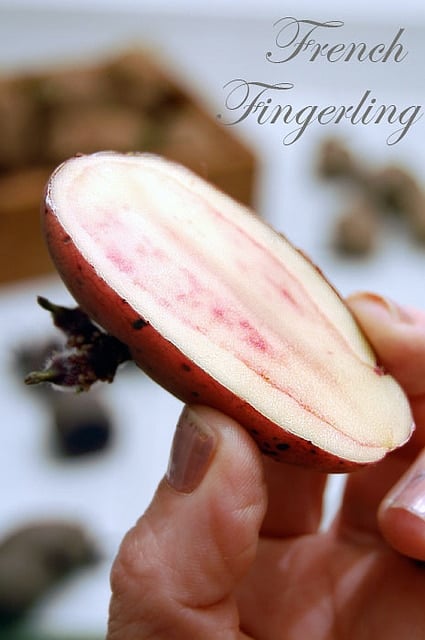 Just for fun, I'm also growing a batch of Russian Blue potatoes.  They're one of the varieties with the blue, almost black skin.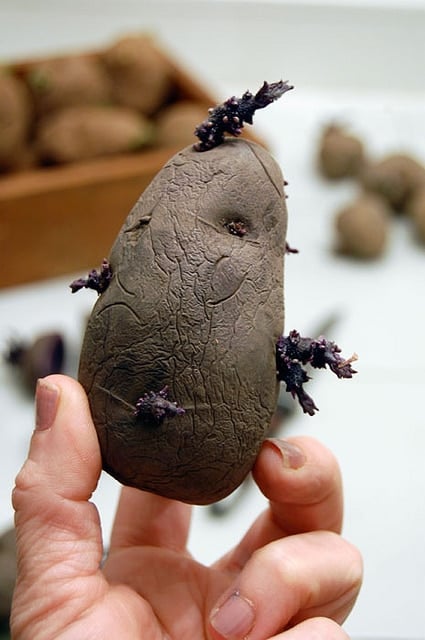 Most exciting, is the fact that the inside is the same colour!  I'm so excited about growing these I could cry.  I'm potato geeking out over these.
I'm also growing Yukon Golds and the most perfect potato ever made, The Kennebec.
Once you get your seed potatoes, you need to cut them.  Depending on the size of the potato, you'll cut them into half or even 3 or 4 times.  You want to make sure each chunk of potato has at least 2 eyes.  If the potato is small, just leave it without cutting it.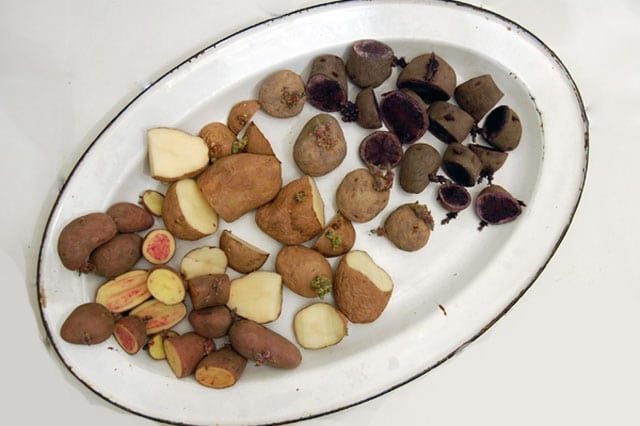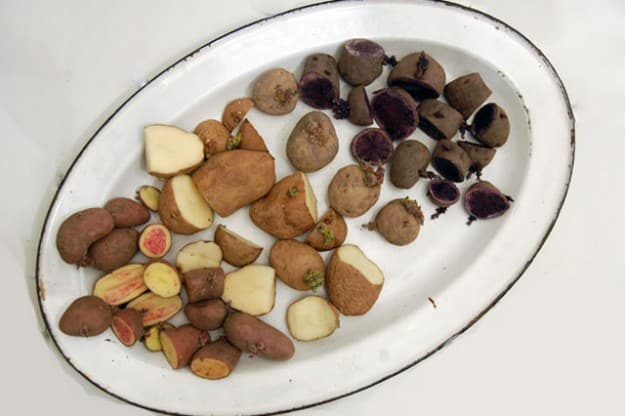 Then let your potatoes heal for a few days.  Some people say 2 days others say a week.  I'll leave it up to you.  The cuts need to scab over so they don't rot or get bacteria/disease in them when you plant them.  So make sure you cut them several days before you plan to plant them.  After a week ... they'll look all grody.  Like this.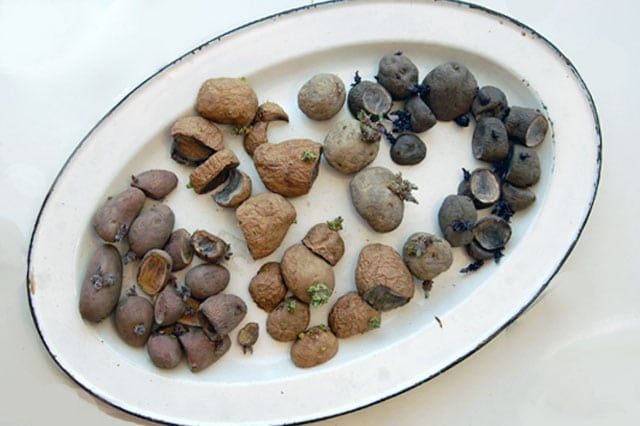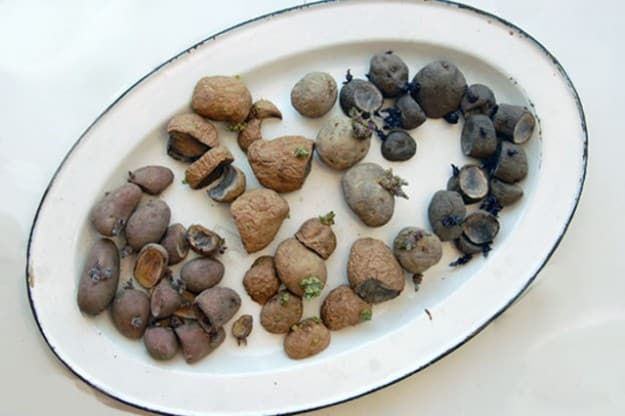 Now's the fun part.  Planting.  Fill your half bushel basket (ask at your grocery store or farmer's market for them) with 6 inches of soil.  I used half compost and half CONTAINER SOIL.  Not, garden soil!  Whenever you're planting in a container ... you should use container soil.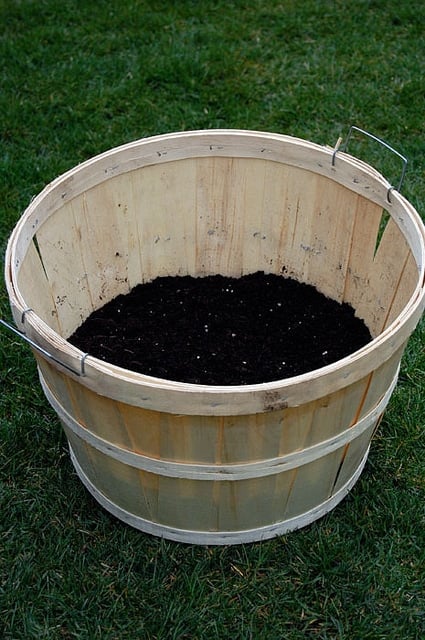 Push your seed potatoes (I'm going with 3 of them in the basket) half way into the soil.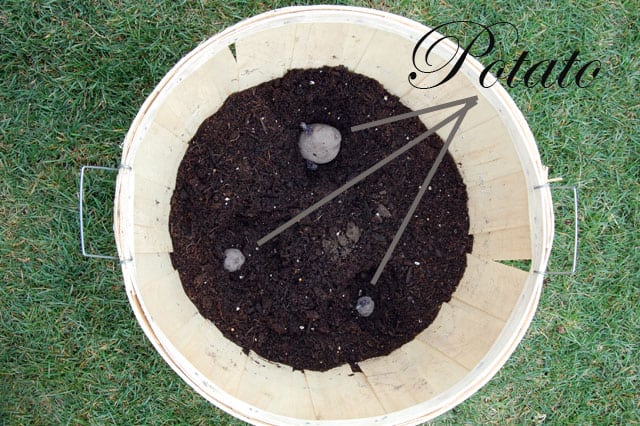 Then push the soil back over them, so they're halfways down in the dirt.  Give them a good water and leave them.  Like most vegetables, they need 6-8 hours of sun a day.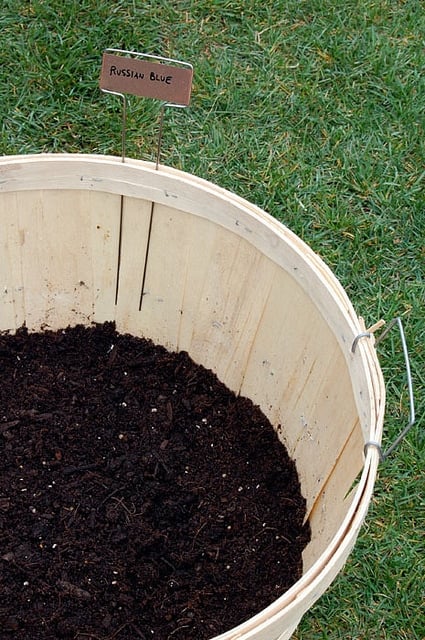 Stick them anywhere you have space and sunlight.  If you just have a balcony stick them out there.  If you have a yard that only gets sun on one side in the morning and sun on the other side in the afternoon, these containers are light enough you can just move them throughout the day.
After a week or two, you'll see the potato plants starting to grow out, above the soil.  Let them grow until there's about 6" - 8"  of growth sticking up.  Then it's time to "hill" them.  You can either do this with more container soil and compost OR you can use partially decomposed straw.  The reason it's better to use partially decomposed straw is because you'll be able to smash it down tighter than fresh straw.  You don't want a lot of air pockets, you want to use a LOT of straw and smash it down.
To hill potatoes just fill in around all the stems and lower leaves of the potatoes with your soil or straw.  Only the top set of leaves should be showing when you're done.
When the potatoes have grown another 6" - 8", hill them again.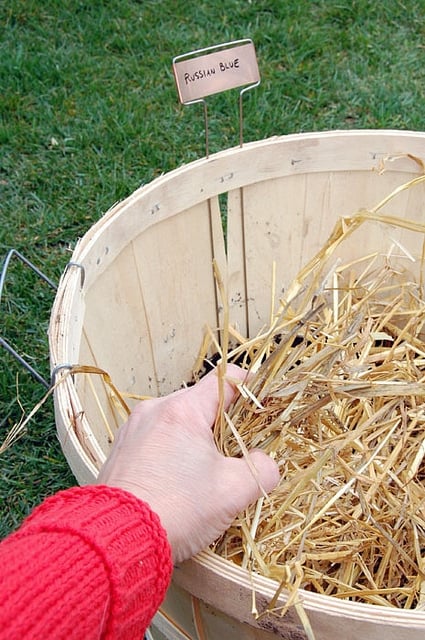 I plan to test all the potato planting methods this year.  I'm doing them in half bushel baskets with straw, like you see here, I'm doing them in half bushels with all soil, and the traditional potato planting method of trenches and then hilling them in a regular garden bed.
Potatoes are fine to plant in cool weather so if you're in Southern Ontario or a similar Zone ⅚ climate ... now's the time to plant potatoes!  I have a LOT of potato planting ahead of me.    But for now, I'm getting kindda hungry.  I'm thinking of making meatloaf for dinner tonight.  With some nice mashed potatoes.  As luck would have it, I happen to be out of potatoes, so I'll have to run to the store to get some.  And yes.  I am going to carry my purse.
→Follow me on Instagram where I often make a fool of myself←