Replacing a screen is easy. This is gonna take you a few minutes and cost around $10.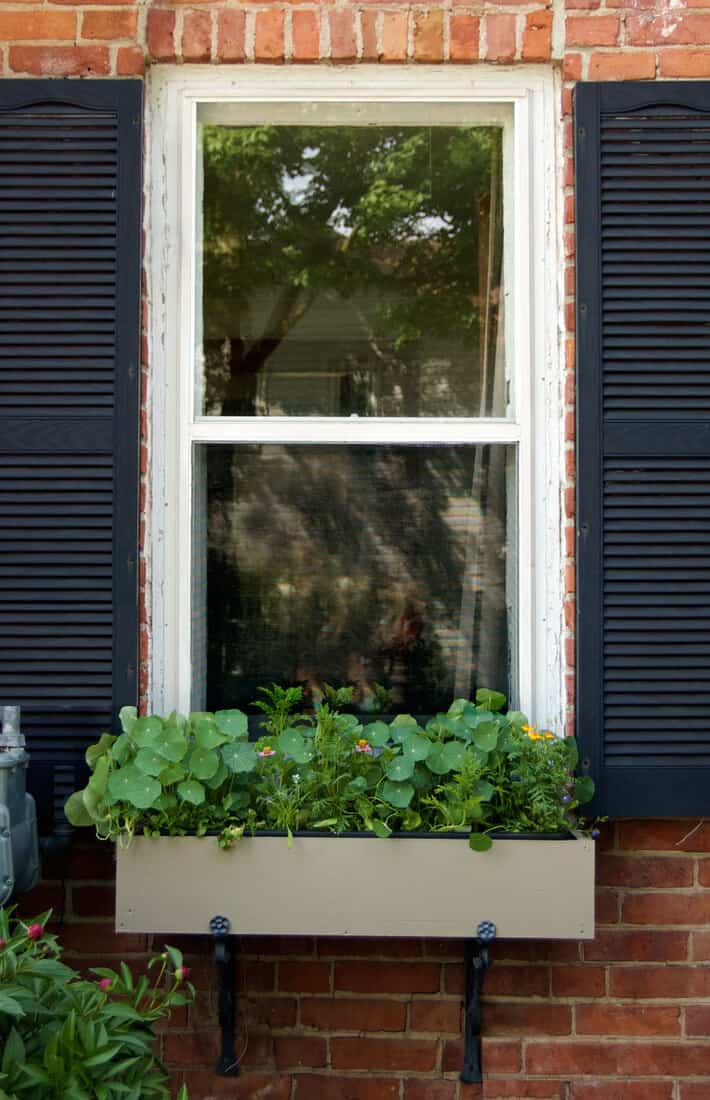 When I first moved into my house and looked into doing a few window screen repairs, I very distinctly remember thinking ... a spline roller?? What is a spline roller and why would ANYONE just happen to own one?
It seemed like a mystical & expensive tool only owned by the very handiest of DIYers. I needed to buy one immediately of course and it's now on my list of tools that any homeowner should have.
As it turns out, a spline roller looks like a glorified pizza cutter and costs about $5. BUT if you want to replace your screens, that little specialty tool is going to save you a lot of heartache.
With it, a utility knife, some spline and some screen mesh I started replacing all the ripped screens in my 1840 brick cottage.
It takes a total of about 10 minutes and 5 tools to replace one window screen.
BASIC STEPS: Remove the old screen & spline, lay new screen over the window, stick one end of the spline in the channel and then run the spline around the whole channel using the spline roller, locking the screening into place.
Done. That's it.
Here we go.
How to Replace a Window Screen
Materials you'll need
Spline (the rubbery rope used to hold the screen in place)
Scissors
STEP 1. Remove the old screen by pulling out the old spline and then the screen. If it's in good shape you can reuse your old spline.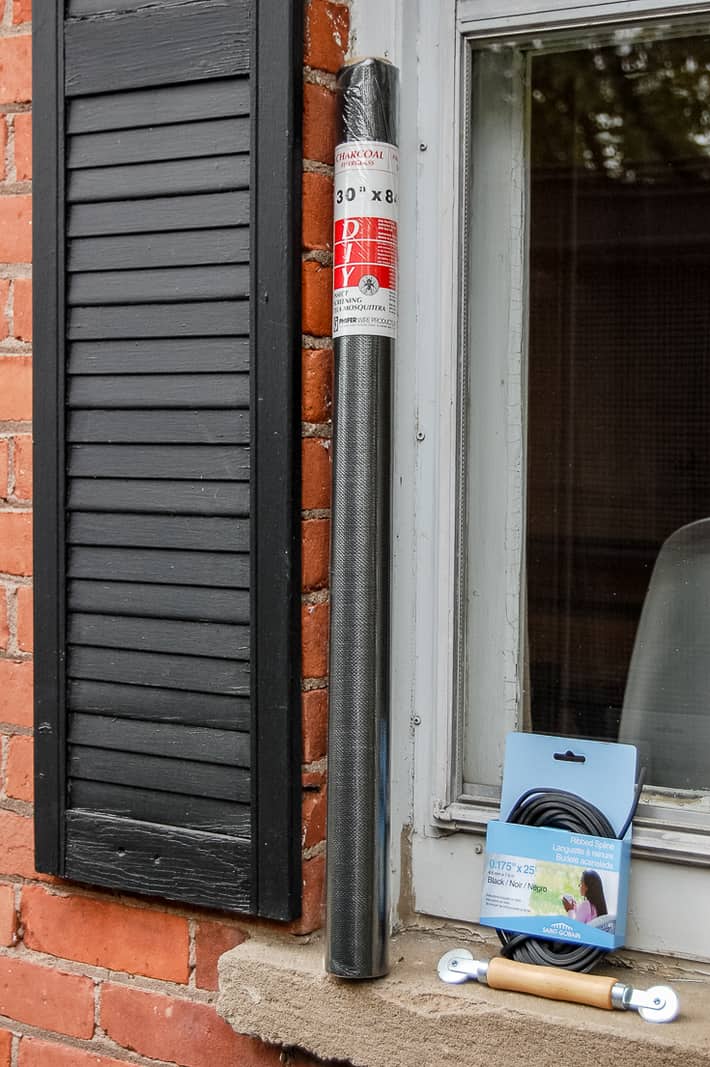 TIP: MAKE SURE YOU BUY SCREENING THAT'S WIDE ENOUGH TO COVER THE WINDOW YOU'RE WORKING ON.
STEP 2. Unroll your screen to estimate how much you need. Cut it off so you have a couple of extra inches all around the window.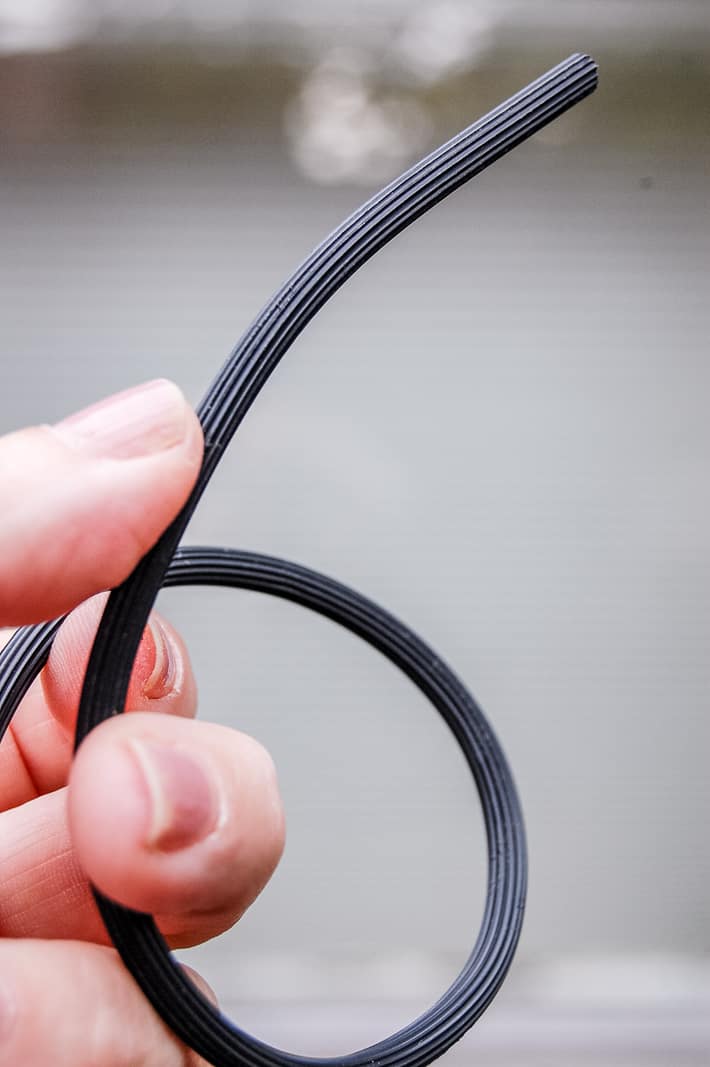 STEP 3. Grab your new spline and cut it a few inches longer than the spline you removed. The spline will be pushed into the channel when you push it in place with the spline roller.
STEP 4. Hold your screen up to the window and stick the end of your spline into the corner of a channel at the edge of the frame. Push it in tight with the tool. Holding your screen tight WITHOUT stretching and then roll the spline roller's grooved side along the spline, pushing it into the channel.
Here I've started with the upper right corner of the window.
Continue to push the spline in with the roller all around the window until you end where you started. Trim the spline.
Be careful when using the tool. It is sharp and if you aren't careful with it you'll cut your screen and have to start all over again.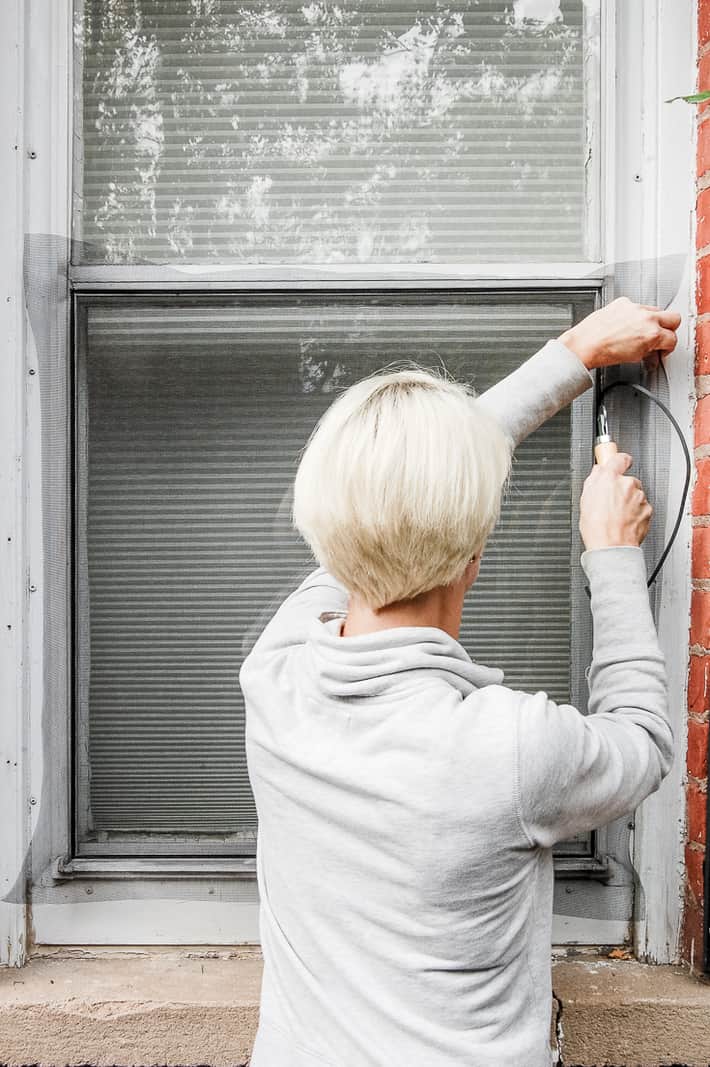 TIP: Make sure you're always holding the screen tightly so your finished product will be tight. Not loosey goosey. This is a window screen, not a caftan. You want it tight.
STEP 5. Using the box cutter, trim the excess screening away.
YOU'RE DONE.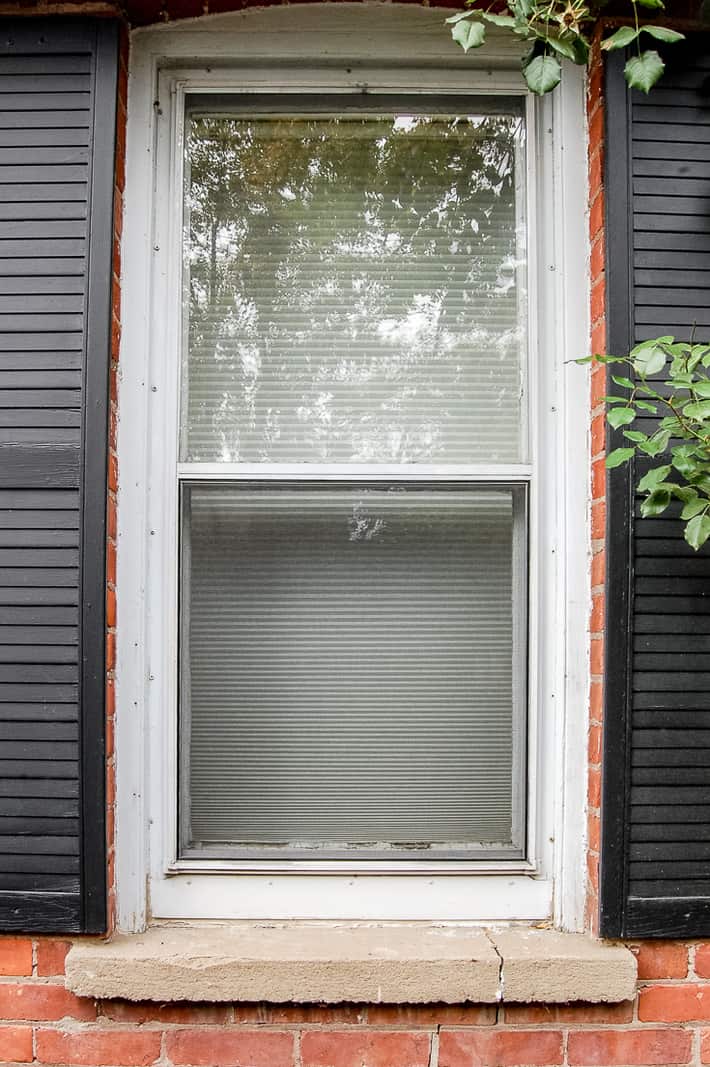 ---
The Materials
Screening
Window screening is either aluminum or fibreglass.
Aluminum screen is visually more noticeable and stronger however it's a little harder to work with and you only get one shot at installing it because once you push the spline in, it bends the screen which can't be flattened again.
Fibreglass screening is black, almost invisible but cuts and tears more easily. You can redo and replace the screen as many times as you like until it's perfect.
Spline
Spline is the ribbed, rubber rope that holds the screen in the window. It's about $5 for enough to do 2 windows. It comes in different sizes, but I've honestly never paid attention to the size. It squishes so there's very little chance if you got the wrong width that you won't be able to make it work.
The spline roller
The spline roller is just a gadget with one grooved end and one smooth end that's used for pushing the spline into the window frame. You can get it any hardware store. You roll it like a pizza cutter.
Do yourself a favour and get one of these because even though you may have never heard of it and therefore it kind of scares you, it's a lot easier to do any job if you have the right tools. They're $5.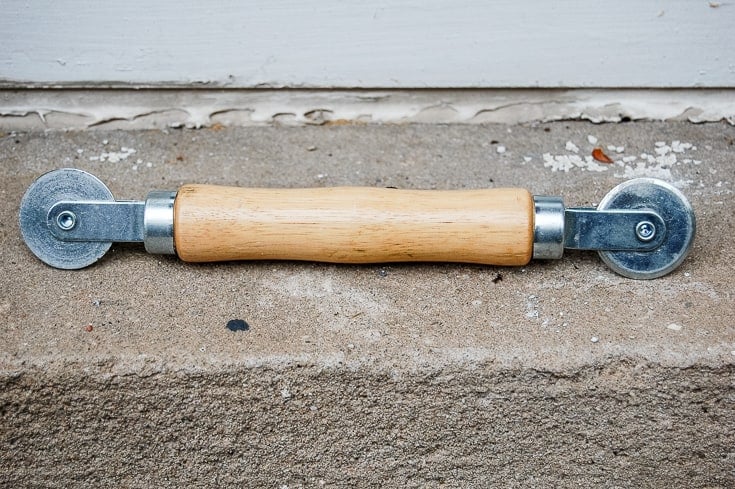 Why do I need a box cutter?
The box cutter is used to cut the excess screen away from the window when you're done. You can try to use scissors but you won't get a nice close cut.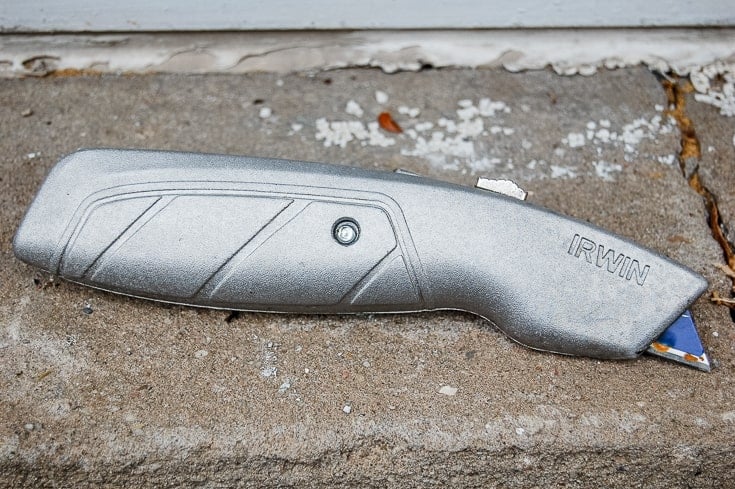 Scissors
If you don't know what scissors are it's probably because you're a danger to yourself or others. It's best you keep away from them and windows in general.
---
The same principal works for all window screens, old or new. This is also the method you would use to fix a ripped screen door.
Technically you're supposed to take the screen out and lay it on the floor to do this job, but my screens don't come out and frankly, it's just as easy to do it while it's up.
Now that you're feeling pretty good about your DIY self, I'd like to direct you to this post that explains how to use a plunger and how to identify the difference between a sink plunger and a toilet one.
---
This is the perfect example of a job that's really easy to do but only if you have the proper tools. You NEED to get the spline tool. You only need to buy it once and you'll use it over and over again.
My cat for instance lays in a window and is constantly pushing the screen out at the bottom with her enormous cat feet. Every once in a while I just go outside with my spline tool and push the spline back in.
All without needing to call anyone, wait for anyone or pay anyone. And you can do the same.
Unless you live in a high rise.
→Follow me on Instagram where I often make a fool of myself←