First off, if you came here from Google may I say I'm sorry you had to look this up. Because if you're Googling how to plunge a toilet, today is not a good day for you. If you came here some other way then pay attention! The day will come that you too are going to need to unclog a sink or a toilet.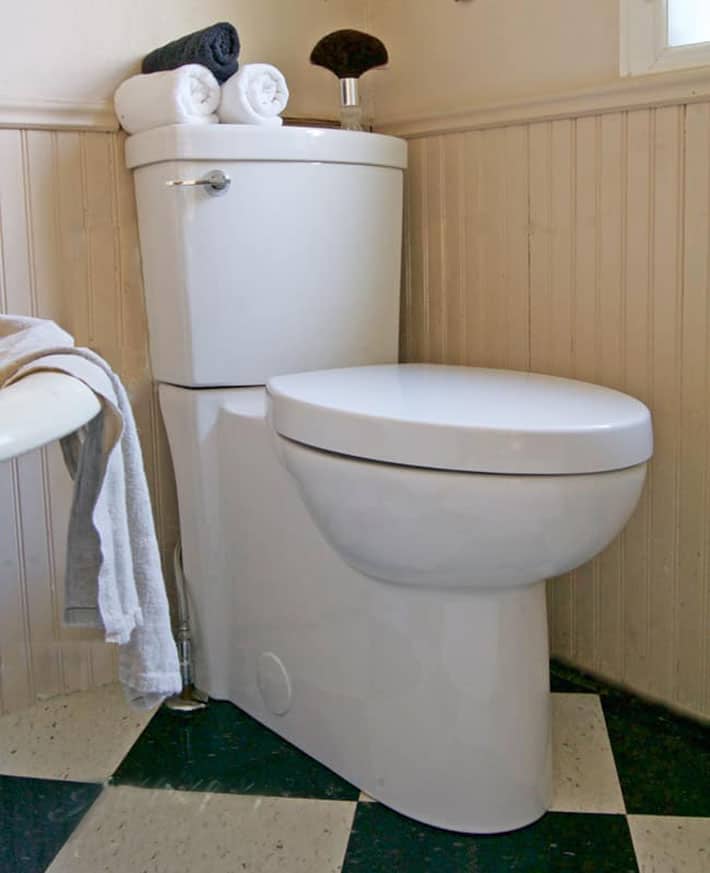 Skip right to the instructions if you're currently being chased by poops.
I am picturing, as I write this, what poor soul is possibly Googling how to unclog a toilet. Whomever it is, their heart rate is on par with a hummingbird and they're wavering between fight or flight mode; locked in a strange bathroom with only a smartphone, a plunger and an implausible escape plan.
Sink Plunger VS Toilet Plunger
Since this is obviously an emergency I'll get to the most important information immediately. THIS below is not a toilet plunger.
Honestly. It isn't! So if you have this thing sitting beside your toilet it's really just decorative.
This happens to be a sink and shower plunger. Meant for clogged sinks and showers, not for a clogged toilet.
This is what a toilet plunger looks like.
Here's the difference between a sink and a toilet plunger.
A Sink Plunger
A sink plunger has a flat bottom and is shaped like a shallow cup. In fact, it's also called a cup plunger. It's usually the unappealing colour of a pencil eraser. The flat cup bottom will suction onto the flat bottom of your tub or sink. You can buy a sink plunger for around $3.
You should replace your sink plunger every so often because this type of rubber will get dry and brittle over time which causes it to crack. If your sink plunger is cracked you won't get proper suction from it.
---
A Toilet Plunger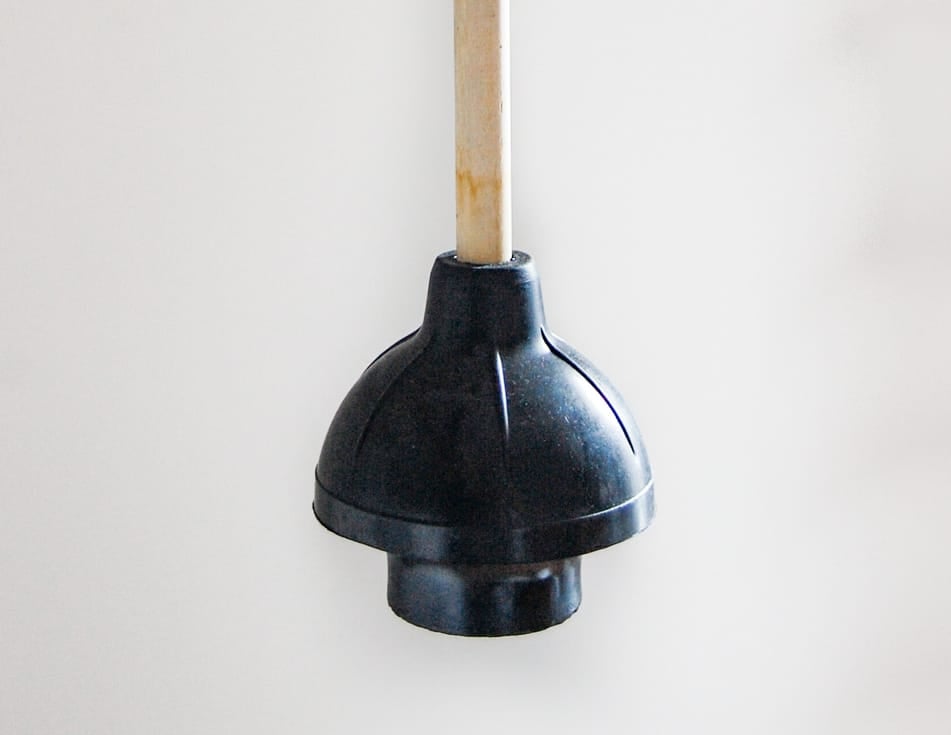 A toilet plunger has a flange at the bottom and it's shaped like a bell. It's also called a flange plunger and is black. The flange gets inserted into the large drain of the toilet while the bell portion rests on the bottom of the toilet bowl. Toilet plungers cost less than $10.
When you see a toilet plunger in the hardware store the bottom cup is usually pushed up into the top bell! So you'll look at it and think … hmm … this doesn't look like what Karen said a toilet plunger looks like. It is. Just flip it over and pull out the flange. This is probably why a lot of people don't even know this type of plunger exists.
---
Alright, a toilet is burping feces at you. What do you do? Scream in horror? That's pointless. You need to get ahold of yourself and deal with this shit show. You need to woman up and learn how to use a plunger.
How to Unclog a Toilet With a Plunger
Turn the water to the toilet off. You can find the toilet water supply line near the back of the toilet tank.
If there's no or very little water in the toilet, add water to the bowl until it's half full.
Insert your plungers rubber cub into the offending toilet over the toilet drain.
Tilt the plunger so it expels the air and fills with water.
Once you've expelled the air in the plunger, position it over the drain and press it down slowly to get rid of the last bit of air in it.
Plunge the toilet with quick, short up and down strokes.
Your goal is to break up the clog or bring it back into the toilet as opposed to just pushing it through. Your "up" pull is just as important as your "down" push for clearing the toilet clog. Isn't this gross?
Once you hear the toilet starting to suck, you'll know you've unclogged it.
Turn your toilet water back on.
Go yell at your kids/husband for clogging the toilet. Even if it was you who did it
---
How to Use a Sink Plunger
Sink clogs aren't nearly as terrifying as toilet clogs, but they still need to be dealt with.
Cover the overflow drain if there is one. Just pack it with a towel or wet rag. Doing this helps force the air down into the drain where you want it to go.
Place the sink plunger cup directly over the drain and push it down sloly to press out any air from the cup and create suction.
Plunge in short quick bursts for 30 seconds at a time.
Release the suction and check to see if the you've unclogged whatever horrifying thing was in the drain.
Continue until the sink drains freely.
---
TIPS
Don't plunge a toilet or sink right after using a drain cleaner. They have pretty harsh chemicals in those things and if they splash back when you plunge can burn you. If you have no other option, be VERY careful and wear gloves and eye protection.
Don't have a sink plunger? You can turn your toilet plunger into one by just tucking the flange back into it.
To help prevent clogged drains in sinks and the bathtub, once a month fill the tub or sink with water completely, then release the drain. This creates a great force of water that helps push away debris.
No Plunger? You can sometimes unclog a toilet without a plunger.
If you have a clogged toilet, and God help you, DON'T HAVE ANY PLUNGER, you can still unclog your toilet. Maybe.
How to Unclog your Toilet without a Plunger
Fill a bucket, trashcan, or anything you can find several cups of hot water. Not boiling, just hot.
Quickly pour the water into the toilet. The pressure from the water and the heat of it will help the clog release.
You can do this a couple of times, but you might have to remove some water from the bowl in between times to prevent overflowing.
---
STILL have a clogged toilet? Try snaking your drain. But if you don't have a plunger, chances are you don't have a drain snake. You should. You can get this one on Amazon, or actually put on your shoes and support a local hardware store.
Pick up a plunger while you're at it.
---
If you constantly get issues where your toilet doesn't seem to be flushing completely or it just seems weak, it's probably the fault of your toilet. It's not strong enough. Toto and American Standard toilets are both great and easy to install.
No, seriously, you can install your own toilet. Read my post about when I installed a new toilet to see how easy it actually is.
They say before you die your life flashes before your eyes. I can tell you that doesn't happen when your toilet overflows. Instead, what flashes before your eyes is every possible person that could conceivably appear at your door at the very moment you're trying to corral poop with a makeup bag. Your neighbour, your mother, a friend, the grocery store clerk who once mentioned 3 years ago she'd like to see your house, Steve Buscemi, the Pope, Madonna. ANYONE COULD WALK THROUGH THAT DOOR.
Now you not only know the difference between a sink and a toilet plunger but you know how to use them. YOU are a rock star. It's no wonder Madonna visits you.
Have an overflowing toilet horror story? Tell us all about it in the comment section. Still have feces chasing you across the bathroom floor? Call a plumber. And then come back and tell us the story.
→Follow me on Instagram where I often make a fool of myself←