Screen printing at home isn't as hard as you might think. If super-high hippies can do it then you can too. It's an easy technique, and kind of the gold standard of DIY.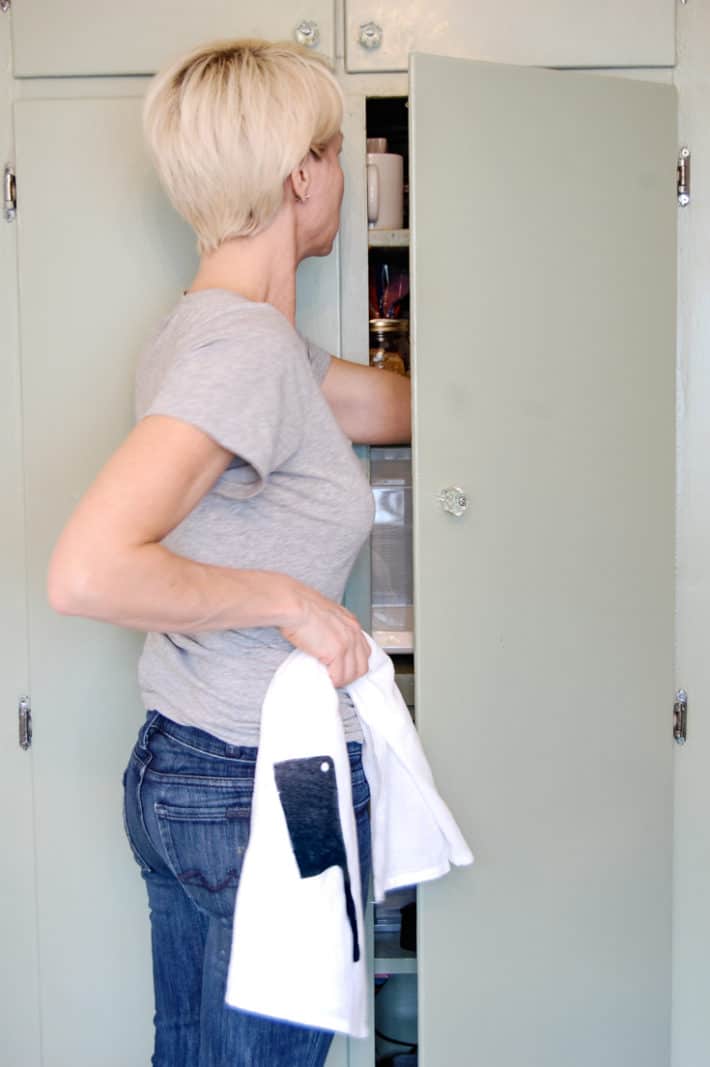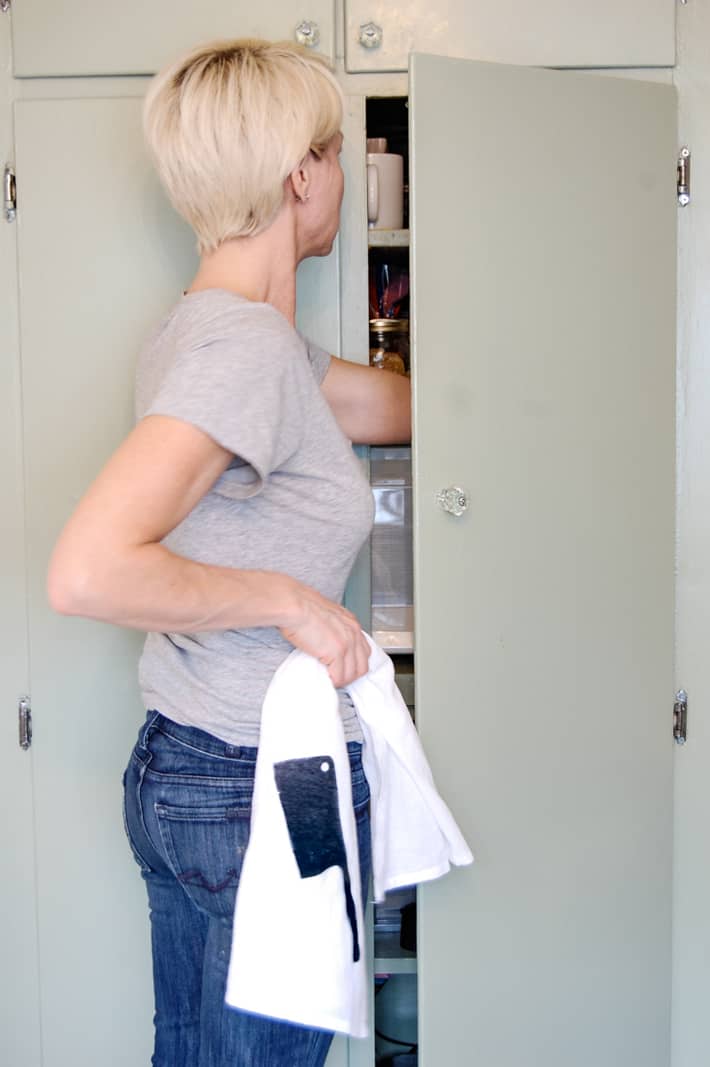 You want to try screen printing. Or at least see how hard it is. Rest easy.
As long as you have a 250v generator and a counterfeiting machine in your house you'll be good to go.
Just kidding.  You will need a few things though like a screen, fabric paint, emulsion ... it's all in the post.
I've printed onto tee shirt blanks, flour sack tea towels, and even wood over the years and you can too.
How to Screen Print at Home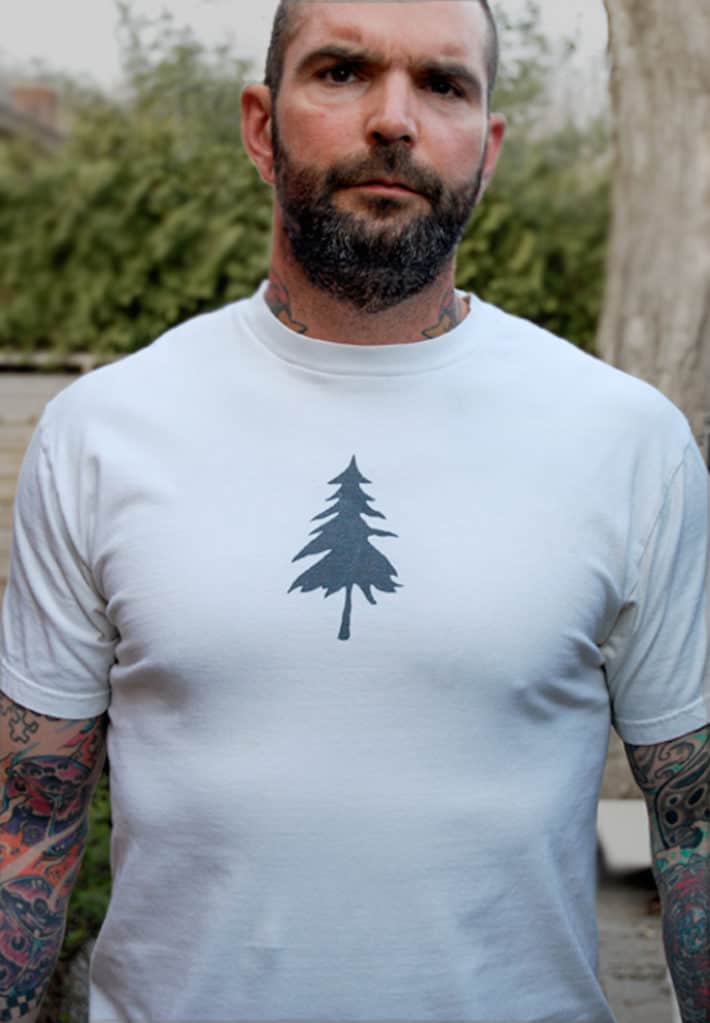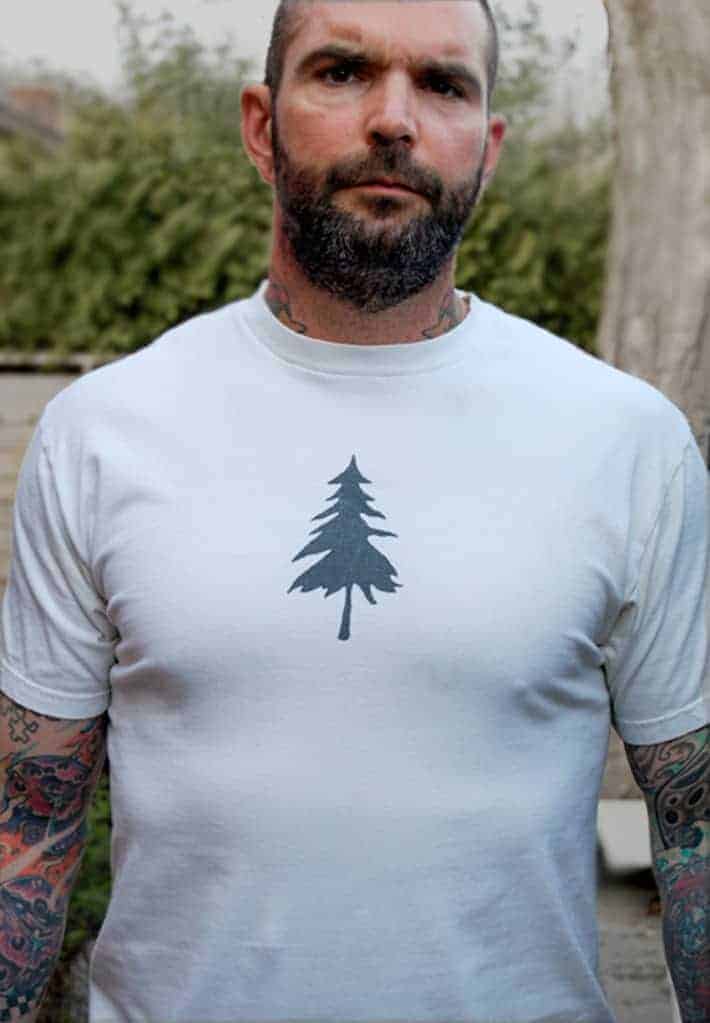 In this how-to I'm going to show you:
How to make your own screen printing frame.
How to burn an image onto your frame.
How to use your frames to screen print on any fabric.
The Basics of How To Do it
Screen printing is a series of steps:
picking an image
burning that image onto a framed screen using light sensitive photo emulsion
finally the actual process of running a squeegee down the screen, pushing ink into the fabric underneath (and running in circles with joy.)
You can make this as DIY as you want. I made everything that I used in this tutorial, but you can make screen printing even easier by buying the things that I made.
---
Materials
Click below to buy the item. At the bottom of the post there are links to buy an entire Screen Printing Kit which is the most economical way to try this little hobby out.
150 watt lightbulb (or LED equivalent)
2 pieces of glass (like those from a cheap picture frame)
---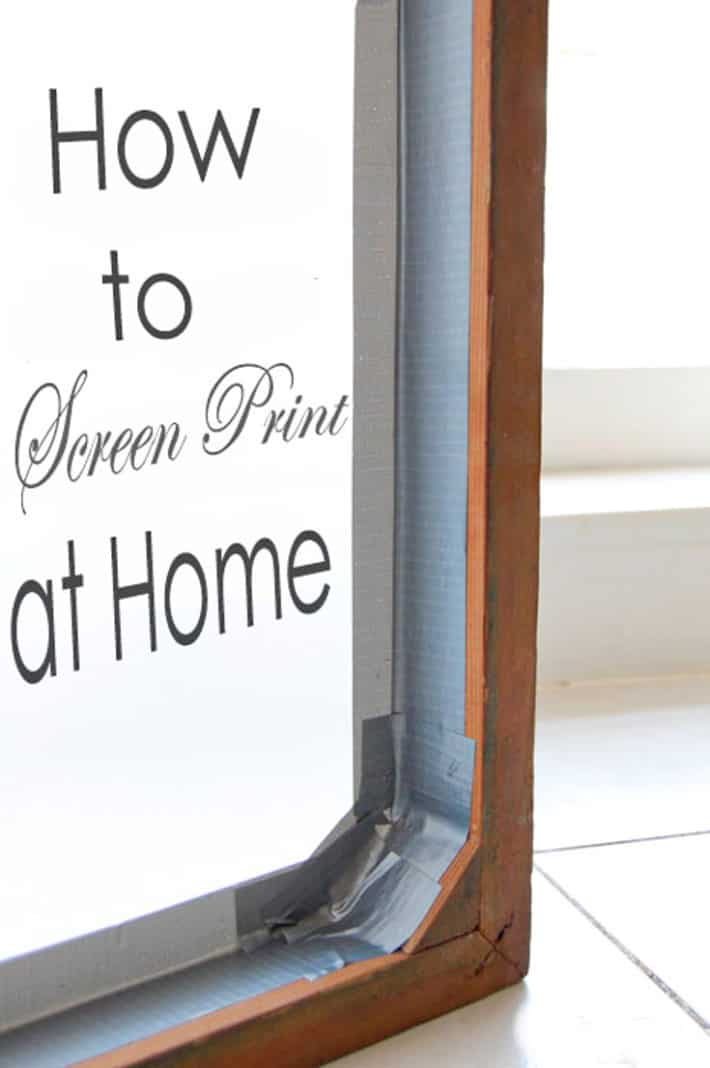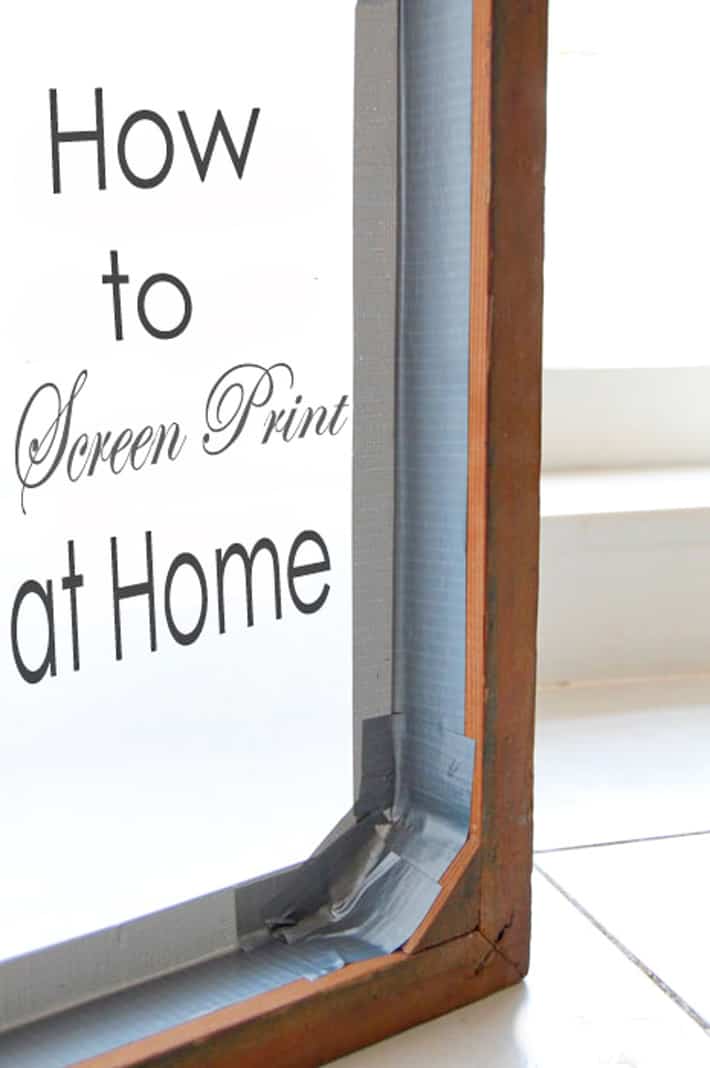 Pick & Print an Image
These are your basic steps on how to screen print. I'll have a full step by step tutorial at the bottom of the post.
---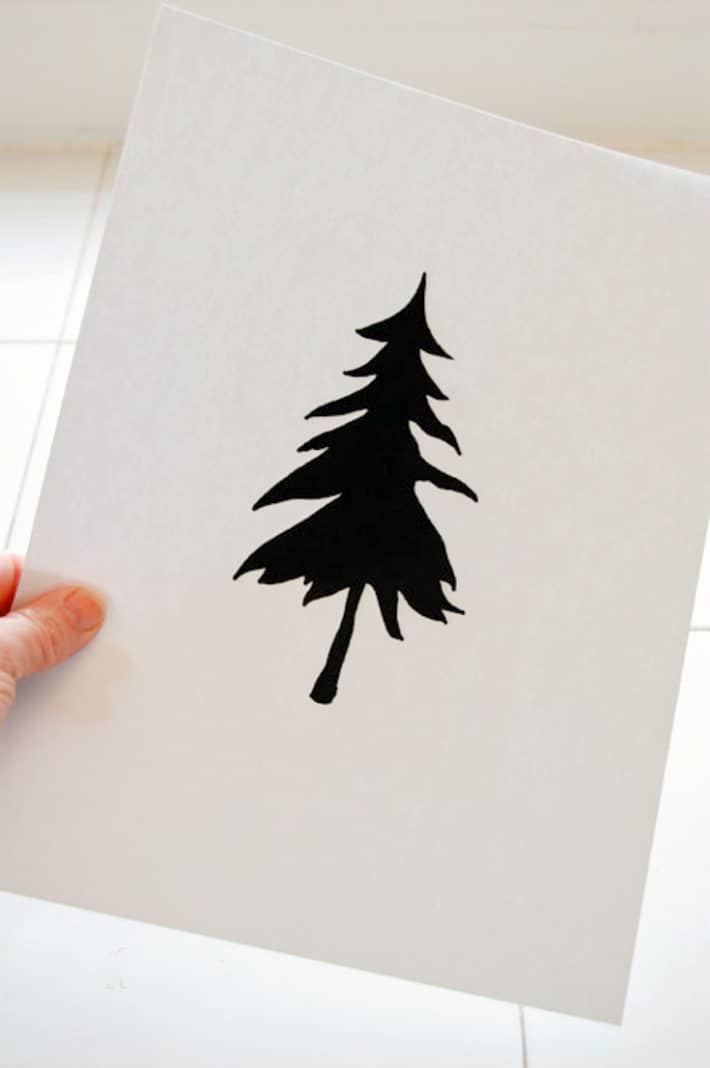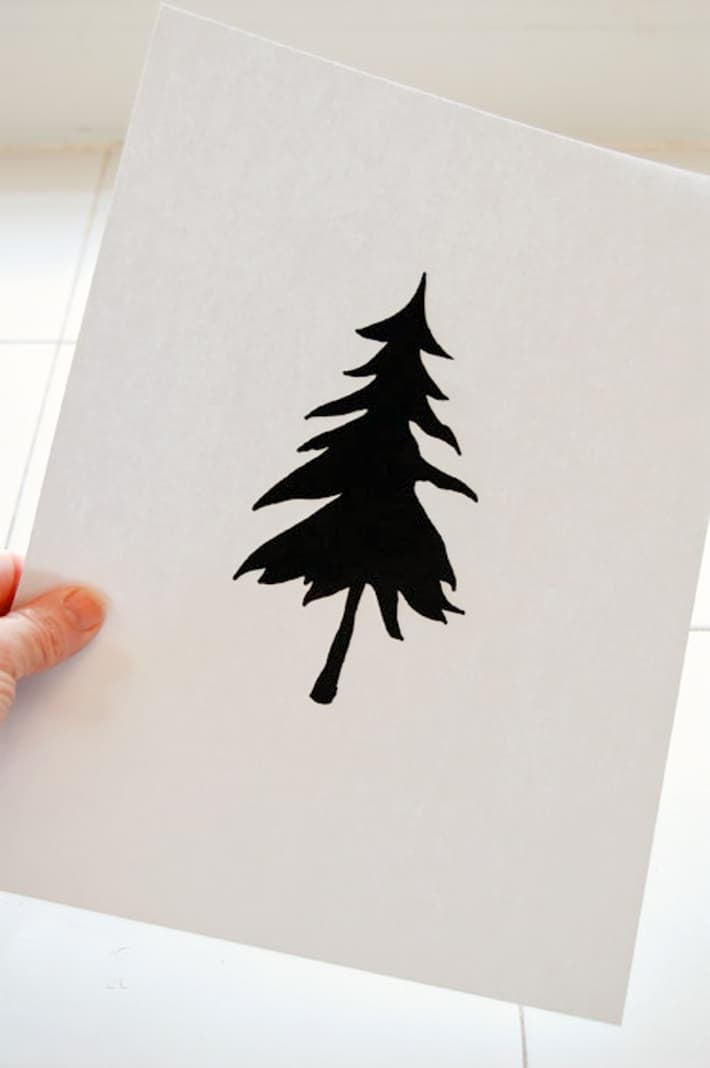 1. Decide on an image you want to print. For this tutorial I'm using a basic tree. For your first screen printing subject try something that's just a silhouette and one colour. Something like my tree or simple lettering is perfect.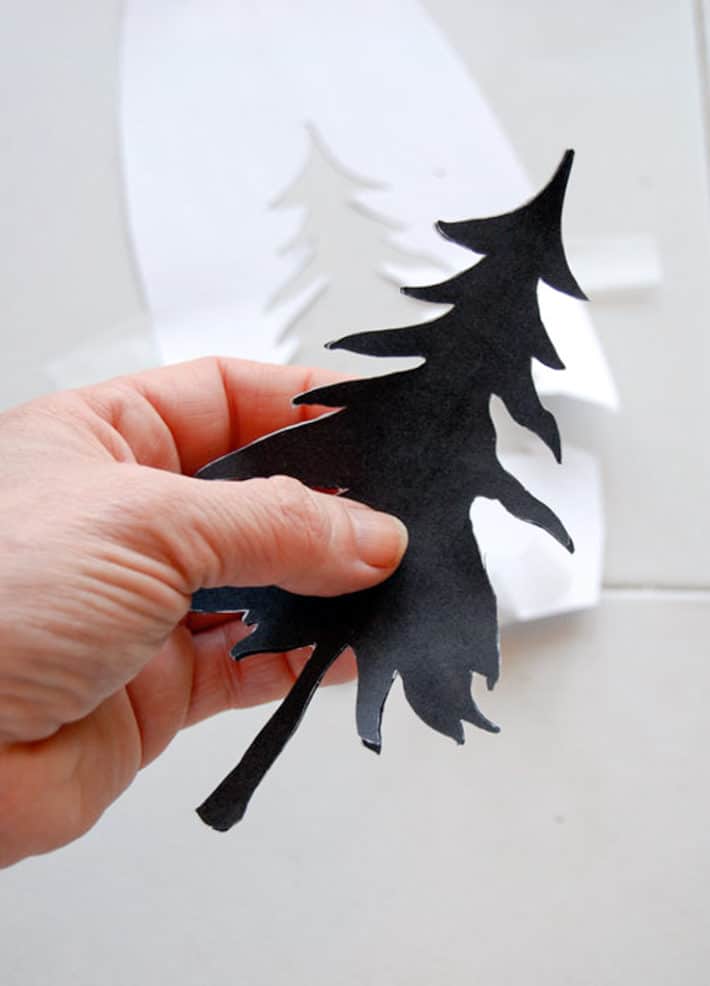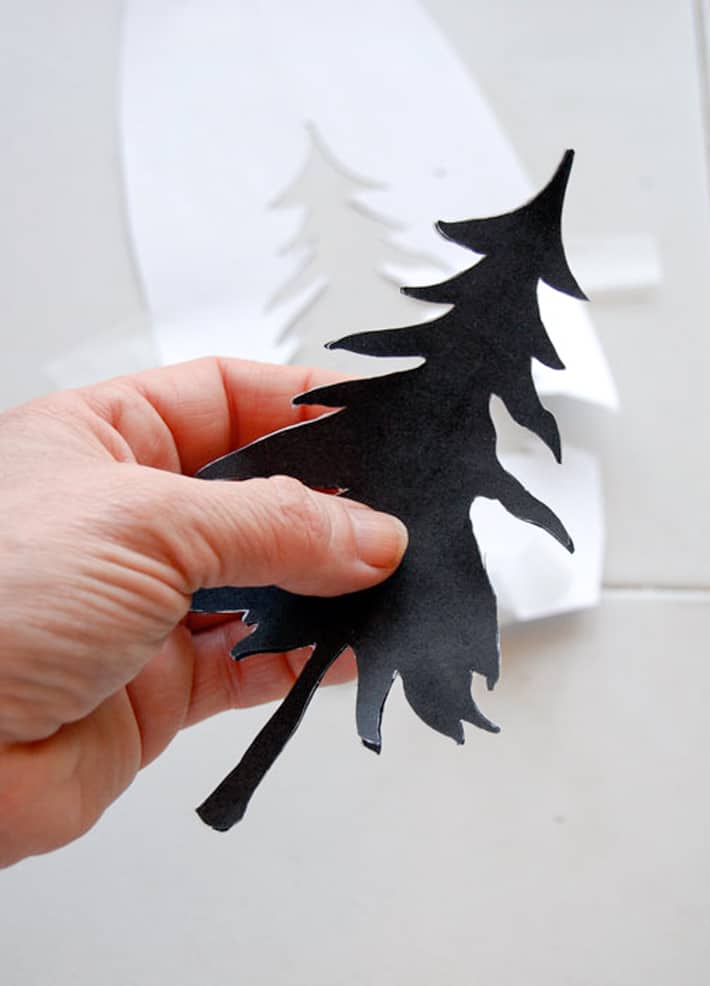 2. Print your shape or letters onto a regular piece of paper. You can also print it on transparency paper but that's not necessary until you get to more detailed images. Carefully cut out the image with an Exacto knife.
---
TIP
When you get into more detailed images you'll want to invest in the transparency paper which you can buy on Amazon or at Staples. The image you print has to be OPAQUE because it needs to block all light from going through it.
If you're unsure as to whether it's dark enough, hold your image up to the light. If light comes through, it isn't dark enough. Either print another copy and double them up on top of each other, or colour in your paper with a black marker.
---
Make a screen printing frame
Now you need to grab your frame. A screen printing frame is a wood or metal frame with "silk" on it. The silk is actually polyester. I recommend you buy your screen and frame pre-made, but you CAN make your own by stapling "110" polyester mesh to a square wood frame.
You can buy 110 polyester mesh on Amazon or at a craft or art supply store store.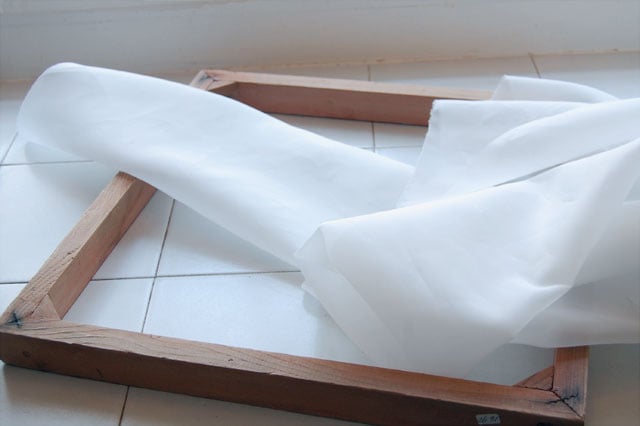 To make your own screen printing frame screw 2x2's into a frame. It doesn't need to be perfect, just solid and flat. This isn't the time to use up your warped wood.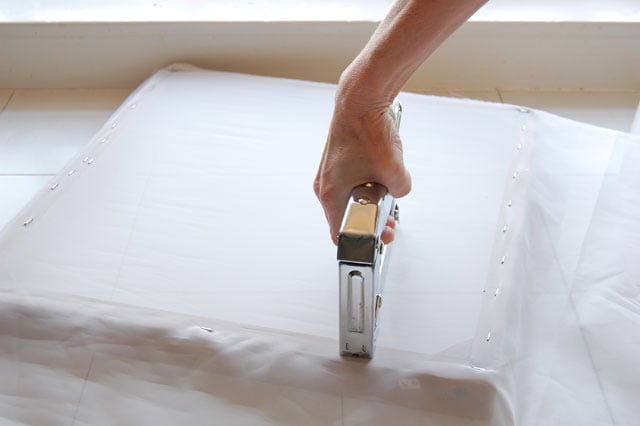 Then you staple your "silk" onto it so it's very tight.

To apply the silk just use a regular staple gun. Pull it tight, but not so tight that the silk rips through the staples. You can also fold the silk under so it isn't as likely to rip.
---
Make sure your staples are pressed right in because your screen needs to lay flat when you flip it over. Staples that aren't pushed right in will make the screen wobble.
---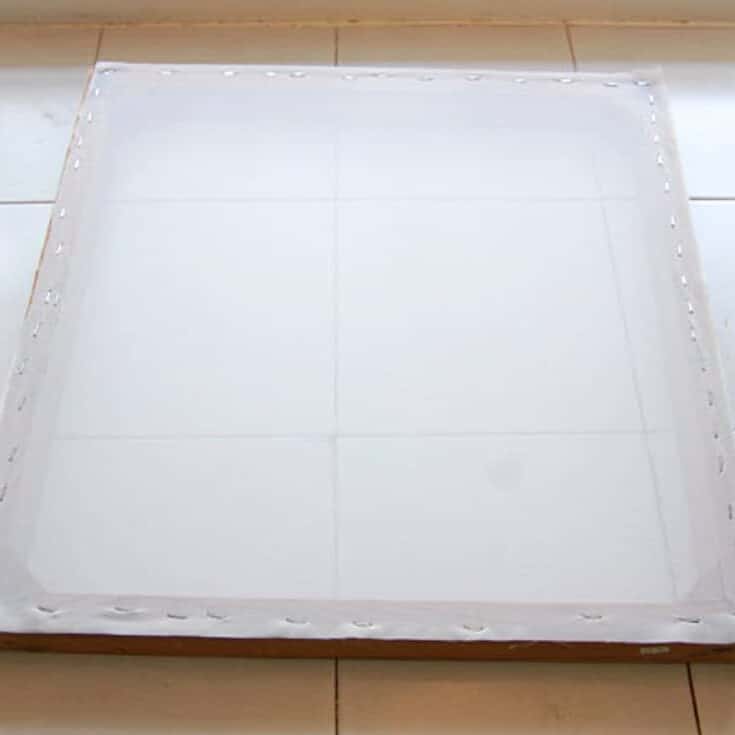 Once your screen is stapled, trim the edges.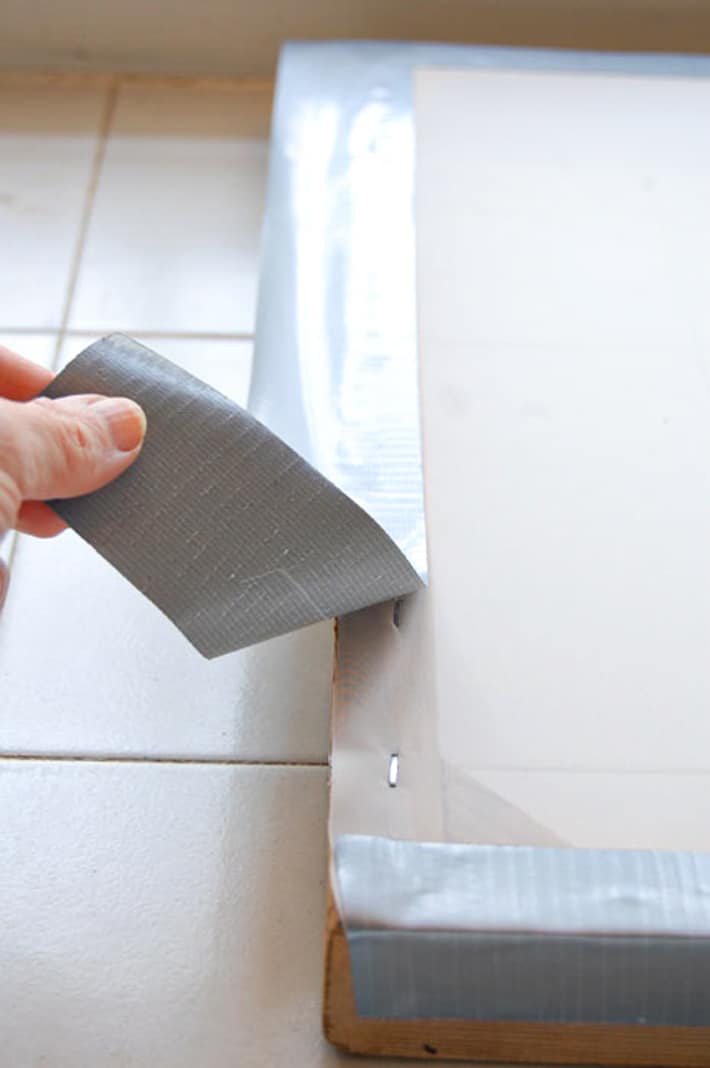 Tape the outside and inside of the silk so paint can't drip through. USE PAINTER'S TAPE. It's the best choice. I was out and had to use duct tape. (not a great alternative but it will work)
---
Prepare and Burn Your Screen
Preparing and burning your screen is a 4 step process:
Painting the screen with emulsion (done in a completely dark room) and letting it dry for a couple of hours.
Placing your cut out image onto the prepared screen once dry.
Turning on a light to cure all of the photo emulsion. The emulsion on the screen that is exposed to light will become permanent. The emulsion that's UNDER the image you printed won't receive any light, and will be washed away at the end of the screen burning.
Get your screen, squeegee and mix your photo emulsion according to the package directions.

(photo emulsion comes in 2 parts, one bottle of emulsion and 1 bottle of activator)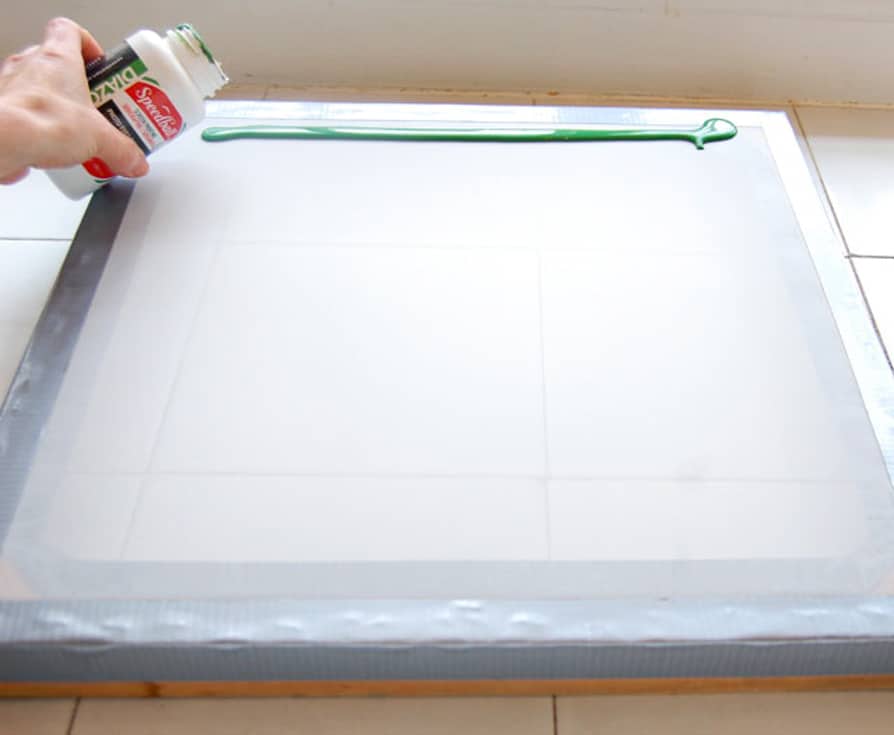 In a dark room, run a bead of emulsion across the top of your screen.


The photos of the process were taken in a bright room so you can see what I'm doing.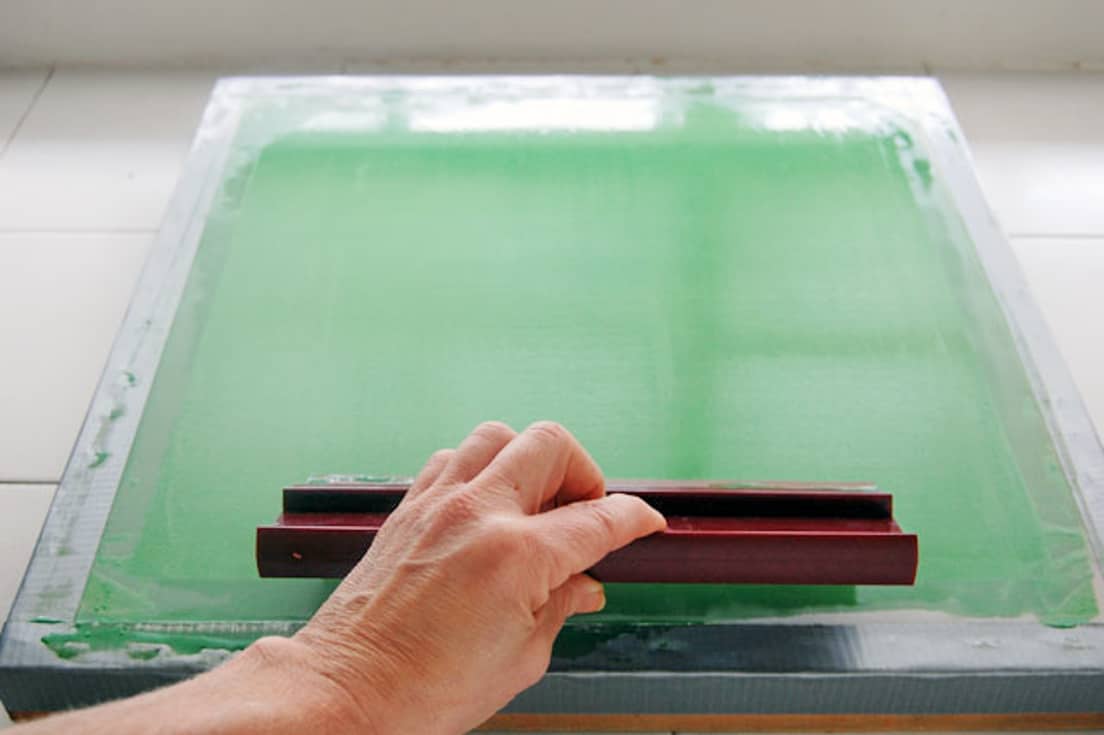 With your squeegee, draw the emulsion down over the entire screen on both sides. You want the thinnest coat possible. Make sure you have a nice even coat, but work quickly. Do one side, then the other and then immediately put the screen in a dark area to dry.
Work quickly if you're in an area that has light so the emulsion doesn't start to cure. As soon as you have covered the screen get it into a dark room to dry.
WARNING: You need a completely dark room for your screen to dry in. I do my screens in a closet with no windows then I hang a towel on the door so no light can come in any cracks.
Set the frame down horizontally, not vertically in a completely dark room to dry. Depending on how thin you put your emulsion on, drying will take 1-3 hours.
(update: Since taking an advanced screen printing course I've learned you can also turn a fan on low pointed at the screen to speed the drying time. With a fan it will take around half an hour to dry)
---
Exposing Your Screen
---
Once the screen has dried you can now transfer the image you want to screen print onto it. THIS is where people usually get stuck because most tutorials recommend you use a lightbox. You DON'T NEED A LIGHTBOX.
The easiest way for you to expose the screen if you're just starting out is with a 150 watt lightbulb. This can be a regular 150 watt incandescent bulb or a 20 watt LED bulb which is the equivalent.
---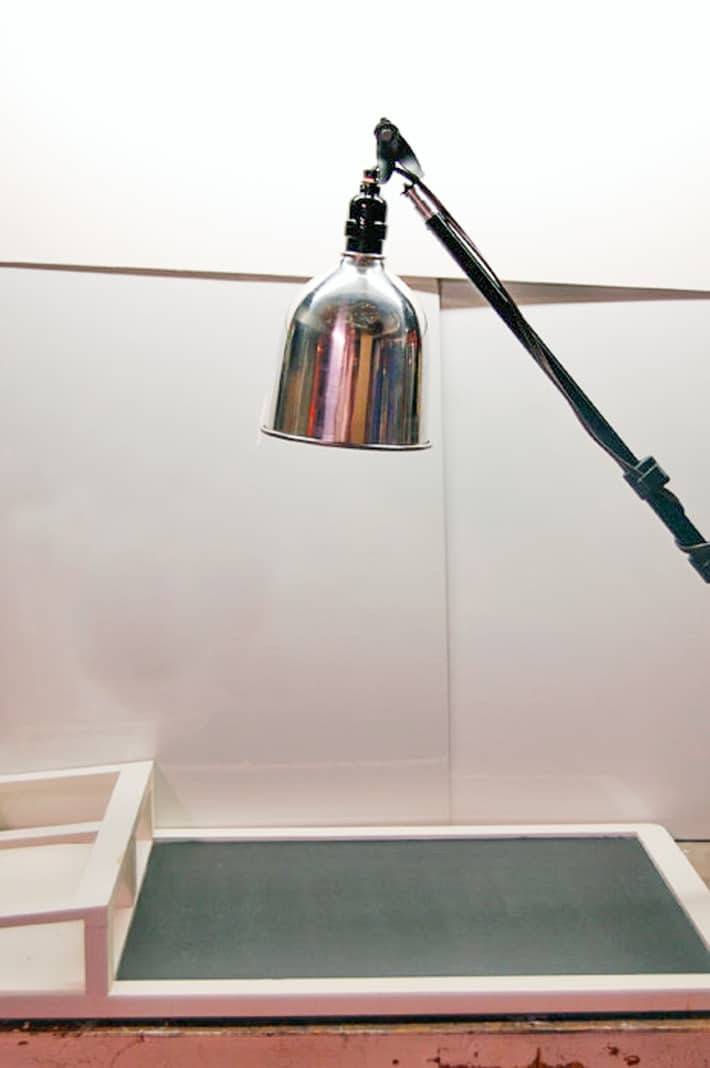 Your photo emulsion jar will tell you how long you should expose your image depending on the size of your screen. It will also give you the distance your light source should be from your screen.
---
I've rigged up one of my photography lights to use as my light source. It has a reflector on it, so this helps focus the light where I want it - on the frame, instead of spilling out to the sides.
If you do not have a reflector to concentrate your lightbulb you can either McGyver one out of a tin pie plate, or expose your image for 3 minutes longer.
You also need something that's matte black to put your screen on for the exposure. I've used an old chalkboard. A black piece of cardboard or bristol board would work well too.
1. Place a light with a 150 watt incandescent lightbulb or a 20 watt LED bulb shining down onto a black matte surface. Bristol board would work well.
2. Carry your prepared screen over to your light area. Keep the screen covered with a towel to prevent light from hitting it until the second you're ready to expose it.
3. Place the prepared screen on your black matte background. The "back" of the screen (the non recessed part) will be facing up.
4. Place your cut out (or transfer paper printed) image onto the screen IN REVERSE.
TIP
Hold the image in your hand so you're looking at the image how you want to see it on your tee shirt, then flip it over and place it on the screen.
5. Place a clean piece of glass over the image to hold it tight against the screen.
6. Turn your light on. Expose for the required time.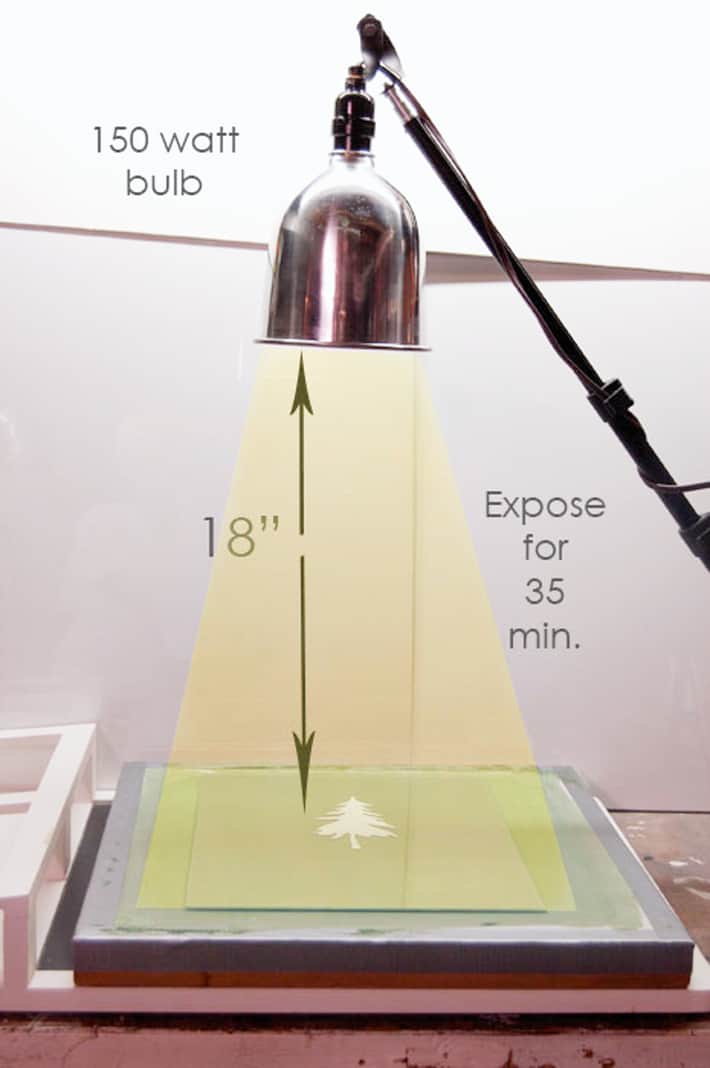 You'll notice my tree image looks white now. That's because I've flipped it over and the dark portion of it is now touching the screen.
Because of the screen size my image required 35 minutes of exposure with a 150 watt lightbulb set to 18" away from the image. Yours may be different, but if your screen and image are around the same size as mine this exposure time and distance should work for you too.
Set your timer and leave your image alone. Don't push, prod or bother it. Just go away and forget about it.
Once the time is up, remove your glass and paper cutout (or transparency if you're using one). You'll see a faint image right away.
All of the emulsion surrounding your image is now cured hard. The spot where your image covered it up has not been cured and therefore will wash away.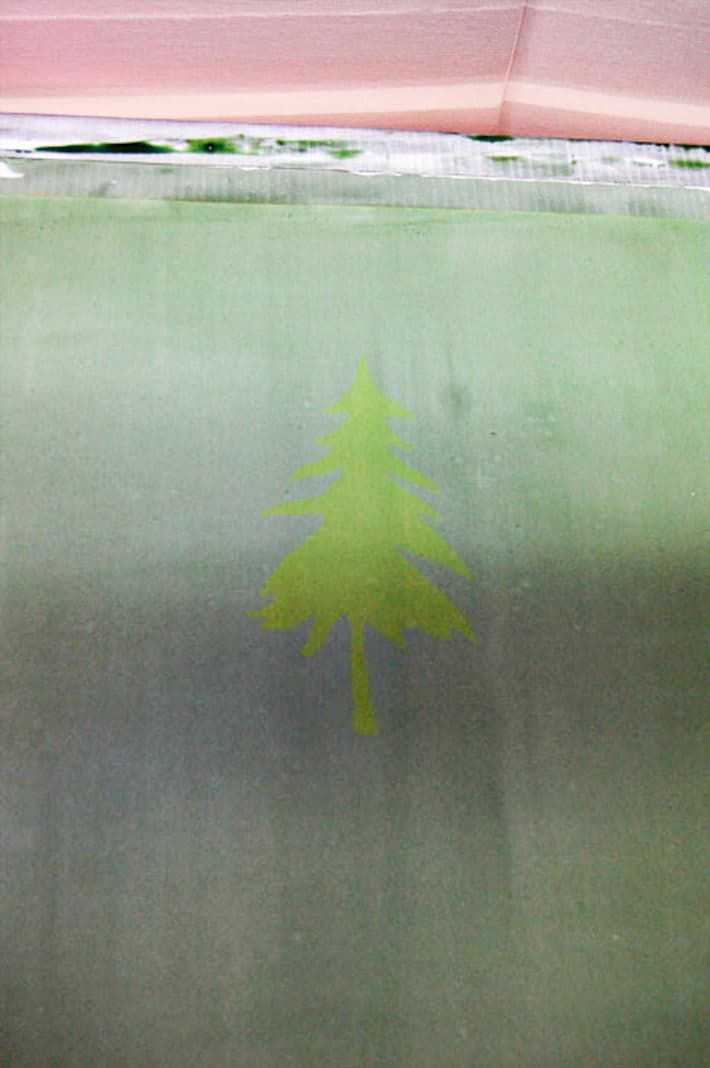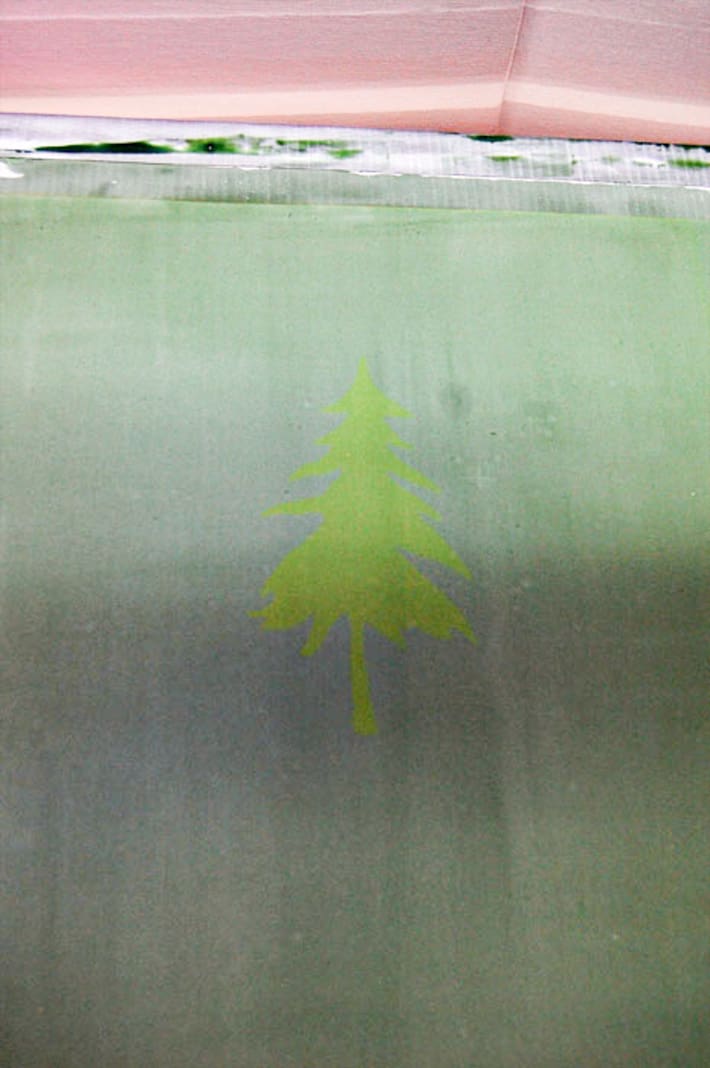 7. Wash your screen with any high pressure tap. Your shower head or outdoor garden hose work well. Spray the screen with luke warm water focusing on the image area. Not hot, not cold.
Just keep spraying and eventually you'll see the image start to appear more and more as the emulsion washes away. You've just made your first silkscreen. You're very impressive. Eat a cookie.
---
How to Screen Print (the fun part)
---
NOW IT'S THE FUN PART! You're going to lay your tee shirt (or whatever) out, place your newly burned screen onto it, run a line of paint and squeegee your first item. It's all very exciting.
Video
Since this is your first time and maybe you don't have your technique down perfectly yet, plan to do a few test runs before. Practice over and over on an old tee shirt until you feel like you've got it under control. THEN move onto your real tee shirt.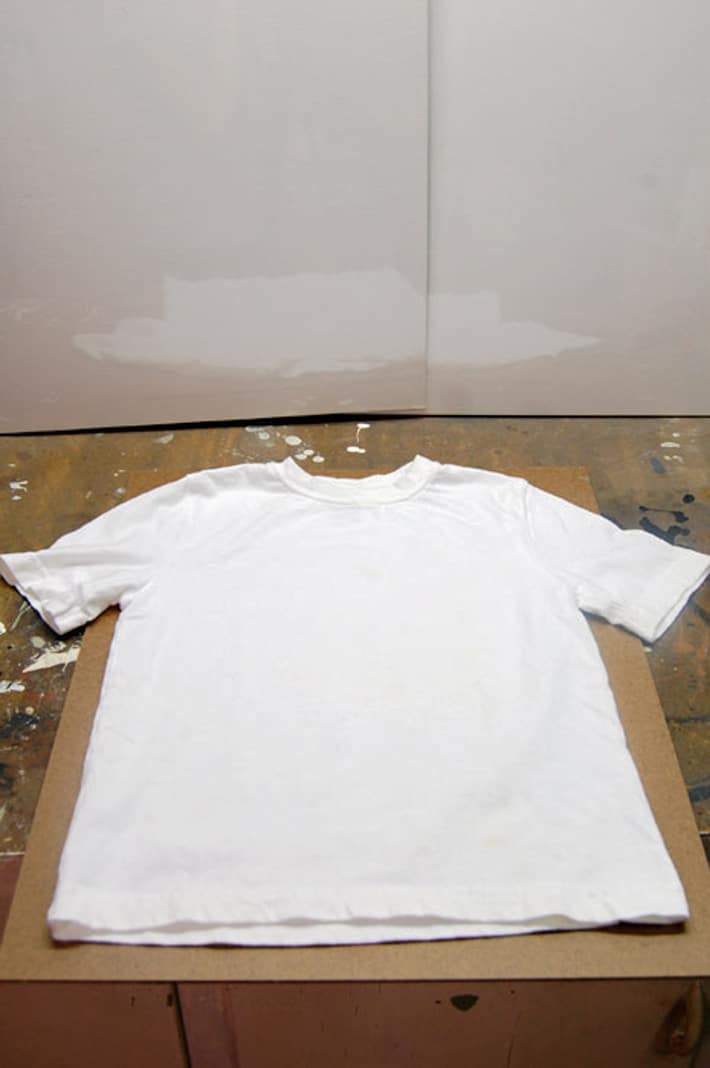 Lay your tee shirt out and smooth it.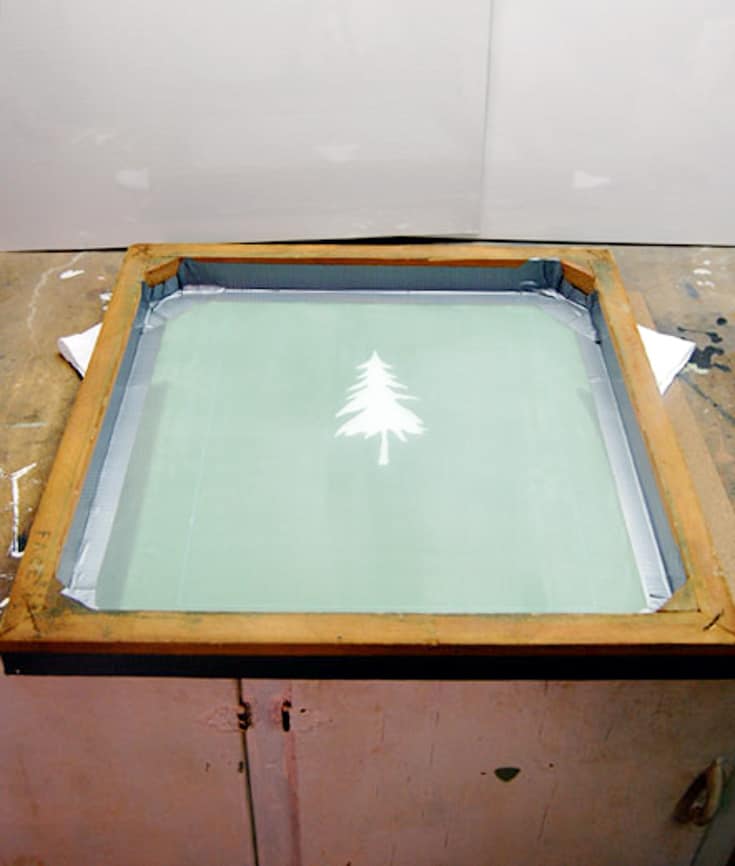 Put your newly created silk screen over your tee shirt so the recessed side of the screen is facing upwards.
You can see in this photo that I also taped the inside of my screen. That isn't necessary on a store bought screen. I only did it because I had a few gaps.
---
IMPORTANT TIP - Taping your screen
Before printing, hold your screen up to a light source. If you see any pinholes where emulsion is missing from parts of the screen cover that area with a small piece of tape. Otherwise ink could seep through the hole and
---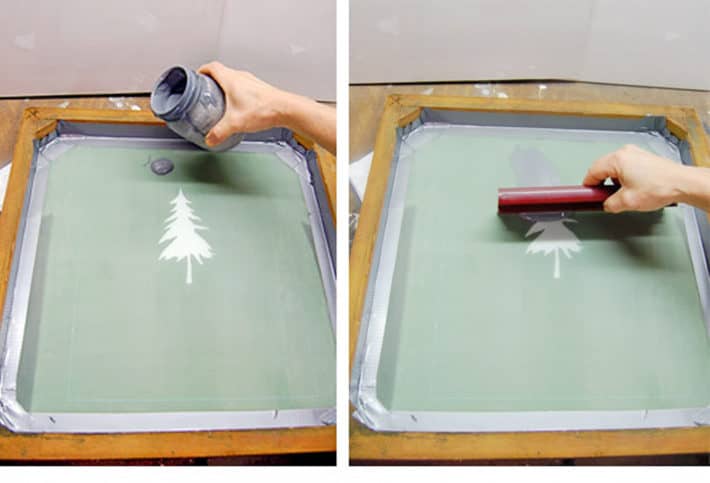 Run a glug of paint across the top of your screen. My paint/ink is a mix of black and white to make a very, very dark grey. Your paint will dry MUCH darker than it appears when wet.
Drag the paint over your image with your squeegee without applying pressure . This is called flooding the image.
5. Then, going in the same direction, run over the image with the squeegee again with some pressure to push the ink through the screen on to the fabric.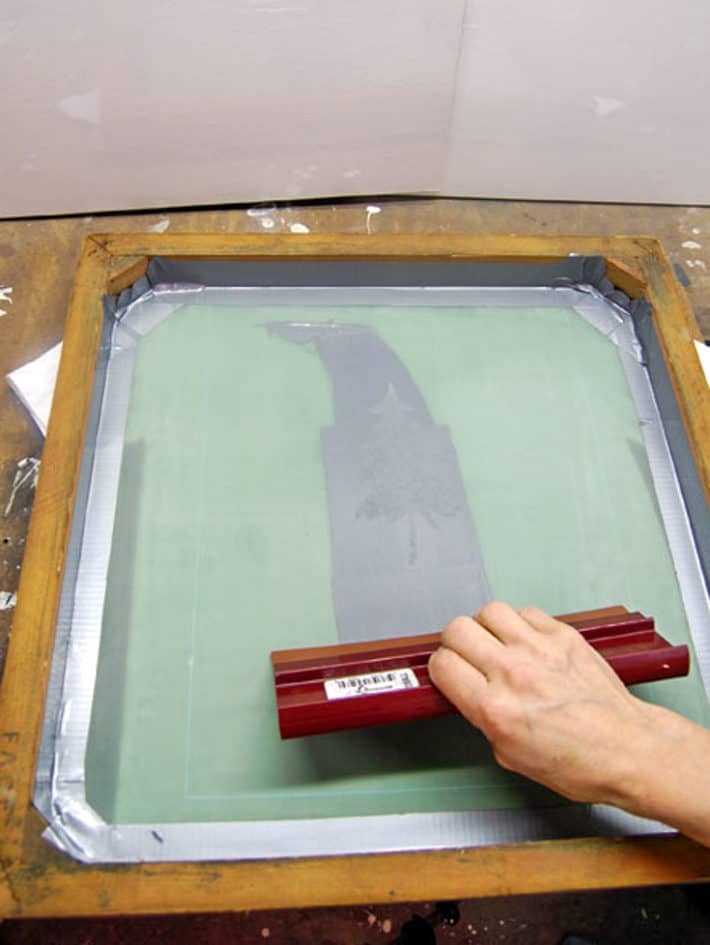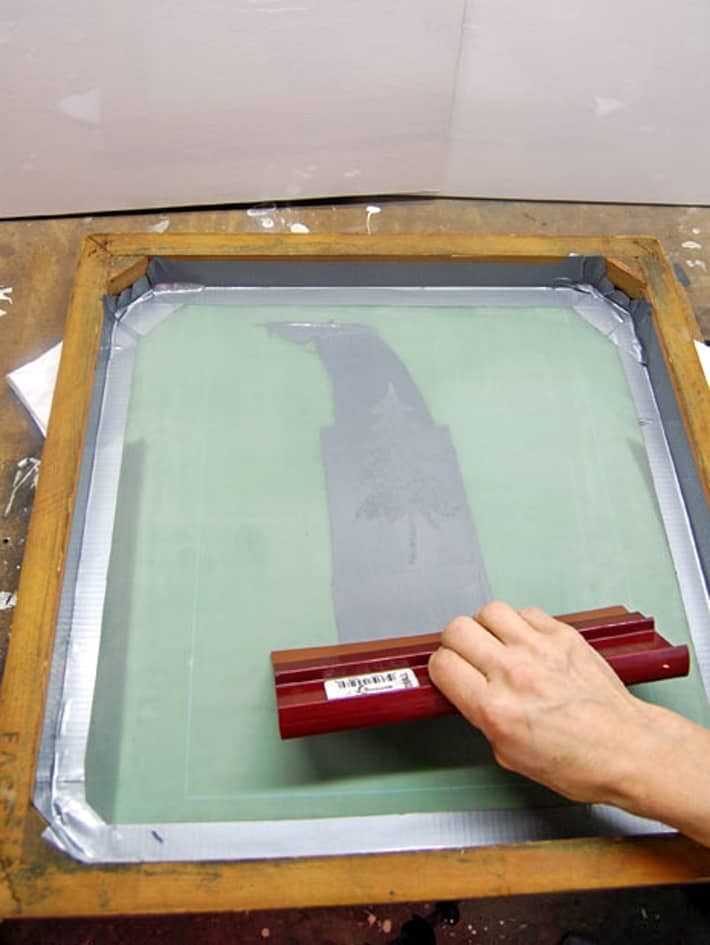 6. You're done! CAREFULLY remove the screen from the tee shirt (it'll stick a little bit) by lifting it up.
7. Hang your piece to dry.
8. When you're done printing all your items, wash your screen right away by running cool water over it.
9. When the ink is very dry, heat set the image by pressing it with a dry iron.
---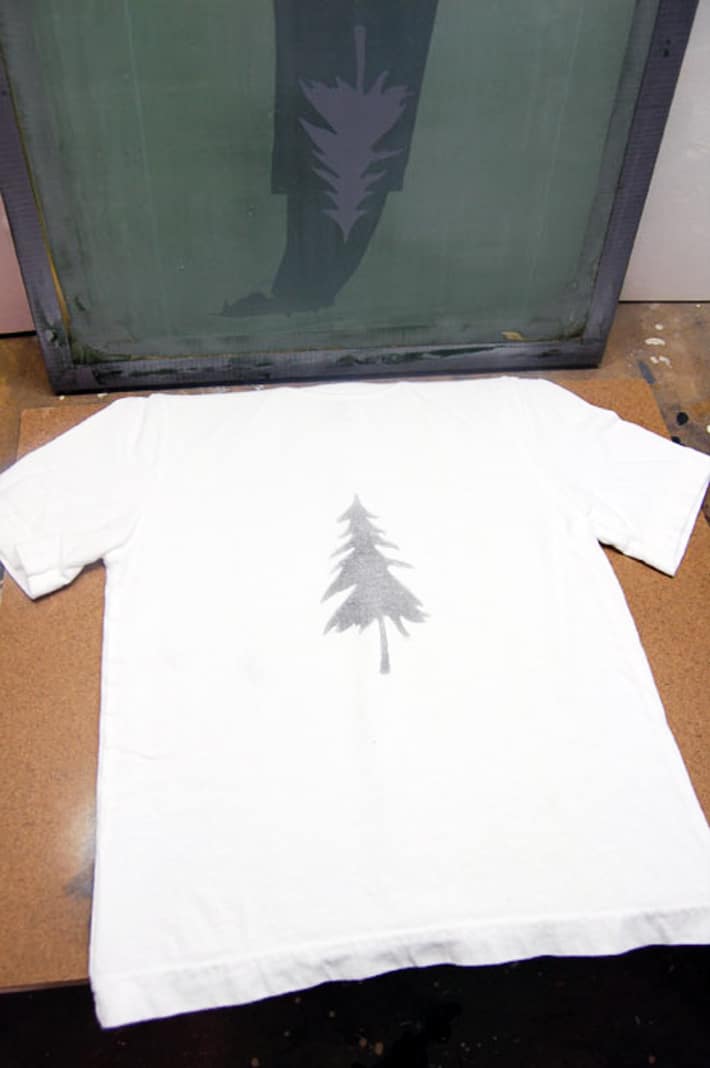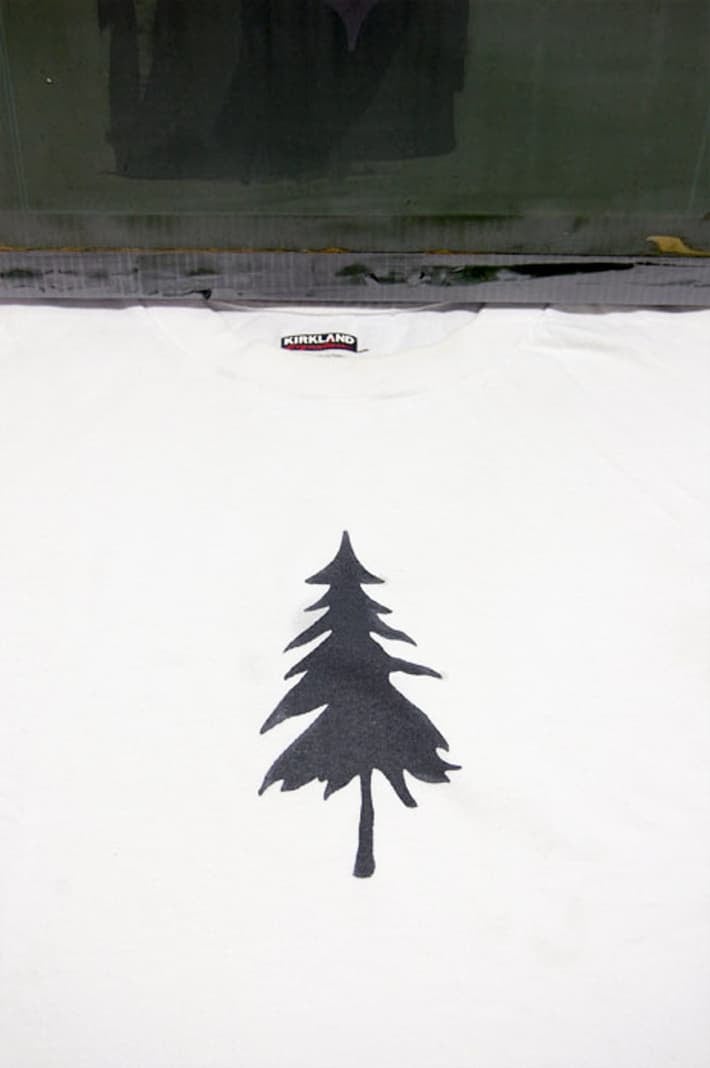 If your print looks faded like this, just add more pressure to your squeegee the next time you print.
More pressure will get you a more solid image.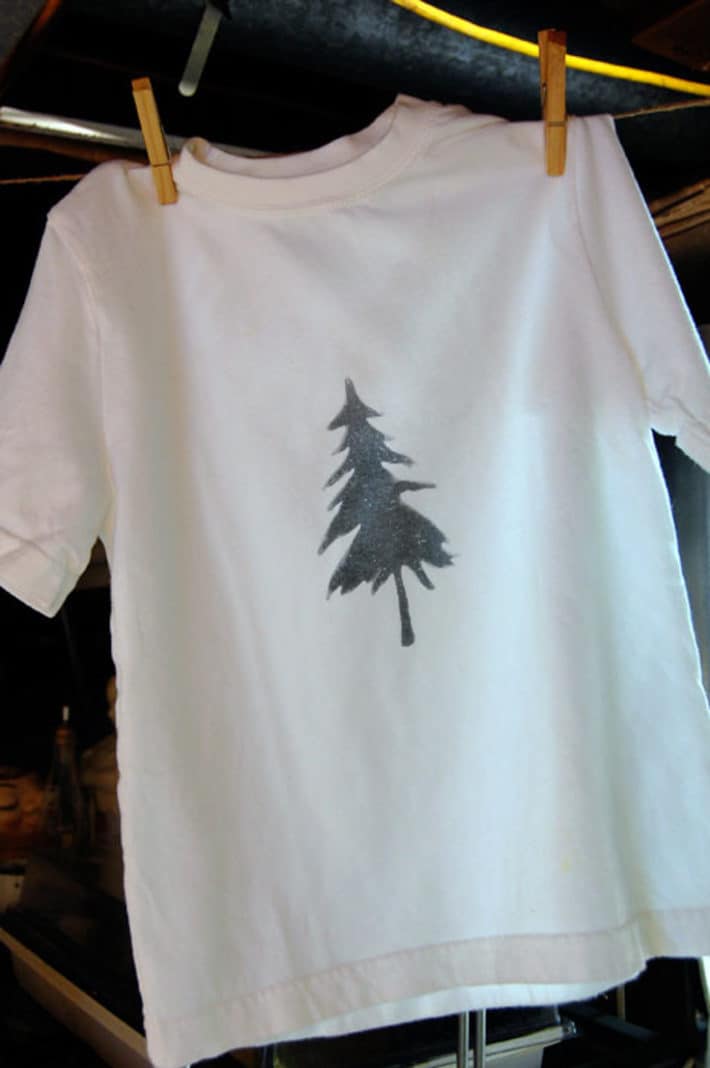 Here it is in video.
And that's it. How to screen print in 742 steps or less. It really isn't all that difficult and for what it takes in energy it more than gives back in fun.
Much like Dodgeball. Or shoving a lima bean up your friend's nose.
This is the most basic of screen printings. If you get more into it you're going to want to buy or make a screen printing press and learn a lot more about grey scale printing of images.
IF all this DIY seems like a lot of work you can buy an entire starter screen printing starter kit that includes THE SCREEN, PHOTO EMULSION, FABRIC PAINTS, A SQUEEGEE and more.
---
The Easiest and Most Economical Way to Start is with a Screen Printing Kit
Get the starter screen printing kit for on Amazon US.
Get the starter screen printing kit for on Amazon in Canada.
---
If you have any questions feel free to ask me. I probably won't answer them but I might chase you down and shove a lima bean up your nose.
→Follow me on Instagram where I often make a fool of myself←