Question Submitted:
Hi Karen,
So I've just recently learned how to light my BBQ. I'm working from home right now and I got tired of having to wait for my husband to get home to work the heavy machinery. I feel liberated and now I want to grill everything! The thing is, my igniter is broken and I hate having to search around for a lighter all the time. Can this be fixed DIY?
Kathy
Karen's Answer:
Kathy,
Sure your problem can be fixed DIY! Just start smoking. You'll have lighters everywhere if you do that. No more searching needed!
You're welcome.
karen
Not helping? O.K. First of all …. Woah! Slow down. Are you sure you want to learn how to fix your BBQ ignitor? I find it's sometimes best to leave a few jobs for the boys. Or the girls. Whatever the case may be. Otherwise, I mean … what the hell are they good for? Everybody needs a job that only they can do.
I, for instance, am incapable of "learning" how to fill out the benefit forms that need to be done so we can be paid back for things like prescriptions and the dentist. Nope. I just can't seem to wrap my head around those oh-so complicated pieces of paper. Wayyyyyy over my head. So the fella has to do it. Filling my tires with air? I couldn't possibly figure that out.
And he believes me. Sucker. My fella actually believes the girl who installed her own central vac is baffled to the point of hyper-ventilation by a tire pressure gauge. Isn't that cute?
What a dumb, dumb. Which is proven time and time again by the fact that for some reason he cannot seem to learn how to make the bed properly. I just don't get it. I've shown him over and over again, but he just can't seem to do it. Mmmm ….
So, Kathy, provided you're really sure you want to do this I'll let you in on the information you're asking for. And believe it or not, it's cheap and it's easy. Two of my most favourite things! And as luck would have it your question came in 2 days after I discovered my BBQ ignitor had stopped dead in it's tracks. One day it was fine … the next – pfttt – nothin'.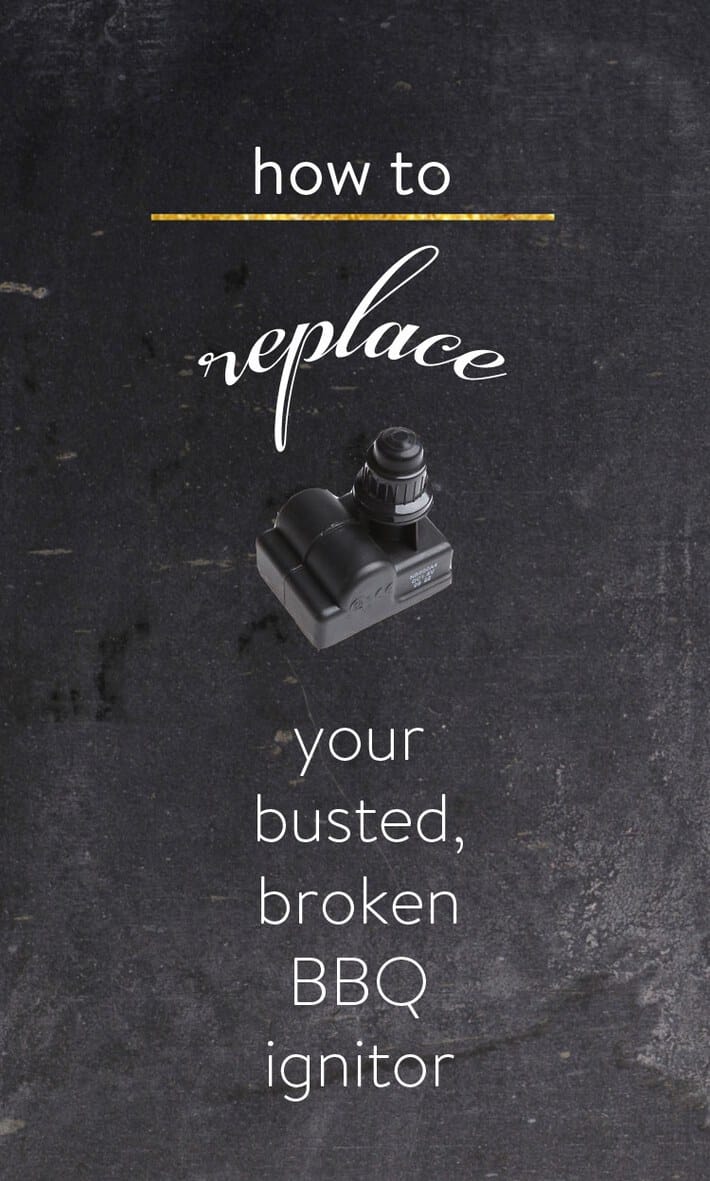 Have a look-see at how to fix your BBQ ignitor! Sorry if the video is a bit long, but I wanted to show everyone from start to finish that this could be done in about 5 minutes. No fancy editing tricks here. It's the real deal, tip to tail.
How to install a BBQ ignitor
How to install a BBQ ignitor when the one that came with your $1,500 BBQ craps out.
At this point I would like to ask you all to kindly send me pictures of YOUR filthy BBQ grates so I don't feel quite so alarmed about mine. I do clean them before I cook on them. That disgusting crud you saw was the LAST dinner I made on them. Steak if I remember correctly, with baked potatoes, corn in the husks and red peppers with goats cheese and a balsamic/honey dressing. You'd think something so good would make for a better looking mess.
Materials you need to fix broken BBQ ignitor:
New AA Battery
Some type of wrench for gripping nut (hee … I said nut)
Universal BBQ ignitor kit
Possibly a drill and bit for drilling out metal on front of BBQ to house new, larger ignitor. Strong snips could also be used to do this. (if you do use a drill MAKE SURE YOU WEAR SAFETY GLASSES. Men don't dig girls in eye patches.)
Now granted … this wasn't my best camerawork. So if there's anything you don't understand just shoot me an email and I'll be sure to help you out. Provided I'm not busy making the bed.