Replacing a grill igniter is two of my favourite things - cheap and easy. Plus of course, there's nothing more satisfying than a push button to start ANYTHING. So when it's broken, life gets a little bit sadder.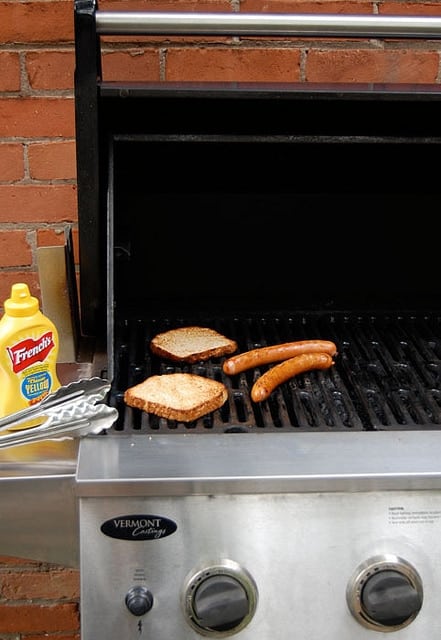 My 85 year old mother Betty diagnosed, ordered the part for and fixed her own propane BBQ last week. It involved a screwdriver, swearing and cocktails. If that doesn't sound like FUN then don't worry. Because in this case, where your ignitor isn't working, I've done the diagnosing and figuring out for you; all you have to do is follow the instructions and mix up a Mai Tai.
Betty's problem was a bit more involved than an ignitor that doesn't work.
How do you know if your igniter isn't working? You don't hear the click, click, click sound it normally makes when sparking. No click, click, click means no spark means no way for the propane to ignite.
The Two Reasons Your Grill Igniter Isn't Working
If you don't get the "click, click, click" when you press the button on your BBQ igniter there are two possible reasons:
The batteries inside it are dead and need to be replaced, or
The igniter itself is worn out and the whole unit needs to be replaced.
A new igniter (or ignitor as some people spell it) can be bought online or at your local big box store for less than $10 in the U.S. and around $15 in Canada. It only takes 5 minutes to replace.
I understand. You're alarmed. You had NO idea it could just be the batteries and you feel like an idiot. Don't worry about it. We all feel like an idiot at least 25 times a day.
You're also intrigued by the possibility that this is an easy fix with a $10 part that you can quickly do in secret and then reveal on grilling night to accolades, applause and maybe even someone fainting.
I don't blame you.
To replace the igniter button you have to remove the old one by unscrewing it from the BBQ housing and unplugging the wires that lead to the burner tubes.
You install the replacement part in reverse by attaching the burner tube wires and then screwing it all into the front of the BBQ again. That's it!
This video is the real deal, a live walk along with me as I install a BBQ ignitor in real time.
If your new universal igniter doesn't fit into the hole in the front of your grill, don't worry about it, you can resolve that with a drill. Just drill the hole bigger with a metal drill bit so it can accommodate the new, larger igniter. Strong snips could also be used to do this. If you do use a drill MAKE SURE YOU WEAR SAFETY GLASSES. Very few people can pull off an eye patch.
If you like grilling you HAVE to try this Indian Street Corn. It's basically as life changing as being able to start your BBQ with the push of a button.
Make this one of those little start of summer jobs like washing the patio furniture or building up a flip flop toe callous. Fix it now and u can click start your way through grilling season.
---
Link to Amazon US Universal Igniter
Link to Amazon Canada Universal Igniter
---