I am full on obsessed with this 5 minute dinner. I recently discovered omelettes. Have you heard of them? Hey, woah! Fancy, you're thinking! Feels a bit cutting edge! Like that time you talked us into trying potato pancakes. I felt the same way at first. I was all like "Omelettes??? What kind of uppity, cheffy hob snobbery is THAT?!." Then one night when I was feeling particularly adventurous, I made one.
I estimate that night was about 15 years ago, and I've probably made 4 omelettes since then. All of them terrible. Much like riding a pig, Omelettes take practice.
I could never be bothered to get better at them. It didn't seem like a worthwhile use of my time. Time, that up until recently, I've felt is better spent looking at pictures of cats I've never met on the Internet. One month ago that all changed and I am now an omelette making maniac for two reasons. They're SO fast to make for dinner and when you make them properly they're SO good.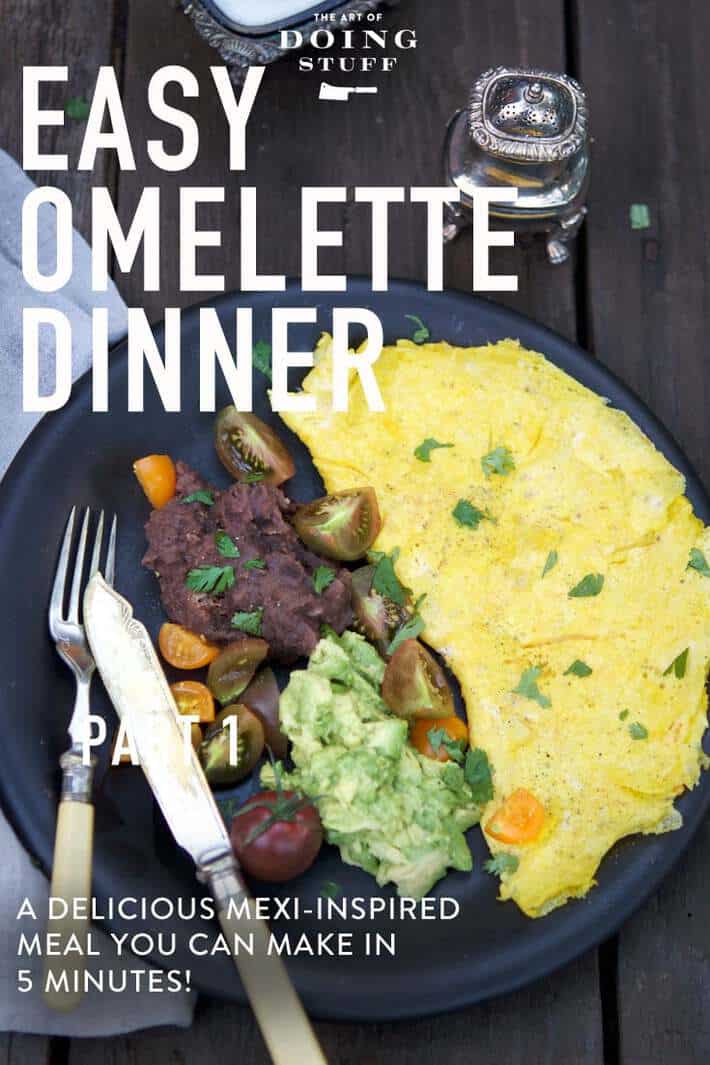 HOW TO MAKE AN OMELETTE
I've had this very dinner 4 out of the past 7 nights: Omelette with cheese, mashed avocado with lime, refried beans, sliced fresh cherry tomatoes, torn cilantro. 4 time this week. FOUR. TIMES.
HOW TO MAKE A TERRIBLE OMELETTE
Use too small of a pan.
Use too big of a pan.
Cook over high heat.
Cook until browned.
Use uncooked vegetables in the ingredients.
Do any of those things and I can guarantee you'll have a terrible omelette, excellent for serving to that pig you ride.
HOW TO MAKE A PERFECT OMELETTE
Use a pan the right size for your amount of eggs. 3 eggs = 7" pan. (apx)
Cook over low heat. Medium/low at the most.
Pull eggs from outside of the pan to the inside for the first 30-40 seconds of cooking.
Don't let the omelette brown.
Pre cook any diced vegetables you want to include.
That last tip is one that a lot of people don't take the time to do but it makes all the difference. No matter how tiny you dice your red peppers or mushrooms, if you put them in the omelette just before you flip it, they'll barely be warm let alone cooked. And that will be gross.
My 5 minute dinner doesn't include vegetables in the omelette because that would make it take more than 5 minutes. Plus why add vegetables when cheese exists?
The other thing that takes these eggs from gross to GREAT is making sure you don't brown the omelette.
You want the eggs to be silky smooth and they won't t be if they're browned.
To accomplish this you need to cook the omelette on very low heat and you need to STOP cooking when the centre has just barely set. It'll be cooked, but not overcooked. This step is made easier if you use a slightly larger pan than you normally would. A larger pan means the egg will be spread thinner and cook in the centre faster, making unwanted browning less likely.
You. Need. A. GOOD. Non Stick. Pan. You need it. If you don't have a good non stick pan, even if you do everything else right, your omelette will be a disaster. The pan I used is on its last legs and I'll be picking up another one soon. If your eggs don't slide around easily in the pan, it's time for a new pan.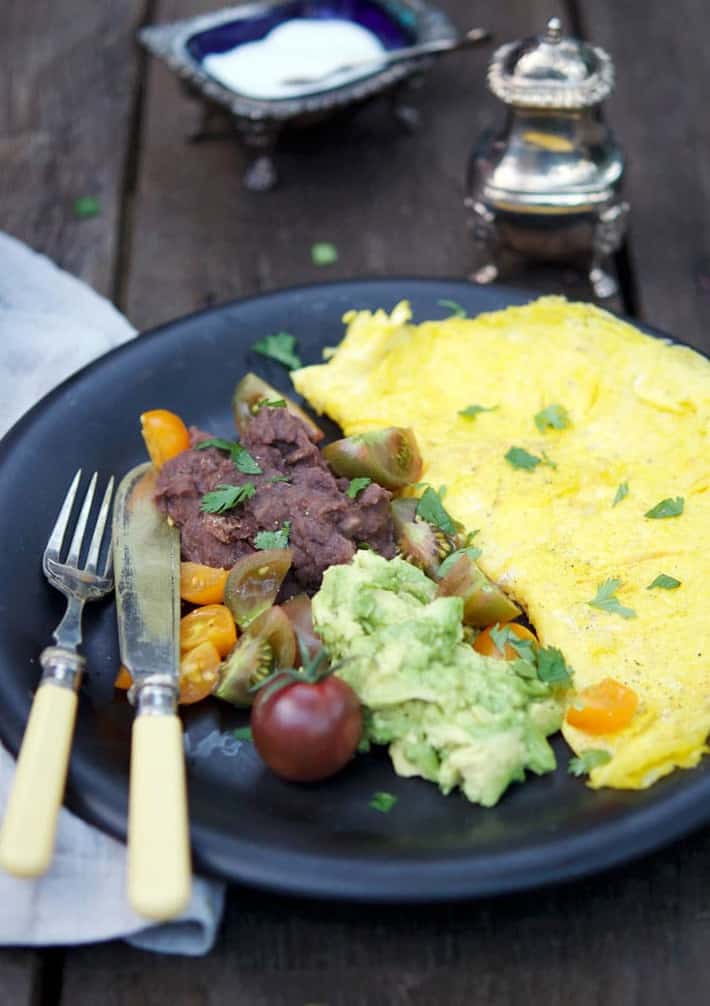 To make it a dinner and not just an omelette, add refried beans, a smashed avocado with lime juice squeezed overtop (that's what makes it delicious), salt and pepper, a few cherry tomatoes and top everything with Maldon salt and cilantro. It's a Mexi-inspired meal that's filling, guilt free and full of goodness.
It might take you a few tries to get your omelette making technique down, but once you figure it out it's like riding a bicycle. You'll never forget.
You never forget riding a pig either, but for different reasons entirely.