Make these delicious mashed potato pancakes with leftover mashed potatoes and serve them with sour cream or chili sauce. Just add pan fried spicy sausage and greens for a fast and easy dinner.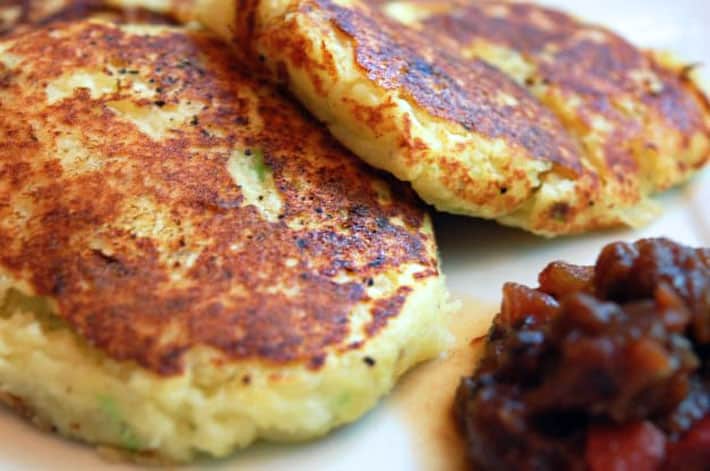 ---
Skip right to the mashed potato pancake recipe.
---
My favourite potato dishes in order of preference (as of my mood at this exact moment): potato chips, french fries, mashed potatoes, gnocchi.
At any given time, on just about any given day, any of those choices can be replaced with potato pancakes. This desire is usually triggered by looking at the jars of homemade chili sauce in my kitchen cupboard. Get my chili sauce recipe here if you're wanting to make some of the good homemade stuff.
Kind of like the desire to make a roast beef dinner is triggered by looking at the jar of horseradish in my fridge. Ditto for seeing a glass bottle of ketchup and wanting french fries.
I'm highly suggestible when it comes to food condiments.
So you want some potato pancakes? 'Cause you can have some. All you have to do is remember to make extra mashed potatoes the next tie you have them. Thennnnn the next night you can have potato pancakes. It's simple math really.
I guess now is as good a time as any to let you in on the fact that I don't have an actual "recipe" for potato pancakes. I just make them by eyeballing everything. You'll do fine. Don't worry about it. But just in case, I've included an actual recipe with measurements down below.
1. Slice a couple of green onions.
2. Mix together an egg and a couple of cups of mashed potatoes.
3. Toss in the onions and a whack of salt and pepper into the potato mixture. Mix everything up.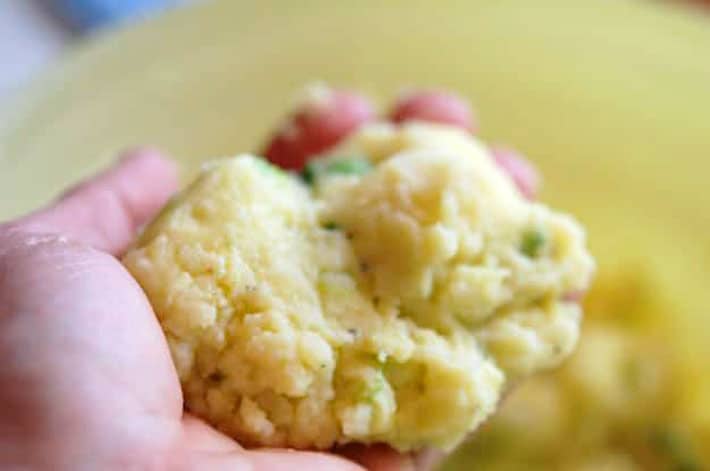 4. Grab a ball of the mixture. About "this" much. Maybe 1/4 cup or so.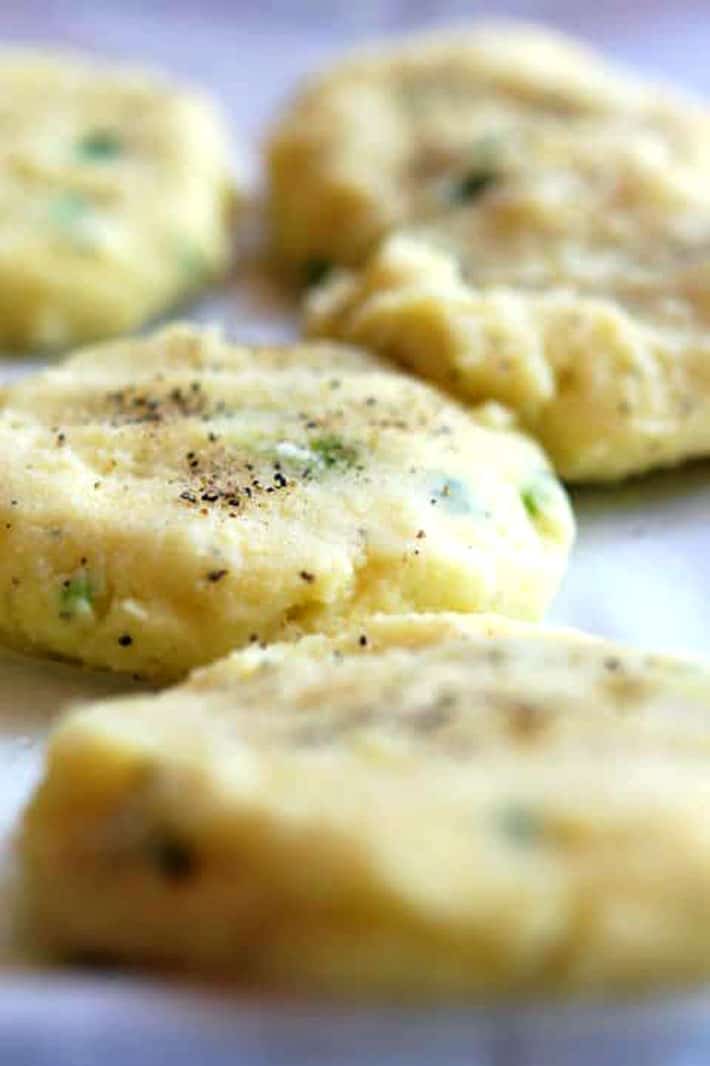 5. Form into patties. Top with a little extra salt and pepper if you like.
6. Fry in olive oil and/or butter in a non stick pan over medium/low heat until golden brown.
7. Serve with chili sauce or sour cream.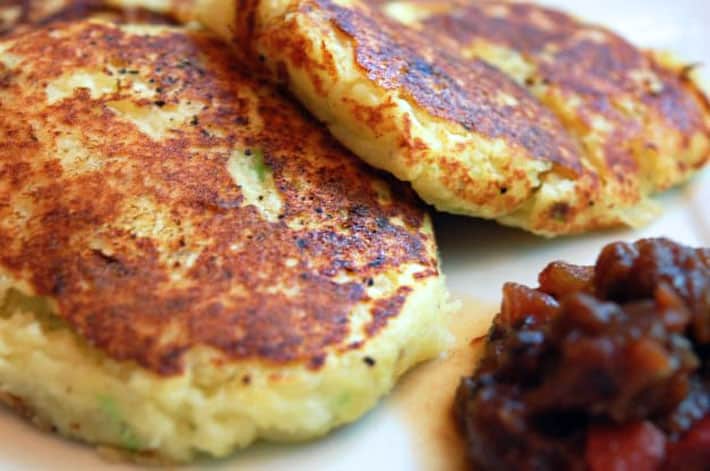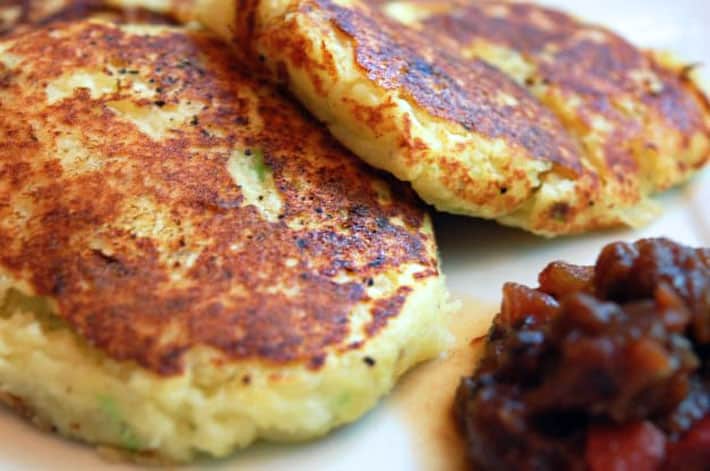 Mashed Potato Pancakes
This is a recipe for mashed potato pancakes.
Print
Pin
Rate
Ingredients
2

cups

Potatoes

mashed

2

Green Onions

sliced thin

1

Egg

Salt and Pepper

2

tbsp

olive oil

2

tbsp

butter
Instructions
Add green onions and egg to mashed potatoes and mix together.

Season with salt and pepper

Form mixture into hamburger shaped patties.

Heat oil and butter in non stick pan over medium low heat.

Fry patties allowing the underside to brown until crisp before flipping them over to fry the other side. Add more oil or butter if needed once you flip them.

Keep finished potato pancakes on a plate in the preheated oven to keep hot.

Serve potato pancakes with sour cream or chili sauce.
Nutrition
Serving:
1
pancake
|
Calories:
191
kcal
|
Carbohydrates:
13
g
|
Protein:
4
g
|
Fat:
13
g
|
Saturated Fat:
4
g
|
Cholesterol:
56
mg
|
Sodium:
77
mg
|
Potassium:
465
mg
|
Fiber:
2
g
|
Vitamin A:
295
IU
|
Vitamin C:
13.1
mg
|
Calcium:
42
mg
|
Iron:
3.7
mg
Serve with chili sauce, sour cream or just salt and pepper.
I usually ring in the fall season with potato pancakes served with the chili sauce, sausages and a fresh green vegetable from the garden.
Unless some time before dinner, I happen to spot the ketchup.
This post was originally published in September, 2010 but updated and republished in March, 2018 due to my never ending obsession with potatoes.
→Like to Sweat, Swear and do Stuff? GET MY POSTS emailed to you 3 times a week←