Leftover mashed potatoes? LUCKY YOU! You can make these crispy on the outside, fluffy on the inside mashed potato pancakes tonight!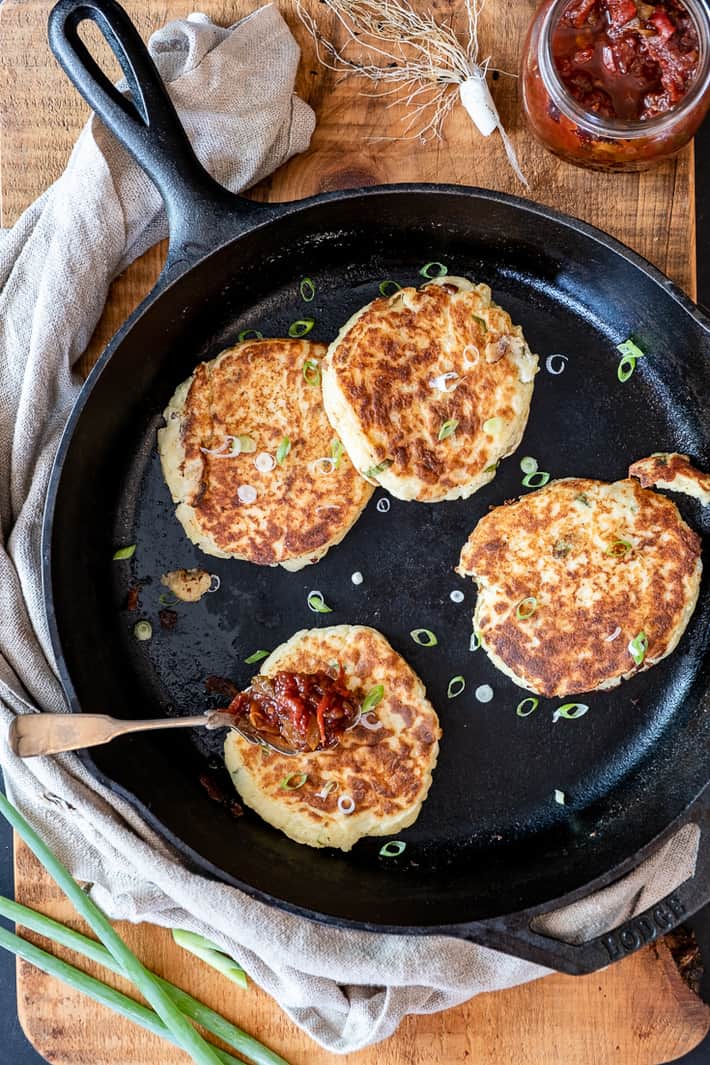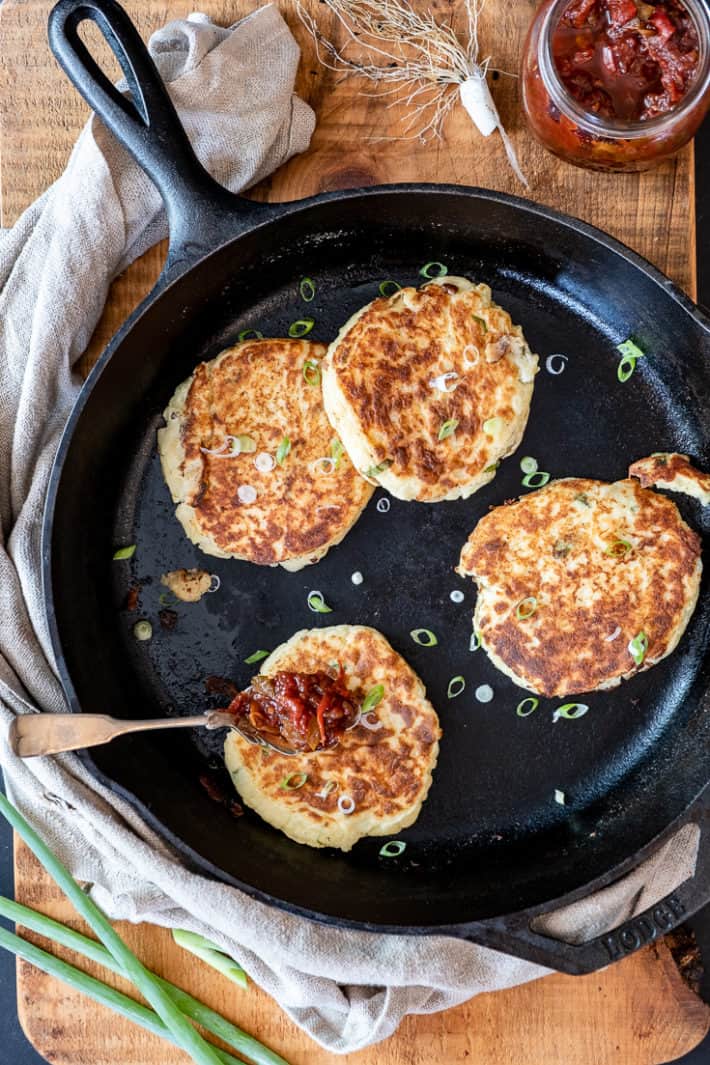 ---
Skip right to the mashed potato pancake recipe.
---
My favourite potato dishes in order of preference (as of my mood at this exact moment): potato chips, french fries, mashed potatoes, gnocchi.
At any given time, on just about any given day, any of those choices can be replaced with potato pancakes. This desire is usually triggered by looking at the jars of homemade chili sauce in my kitchen cupboard. Get my chili sauce recipe here if you're wanting to make some of the good homemade stuff.
I have the same reaction when I spot horseradish in my fridge only that ends with me making an entire roast beef dinner. I think we all know what I end up making when I spot the bottle of ketchup.
I'm highly suggestible when it comes to food condiments.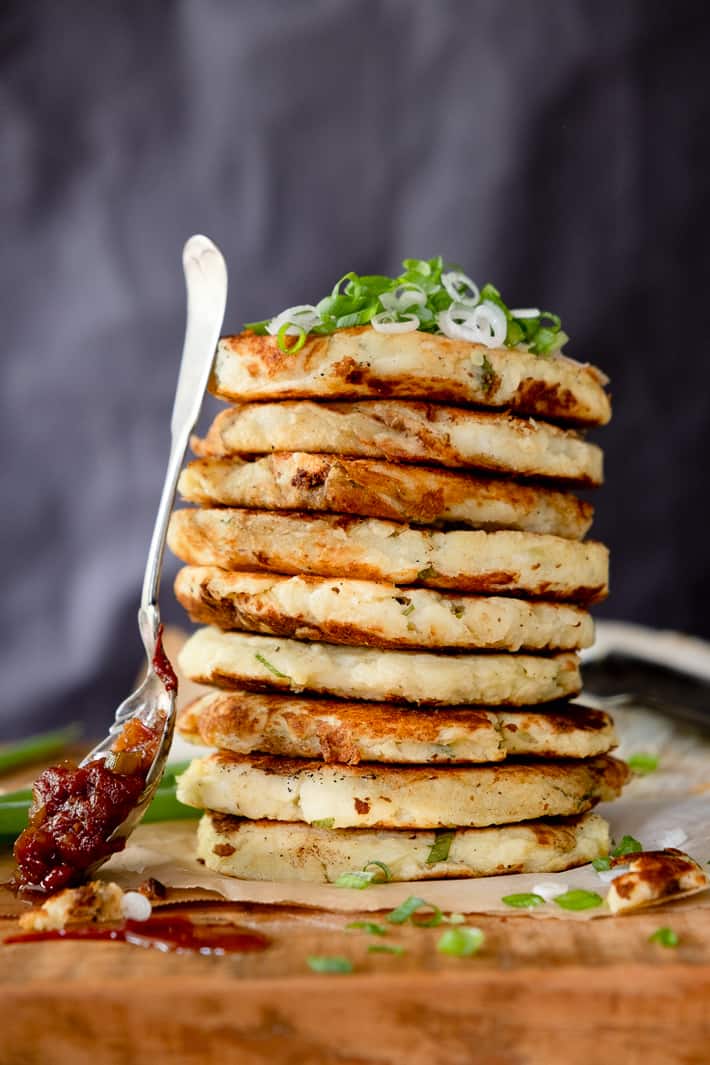 So you want some potato pancakes? 'Cause you can have some! All you have to do is remember to make extra mashed potatoes the next time you have them. Thennnnn the next night you can have potato pancakes. It's simple math really.
Obviously these don't have to be made with leftover mashed potatoes, you can cook mashed potatoes specifically for this recipe. You just need to make sure you have time to cool the cooked potatoes in the fridge before making the mixture can can firm up enough to form patties that won't fall apart.
I guess now is as good a time as any to let you in on the fact that I don't have an actual "recipe" for potato pancakes. I just make them by eyeballing everything. You'll do fine. Don't worry about it. But just in case, I've included an actual recipe with measurements down below.
Mashed Potato Pancakes
1. Slice a couple of green onions.
2. Mix the green onions in with 2 cups of mashed potatoes and an egg.
* If you're making these from just cooked, hot mashed potatoes, you need to temper the egg with some hot potatoes before adding it to them.
3. Season the mixture with salt and pepper.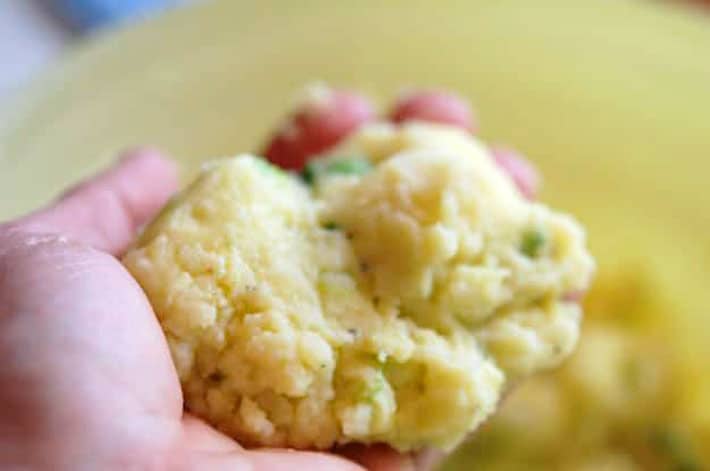 4. Grab a ball of the potatoes. About "this" much. Maybe 1/4 cup or so and form the potatoes into patties.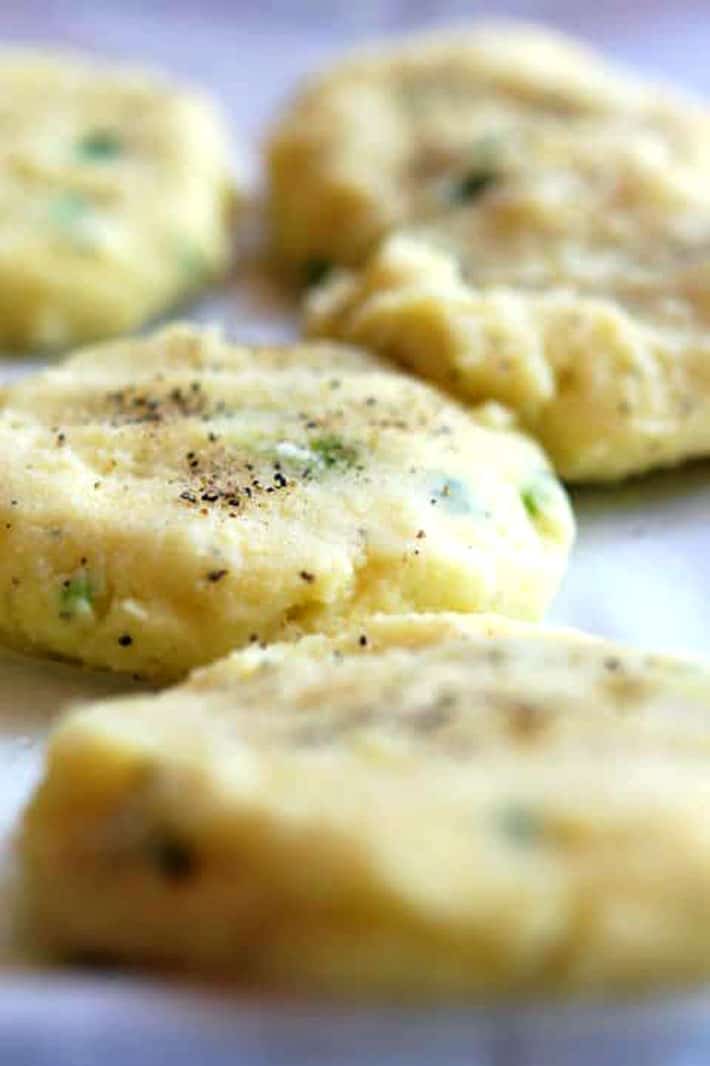 ---
How to keep potato pancakes from falling apart
The egg is what will bind everything together so there's no need to add flour.
If your pancakes aren't sticking together while you form them, you can add a bit more egg, or put the potato mixture into the refrigerator to firm up again.
If your pancakes are feeling too wet and won't form into a patty you can add a bit of flour to act as a binder.
---
6. Fry in olive oil and/or butter in a non stick pan over medium/low heat until golden brown. Keep an eye on them to make sure your heat isn't set too high which will burn them.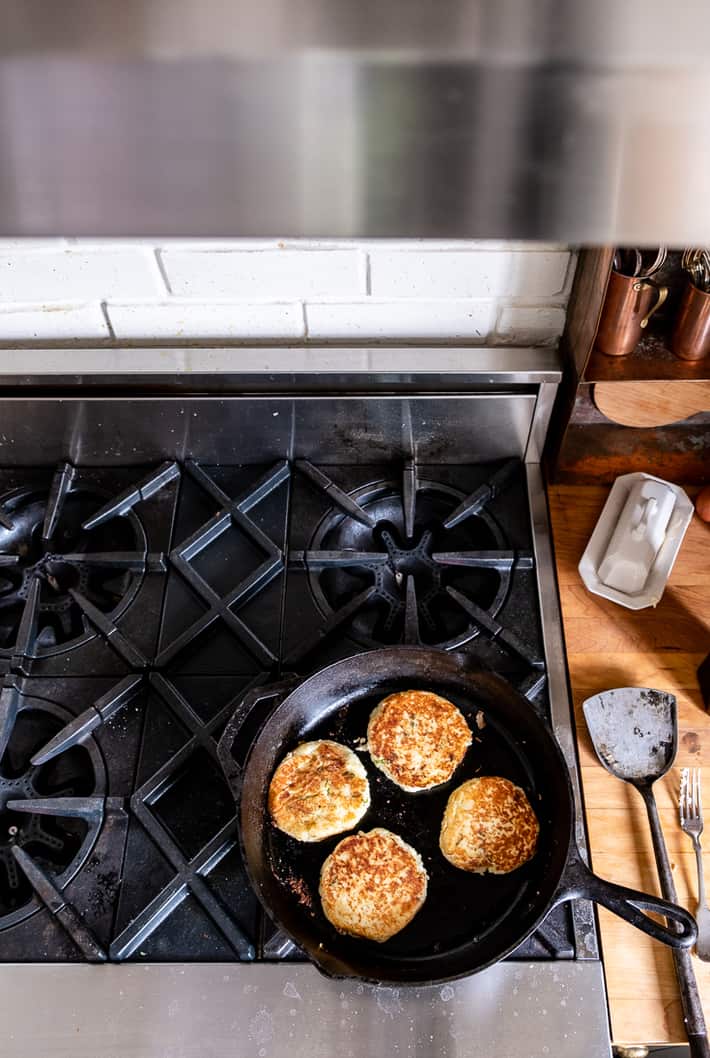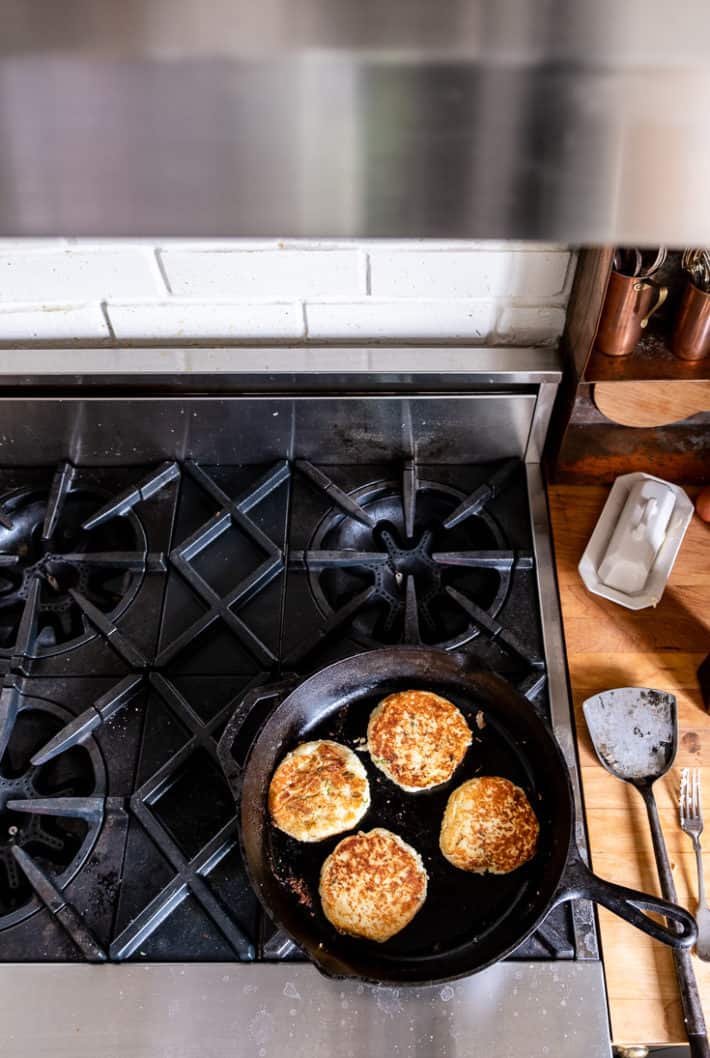 7. Serve with chili sauce or sour cream.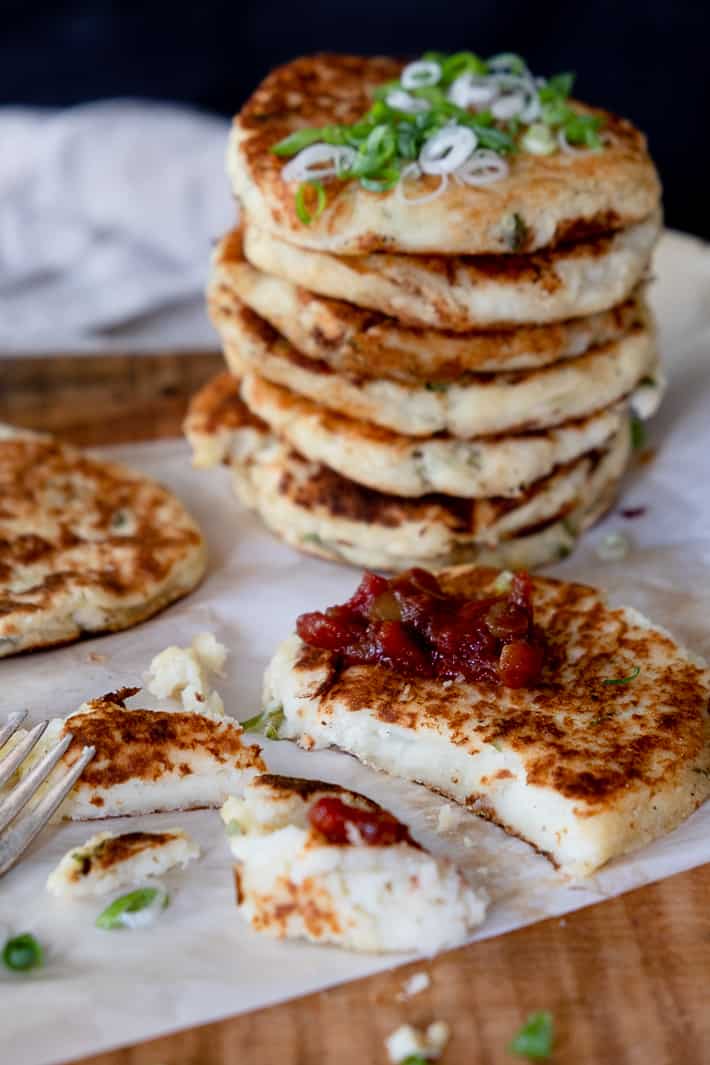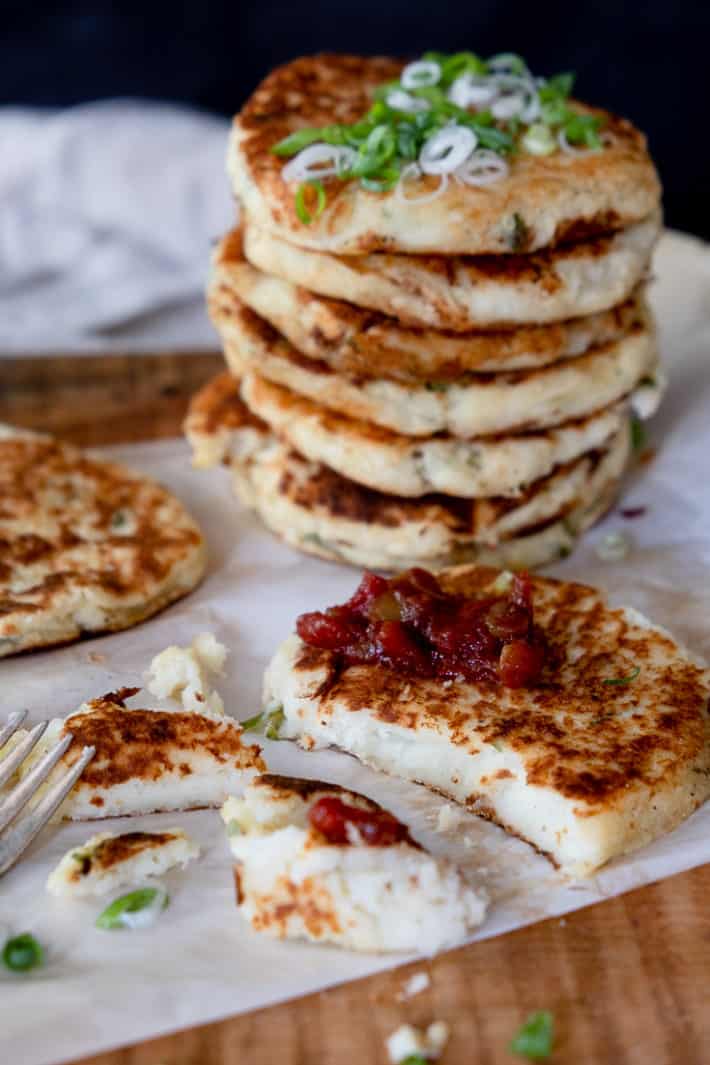 Can you see that?? I'm sure you can see that. Crispy on the outside, fluffy and hot on the inside. And just so you know, there's really no such thing as too much chili sauce with potato pancakes. I've been known to go through an entire jar in one sitting.
Not fond of chili sauce? I don't actually understand that but like I mentioned before sour cream is another respectable condiment choice for potato pancakes OR the classic dollop of applesauce.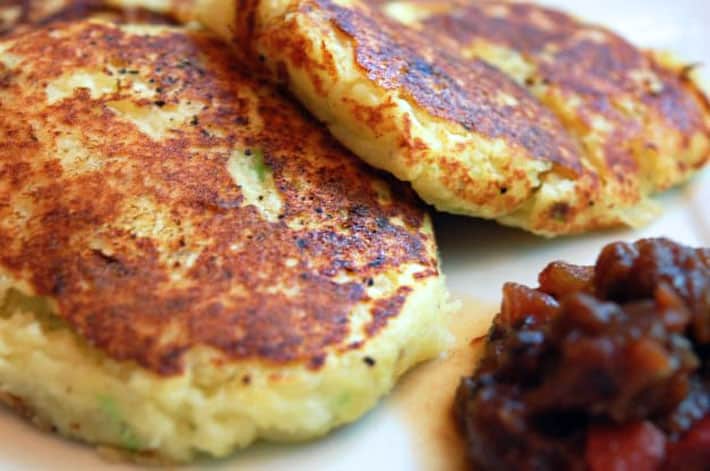 Mashed Potato Pancakes
This is a recipe for mashed potato pancakes.
Print
Pin
Rate
Ingredients
2

cups

Potatoes

mashed

2

Green Onions

sliced thin

1

Egg

Salt and Pepper

2

tbsp

olive oil

2

tbsp

butter
Instructions
Add green onions and egg to mashed potatoes and mix together.

Season with salt and pepper

Form mixture into hamburger shaped patties.

Heat oil and butter in non stick pan over medium low heat.

Fry patties allowing the underside to brown until crisp before flipping them over to fry the other side. Add more oil or butter if needed once you flip them.

Keep finished potato pancakes on a plate in the preheated oven to keep hot.

Serve potato pancakes with sour cream or chili sauce.
Nutrition
Serving:
1
pancake
|
Calories:
191
kcal
|
Carbohydrates:
13
g
|
Protein:
4
g
|
Fat:
13
g
|
Saturated Fat:
4
g
|
Cholesterol:
56
mg
|
Sodium:
77
mg
|
Potassium:
465
mg
|
Fiber:
2
g
|
Vitamin A:
295
IU
|
Vitamin C:
13.1
mg
|
Calcium:
42
mg
|
Iron:
3.7
mg
I know I've mentioned this before but these really do pair well with the fall spices of homemade chili sauce. It's addicting. As an added bonus, while you're simmering this chili sauce your whole house will smell delicious. Less of a bonus is when you start licking your own furniture because of it.
If I've convinced you about the merits of homemade chili sauce you can read my whole recipe and canning instructions for it in this post.
O.K., you have mashed potato pancakes now what are you going to serve them with? If you're having them for breakfast then you can have them in place of hash browns but for dinner this is how I like to serve them.
What to serve with potato pancakes
My go-to is grilled sausage with some type of greens like swiss chard or green beans with butter.
Meat mains
sausage
pork chops
goulash
roast chicken
brisket
smoked salmon
Vegetarian mains
chana masala
ratatouille
tempeh breakfast sausages
cheesy black bean bake
Now that I've polished off every one of the potato pancakes seen in this photo I can plan for tonight's dinner. What am I having? Here's a hint. I got the craving while looking at the bottle of squeeze mustard in my fridge.
→Follow me on Instagram where I often make a fool of myself←