Make an Easy DIY Snow Globe
Make a classic, real, round DIY snow globe. Not a tree in a mason jar because a tree in a mason jar isn't a snow globe, it's a snow jar. Bang out these Christmas craft snow globes in about 15 minutes with a few basic materials.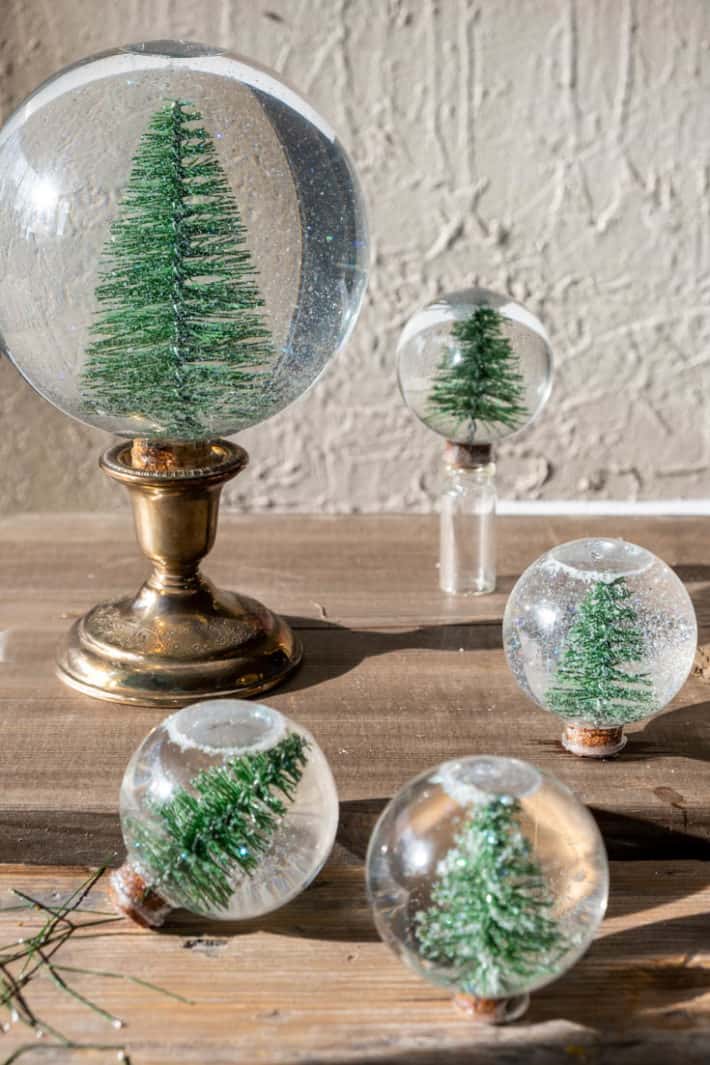 Skip right to the printable tutorial.
Why make your own snow globe? Because you can put anything you want in it. If you want the bare bum from a Ken doll in your snow globe you can do it. Although you shouldn't, because bare bums aren't very much in the spirit of Christmas. Usually.
Pinterest is bursting with mason jar snow globes. I think I was one of the first when I created these mason jar snow globes, in 2012. But to me - that's not a snow globe. It's a snow jar.
These homemade snow globes use a clear Christmas ornament and a cork. They're simple enough that a kid can make them.
So here we go, you and I are going to make simple Snow Globes. Right here. Right now.
Quick Instructions:
Pull the neck collar from the Christmas ball.
Fill with distilled water and 2 drops of liquid glycerin.
Add sparkles!
Push tree "trunk" wire into the centre of a cork and shove it into the globe.
Glue the hell out of it.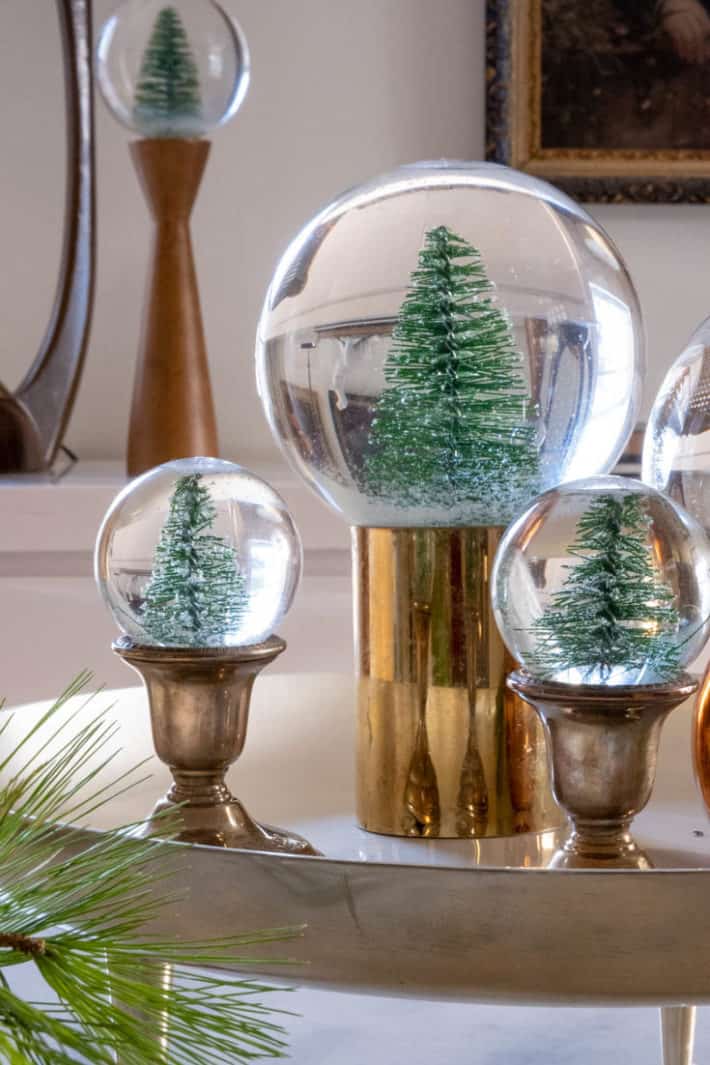 The possibilities of what you put in your snow globe are as never-ending as the last children's dance recital you went to.
But there are a few restrictions. It needs to fit into the neck of the Christmas ball and it needs to be something made of - plastic. Yes. I said it. Plastic. Or rubber.
That's because if you use an item that has some metal on it, it will rust and turn the water murky. If the item is bendy, you can put something quite big in the snow globe, like the simple trees I chose.
My simple trees happen to have wire, but I'm crossing my fingers that it's steel wire that's been treated to prevent rust. I'm a risk taker like that. I also run on slippery floors in socks. Risk TAKER.
(update) - the metal wire made the globes cloudy by the next year
---
How to Make a Glitter Snow Globe
You can get most of the supplies from your local craft store like Michaels, Hobby Lobby or a dollar store. Glycerin can be found at any pharmacy (usually in the upset stomach aisle).
I like the look of them all being the same with bottlebrush trees but you do you. Fill them with whatever you like and whatever will fit.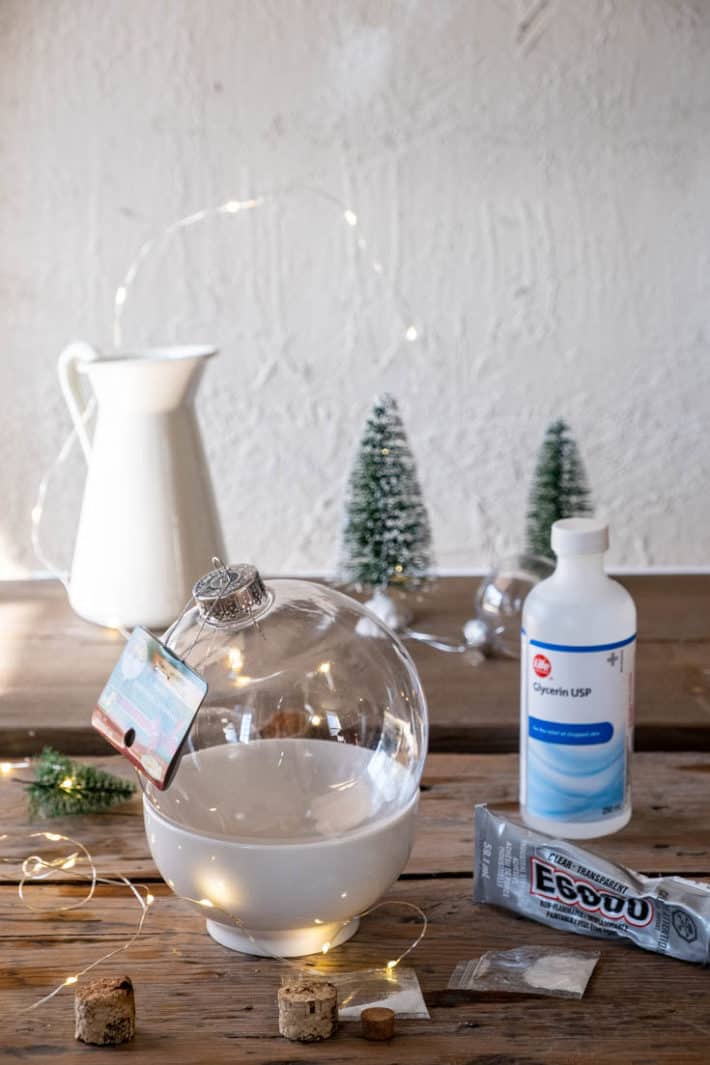 Materials
Clear Plastic Christmas Ball (choose ones with wide necks so you can fit a figurine or tree in it)
Distilled Water (optional)
Glycerine or Glycerol (optional)
Sparkles (glitter), gold foil, or small plastic artificial snow flakes
Mini bottle brush tree or other miniatures
E 6000 glue (this is the go TO glue for crafters in the know)
Small bowl
Detailed Tutorial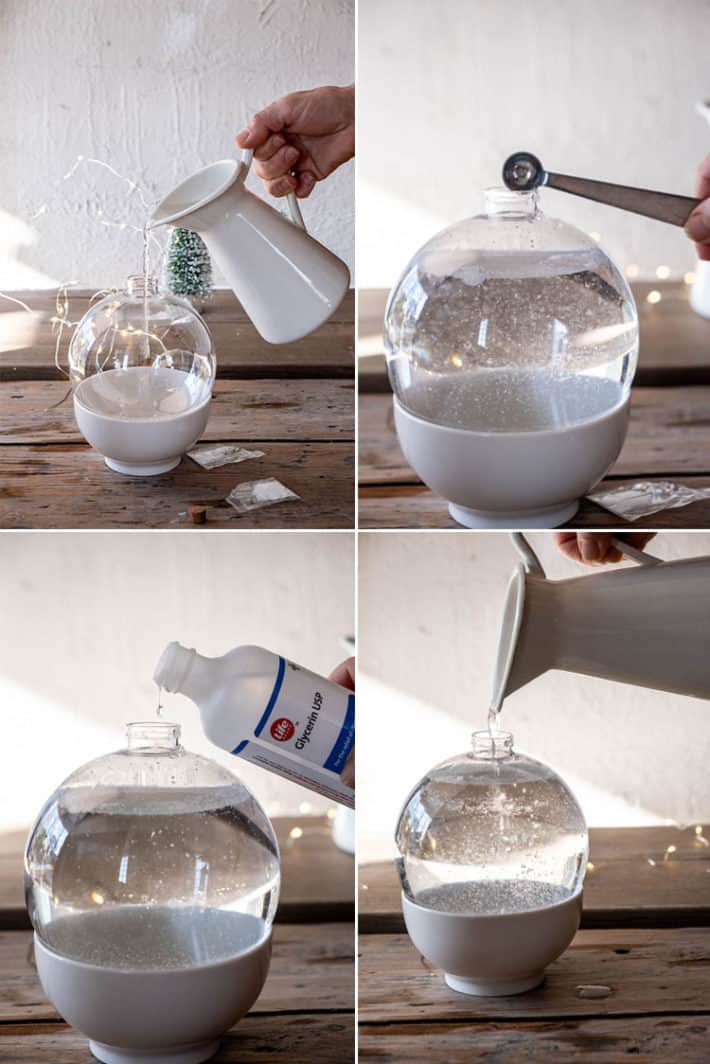 Pull the plastic top off of the plastic ball and set it in a round bowl so it doesn't go rolling around. You now have a globe! Fill the globe with distilled water until it's ¾ full.
Pour in some sparkles. A medium sized globe with need around ¼ teaspoon of sparkles. Add 2 drops of glycerin. NO more. Glycerin helps the glitter fall slowly.
Top the globe up with water until it comes just below where the neck meets the ball.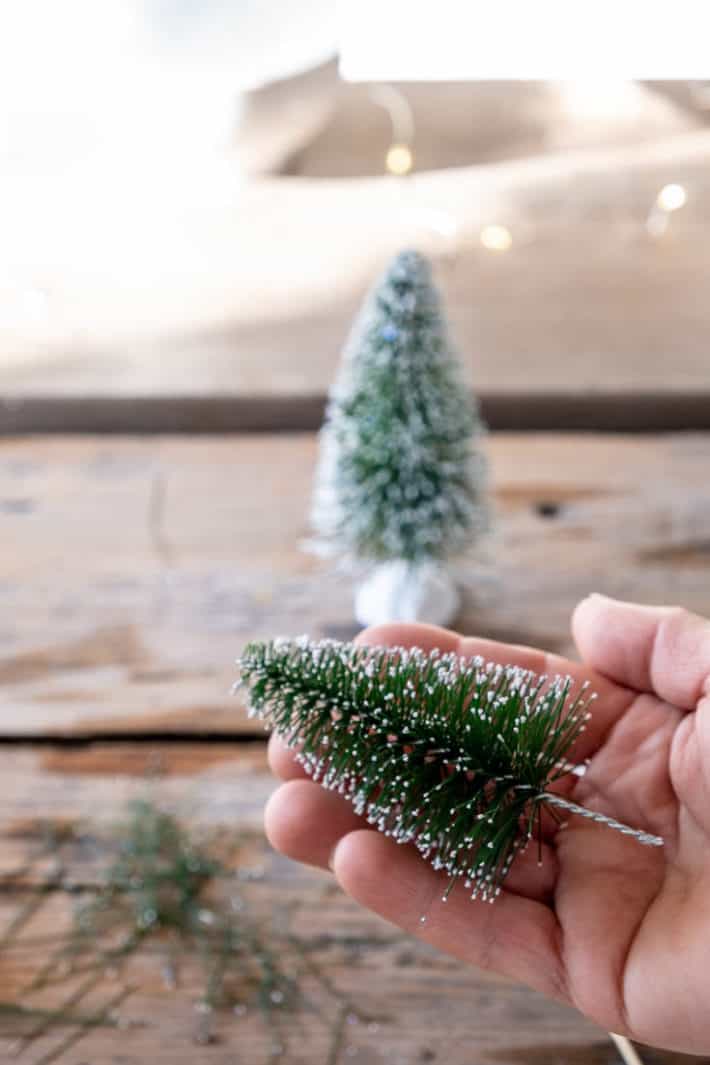 Cut your wine bottle corks in half with a serrated knife
Pull the bottle brush tree out of its base if it has one. Remove some of the lower "branches" of the tree so you have an inch of bare trunk. Stick the trunk into the centre of a piece of cork. Make sure it's perfectly straight.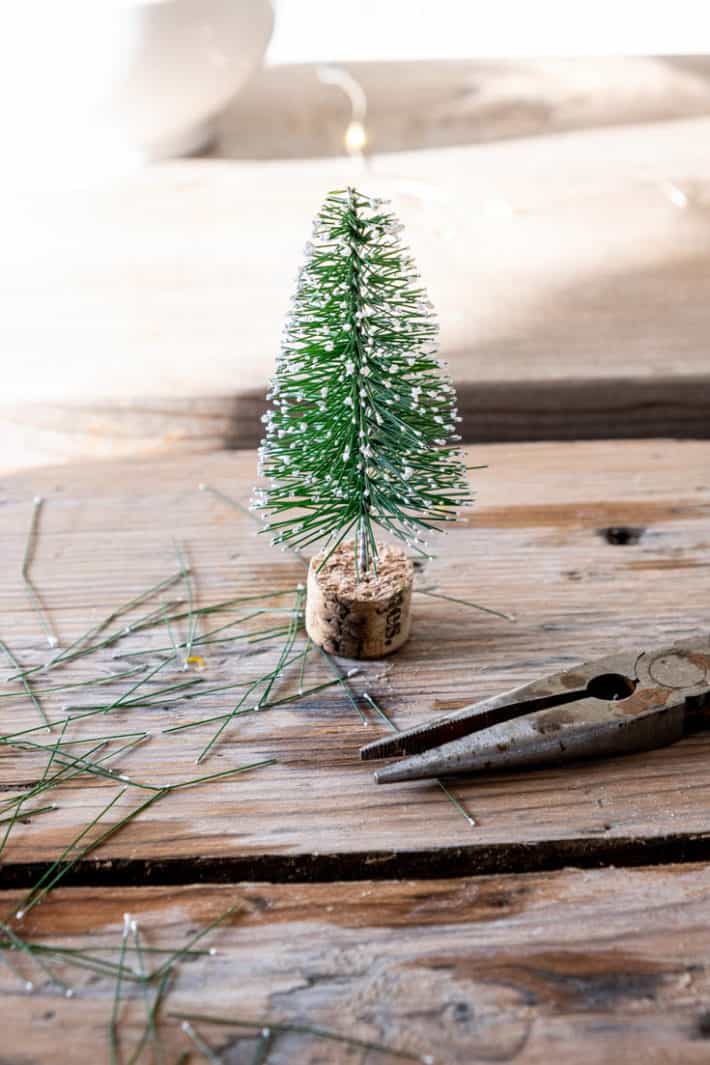 Shoving the trunk into the cork will be easier if you pre-punch a hole in the cork with a toothpick. Also holding the trunk with needle-nose pliers to shove it down into the hole makes the job easier.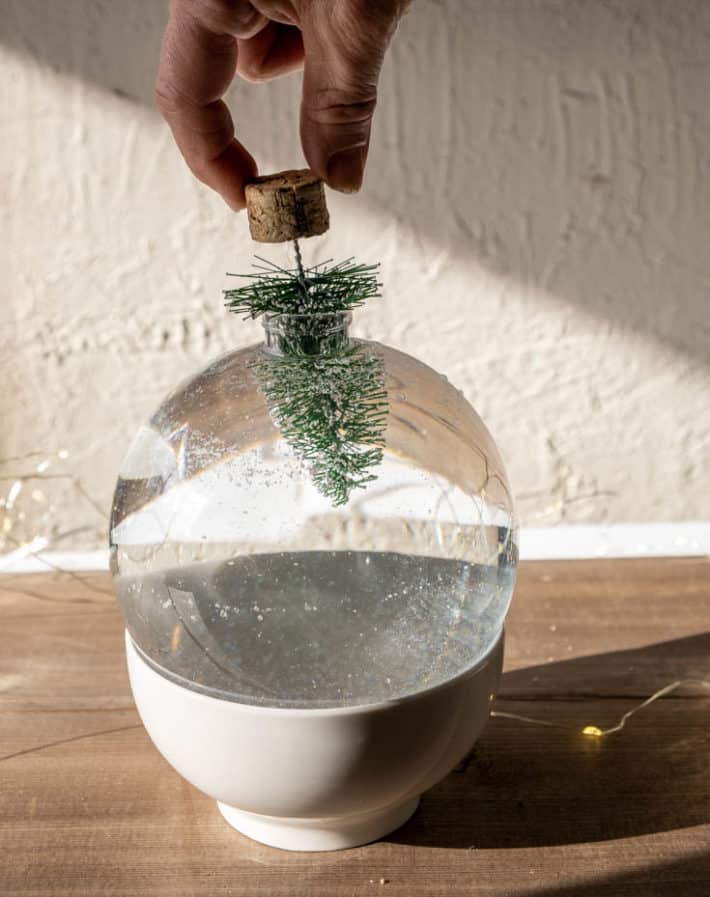 Push the tree into the globe forcing down any errant branches with a toothpick or something. Force the cork into the neck and push it down until it *almost* touches the water level.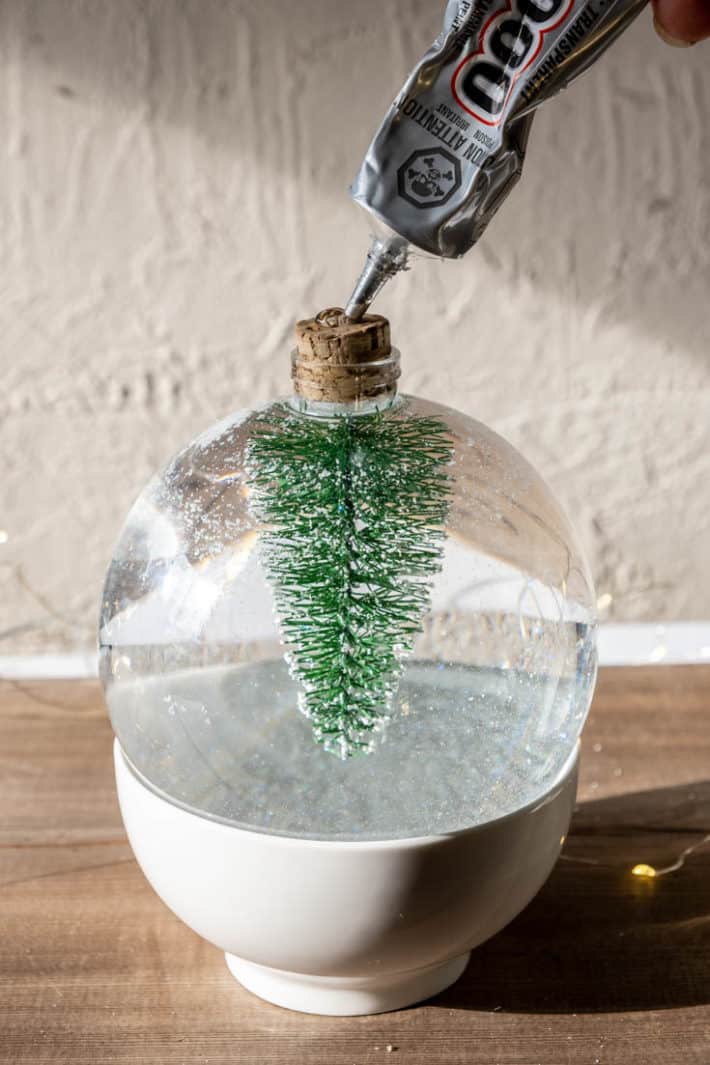 Keeping the globe in the bowl that's stabilizing it, seal the cork top, sides and where it touches the neck with E6000. Let your snow globes cure overnight undisturbed.
The next morning turn the globes upside down and give them a good shake or slight squeeze to make sure they're watertight. If they aren't (one of mine wasn't) turn it cork side up again and let it dry then apply more E6000 and let it cure again.
If your globes have all cured and there are no leaks you're done! I have to admit I like them without any base at all, just like this. But I know most people will probably want some sort of base for them. That's where you can get creative because the base you choose will make a big difference in how the snow globes look.
You can go modern, traditional, weird - whatever you want.
I keep mine on a buffet, but obviously a mantel or grouping them on a dining table for a centerpiece are other ways you can go.
IDEAS FOR BASES
You don't *have* to use a base but it'll make the globe look more finished and keep it sturdy. If your plan is to gift one of these, adding a base is the way to go. You can either keep them separate or glue the globe to the base using a hot glue gun.
salt cellars
candle holders
vases
zinc mason jar lids
mason jars
tea cups
Below I'm using 2 short antique silver candleholders, 2 gold metal tubes (that originally had candles inside), and 1 tall, wood, mid century modern tea light holder.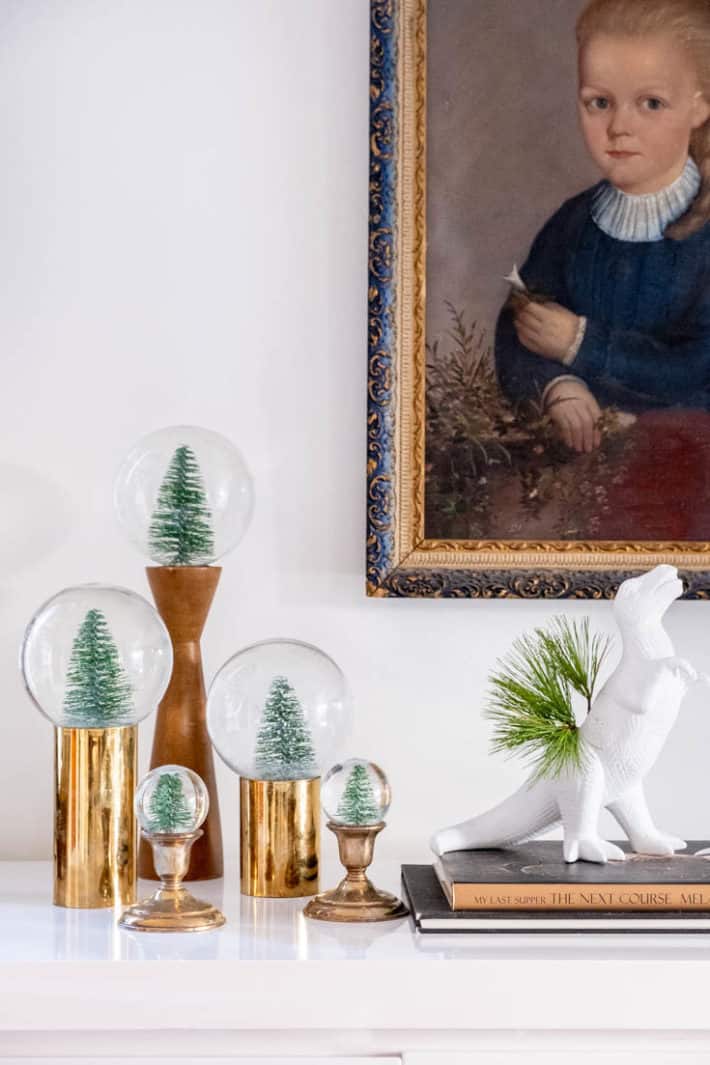 A contemporary take on a little winter wonderland scene.
TIP
You can light your globe up by sticking a strand of copper wire lights into the base that you're putting the globe in. Just know you'll have a strand of wire hanging down from it and a little battery pack you'll need to tuck away or hide.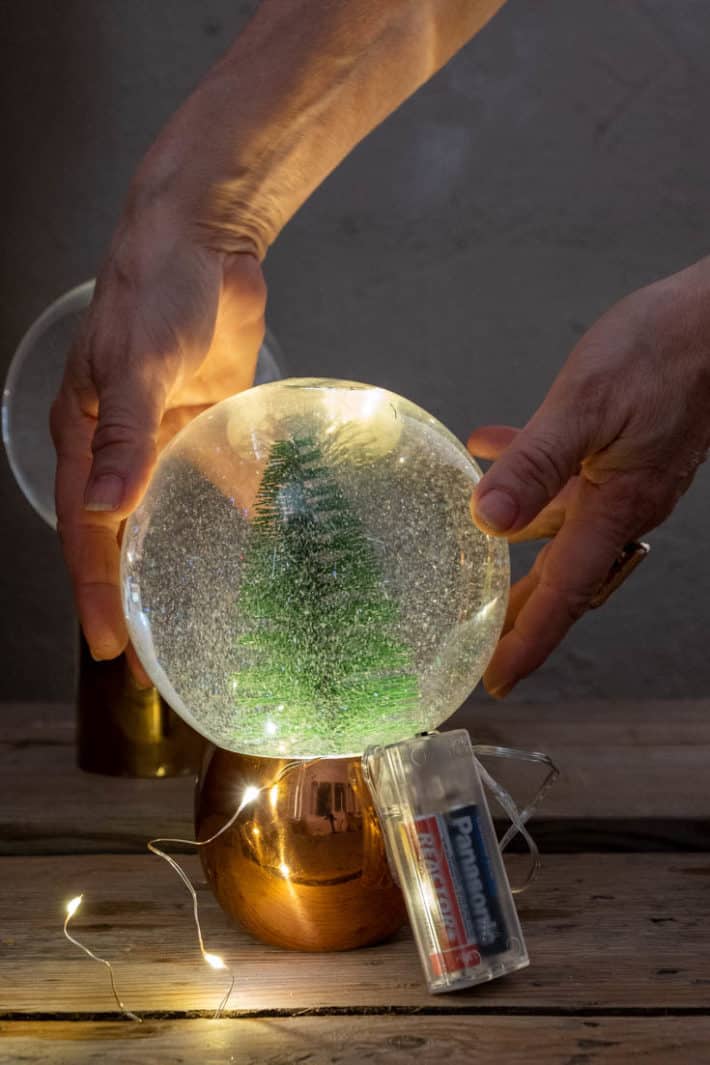 REMEMBER to check for leaking every once in a while and when you store them away after the season, store them with the corks facing up so there's no chance of springing a leak while they're tucked away in the basement.
These will NOT last for years. Inevitably the metal, sparkles or fake snow ends up turning the inside of the ball cloudy. But they're fun and easy enough that you can redo them every year. Just keep reusing the same plastic balls and corks, and replace what you have inside.
→Follow me on Instagram where I often make a fool of myself←