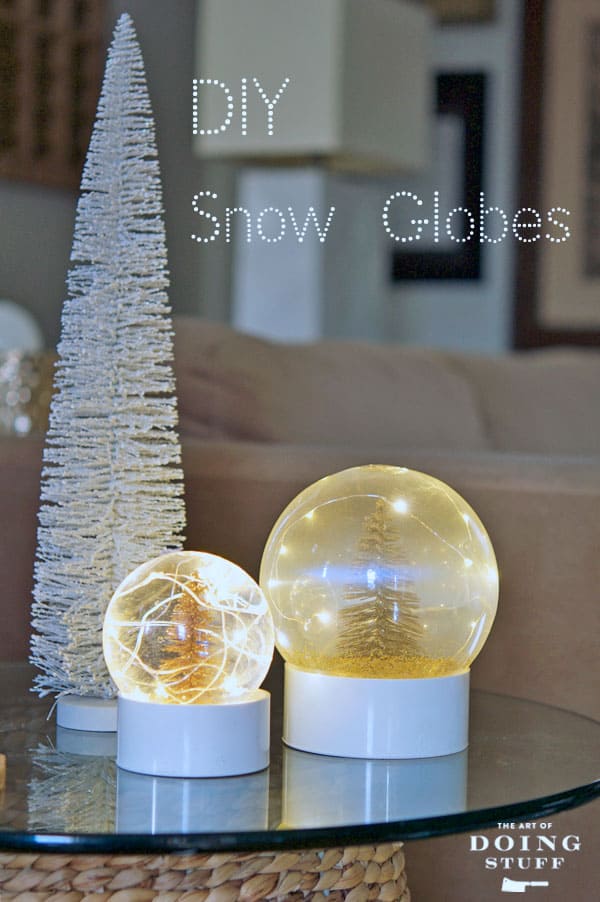 Why make your own snow globe? Because you can put anything you want in it. If you want a pair of boobies in your snowglobe you can have it. Although you shouldn't, because boobies aren't very much in the spirit of Christmas. Usually.
If you want a pink Christmas tree or a black Cadillac or a menorah or ANYTHING other than a cheap plastic angel with one drooping eye, you should make your own snow globe. You can put in an angel that doesn't have a drooping eye. Live somewhere warm? Ditch the pine tree and put in a palm tree.
The possibilities are as never-ending as the last children's dance recital you went to.
Pinterest has gone Mason Jar crazy as we all know. EVERYTHING is made out of mason jars including snow globes. I myself have a mason jar project that's been all over Pinterest. My Salted Christmas Trees. In fact a woman came running after me in a grocery store parking lot just last week to tell me she was making them and how did I do it exactly and what kind of jar did I use again and was I still hosting the show Love it or List it. For quite a long time this lovely woman quizzed and grilled me about my Salted Christmas Trees while I was trying to get to my car. That's right. She a salted me.
But I didn't want to make mason jar snow globes. I wanted regular, round, snow globes.
I wanted to make them last year but never got around to figuring out the best way to do it. Then this year Restoration Hardware had some great snow globes for sale and I knew I wanted to copy them. What makes them so special? They have those Starry String Lights I love so much (which can go under water) inside the globes. I've never seen these lights as cheap as they are now by the way, they've come way down in price.
If you're in Canada you can buy them from Amazon too and they're only $8.94 with free shipping!
So here we go, you and I are going to make Snow Globes. Right here. Right now.
Materials
Clear Plastic Christmas Ball (choose ones with wide necks so you can fit a figurine or tree in it)
PVC Pipe cap (available at home improvement store for about $3)
Distilled Water
Glycerine (optional)
Sparkles (optional)
LED string lights on wire (battery operated with timer preferable)
Ornament for centre of globe (keep in mind it has to be small enough to fit in the opening of the ornament)
Marine Silicone or E 6000 glue
Quick Instructions:
Remove neck collar from ball.
Fill with distilled water and 2 drops of glycerin.
Add sparkles.
Fill with wire lights.
Insert whatever you want inside.
Silicone/glue the hell out of it.
Detailed instructions:
The clear ornaments I used are 7″ high and 4″ high.
I also decided to use bottle brush trees for inside because they're flexible so I can smash them into the neck of the clear globe easily, yet once they're inside they puff out again and look substantial.
For a stand I used PVC pipe caps from my local hardware store at a cost of around $3 each, but you can set your snow globe in anything. I liked the PVC caps because they were white and it gave me just enough room to hide the battery pack at the bottom of the cap.
Because I had such little room at between my snow globe and my battery pack in the base I had to cut the necks off of my ornaments. I just used a hacksaw and hacked the off. If you have to do this as well, make sure you put a towel under the plastic ornament as you're cutting it otherwise you'll scratch it all up.
Once your necks are cut off, rinse the globes out.
If you're lucky the ornament you're picked for inside the globe will come on a handy little stand. Some of my trees were on stands and some of them weren't.
If your ornament isn't on a stand you can make one by cutting a small plastic ornament in half and using that as a stand.
Either glue your ornament to the plain side of the ball, or if you have a wire that can be inserted into the neck, use that end. My trees had thick wire "trunks" so I stuck those in the holes of the neck and siliconed them up.
Both ends! Glue both ends. And don't be skimpy with your glue or silicone. Glob it on there. It's what's making your snow globe waterproof.
This tree is an example of one that was already on a stand so I didn't have to make one.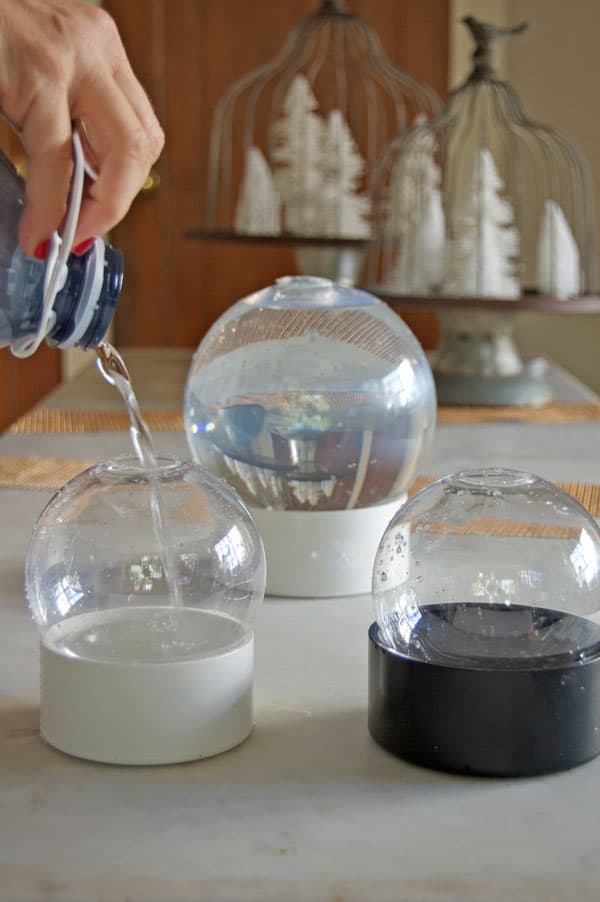 Now you can fill your globes with distilled water. Or tap water. Whichever. "They" say to use distilled water because it has minerals and bacterial distilled out of it so you aren't as likely to get sea monkeys growing in your snow globe over time.
Fill your globe *almost* to the top but not quite.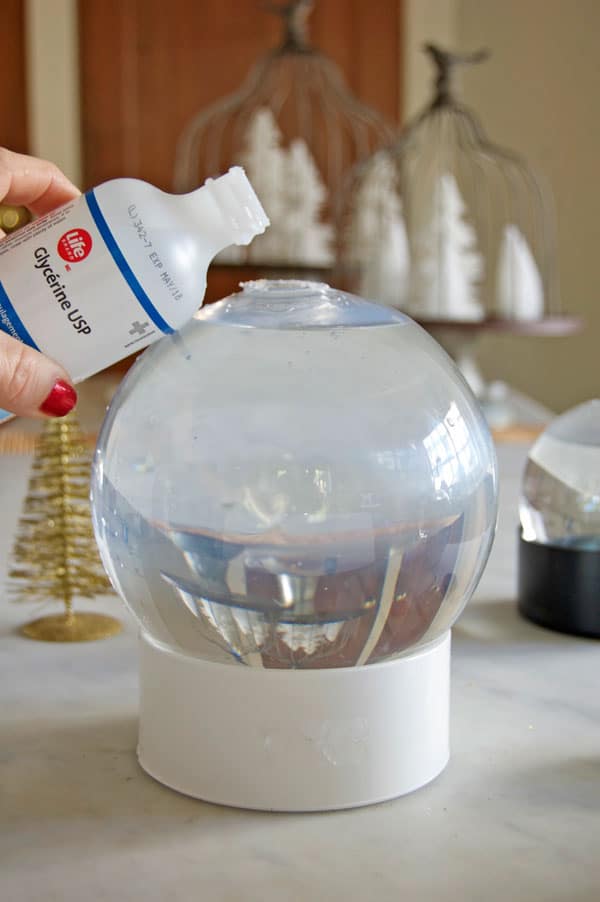 If you want to slow down the rate at which your sparkles fall add 2 drops of glycerine to the globe. Seriously. 2 drops. Not a tablespoon, not a teaspoon. A couple of drops. If you add anymore your sparkles will all stick together.
Add your sparkles. I went with gold because I wanted my snowglobes to really glow gold because I was using warm white lights. If I'd gone with cool white lights I'd have used white sparkles to give a cooler feeling to the globe.
Now stick your waterproof LED lights inside the globe. You can get these lights almost anywhere now. I've found them at my local florist shop, garden centre, home improvement store and even grocery store. There will be about 20 lights on a string. That's perfect for these globes. Anything more and you'll be beaconing UFOS. They're *really* bright these little suckers.
Now shove your tree (or other ornament inside).
For a bottle brush tree you'll have to fiddle with getting the last of the tree inside the globe. I used an offset icing knife to do this but you can use anything. Except maybe a baby. A baby would never do a good job of getting those little bristles in the globe on account of the fact that babies are usually pretty fat and clumsy.
Fill the globe up to the top until it's overflowing with water. If you don't get it as full as possible you'll have a huge air bubble at the top of your globe which screams AMATEUR DIYer over here! My globes have smallish air bubbles at the top, cementing my reputation as a relatively adequate DIYer.
Now seal, seal, seal. Seriously. SEAL THAT SUCKER. Glob on the silicone or glue and pay special attention to where the wire hangs out. That's where you're likely to get leakage.
After it's dried upside down for 24 hours tilt it over carefully to see if water leaks out. If it doesn't, then give it a good shake to see if water comes out then. If it does, identify where you have a leak, re-silicone or glue and wait several more hours for it to dry, then test the globe again.
Once you're satisfied your snow globe is watertight you can set it in its stand and light it up. Since this is the first year I've done this I have NO idea how these will age over time but I guess I'll find out.
And remember you can use anything the globe will fit into for a stand. To the front of the photo above is the white PVC cap and behind that is a bronze ceramic vase.
And if you literally haven't got a single thing to use as a base, just tie a ribbon around the bottom to hide the glue and go without one. I actually really like how it looks in real life without any base at all. The only problem with this variation is you have to figure out how to hide the battery pack.
Which as far as life problems go, isn't such a big deal. Now children's dance recitals? That's another story.