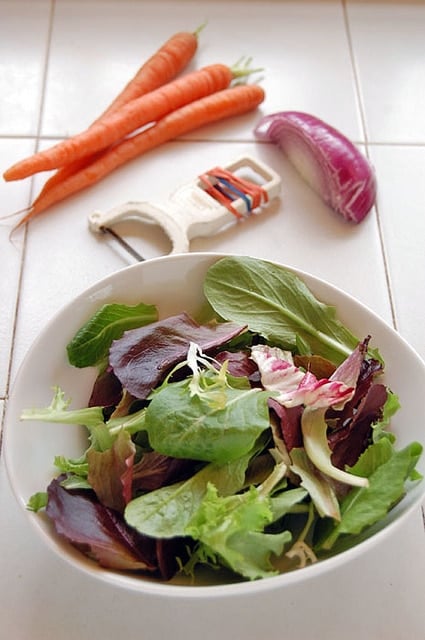 I love eating salad. Love it. I do not love making salad. Do not love it.
When it's summer I feel guilted into buying fresh red leaf lettuce and washing and drying it myself. Pain. Do not love it. So in the winter I give myself a break by buying the baby greens in a clamshell. Love it!
This is step one in making a simple salad easier. Just buy the damn clamshell of lettuce the odd time. I buy the organic, but whatever ... you don't have to.
But the real trick to making a simple salad realllyyyyy simple is the humble potato peeler. Yes. The potato peeler. Because the other pain in the ass about making a salad is slicing, dicing and chopping up other stuff to put in it. Because a bowl of lettuce is not a salad. It's a bowl of lettuce.
So I always have a few salad ingredients in the fridge to make making a salad every night easy. And like I said before, what truly makes it easy is the potato peeler.
Why?
No more slicing, dicing and micing. (whatever ... it rhymes) .
Grab your carrot (unpeeled) and slice it right into your bowl. The potato peeler gives perfect, even, slices of carrot. Maybe not such a shock, but a good technique not a lot of people use.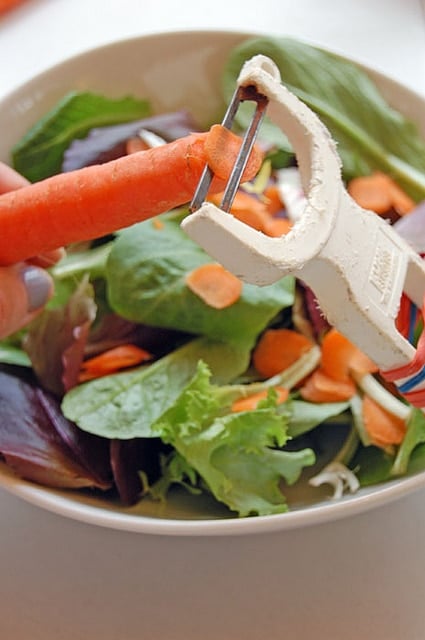 More shocking I suspect, is how well this works with an onion. I love red onion in my salad, but not big, crunchy hunks of onion the size of a Crayola crayon. I like petite, thinly, evenly sliced onion, the likes of which is almost impossible to achieve with a knife. A potato peeler will shave off beautiful thin slices of onion.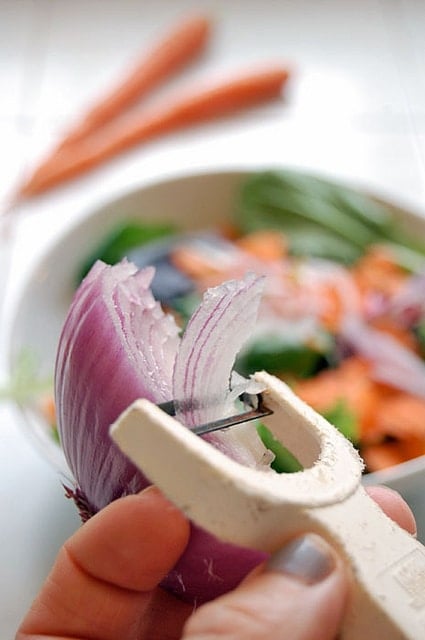 Throw in some feta cheese ...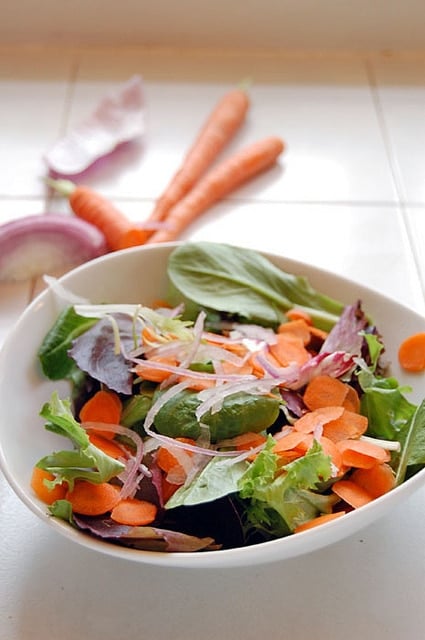 ... and a handful of toasted pumpkin seeds.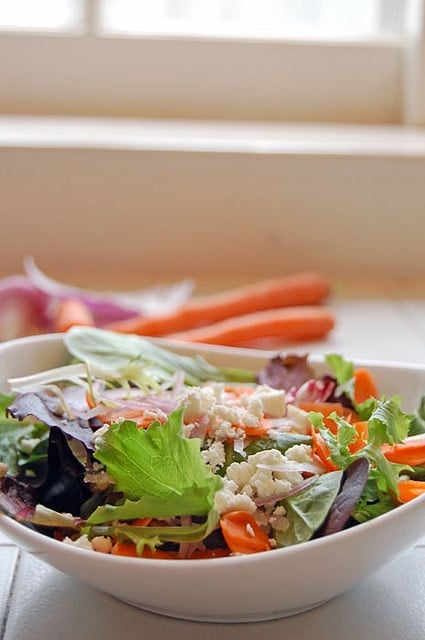 See? It's making a simple salad made simpler. I'm quite a wordsmith.
This particular salad is not a thing of beauty, but I don't eat things of beauty everyyyy night so there's no sense pretending I do. It tastes good and doesn't create a stye in my eye at the thought of making it. That's what matters.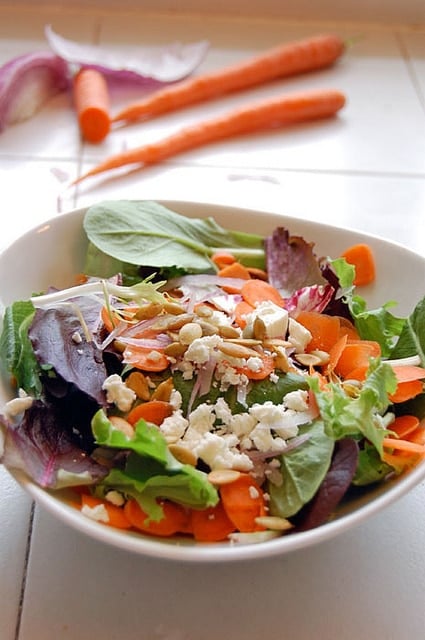 The potato peeler works great for just about anything you're going to throw in a salad. Cucumber, fennel, apples ... you name it. So ditch the chopping block and knife and embrace the dirty old potato peeler with elastic bands on the end. You'll never go back. (except when carving a turkey ... at this point I cannot recommend a potato peeler for that ... but I haven't finished my experiments yet)