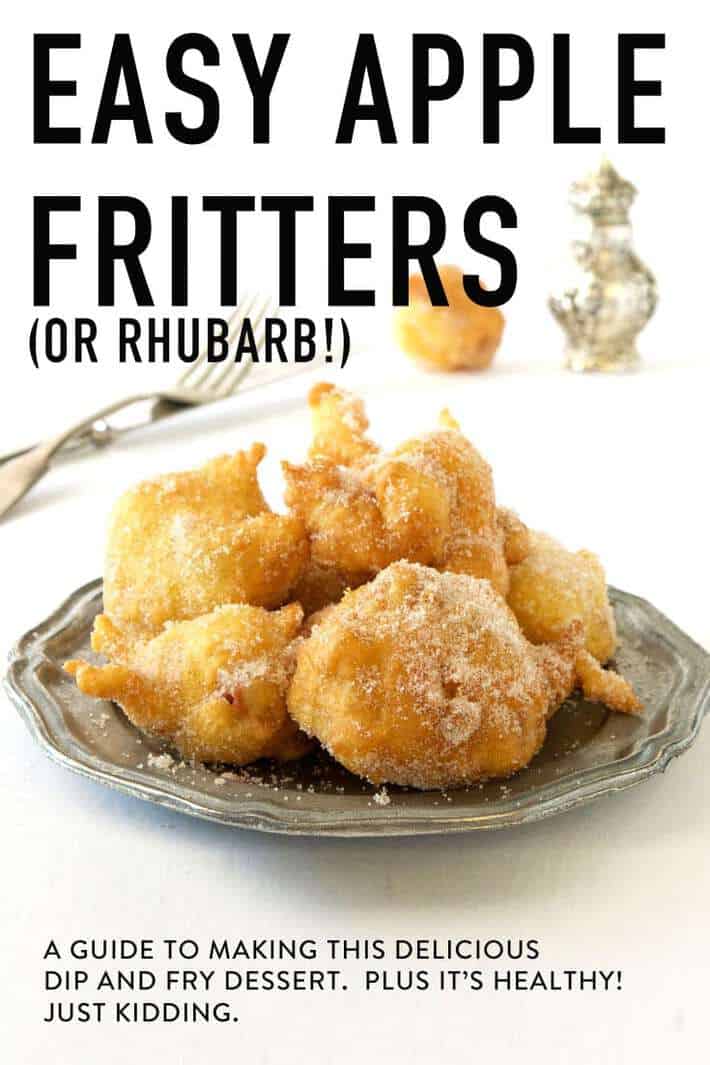 Anything that has instructions to dip and fry is probably not going to be good for you.  But what the hell.  Today's Wednesday and I have a whole garden of vegetables growing that I'll eventually eat and sometimes I wear outfits that make me look like I'm about to go for a run and melted oil or animal fat is my favourite marinade for just about anything.  So.
Dipping and frying it is!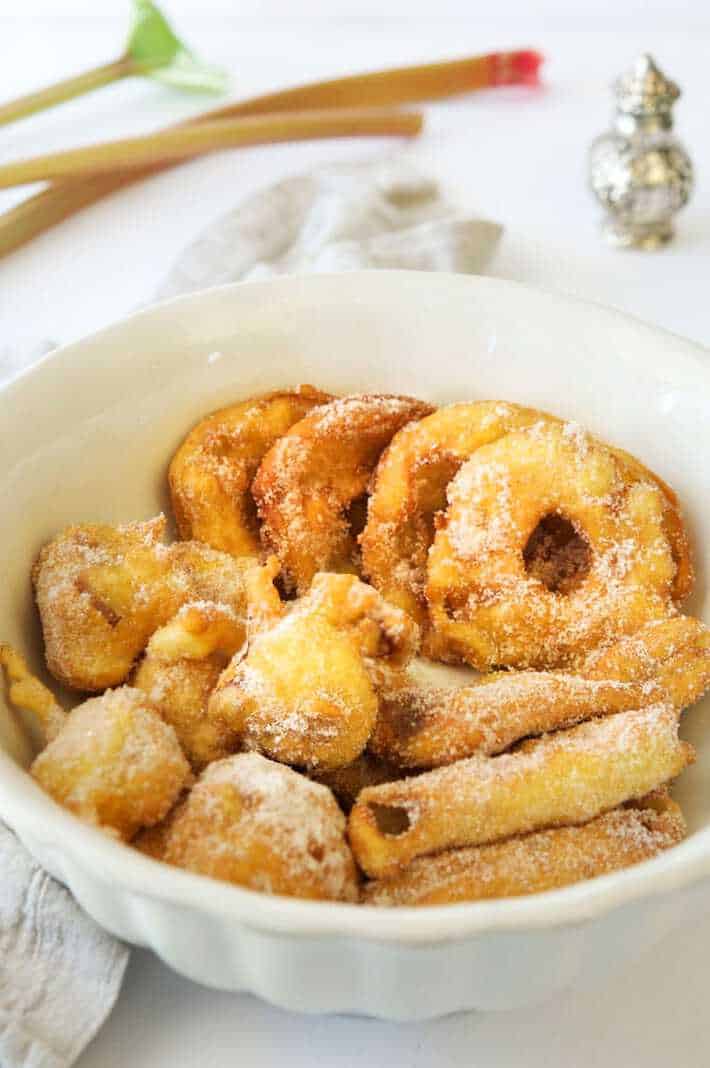 Let's break it down.
What's a fritter?
A fritter is anything battered and fried.  You could have zucchini fritters, clam fritters or apple fritters.  The fritter is the batter, the guts are the type of fritter it is.
With enough rhubarb growing in my side yard to build a log cabin out of (only it would be a rhubarb cabin, duh) someone suggested I try making rhubarb fritters.  O.K. I'll do just that I said.  And I did.
I'm remarkably suggestible when it comes to food.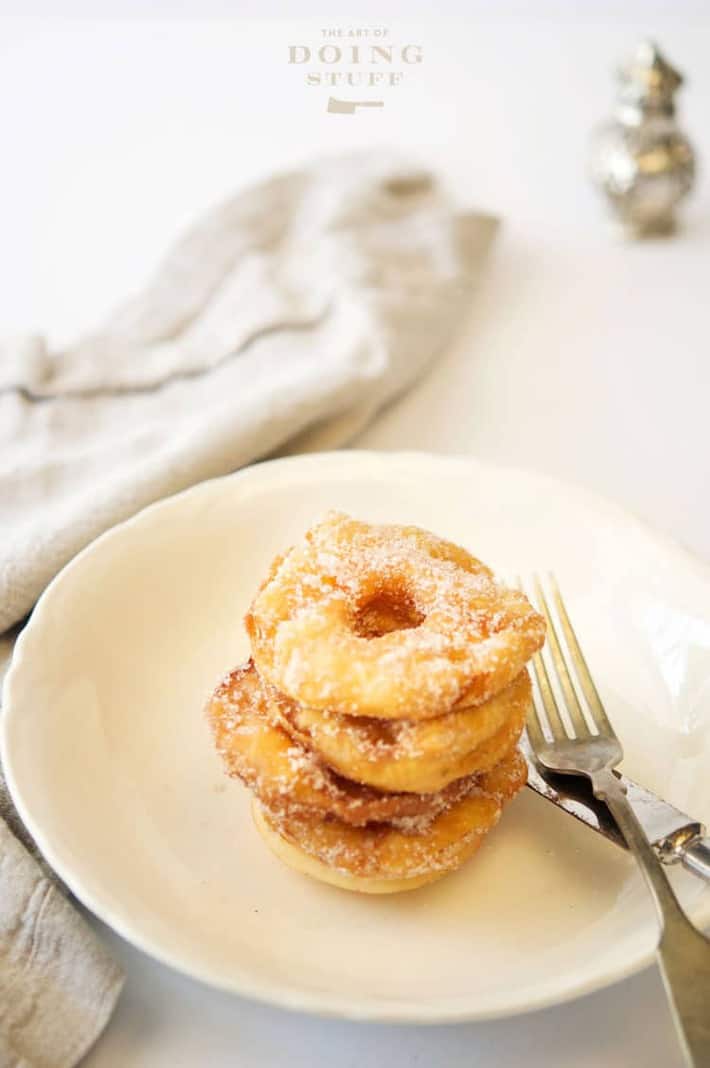 But here's the thing.  If you're gonna make rhubarb fritters and the batter is good for ANY fritters why stop at rhubarb?  Why not keep frittering?
Enter the apple. Within moments I was also frittering apple rings.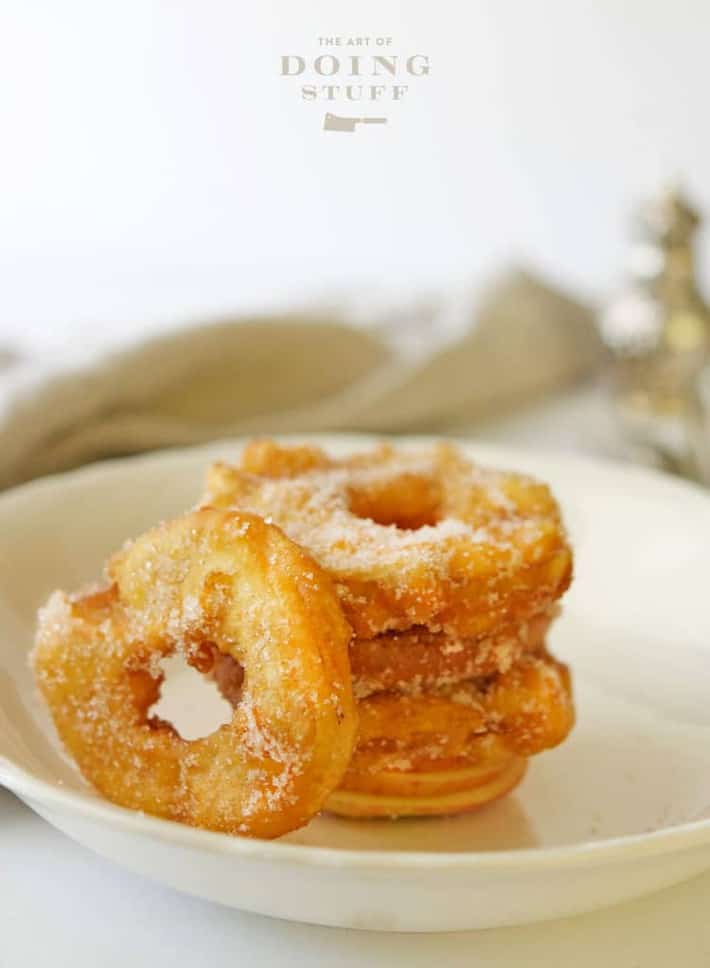 Crispy on the outside, doughnutty on the inside, with a coating of sprinkled sugar and cinnamon.  I like these because as far as desserts go it's NOT too sweet.  I mean it's just an apple.  Basically you're having a piece of fruit for dessert which is highly recommended by anyone with any common sense at all.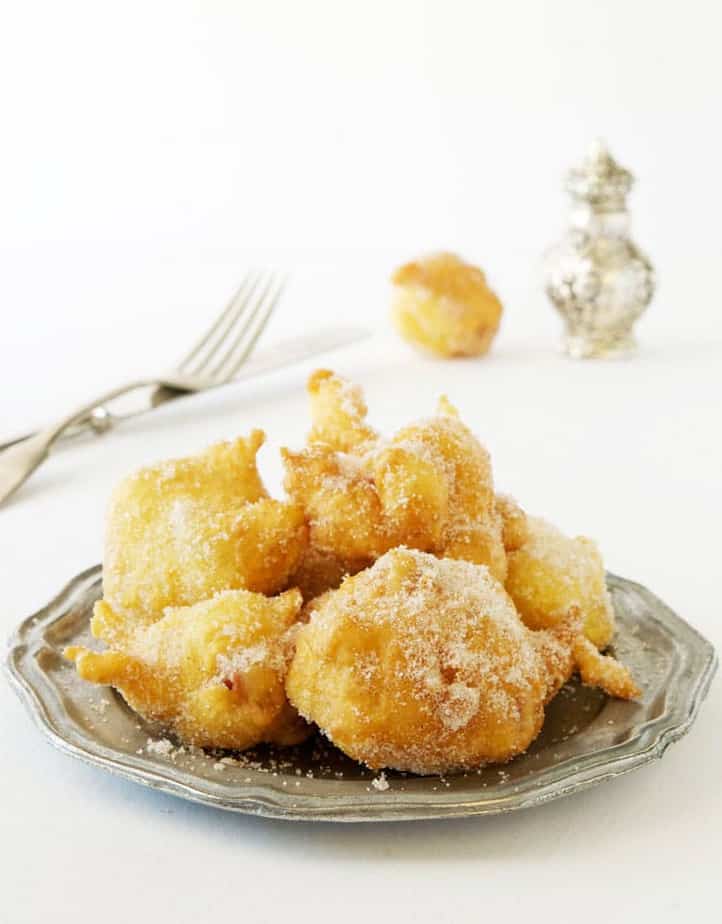 For the rhubarb I did two types of fritters.  Round balls of small diced rhubarb (which look like little monsters when they're cooked)  and finger lengths of rhubarb dipped in the batter.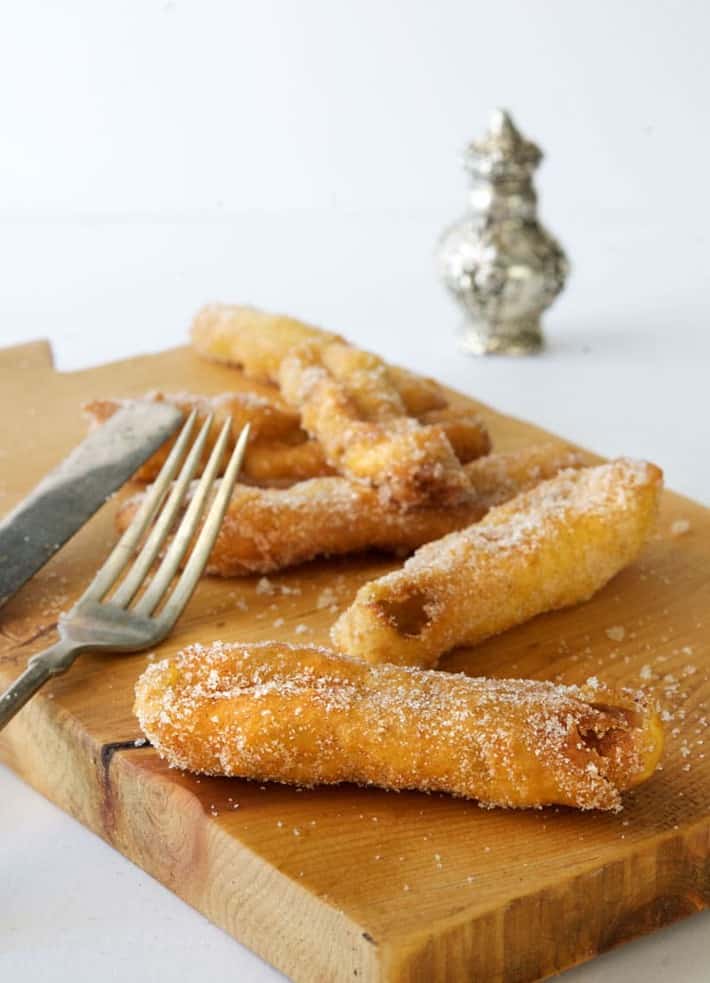 The rhubarb fingers are super-tart in the centre from the rhubarb and super-sweet on the outside from the generous sugar coating.  I'm into it.
The Rhubarb Monster Fritters have a greater batter to rhubarb ratio so they don't taste quite as tart.
BUT, if your idea of dessert doesn't involve something that makes your face pucker up like a baby tasting lemon for the first time then stay away from the rhubarb portion of this recipe and move directly to the apple rings.  By the way, how awesome and evil is it that no matter how kind we are in any other situation, we ALL love to watch an unsuspecting baby taste lemon.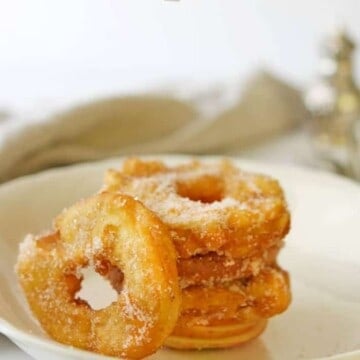 FRITTER BATTER
You can use this basic fritter batter for anything and everything you'd like to dip and fry from fish to veggies to fruit.
Print
Pin
Rate
Ingredients
1

cup

flour

1 ½

teaspoon

baking powder

½

teaspoon

salt

1

egg

1

cup

of milk

½

cup

sugar

¼

teaspoon

cinnamon
Instructions
Combine dry ingredients.

Whisk milk and egg together.

Make well in bottom of flour mixture and whisk in egg and milk mixture.

Depending on the humidity and your location you may need to add more milk to your mixture. But the batter needs to be thick to coat whatever you're cooking. The right consistency is thicker than pancake batter.

Prep your ingredients (slice apple into ¼" slices for apple rings, cut rhubarb into finger lengths for fritter fingers )

Dip your fruit, vegetable or fish into the batter and shake off as much excess as you can.

Fry in vegetable oil at 375 until golden making sure to turn so all sides are browned. (for fruits this is around 3 minutes total fry time)

Quickly drain fritter then drop in sugar and cinnamon, coating all sides well. Obviously omit the sugar and cinnamon step if you're doing vegetables or fish.

*To make the fritter monsters, dice fruit into ¼" pieces and mix with the batter and drop by a tablespoon into the hot oil. You should have equal amounts of fruit and batter in your mixture.
I'm going to warn you ONE more time that the rhubarb fingers are TART and unless you love the actual taste of rhubarb you aren't going to like them, so just go with the apple rings.  K?  Also it's very important to shake off as much batter as possible otherwise the fritters will be too doughy and whatever's on the inside won't cook.
Come to think of it now that you have the deep fryer out why not just nix ALL of this and do what God intended for you to do with a deep fryer.  Make french fries.