So you wanna know how to make perfect French Fries, do you? So did I. For about the past 20 years. The trick is in the triple cooked chip. Not double. Triple.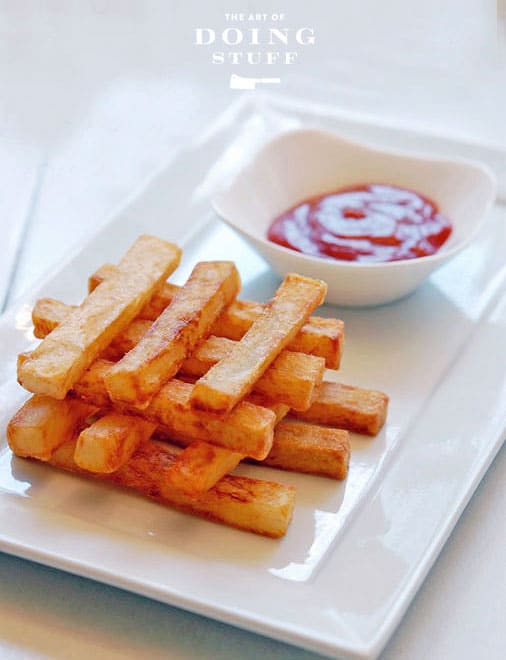 I will tell you now, that I have tried every method, potato and oil temperature known to humankind in my quest to create the perfect french fry. I've come close many times. In all that time I had never succeeded in creating the perfect chip at home.
Until I discovered the triple cook method developed by by The Fat Duck's Heston Blumenthal.
If you're interested in other "Perfect" stuff, try my perfect pizza recipe done in a cast iron pan. I know bloggers tend to lean towards exaggeration with their stuff. Like "the BEST", "the only!" "the PERFECT"! But I really only call something perfect if it is.
I lean more towards truth as in "The Almost Award Winning Maple Bourbon BBQ Sauce." Which is actually quite delicious.
This is not a post on how to make easy french fries. It is a post on how to make perfect french fries. Remember that when you start compulsively rolling your eyes at me throughout this post.
Important French Fry Factors
Temperature of oil

Type of oil
Most people (sanely I might add) make french fries at home either with a bag of frozen french fries baking them in the oven or if they're a bit more serious about their fries in a home deep fryer.
The really adventurous make chips from potatoes and deep fry them. But they do it wrong and end up with soggy or partly cooked on the inside, burned on the outside fries.
I am on the opposite end of the scale. I grow my own potatoes for making french fries. I'll get to which varieties I grow specifically for making fries in a bit.
French Fry Making Mistakes
The first way people make homemade fries is to grab whatever potato they have in their cupboard, cut it up, turn the deep fryer onto "HOT AS HELL", and throw them in.

This will not create the perfect french fry.

The second way people try to make fries is by getting fancy and twice cooking the french fries. First cooking them in oil, taking them out to cool. And then cooking them again at a higher temperature. It's a good start but ...

This will not create the perfect french fry.
So how do you do it? How do you create the ideal french fry at home?
The Method
If you want to make french fries that are golden and crispy on the outside and hot and fluffy on the inside, you need to:
Use the right potato - Russet Burbank (baking potato) is ideal and its cousin the Kennebec (white potato) is even better. Both the Russet Burbank and the Kennebec are bred for making commercial french fries. I grow both of these varieties for making fries.
McDonalds uses Russet Burbank to create their famous fries. In-N-Out uses Kennebecs.
Peel the potatoes. Perfect fries don't have skin, because the skin won't get crispy the way we need it to. So off with the skin.

---
Aren't all the vitamins in the potato skin?
Actually, no. That's a myth that we've all heard from someone so we just accept it as fact. 🤷‍♀️ In truth, potato skins contain 40-50% of the fibre that a potato has to offer. As far as the major vitamins and nutrients, they're all right there in the potato flesh.
---
Boil them first. This is the key. It creates a slightly rough texture on the potato which is what helps make them crispy when you fry them. It also partially cooks them.

Add some animal fat to your oil. You can use vegetable, grapeseed, peanut oil or any other oil with a medium to high smoke point. It should also be neutral tasting. And then add a big blog of lard or tallow to it.

Fry them at a low temperature. Then let them cool.

Fry them at a high temperature to finish them.
What You Need
Potatoes
Deep fryer
Heavily salted pot of water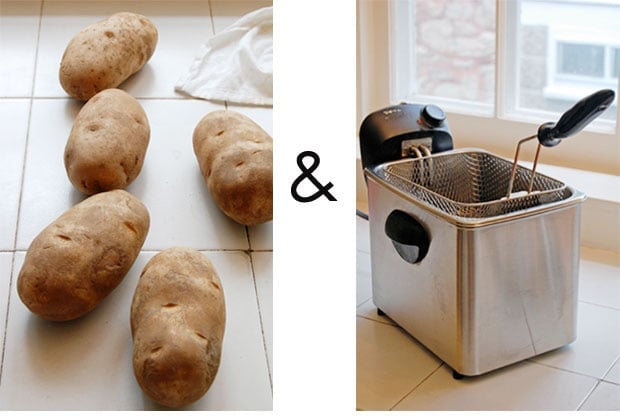 This is all very scientific, so I figured I'd better have a control group to show you the difference between an O.K. fry and THE PERFECT FRY.
I'm even wearing rubber gloves and a lab coat. And a stethoscope.
TEST fries
I created a control group of fries by doing what everyone does when they cook fries; I cut up a potato, turning my deep fryer onto HOT AS POSSIBLE and dropped them in.
This method produced overly dark, slightly undercooked fries. So they looked overcook and tasted raw.
They were limp. And unappealing. As limp things often are.
Step-by-step instructions
---
1. Plop your fries into a pot of cold, heavily salted water.
Bring the pot to a boil. Once it shows signs of boiling, remove the fries.
The easiest way to cook them to the right degree is to immediately remove the fries once the water shows its first big bubble. If you get to a rolling boil your fries will be overcooked and falling apart.
You should be able to pick up one of the fries without it breaking in half. But you should feel very nervous about it. THAT'S a perfectly pre-cooked fry.
---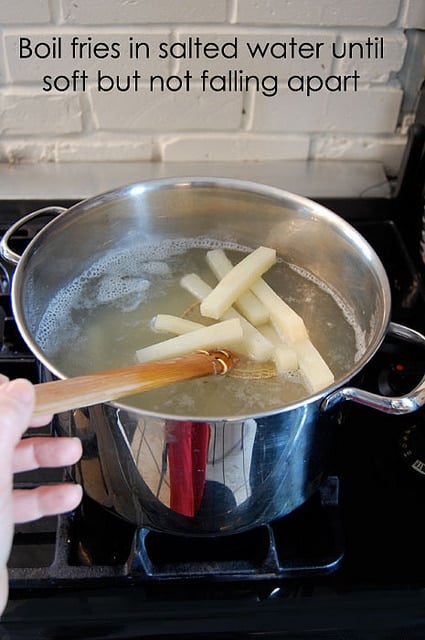 2. Spread your fries on a cookie rack to dry.
You can dry them in the fridge, convection oven, or with a hairdryer.
The surface should be dry and leathery. Refrigerate until cool.
3. Once the fries are dry and cold, fry at 300°f* until a crust forms. About 5 minutes.
*(if your fryer works as low as 266 that's the ideal/recommended temp but sometimes home fryers don't behave this way)
You don't want the fry to colour the potato. It just has to form a crust.
4. Return your fries to the cookie rack and refrigerate or freeze until cool.
I do see you rolling your eyes in exasperation, so just know that.
5. Fry again in hot oil of 355°f until golden brown and crispy. 5-7 minutes.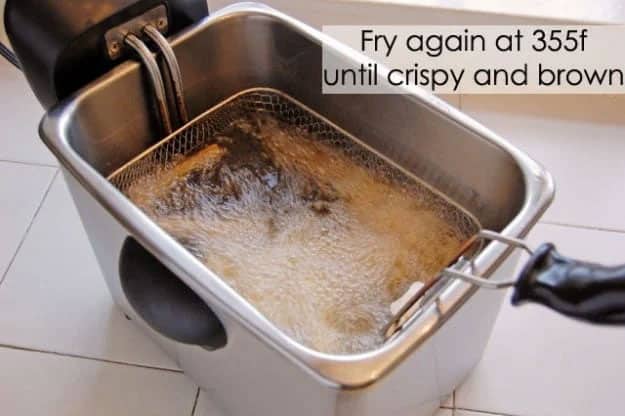 These fries are crispy good with no "limping" even after sitting out for several minutes.
The outer shell is crispy and crunchy, while the inside of the fry is hot, fluffy and salty thanks to boiling them in salt water first.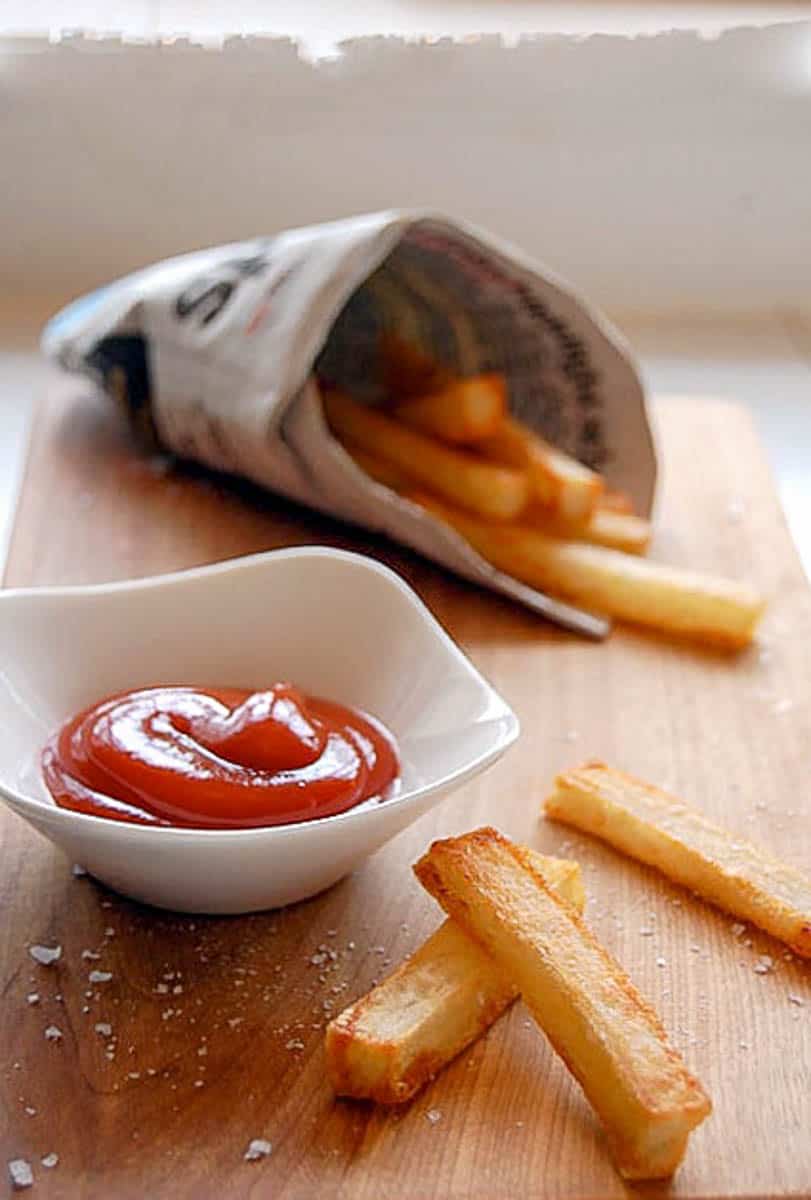 I can only find "potatoes" not specific varieties at my grocery store.

That's O.K., just make sure you buy baking potatoes for fries. Any baking potato. They are usually larger and more elongated than a white or yellow potato with a tougher skin. A baking potato has the right amount of starch and moisture to make good fries.
Can I bake these?

You cannot under any circumstances create perfect french fries in the oven.  Cannot. You can create slightly healthier fries in the oven but they won't be considered, referred to or hailed as perfect. So no.
How can I make McDonald's fries?

Using a french fry cutter, or by hand, cut your fries so they're ¼" thick. Almost shoestring size. Blanch at 170 f for 15 minutes. Then fry once at a low temperature (300) for 5 minutes and let them cool. Then fry again at 400 until golden and crisp. Salt, salt, salt.
See here for how to make Guaranteed Crispy Sweet Potato Fries. I haven't given the esteem of perfect because a lot of people have trouble with the method. If you don't follow it perfectly you end up with very unperfect sweet potato fries.
And if you want something truly awful I can hook you up with some brussels sprouts which are always gross, but this recipe I got from Shelter restaurant on Tofino, British Columbia is edible if you hate brussels sprouts. Mainly cause they're fried and covered in a delicious dressing.
O.K. get your eyes straight in your head again and either go out and make some french fries or call your sister to tell her how insane people on the Internet are.
→Follow me on Instagram where I often make a fool of myself←