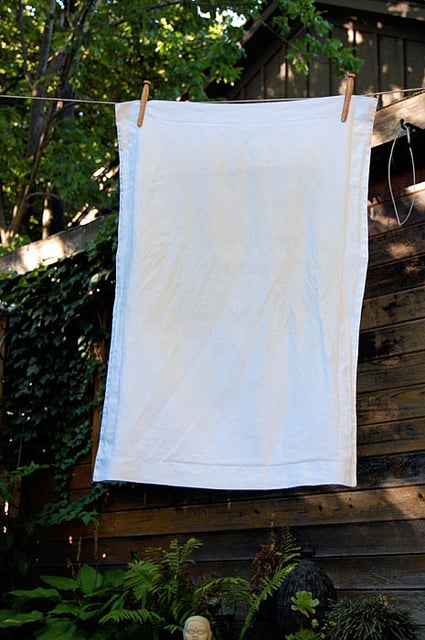 What you are witnessing is an illusion.  Like heat waves on the pavement,  a rigged carnival game or any 25 year old girl's Twitter profile pic.
The pillow case you're looking at looks like a thing of beauty, blowing in the breeze in a tranquil backyard.  Gathering up the heat of the day, drying to a fresh, crisp swath of fabric ready for a good night's sleep.
It is not.
It is a horror.
THAT was the fella's pillow case.  A beautiful 100% handmade linen pillow case from Rough Linen.
And it's stained with 2 years worth of head sweat, drool and nightmares.  After 2 years my pillow case on the other hand has remained clean and white.  Like the pillowcase of a angel.
I know it's hard to believe judging by the picture above but believe me. That pillow case is a mess. The problem with my particular front load washer is the fact that you can't use bleach in it. Ever. Also, you should never use bleach on linen.
That left me with quite a dilemma. So I did a little research and discovered that Oxiclean will whiten whites, but isn't the same as bleach. It whitens by some kind of magical oxygenating thing. No idea how.
AND Oxiclean can apparently be used on linen. So I bought some Oxiclean with absolutely NO hopes of it actually working.
Because let's face it, most products that claim to do something amazing do very little other than produce very convincing television commercials.
This is NOT a paid post. Nobody asked me to do a post on the miracle of Oxiclean. I wish they had. Because I will now and forever sing the praises of Oxiclean to anyone who will listen.
Behold the miracle of Oxiclean … I soaked the left side of the pillow in Oxiclean overnight, leaving the other half of the pillowcase out of the solution. That way I would know EXACTLY how much the product worked.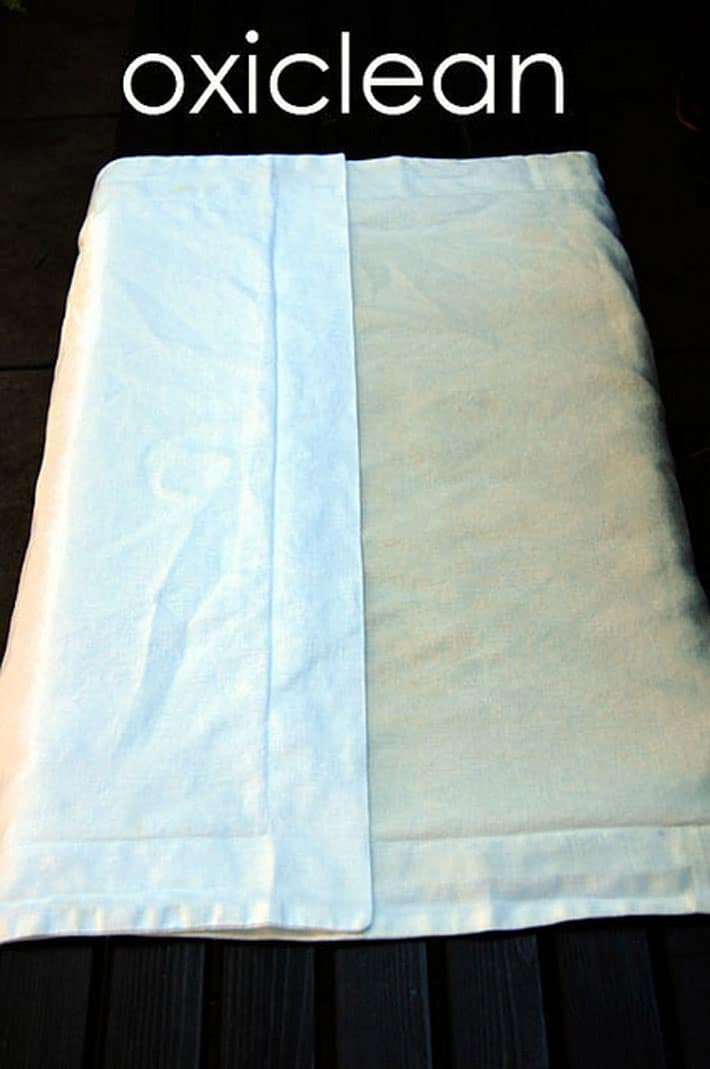 Holy crap is right! I didn't do any magical lighting trick, or Photoshop shenanigans. It is not an illusion. THAT is the difference Oxiclean made on the head sweat pillowcase.
Which means all those white tee shirts with yellow arm pits you own aren't a lost cause. They're a candidate for Oxiclean, so you too can look like the angel you are. Or even better, you can look like the angel you aren't.