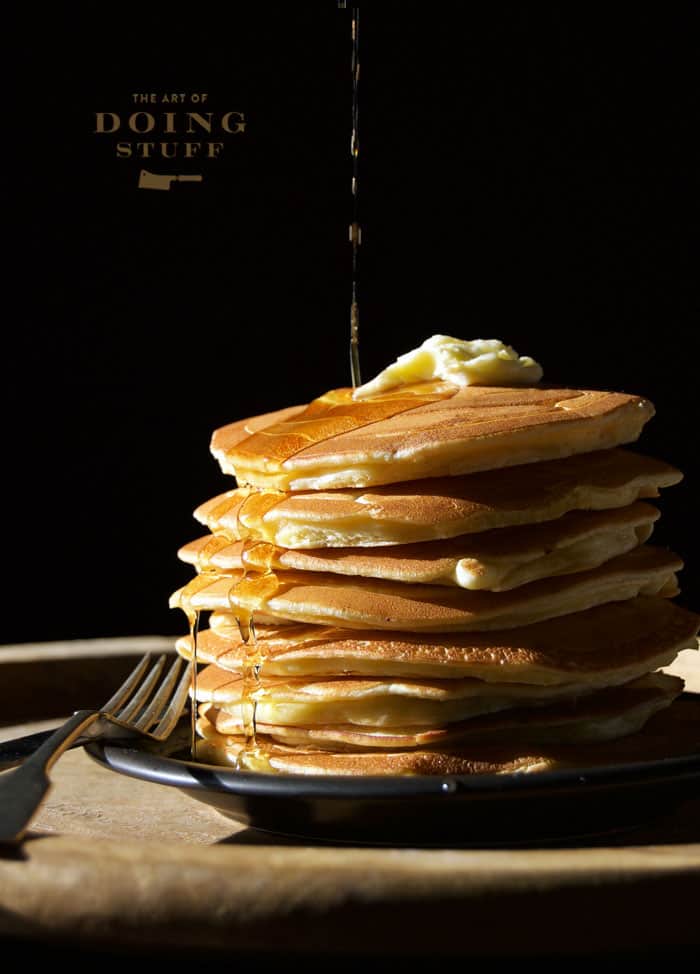 I bet you think that's your average, stunningly beautiful stack of pancakes. That would be an excellent guess because that's what it looks like from the side.
Now let's look at that stack from a different angle.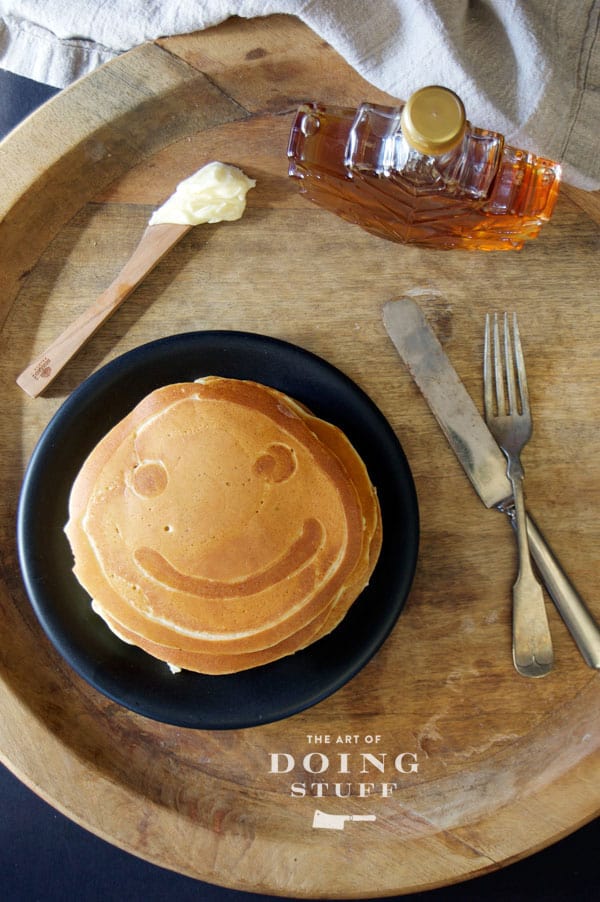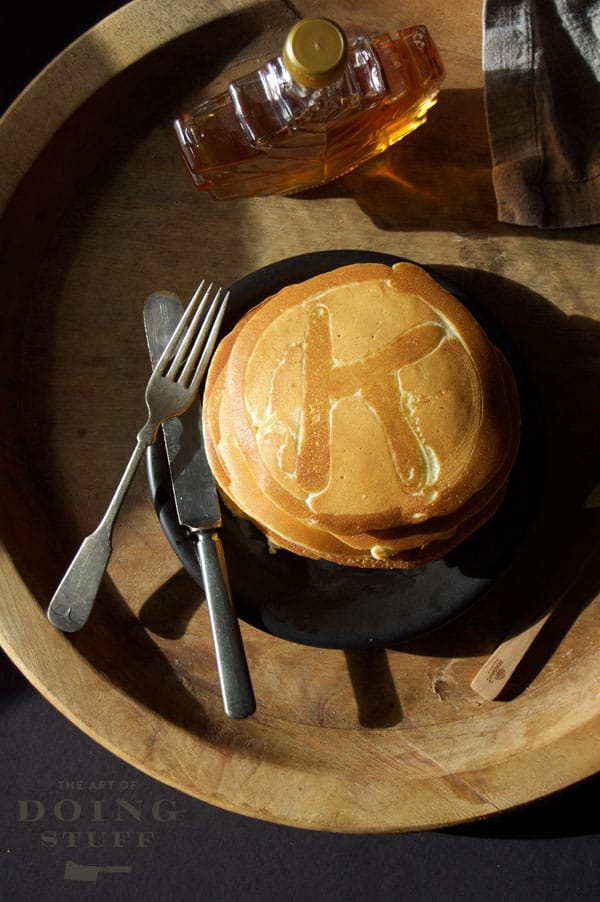 I interrupt this pancake break to let you know that all the people who didn't tell me to go screw myself after giving you baseboard cleaning homework on Superbowl weekend, gets a gold star! 
(cause sometimes nothing says "I FELL IN THE TOILET AGAIN LAST NIGHT."  like a well worded pancake)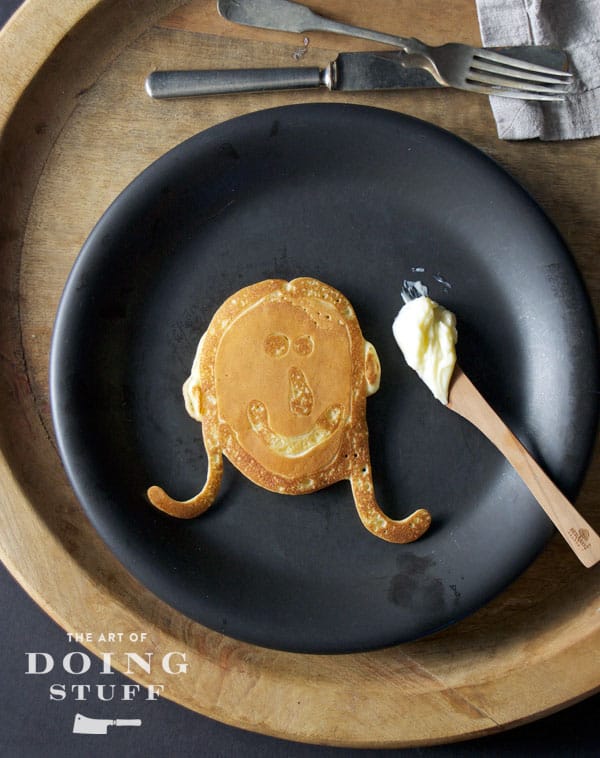 O.K., who wants to learn how to do it??
Tomorrow is Shrove Tuesday otherwise known as Pancake Tuesday otherwise known as Fat Tuesday.  Basically it's a Tuesday for filling your face with as much fatty, delicious, pillowy pancakes as possible.  The tradition is religious in nature.  Certain faiths do it to get as much fat into them as possible prior to Lent.  For everyone else it's the one night of the year you don't have to worry about what to have for dinner.
You're having pancakes.
There's nothing worse than waking up Wednesday morning and realizing you forgot Pancake Tuesday.  Nothing.  So I wanted to make sure I reminded you all.   I say this as someone who doesn't even really like Pancakes.  French Toast Tuesday?  Yeah, that would never be forgotten in my house.
Here are a few tips on getting these Face Pancakes right.
Cook them on low heat.
Add the filling batter when the "face" just starts to bubble a little bit.
Try to add allllll your filling batter at once and quickly.  This way your pancake will have an even colour and not be splotchy.
Once your pancakes are bubbling that means they're ready to flip.
If the batter spreads out beyond your outline, just trim them with a knife before you serve them.
Pancakes with Faces for Pancake Tuesday
Author:
The Art of Doing Stuff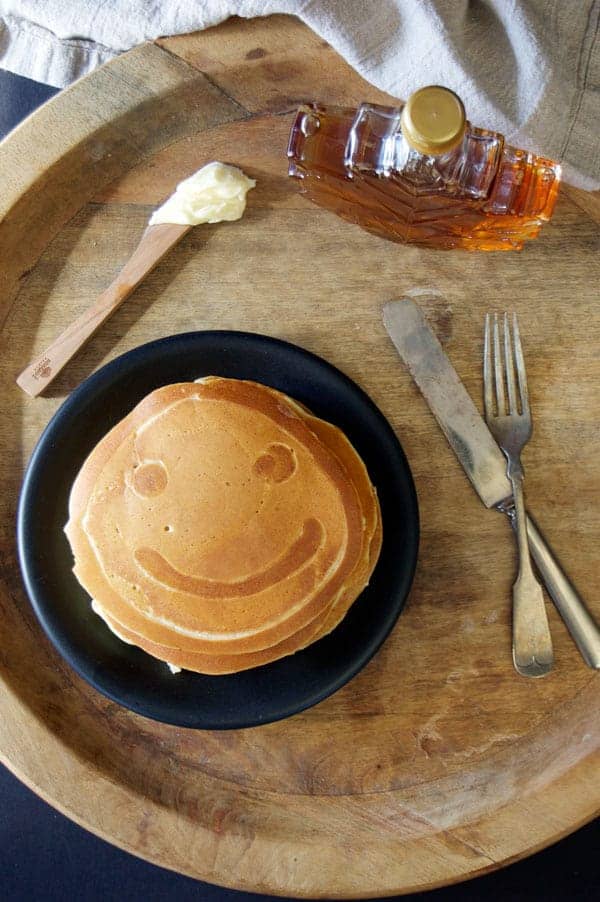 Basic Pancake Recipe. Nothing fancy. No weird ingredients. Just pancakes.
Ingredients
1 cup all-purpose flour
1 tablespoon sugar
2 teaspoons baking powder
¼ tsp. salt
1 lightly beaten egg
1 teaspoon vanilla
1 cup milk
2 tablespoons vegetable oil (or other light flavoured oil)
Instructions
Mix together the flour, sugar, baking powder and salt.
In another bowl mix together the egg, milk, cooking oil and vanilla.
Add wet mixture to dry mixture, stirring just until combined. Your batter should be lumpy.
Add a few small scoops of the batter to a small mixing bowl and whisk until smooth.
Pour this smooth mixture into a plastic squeeze bottle.
Lightly butter a non stick pan and heat over medium/low.
Squeeze your face design onto the pan.
Once the design starts to bubble, ladle the regular pancake mix over the face.
Cook until bubbles form, then flip.
Cook a minute or so longer then remove from pan.
I discovered this technique while watching one of my new favourite shows. One of my favourite shows of all time as a matter of fact. Which I will be telling you all about on Wednesday in my new "
3 Shows You Should be Watching
" post.
And remember, if you like this for the love of Lent,  Pin on Pinterest.
The world needs to know about Pancake Faces.  Don't do it for me. Do it for the woman out there who needs a new way to tell her sock dropping husband he sucks.