Maple syrup!  I've done it!  I've made Maple Syrup with my own bare hands.  My own  Little House in the Big Woods, slightly stumpy hands.
It was actually rereading the Little House series that finally convinced me to make Maple Syrup from the enormous black maple in my backyard.  At the end of every winter, Ma, Pa, Laura and Mary would head out into the woods to gather sap, bring it inside and make sugar.
Yes  sugar.  They also made Maple Syrup, but the main reason they tapped trees was to provide enough sugar for themselves for the coming year.  They also had in the house, a small bowl of "store sugar" for when company came.  Store sugar, being refined white sugar they bought at the General Store, that was only taken out for special occasions.  You know.  When someone killed a hog or invented the wheel or something.
My how the times have changed.  Firstly, I can guarantee if anyone gets overzealous with their use of my homemade maple syrup I *will* go all Laura Ingalls on their ass and shove a pinnafore down their throat until they choke on it.
Ahem.  You see, this maple syrup is quite a time consuming process.  It's not hard.  It's not terribly labour intensive.  It just takes a long time and fairly constant attention.  And a touch of insanity.   So I'm good there.
Before I give you the step by step instructions on  how to make Maple Syrup, I'll let you know how it went for me.  I ended up doing around 4 batches of Maple Syrup that went horribly wrong for a variety of reasons, not the least of which was being completely drunk while doing it.  Just kidding.
Tap your trees and gather your sap, like I showed you here.
Find a suitable place to boil down lots of sap.  I tried … my BBQ.  It didn't work.  Wouldn't get hot enough.
My smoker!  Didn't work.  Would need to be feeding it lump charcoal constantly, plus it wouldn't get hot enough ('cause the lid needed to be open).
A vintage, probably barely legal, hotplate.  Didn't get hot enough.
Gas stove inside.  Worked! I was trying to avoid this option because I'd been warned about how much steam boiling sap all day produces.
I finally relented and went with the indoor stove because I had no other options.  Plus, I make chicken stock all the time and boil it all day and it isn't a problem.  You're probably thinking the same thing, right?
Wrong.  Every mirror, window, door, wall, article of clothing and cat in the house was covered in steam.
But as I mentioned before … I had no other options.  Besides.  We're pioneers here.  I don't think pioneers worried about sap covered cats.
You will need 2 pots to make Maple Syrup.
A big stock pot with a lid to constantly heat up your sap.
And a roasting pan or something that has a large surface area.  It needs to be at least 5″ deep.
The roasting pan is your "Evaporation Pan".  This baby will be the workhorse of your operation.
1.  Heat your Syrup up in a stock pot with lid.  (It just heats faster if you have a pot w/ a lid)  Once hot, add it to the evaporation pan.
2.  Keep your evaporation pan of sap boiling.  When it starts to evaporate, add more hot sap from your stock pot.
This process will continue the entire day.   Just keep adding sap to the stock pot, heating it, then adding it to the evaporation pan.
3.  Once you've added all your sap to the evaporation pan and it's looking a darker colour like syrup and is approximately 213 degrees, dump it all into a finishing pot.
The finishing pot is just a regular pot, but you need to use it.  It helps make sure you don't burn your syrup, because the smaller pot (as opposed to the evaporation pan) gives you a deeper amount of syrup.  1″ of syrup in the evaporation pan is 6 or so inches of syrup in the smaller pot.  Understand?
4.  Water boils at 212 °F where I live.  Syrup always boils at 7.1°F (3.94°C)  above the boiling point of water. When you reach that temp., you have syrup.
So when my sap reaches 219°F, it's officially syrup.
To see what you need to boil your syrup to, do a test run with a pot of water.  See what temperature it boils at, then add 7.1°
Turn the heat down a little bit so you don't scorch or overheat your syrup. You want to keep it at 7.1º above the boiling point of water.
Even though this is technically syrup, and most websites say it's ready to bottle now … I found that wasn't necessarily true.
Keep evaporating it until it becomes syrup.
5.  Now you need to test if what you have in the pot is no longer sap, but is actually syrup.  You can test whether it's syrup in a few ways.
The first way is by looking at how it drops off of a spoon.
When it's syrup, the final drop off of the spoon, will just  hang there for quite some time.  When it finally drops off the spoon, you will see a *tiny* thread of a tail from the drop.  Like a sperm.  A maple syrup sperm drop.
I can tell you from experience, that without having made maple syrup before, this method is really, really hard.
You see, for sap to officially be called "Maple Syrup", it needs to meet a sugar requirement, which is measured in "Brix".  "Brix" is the percentage of sugar in the syrup.  Maple Syrup needs to be between 66.5% and 67.5% sugar.  Anything below or above that isn't syrup.  If you don't boil long enough and have a sugar content that's below 66.5% your "syrup" will be too thin and could possibly spoil when you bottle it.  If you boil it to long and have a sugar content that's above 67.5%, your "syrup" will crystallize once you bottle it.  So trying to "eyeball" it is difficult.  Especially with no prior Maple Syrup making experience.
After playing the guessing game for 4 batches of syrup, I finally broke down and ordered this baby …
A hydrotherm is a cross between a thermometer and a hydrometer.  It tests the viscosity of your syrup.  It cost $30. I ordered it here, and it took 2 days from ordering to delivery to the door.  It is made specifically for testing Maple Syrup.  You just fill a tall, thin vessel with your syrup and float the hydrotherm in it.  If the red line on the hydrotherm is below the surface of the liquid your syrup is too thin still and you need to boil it more.  If the red line is above, your syrup is too thick.  Too thick is trickier to fix but if it isn't too bad, you can add more sap to your batch and thin it out, then boil it again.
If the red line on the hydrotherm is even with the surface of your liquid … YOU have MAPLE SYRUP!  Don't be frightened by the scary, scary, scientific equipment.  It really just makes thing easier and for $30 will make your entire Maple Syrup making experience a LOT more enjoyable.
Once you've determined you have syrup, it's now time to …
6.  Filter your syrup.
You filter it through a felt sock with paper liners inside of it. You can get all of this stuff where you guy your maple syrup supplies.  The felt sock is $19 and the paper liners are about $1 each.  They can all be washed (in hot water with no soap) and reused.
After using the felt liner for my first few batches, I ended up getting rid of it, in favour of 3 paper liners.  I found for the small amount of syrup I was making, the felt liner simply sucked up too much of my syrup.  3 paper liners, still resulted in a nice clear syrup.
The filtering process gets rid of "Sugar Sand".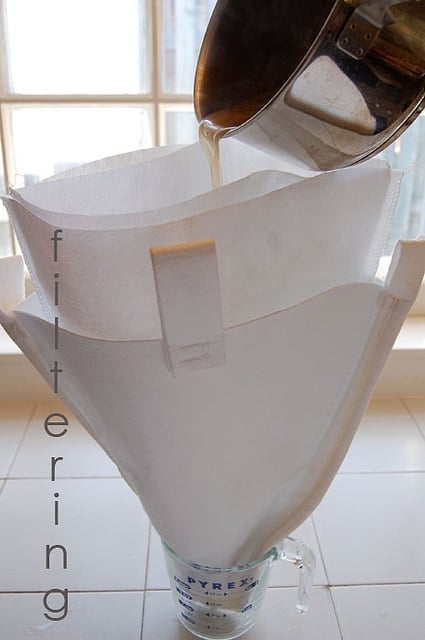 Let your syrup filter for as long as it needs to.  I just left mine for about 15 minutes.  You can clamp the filters to your container to hold it in place, or you can  just hold it.  For the last little bit you can fold your filters down, and cover everything with a towel.  Keeping the syrup  hot as it filters helps it go through the filters easier and ensures you get every last bit of syrup out.  Do not squeeze the filters to get the remaining syrup out.  You'll end up  with sediment.
That right there, is your sugar sand.  Don't eat it.  It's gross.  (*some people eat it, but they're gross*)
Now you have beautifully filtered, 100% pure Maple Syrup.  And it only took a whole day.
7.  To bottle your syrup to give away (as if) you need to reheat your syrup.
I got in the habit of filtering into a microwavable cup so I could just stick the cup in the microwave to reheat it.  The less transferring from pot to pot the better.  If I were to pour this measuring cup of syrup into a pot to reheat it, I'd lose syrup.
I didn't find any instructions about bottling your syrup that said to heat your glass bottles.  However, being a canner, I decided to keep my bottles in the oven until it was time to fill them.  (lids weren't in the oven)
8.  Fill your bottles.
Lay your bottles on their sides to sterilize the underside of the cap and help seal.
Now you have beautifully bottled Maple Syrup to give away to all your neighbours.
Or, in this case, you have beautifully bottled Maple Syrup which you hung off of a neighbour's door knob, took a few quick pictures, then ran away.  With your bottle of Maple Syrup.  Either way, it's a fun day.
Karen's Maple Syrup Quick Tips
Do not use a teflon evaporation pan.  (I started with one, all the teflon boiled off of it, so I moved onto a regular roasting pan)
Keep an eye on things once you get around 217 degrees F.
If you plan on eating your syrup right away and not bottling any for future use, you don't really need a hydrometer or hydrotherm.  However, if you DO want to bottle it to save and give away, a hydrometer/hydrotherm is necessary.
Save your sap outside in food safe buckets (providing it's cold enough out) and make as large a batch as possible.
Sap will run faster some days (warm & sunny) and slower others (cold & dark)
Make as big a batch as possible.  It's much more difficult to work with a small amount of sap.
I boiled 40 litres of sap and ended up with 3 cups of syrup.   Yes I know.  I'm mixing measuring units.  Enough for 2 medium and 2 small bottles of syrup.  It took 3 days of collecting and 12 hours of boiling.
If anyone asks you if they can have a bottle smile and say Sure!                             Then completely ignore their request.
Special thanks to Terry from www.sugarworks.ca for his help and talking me down from the ledge a few times.  Also thanks to reader Maria from Boothman Sugar Orchard for doing the same.
[os-widget path="/artofdoing/so-you-want-to-plant-a-vegetable-garden" of="artofdoing" comments="false"]