I set a goal for myself to take an official portrait of Lip once a month. I would then publish said photos here on my site where we could all chronicle my advances in pet portraiture and the growth of Philip.
And it would have happened if I didn't also have to brush, chase, bathe, blow dry, train, clean up his car sick, pluck his ear hair, administer drops, and tempt him to eat something that has a few more calories than socks.
It's been like trying to raise a supermodel that bites.
---
WINNERS OF LAST WEEK'S CAPTION THIS AT THE END OF THIS POST
---
I got Philip on September 25th, 2021 and within the first few days I did a photoshoot the result of which you may remember was a bunch of blurry pictures of his butt and a couple of moderately in focus shots.
---
You can see the rest of Philip's first poodle portraits and it's blurry photographs here.
---
I resolved to never try to take another portrait of Philip and declared my photo series the stupidest thing I've ever done. And I've worn a sweater made out of live snakes.
The horror of shoot #1 stuck with me until Philip was 7 months old and slightly more manageable, at which point I tried again.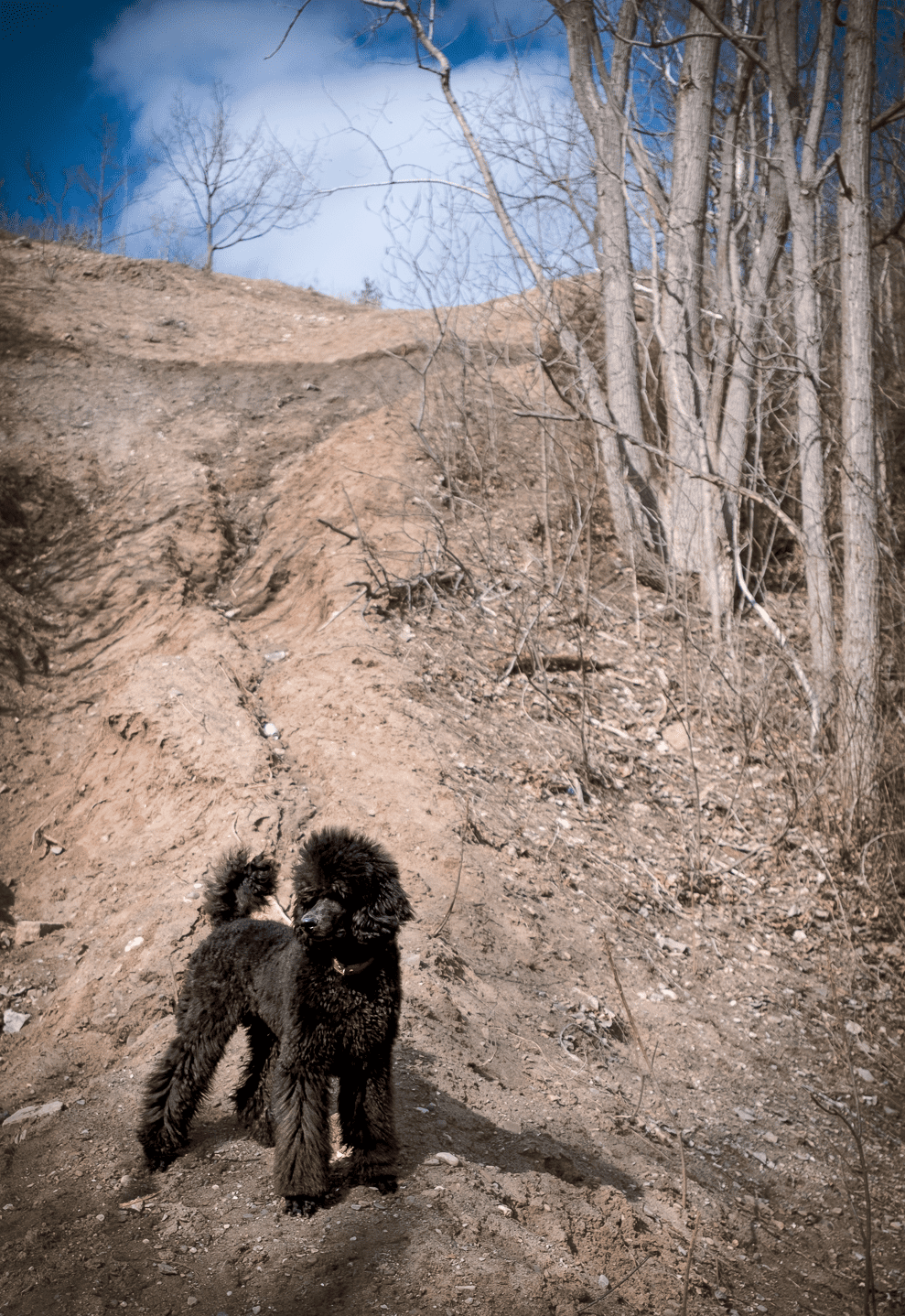 I was happy with the photos I got and decided immediately that I'd become a pet photographer. I just needed a bit more training and things like lights and a dog that could sit still for more than 1/800th of a second. Once I had those things it was all going to come together.
Since then I've bought $800 worth of portrait photography equipment including a new lens, lighting, tripods, receivers, and the Masterclass with iconic photographer Annie Leibowitz.
And taken no photos.
Which is where we were one week ago when I realized that it was Thanksgiving and I was hosting. That meant I was finally going to have to do something with the very large box of photography equipment that lived hidden behind my dining room chairs.
For 5 months that box has sat quietly and unopened. Thanksgiving forced me to open it mainly so I could find a place to store all the lights, modifiers and tripods inside of it.
Once I got everything out of the box I felt like I had to at least test it out. Even if it was going to end with me laying flat on my living room floor screaming and crying until my neighbours came to check on me.
I've only ever used natural lighting for photos. I didn't even know how to use lights. I didn't know how to turn them on or dim them or what direction to point them in. Nothing.
I still don't.
But no neighbours needed to check on me and I did get a decent shot of Lip. So I'm going to call this photoshoot #3 and I'm not going to miss a single month for the next year.
Philip - 1 year, 2 month stats
Height: 26 inches at the shoulders
Weight: 63 pounds
Coat Clearing*: Slight clearing of black to blue on his muzzle and ears, but after 1 year I have a feeling that he isn't going to end up being a true blue poodle. He'll appear basically black.
* Because Lip is a blue poodle it means he's born black and will "clear" to being more of a blue colour. The blue colour will actually look like more of a steely gray than blue. But it's really a crapshoot. You just don't know what you're going to get.
His coat clearing should continue until he's around 2 years old at which point he'll be whatever colour he's going to stay so he could still change quite a bit. Or not at all.
Ready for the photo that took 12 months to get?
This is a low resolution shot but you can click on it to get a larger view.
Here's the funny thing. I honestly could NOT figure out anything about the lights. I've since figured out how to dim them but that's about it. So this photo is very different than what came out of the camera.
I had to make up for my lighting inadequacies with Photoshop.
THIS is what the photo looked like when I took it.
There's always a lot of Photoshopping done with any portraits but the general idea is, the better the photographer the less Photoshopping needs to be done.
I spent approximately 3 elephant lifetimes editing this photo. Which is fine. I'll get better, they'll get better and Philip will get better. Although I have to say he was pretty good about staying still which made me pretty good about not throwing everything to the ground and applying for a job at my local Bulk Barn.
Of course, I have a puzzle of it.
Now for the winners from last week's Caption this contest. There are 2 winners of my favourite vegetable peeler. One person wins for the caption that made me laugh the most and the other was a random winner.
Everyone was asked to caption this photo after they completed it in the puzzle.
The caption that made me laugh the most was ...
A TON of the captions were incredibly clever. But for whatever reason, this simple caption made me laugh out loud. Laura, if that's you leave me a comment here. If I don't hear from you, I'll shoot you an email.
The SECOND winner through a random draw is Rozi who captioned "Carrot to Dance". Leave me a comment Rozi, otherwise I'll send you an email.
The vegetable peeler they both won is the one I've been using since forever. It's a cheap peeler by Kuhn Rikon that just works great.
To my Canadians, I hope you're having a great Thanksgiving weekend. I'm having my dinner Sunday night and Monday I'll be making broth and possibly my turkey pot pies as well.
So I'll see you on Wednesday. Have a good remainder of your weekend.